Creamy and hot vanilla chai tea latte is just what you need in your cup on a cold day. You can make it caffeinated OR decaffeinated, too!
Stir it up!
Grab a big bowl and mix up nonfat dry milk powder, powdered non-dairy creamer, french vanilla creamer, sugar, unsweetened instant tea, cinnamon, ground cloves, and nutmeg!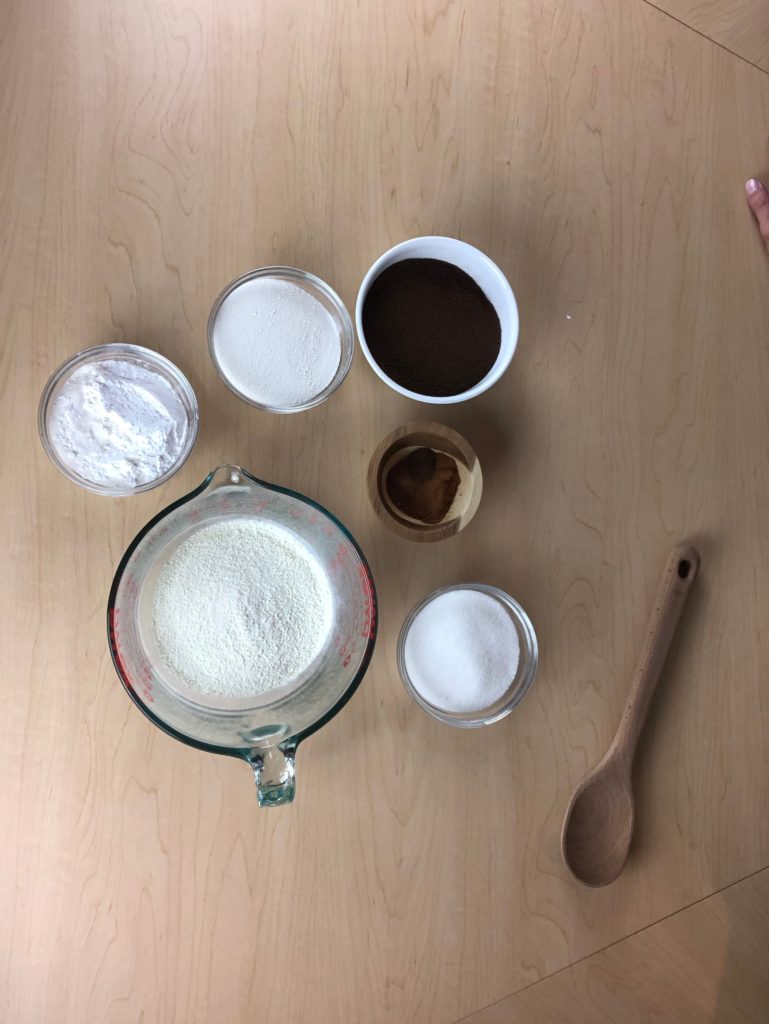 Sharing is our favorite.
Our kids love this recipe or really any hot drink that they can think might be like mom's coffee. And since we have more cold months than warm, it's nice to have a multitude of hot drink options. Our hot cocoa drink is certainly top 5, but this recipe is one they have come to love even more!
This year, the kids wanted to share with our teachers and school staff. So we saved up our ice cream buckets and make a triple batch to keep in the teacher's lounge. Our teachers and our school staff deserve it!
Heading to a holiday gathering grab a jar for the host.
Thank your mailman, bus driver, daycare folks etc. I think you get the picture!
Caffeinated or Decaffeinated, that is the question.
I almost grabbed the wrong jar of unsweetened ice tea at the store. I was like what's the real difference, as I'm holding both jars in my hands. AH HA! you can either mix up a little kick into your tea, or choose the decaf (which I did for my kids!) I labeled my jar different from the kids!
My farmer doesn't do coffee and needs to cut back on the soda. He loves this drink too and it gives him a little dose of caffeine to keep him going.
Free Vanilla Chai Tea printable!
I love making these little labels for our jars. It makes it easy to know what's in the jar and how to make it. I love sharing too, so grab your free printables here!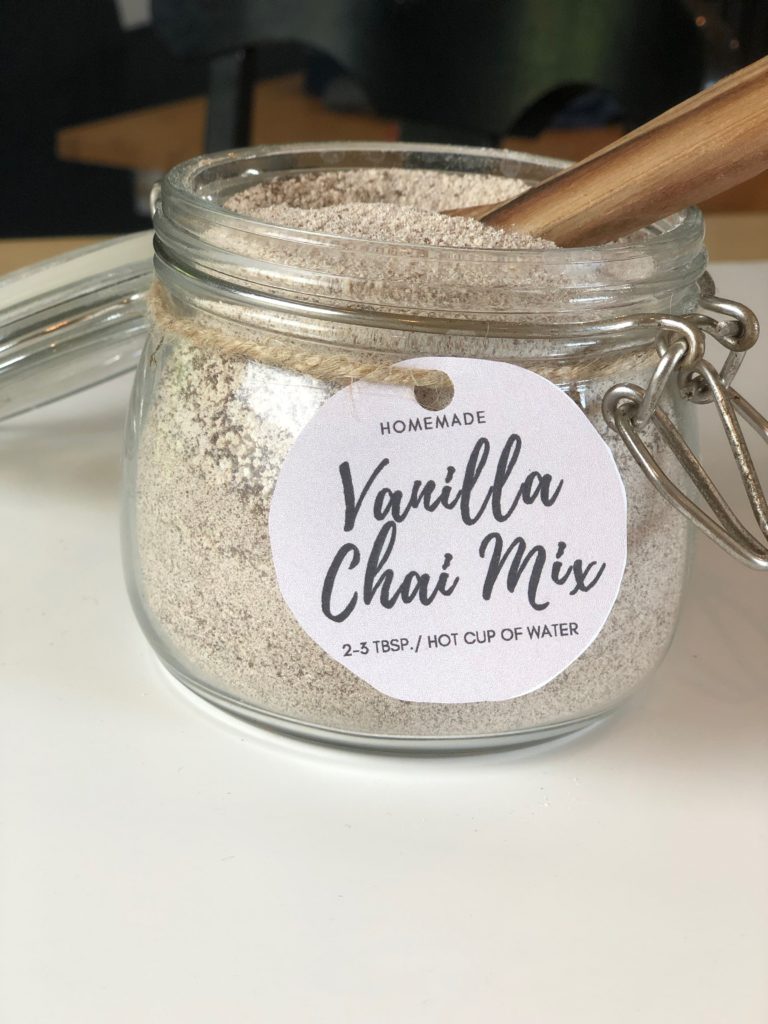 (This post may contain affiliate links which means I make a small commission at no extra cost to you.)
Jars!
These little snap jars are the best in our home and to fill up with Vanilla Chai Latte Mix or our homemade hot cocoa mix and give as gifts. They are so versatile and can be used for so many things. It's worth having a dozen or so of these around the home.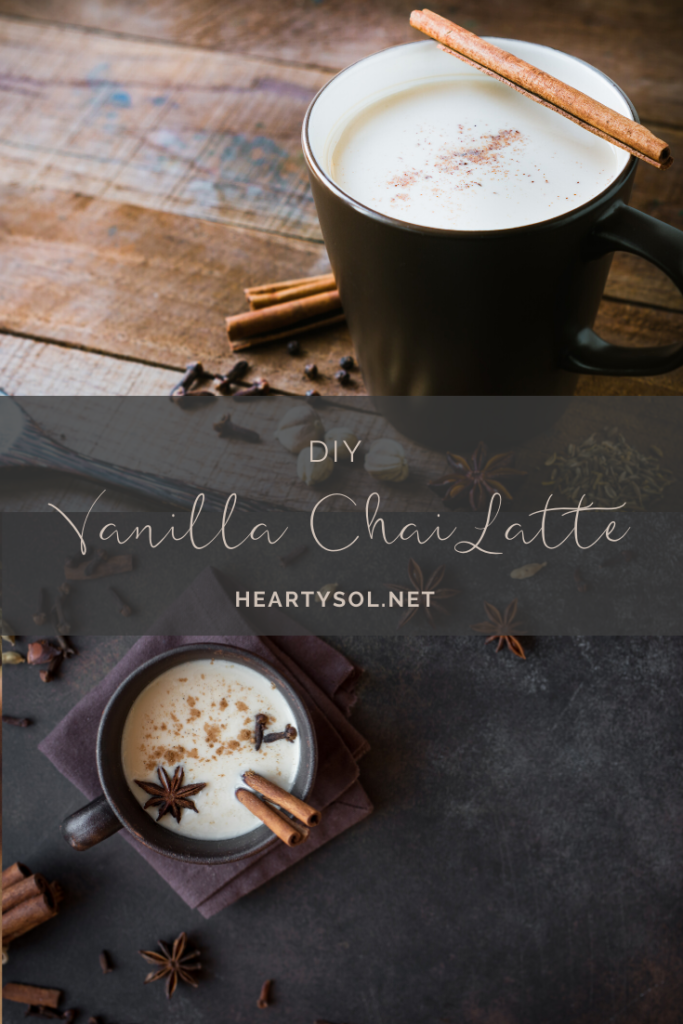 Vanilla Chai Latte Mix
This drink is a nice alternative to coffee, hot cocoa etc.
1

cup

nonfat dry milk powder

1

cup

powdered non-dairy creamer

1

cup

french vanilla powdered creamer

2 1/2

cups

sugar

1 1/2

cups

unsweetened instant tea

you can choose either caffeinated or decaffeinated

2

tsp.

cinnimon

1/2

tsp.

ground cloves

1/2

tsp.

nutmeg
Mix all ingredients together and add to jars.

Mix 2-3 tbsp. with 1 cup of hot water or steamed milk
Mix up a cup of vanilla chai tea!
Mix 2-3 teaspoons per hot cup of water or steamed milk. Add a little whipping cream, give it a stir and you'll never need to go to a coffee shop again!
Kick back, put your feet up and sip your new dreamy vanilla chai tea latte!
MY OTHER HOT DRINK RECIPES!
Lemon, Ginger, Honey Tea + the Benefits
Homemade Hot Cocoa Mix – FREE printable tags
Russian Tea Mix + Gift Tag Printables
MY OTHER SIMPLE CRAFT POSTS
How to make a Waldorf Doll | a 4 Part Series
10 Projects to Repurpose Sheets
How to Reupholster a Chair | Simple Tutorial
How to Make a Girls Dress |No Pattern Needed
JOIN OUR HEARTY LIVING COMMUNITY!
Hearty recipes, farm living fun
and handmade projects straight to your inbox.