We own and operate a dairy farm.
Grew up on dairy farms.
Raise cows, chickens, children, forage crops and food.
but, did you ever leave the farm?
My husband and I both have 4 year degrees. Additionally, he has 2 tech degrees. I've studied in Spain and between the both of us we've spent time in England, France, Morocco and Italy. We've traveled to far away places, experienced other cultures, social settings and we've spent years away from farming. We've lived in metropolitan cities, apartment complexes and have been in close proximity with other people in small towns. So why in the world did we choose to buy a FARM?
the WHAT is simple, the HOW is what's complex.
There is not a day that goes by where we don't reference our experiences and college learned topics. Ag business, chemistry, Ag nutrition, entomology, employee management, accounting, land practices, welding, animal health, mechanics and horticulture, financial and time management are just a few of the subjects used in our day to day life, here. We worked hard to earn experiences and degrees so that we can keep up with our ever changing environment and industry.
this simple life we live began a long time ago...and it began with a woman
Without the persistence of my Great Grandma we would likely not be farming today. My Great Grandma fought to build a farm even though it was tough, so tough. Kinda like today, I guess. Dairy times are tougher than ever, but I can only imagine these times might be comparable to when she decided to build a barn. Money was tight, and I'm sure it was not popular for woman to start a farm. But alas, she persisted and built a barn knowing it was the right thing to do for her family and many generations to come.
because of Great Grandma, we got to choose to farm
This farming choice that my great grandma made had so much to do with how her son and his son and how I grew up! We lived watching our parents work hard, love hard and enjoy taking care of our animals and the land that we were blessed to have in our care.
My siblings and I grew up watching our dad and grandpa enjoy working together to bale hay, milk cows, and feed calves. We got to be part of meal making and delivering to the crews in the fields. Laughing so hard, it hurt when we would flip cow pies in the pasture so we could gather worms to fish with. We enjoyed the hunt for the new batch of kittens that were nestled in a mound of hay. The long walks down to the creek or to get the mail while our mom taught us a new song. These are the simple things that I remember so well and one of the reasons we bought a farm.
Our children now get to see and work with their grandparents nearly every day. They get to work side by side with those same people, their family, making memories that they will get to have forever.
they get to chose too.
Our days here at the farm consist of gathering eggs, befriending the new batch of kittens, and preparing large farm meals for the crew. Riding along with grandpa and papa, praying for good weather, cleaning the chicken coop, pulling weeds and harvesting produce. Sprinkler fun, picking rocks up from the fields, feeding baby lambs or calves with bottles and yes, even with all of that, sometimes getting bored. Being bored and learning how to cope with that, is a skill in and of itself, but that's for another post topic;).
life isn't always easy
There are long stretches during harvest time when we see very little of dad and grandpa. We do our best to support them with a cup of coffee, a treat and a nice hot hearty meal! We also know how to make the best of having them around, too!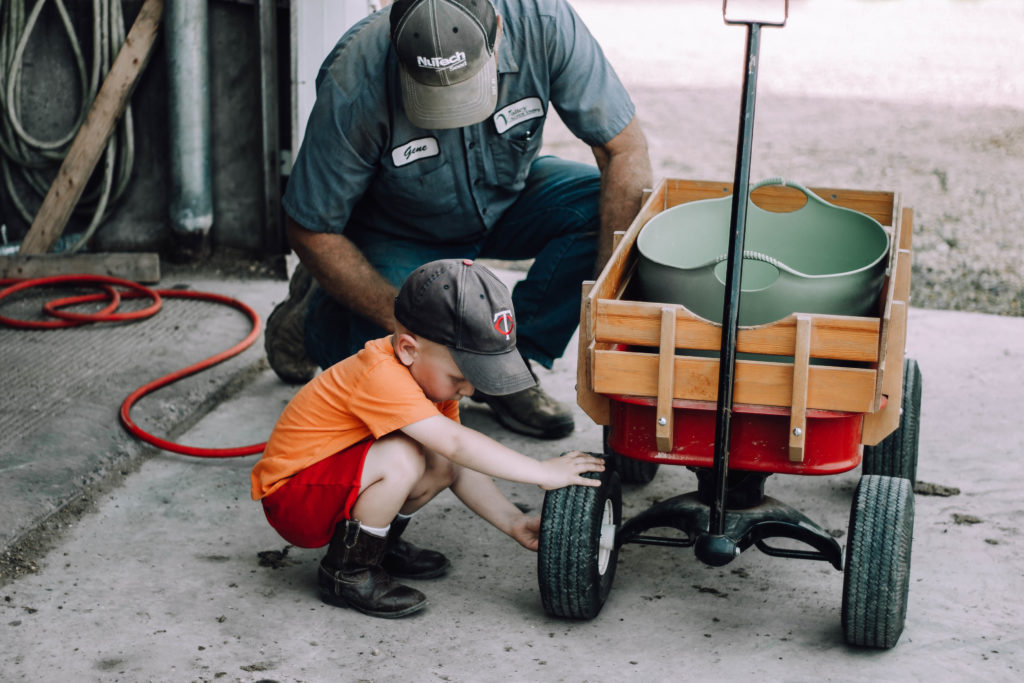 Life isn't always what we want and it's not always easy, but there's a good lesson to be learned about easy living too. If it was easy, everyone would do it! We own a business which means making sacrifices and hard ones sometimes. It's hard to make plans, when we know something could come up and BAM, the plans take a back seat. We do our best to model flexibility and persistence. Luckily we have friends and family who love us and understand that our work is unpredictable and we'll get to see them again in the winter when things slow down a bit:).
Maybe some day our children will choose to move to a big city with plenty of lights and sounds, hustle and bustle or maybe they, like us, will take time to decide where they were meant to be. Surrounding themselves with stars that light up the sky and quiet summer sounds of crickets. Who knows. But for now, they get this. They get to learn and live - life simply on purpose, with us!
Follow along, here!