This tiny bathroom closet was as drab as the rainy days that led up to this project DIY accent wall. It deserved a little love- something fun.
We have 2 bathrooms in our home, but all 6 people who live here, feel the need to use just one. This is the smallest of our 2 bathrooms and tends to clutter up pretty quickly.
Clean first- then paint, right?
I spent the better half of a day cleaning, disinfecting and taking things out that don't belong in the this bathroom in order to make space for the essentials. (By the way, have you ever heard that word spoken as much as we have in the last 2 months?) Anyway, essentials. You know towels, bandaids and tooth brushing supplies?
Making usable areas in a small space
A few years ago I went crazy with hooks and put them everywhere conceivingly possible. In our tiny bathroom, there is a limited amount of space to set your things while showering or bathing, and adding hooks definitely helped this problem!
Almost 9 years ago when we moved in, this bathroom had a pedestal sink in it. It was practically the first thing that I said, "hasta luego" to! There was literally no where to put anything unless you count the floor or the back of the toilet! Ugh!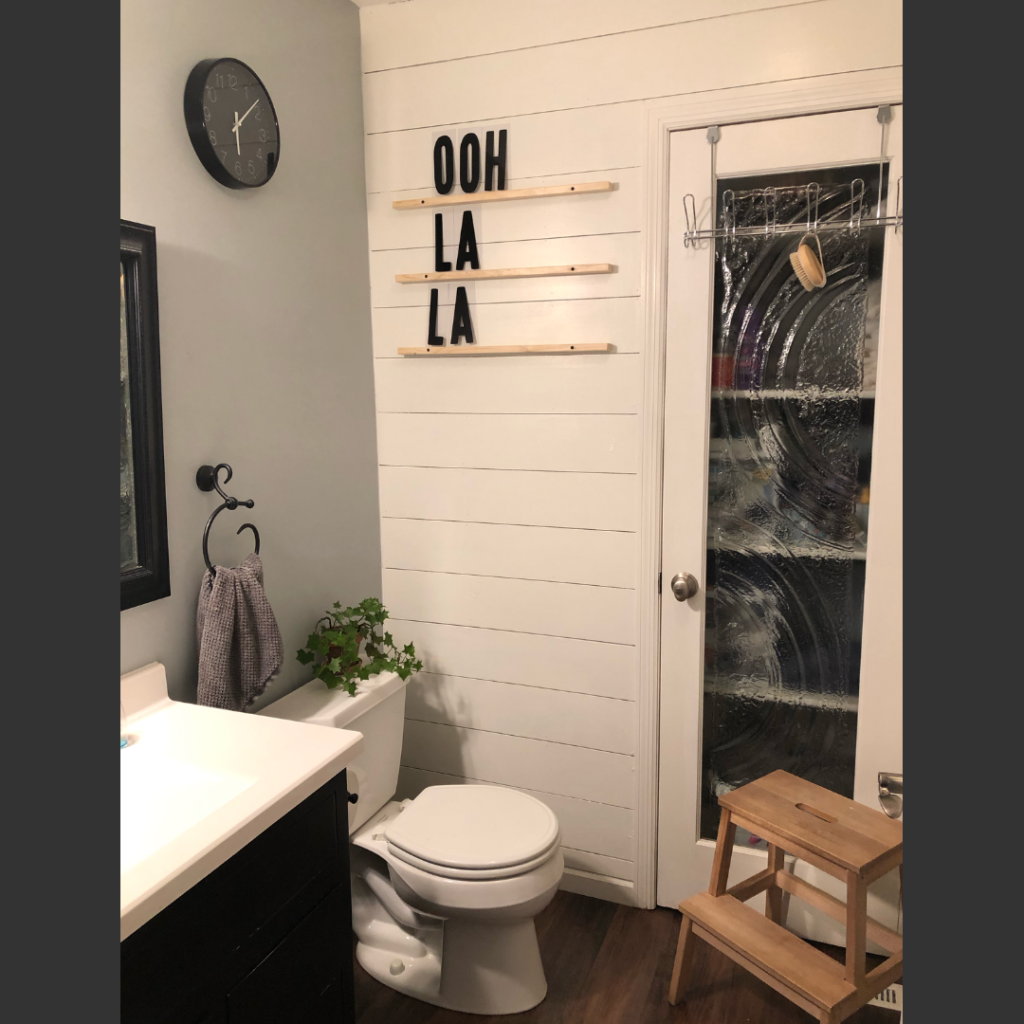 Small spaces need love, too!
Luckily I come from a family of handy folk and a few amazing carpenter uncles. One of my cabinet-building-uncles built this wonderful cabinet that I designed and love!
It has a pull-out step that has a secret hiding place below for extra things like tooth paste and hand soap. Who knew my ability to buy soap in bulk would come in handy one day!
The best part is, that they counter has space to put a set of clothes or other things. It has offered us much more space to store things than our pedestal sink did.
Anyway, this bathroom GETS USED! I mean I guess I shouldn't really complain, there are less rooms to clean when there's only one bathroom being used, right?
DIY Accent Wall
It needed a little something and like most of my projects, I didn't really have a plan, I just winged it. Sometimes this backfires on me, but sometimes things actually work out. To me, it's worth the risk!
Loo Roll Core
I imagine that now with all your people at home you might be going through more loo roll (toilet paper) and might be seeing a few cardboard cores in your waste basket- am I right?
I got inspired when the girls were emptying the garbages the other day and I pulled a few of the cardboard cores out and started creating a stencil of sorts.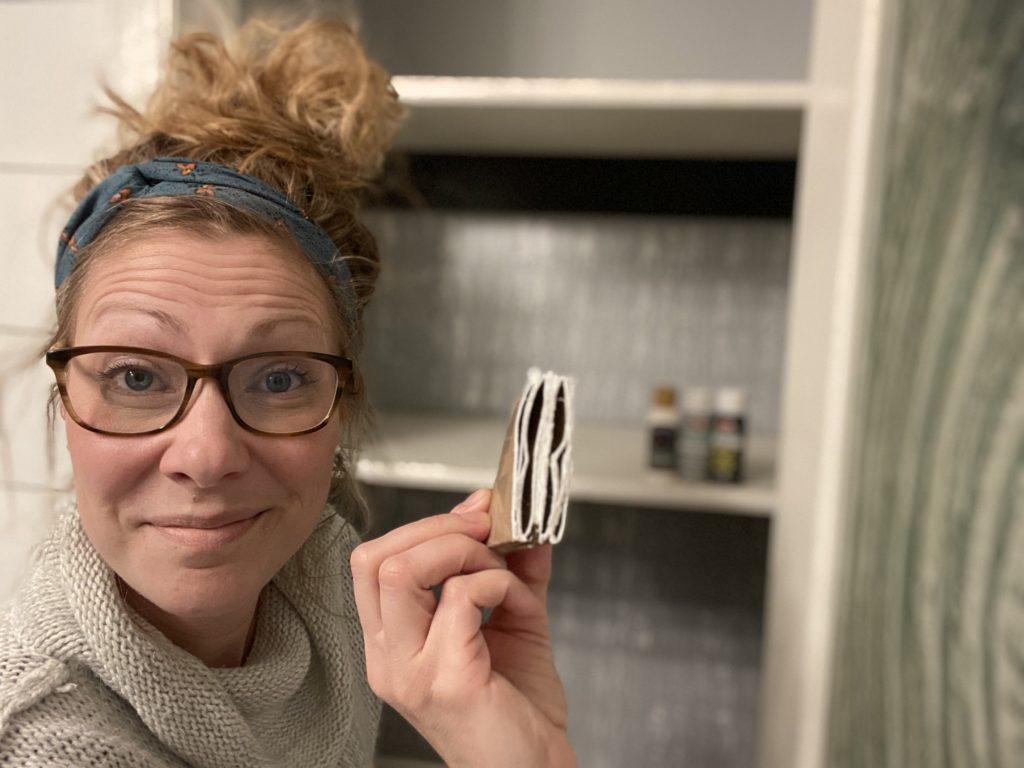 Flattening 3 cores down and then bending them in half gave me a stencil with a bunch of lines. I taped it all up and put a bit of white paint on a paper plate.
I really should have finished cleaning my closet, but you know when inspiration hits, sometimes you just go with it!
Accent wall design
At first I started with vertical lines. Let it dry and put my entire closet back together.
The next morning I woke up and decided that wasn't enough and I went back in and added a horizontal line, creating a linen texture affect. I really like how this turned out.
Theater school really taught me a lot about creating textures and sets. Most of my work through college was on a much larger scale so I learned to step back and look a the design from afar instead of focusing on the exact details – up close.
If you are attempting this or any project with your hands remember that a person is creating it and try not to get too hung up on perfection. The main reason you decided to click on this post and give this a whirl is because you are a person who likes to create things- you are not a machine. The most beautiful things in this world are created by people, not robots. Be free to create what comes to you. Have fun.
Test plot
Of course you can always try out your new stencil on a brown bag or a piece of paper first. This will give you an idea of how much and what color paint you want to use etc.
Options for your accent wall
There are so many ways to make a stencil or create texture.
Paint rollers
TP Core on it side, kept round or bend into another shape
Kitchen sponges
Sharpies
If the only thing you had to create texture or a stencil was your bare hand, that would be cool too!
Be creative and have fun. I know I did!
OTHER SIMPLE CRAFT POSTS
How to make a Waldorf Doll | a 4 Part Series
10 Projects to Repurpose Sheets
How to Reupholster a Chair | Simple Tutorial
How to Make a Girls Dress |No Pattern Needed
YOU MIGHT ALSO LIKE
How to Make Buttery Scalloped Corn
JOIN OUR HEARTY LIVING COMMUNITY!
Hearty recipes, farm living fun
and handmade projects straight to your inbox.
Hello, I'm Emily. I'm so glad you're here! Join me and my family as we find beauty in our everyday life on the farm, hearty recipes and a handmade home. Find more about me and our story here.
Cheers!