Packing up some ten-fifteen meals for a hungry gang can be daunting unless you have a few tricks up your sleeve for meals to-go!
Even if you don't run a farm or serve folks in fields, I bet you might be running to soccer, headed to a meeting, or need to take a meal on the go. Here are our top 5 field meals to-go tricks and tips!
This Post May Contain Affiliate Links. Please Read Our Disclosure Policy.
Lets Review my Top Five To-Go Tips and Essentials for Field Meals to-go
#1 Good Packaging!
We finally found the best divided, compostable trays! Up until this year we had been using styrofoam divided trays. I've always had a love, but mostly hate relationship with styrofoam. It keeps food to-go nice and warm, but it doesn't break down. I needed something to keep food warm, not leak and be able to compostable!
I also love these burger sized ones for when I take food out for the kids or need a smaller portion size.
#2 Keep it hot…and contained
If we're serving something hot on a cool day, we'll insert a piece of foil into our trays to keep the food extra warm and contained.
#3 Jars of Milk!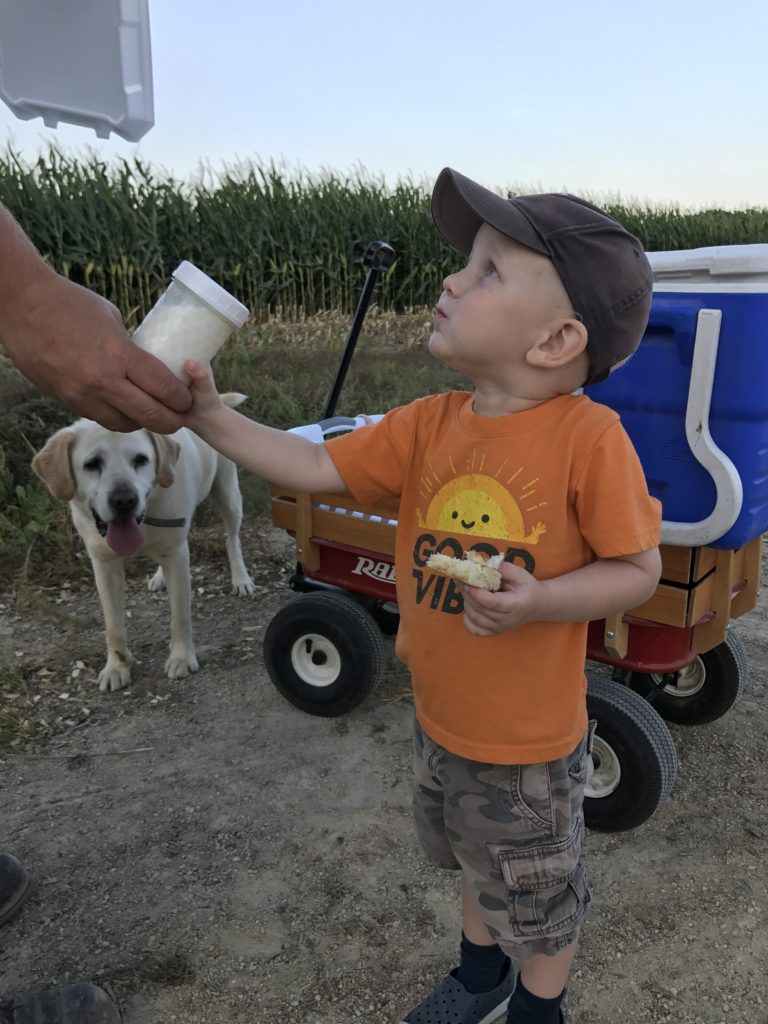 We love serving fresh, cold milk to our hungry crew and it has been received so well, we invested in a couple small racks of drinking jars. This makes carrying milk out to the field super easy! The kids love handing these jars out! Be sure to fill those babies up to the top though, the cold milk goes down good!
After a long evening of feeding folk, toss these into the dishwasher and be sure to wash those straws out by hand using a nice straw brush or you can just grab these one time use paper straws.
#4 Laundry Baskets and wagons!
Another one of our multifunctional items in our household is the laundry basket! They function as child dividers, play cars, unavoidable loads of laundry, fort accessories and, yes, field meal carriers! I can fit about 8 meal trays to-go in one of these baskets!
And if a tray spills out or the basket gets set down in the mud, they clean up easy and just like that they are ready for the next load of procrastinated laundry!
We love our gorilla cart wagon for deliveries close to the farm. We just load the food and the baby up and away we go!
#5 Help!
Good Preparation is important and will save you big time! You can read more about how I prepare for this food-making support season of the year, here!
But, if you're like me or are a farmer's wife who handles the day-to-day primarily single-handedly you know full-well that we can't do this alone!
Get your kids involved! Our kids love dishing up food! Counting how many people are in the field, running in the house and setting that many trays out! It's like a math lesson and catering master class in one!
Even the littlest ones set the forks out, or get the napkins ready. Many hands make for lighter work and I want them all to know they are capable of contributing!
The big kids love writing little message of gratitude on the covers of the trays with sharpies!
Our kids are part of this thing we call life, they are not honored guests that live here.
Questions People are asking about Field Meals to-go
Do you have some good, simple field meal recipes to get me started?
Yes! Here is my field meal recipe book, it's free you to you, my friend!
Where do you buy your bulk food for field meals?
Typically I will bulk up on chicken, see this video. Also soups that can be used for casseroles like cream of mushroom, chicken and tomato.
What do you do about food allergies and field meals?
Typically we know who has a food allergy that might be working with us, but I do also like to check with everyone before the season starts so I know not to make something. Our daughter also has a nut allergy so we are cautious as it is.
Tips about This Packing Food up to go
Meals need to be easy to pick up and not required to cut with a knife.
If the meal requires a fork, don't use a clear one. We have had many folks who can see their forks in container and end up having to eat with their fingers.
If serving something hot in a cool/ cold environment or something a bit more soupy, use a pieces of tin foil to keep things warmer longer and in place.
Use laundry baskets or wagons to carry multiple to-go containers at a time.
If you have room in your vehicle, toss in a light card table to set up your food out in the field.
Remember to grab a few garbage bags so you don't have their garbaged tossed in the back of your car
Bring hand sanitizer wipes with you. Sometimes our crew can be working with chemicals, grease or other substances and need to wash their hands before eating dinner.
Feed yourself before you leave to feed everyone else. It gets busy once you get the food out to the field and you may forget to stop and eat. I always grab something on my way out the door to eat on the way.
But How Do I Get My Kids To Want To Help, I hear you say!
Here's my tip!
Model it with great joy and enthusiasm. But don't say, "I need your help!"
Just enjoy what you are doing, sing a song, whistle while you work, heck even put one of those, fake-it-till-you-make-it smiles, on your face!
They'll wonder what's so great about what moms up to and want to join right on in.
I tend to do a lot of outward talking like, "man it feels good to be able to support the folks helping us out today!" or "Phew that was hard, but we did it together, didn't we!"
Then when the chaos of the night is through, we toss up some high fives and bust out the ice cream!
The brains own reward system will start singing…."that was a good time, I think I'll try it again, sometime!"
What do you do that makes your meals on the run, easier? Comment below!
Sourdough is one of our families staples. Using sourdough starter, I've created a little FREE Recipe book containing "5 Tasty Sourdough Recipes" Get your copy right to your inbox today!
Field Meals to-go Pin this for later!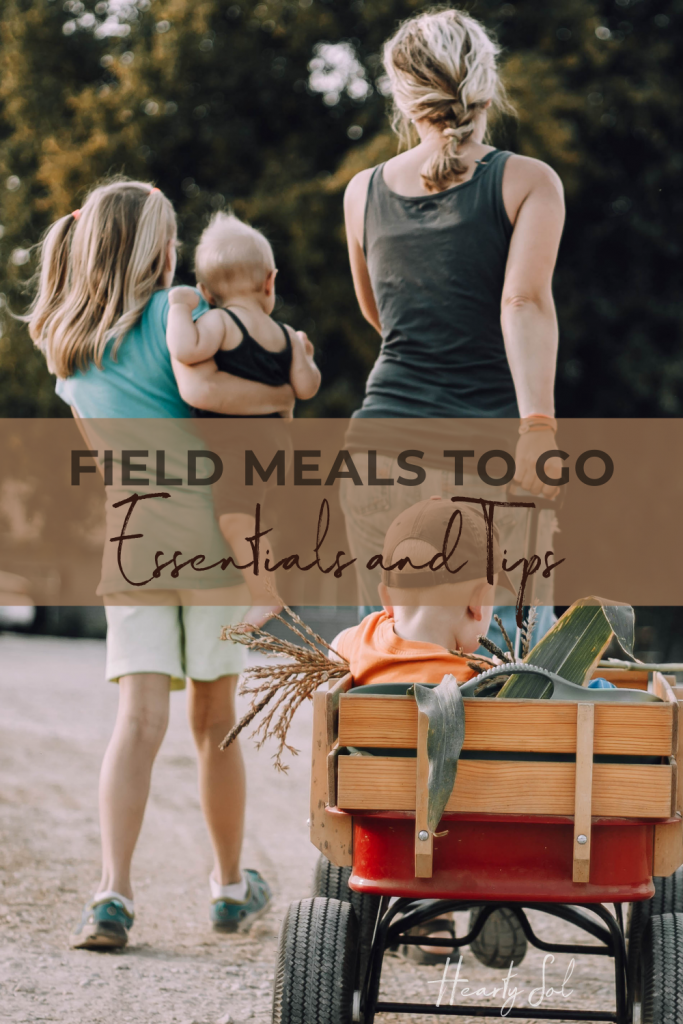 I hope you have a wonderful week!