It's almost time for our tractors to hit the fields. Once the frost thaws, it's all hands on deck. This means long days for everyone, including the support staff. March and April are prep months for the meals that will feed our
crew who spend their days and nights with us. A hot meal will do wonders for our tired and hungry field warriors. No one needs a HANGRY crew!
(This post may contain affiliate links which means I make a small commission at no extra cost to you.)
The Prep
As everyone gets itchy for warmer weather, I'll be in the house going like a madwoman to get all my indoor projects wrapped up. It's the start of food prep for the busy season to come. My kitchen aid chopper and my 7" Serrated Santoku Knife, become my assistants, along with a few ice trays and gallon freezer ziplock bags. (I especially love the kind of ziplock bags that stand up while I dump in my veggies)!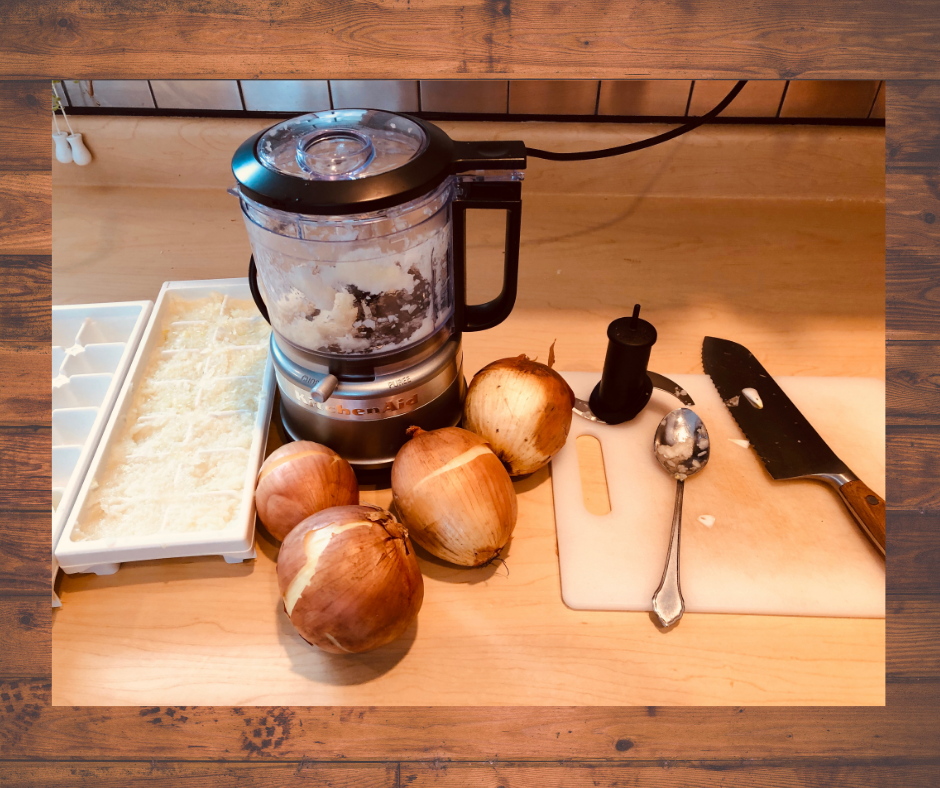 Once the lawnmower is powered up for the season, the gardens are tilled and the chickens are out and about, the kitchen is the last place I want to be. So I do the brunt of the food prep while it's still cool out.
I wash all the veggies, quarter and toss into the Kitchen Aid food processor.
For the garlic and onions, I use my little ice cube trays. I stack them up in the freezer for a couple of hours. Then pop the ice cubed garlic and onion into freezer bags, to store in the freezer.
Making brownies for the freezer, chopping up veggies, and making dough to freeze for buns, quick-like before it gets warm out!
(This post may contain affiliate links which means I make a small commission at no extra cost to you.)
Many days in the field are entirely dependent on the weather. We (the support peeps) may get 1-2 hours notice before we need to whip up a meal for 10-20 folks. We keep the cupboards full, veggies chopped and ready. With meat thawed and bread raising, a little prep can make this task a breeze!
We use a lot of veggies and meat for our field meals.
To save time, we chop up and freeze garlic, onions, carrots, celery, pepper, asparagus, zucchini and broccoli.
I like to store veggies in gallon ziplock freezer bags, bringing them out to saute' in a bit of olive oil for a few minutes before tossing them into a dish.
Growing up on a farm I watched my mom prepare for our large working crew on the farm and I know mom knows best!
Here's just one of her many secrets!
"Just take a pound of burger out of the freezer the night before," she'd say.
Comment below if you would like a post about our most loved field meal recipes!
Stay tuned for how I make my sourdough rolls, to freeze for later and my favorite kitchen tools...
Do you find these posts interesting to you? Sign up to receive free updates when a new post is published.
If you feel moved to do so, Follow us on Instagram and Like and Share us on Facebook!
Cheers!