The tractors are rearing up and that means it's almost time for some delicious home cooked field meals.
This means long days for everyone, including the support staff. March and April are prep months for the meals that will feed our crew who spend the next months, days and nights with us.
As everyone gets itchy for warmer weather, I'll be in the house going like a madwoman to get all my indoor projects wrapped up. It's the start of food prep for the busy season to come.
In my Mom's Kitchen
As a 5th Generation Farmer, I know what it's like to help my grandma and mom prepare for these big meals for the folks in the field.
There is a rush to cook and bake and make sure everything is ready at just the same time.
Packing things up in the truck and making sure not to spill the lemonade on the way to the tractors.
I also realize that the further and further we all become removed from the farm/ ranch ways of living the less and less experience we bring to this topic.
My hope with this post is to be able to give you a glimpse into my kitchen we we prepare for this next season of farming.
Almost outside season for us!
A few things make me feel ready and prepared for the season where we rarely step inside the house because it's too nice outside.
I have found grilling meat outside on our grill helps with the running back and forth.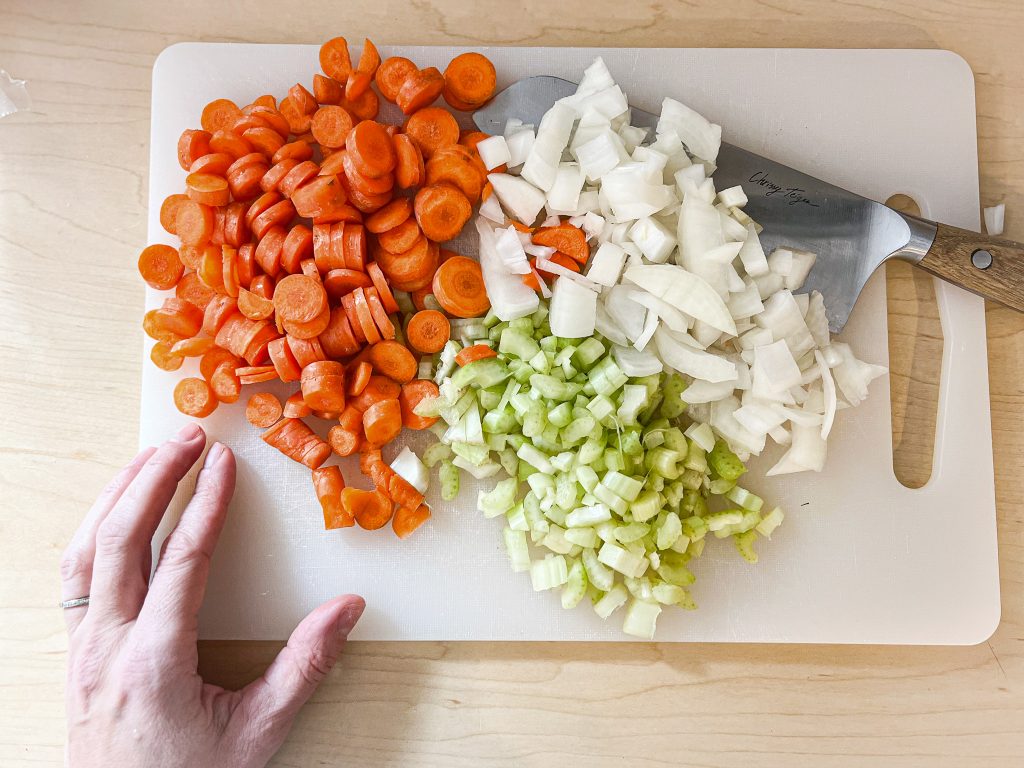 What is Mirepoix and How we use it to Prepare for Field Meals
I tend to start many of our dishes with an aromatic mix of Mirepoix- basically chopped onion, celery and carrots. Chopping these 3 up and freezing them in ziplock bags saves so much time, when making stews, soups, casseroles or just flavoring a roasted chicken!
This Post May Contain Affiliate Links. Please Read Our Disclosure Policy.
Why we Feed our Field Crew
I don't know about your farm or ranch, but here, we have a community of farmers who come together to get tasks done. We opt to share man power and machinery in order to pool our resources to do the best job we can do, growing food.
Many people will spend many days and nights with us. Sometimes working through the night to get the job done before the rain starts or in order to get that piece of machinery to another farm the next day.
They leave their farms, homes, kids and regularly scheduled family dinners to help us. To be part of our farm crew.
My job is to honor their time away from their family and help nourish them while they are working with us. Grandma always said, "We have to feed the horse that pulls the plow".
Could we tell them to pack their own dinner? Sure thing! But we hear more and more comments after supper like, "Man, was that good!" "I appreciated that hot meal so much!" "Best meal I've had all year!" Those are the comments that keep us cooking. If we can keep them happy and fed, they are more satisfied and actually want to come back to help us! So, I will absolutely do what I can to make that happen.
Honestly we have heard some people come help us, just for the meals around here! And I am telling you, it doesn't have to be extravagant to get those satisfaction ratings!
Spring on the Farm Video!
Make a Field Meal Plan
I know, I am not the best planner in field meal history. So, I have a list of different favorite field meals right inside of my main pantry for quick reference.
Planning ahead with a stock up of groceries can really help with those last minute calls for meals. Quick things like frozen bread dough, cream of mushroom, chicken and tomato soups that I get at Sam's club are all super handy to have ready to cook with.
Make a meal list: farm favorites, quick-to-make, things you enjoy making. Or you can have our farm's favorites in my free field meal recipe book!
Helpful Tools of the Trade
There are a few things that I wouldn't be without in my kitchen when it comes to preparing for cooking for a large crew.
This knife from Chrissy Tiegan. I use it every single day in our home. Everything from a fresh loaf of

Crusty French Bread

to

Ham

I'm actually thinking about getting a second one for when I have extra hands in the kitchen. Everyone who helps me in the kitchen has their favorite knife and we all seem to fight over this one!
My long handled Chopper. I love chopping up burger for Sloppy Joes or finely cutting vegetables for our favorite Green Bean Soup and this long handle saves your hands from dipping into the greasy burger or hot soup.
Our Instant Pot. It's nothing fancy. Just a basic Instant Pot. I picked up this little silicon sling lifter that goes in side of it that helps me lift out a big chicken. Definitely optionaI but super useful. I use our Instant Pot for quickly making up a frozen roast or making up a batch of Bone Broth.
These

compostable divided food trays

. These may hold slightly less heat than the original styrofoam, but it just makes us move a little faster. I'm ok with that if I can try to save on our planet a bit!
A simple laundry basket. We can load up 8-10 to-go trays in this puppy. It helps with transportation and spilling things like beans or gravy into an other compartments.
Tips about field meal preparation
#1. In the summer months, I always take out some sort of meat from our freezer. If I think we are going to use it the same day, I leave it in the sink to thaw. If I think we are going to use it in the next day or so, I take it out of the packaging and set it in a glass pan in my refrigerator.
#2. What if you aren't a from-scratcher, grow your own veggies, love to follow a recipe or maybe just have a few minutes to get something in the field? Toss in a few frozen pizzas, grab a gallon of milk and some cookies from the gas station and I promise your crew will be just happy being fed!
Don't fret. I myself have had moments notice or just plain burnt out on making large meals and made it work with a couple sandwiches, chips and a drink.
#3. Get help, when you need to. Taking care of kids in the summer, outside obligations, perhaps a part/full time job, and a farm can be super tough. I have my mom to help fill in the gaps when we need. But maybe for you it's a sister, neighbor, grandma, mom or friend who can toss in a pan of bars for you, pick up around the house, or mow the lawn while you try to accomplish all the things in this season.
#4. Whether you are heading out the field or eating at the picnic table in the yard, grab a couple of garbage bags for all the compostable, disposable and recyclable items.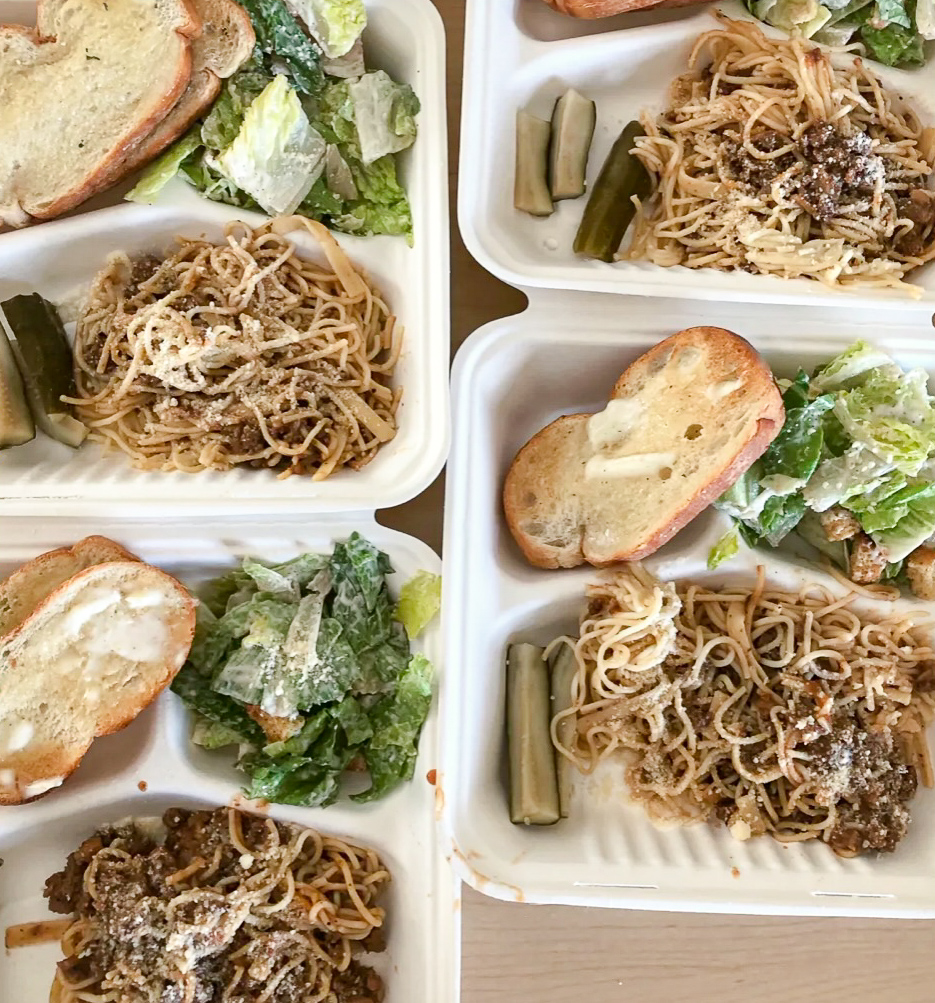 Questions People are asking about Field Meals
How many people do you usually feed?
Ha! That is the golden question around here. Some times it's just my dad and husband. Sometimes it can be up to 30. The key to figuring out how much food to make is ask how many people are working, and then add 5 🙂
Do you buy all kinds of groceries every week?
We have freezers full of our home grown beef, chicken and pork so I can easily rely on that. I also bulk up on cream of chicken, mushroom and tomato soups during this time. I use the veggies coming in from the garden, from our cold storage and typically what I can pick up from the store that's seasonal.
Do your kids like to help?
Yes! It's kinda this task that could either be daunting or we can make it fun. The kids always kinda enjoy the bustling kitchen, especially when grandma's here to help. It's the real team effort that gets the adrenaline rushing.
Field Meals Pin this for later!

Do you find these posts interesting to you? What other questions do you have about getting the kitchen ready for field meal season?
Sign up to receive free updates when a new post is published.
If you feel moved to do so, Follow us on Instagram and Like and Share us on Facebook!
Cheers!