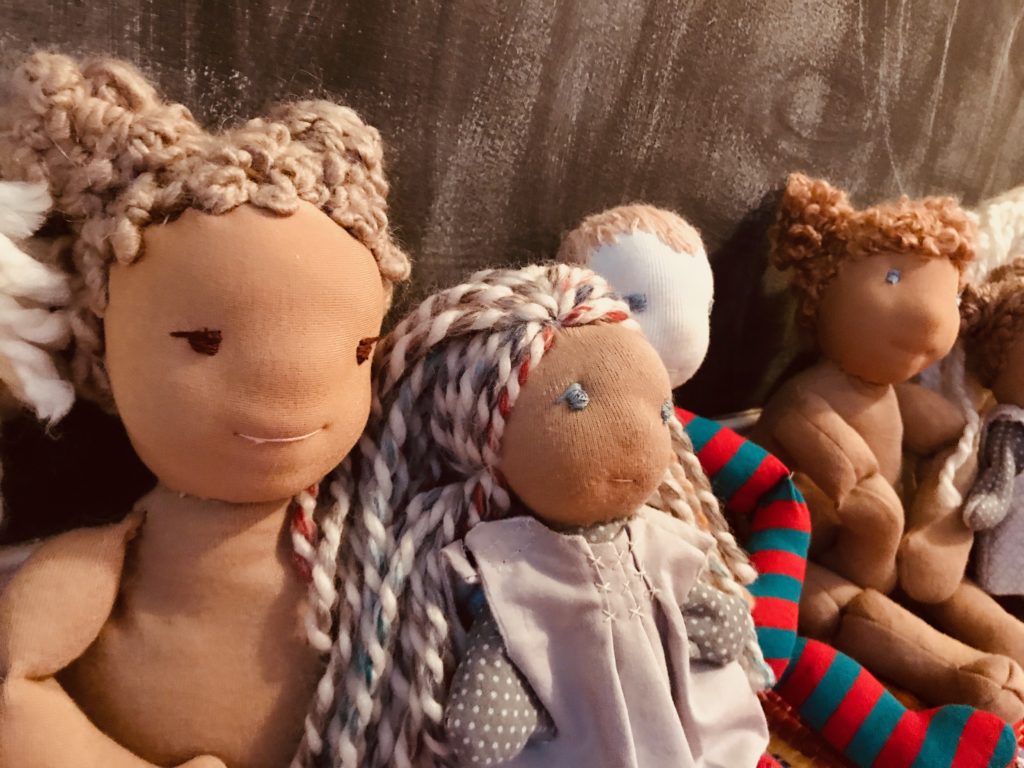 What is a Waldorf Doll?
A Waldorf doll (also called Steiner doll) is a form of doll compatible with Waldorf (or Steiner) education philosophies. Dolls are generally made of natural fibers—such as wool, cotton, or linen—from their stuffing to their hair to their clothing. Use what you have on hand, to make something special.
(This post may contain affiliate links which means I make a small commission at no extra cost to you.)
A few years back I was searching for something to make for our kiddos for Christmas. I love making things especially for them.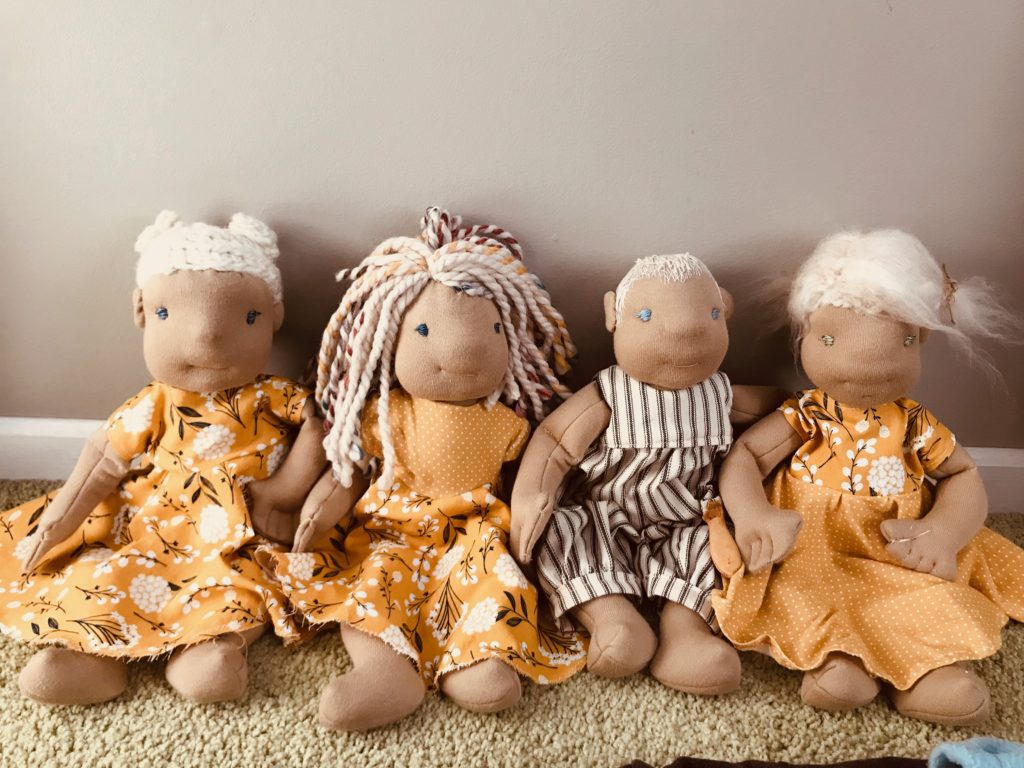 Upon my random Pinterest searching, I came upon the Waldorf doll and immediately knew this is what I wanted to make! Little did I know just what this would mean. I loved doing it so much that I ended up making 15 dolls in 1 month that year.
Each doll can take anywhere from 25-30 hours to make so the folks receiving these are very special people!
Making a Waldorf Doll
Our kitchen table was covered in doll skin, mohair and yarn! It was bananas. My husband was so glad when Chrismas came and I had to put it all away. "Can you stop wefting wigs, please", he'd say. He picked up on the lingo quick!
I found a wonderful resource when making these dolls over at Brambles and Blossoms. Cathy has been making dolls forever and knows it all! There's even a facebook page that you can follow to get help if needed.
I started with purchasing her very reasonable Waldorf doll body pattern off of etsy.
By now I've now made almost 25 dolls and have just one more to finish up to give to a special little girl in our lives.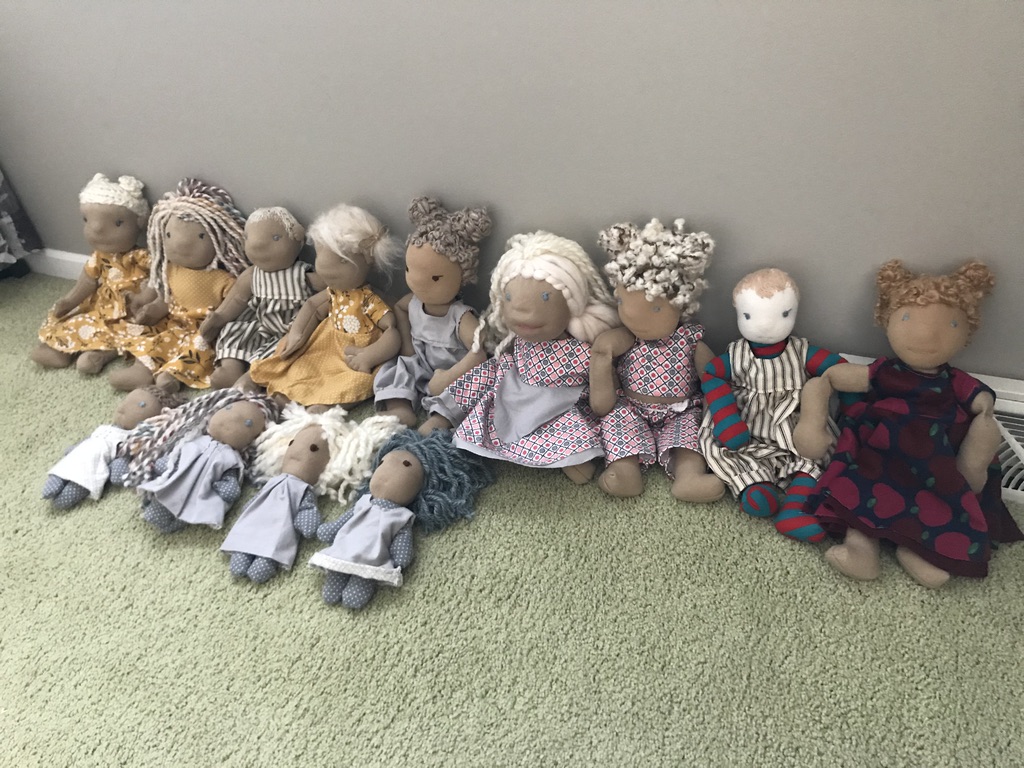 Tips, Tricks + a Video Tutorial!
There are definitely some tricks and tips when it comes to doll-making and believe me, I never thought I'd be a doll-maker. But these dolls are so irresistibly adorable and can be custom made to look like the child receiving it, I just couldn't help myself!
I thought I'd put together a little series about how I make these dolls so you can follow along!
When I was making these dolls, in the evenings, in my dim workspace and I really wished that there was step by step video guide to follow vs. reading instructions in the dim light. Some of these steps are so intricate and a video showing just how might just help you too!
Materials I use for making a Waldorf Doll:
Wool (you'll need 5-6 of these)
Waldorf Doll body pattern
Doll Footed PJs Pattern: https://www.etsy.com/listing/227125447/doll-footed-pajamas-pattern-for-the-wild?ref=yr. I love making several of these PJs for my children's doll as it is another protective layer for the doll. These PJ's also seemed to keep their skin cleaner. They are easier to remove and clean than to spot clean your doll. It also protects their joints from getting directly tugged on. Our kids tend to carry their Waldorf dolls around by their limbs and it seems they are a bit more protected when they have their jammies on.
This is the Mohair yarn that I used for making the wigs in every different color thinkable!
My extra special sewing scissors that I've had for 15 years!
A sewing machine similar to mine
Fleece lining for doll's body
Crochet hook (you don't need all of these, but it's a pretty good deal!)
Beeswax crayon for adding color to cheeks and lips
How to Clean your Waldorf Doll
Here's our special cleaning recipe that we use on everything from getting slime out of the carpet to cleaning up our Waldorf Dolls!
Grab your FREE Waldorf Doll Head + Face Tutorial HERE!
[mc4wp_form id="63″]
Cheers!