This delicious and healthy tomato juice is the perfect morning beverage or mixes great into a Bloody Mary!
(This post may contain affiliate links which means I make a small commission at no extra cost to you.)
Preserving method: Water bath canning
Makes about 4-quart jars
When end-of-summer bounty finds you with glorious heaps of tomatoes, turn to this flavorful "new" classic recipe. The addition of one beet adds extra sweetness and superb color.
Recipe excerpted from The All New Ball® Book of Canning and Preserving, published by Oxmoor House (2016).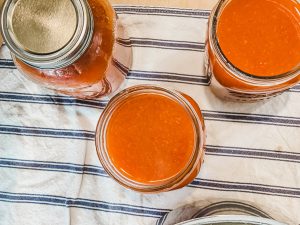 You will need
14 lb. tomatoes, cored and quartered
6 Carrots, chopped
6 Stalks of Celery, chopped
3 Onion, chopped
3 Bell Peppers, chopped
6 Cloves of Garlic, chopped
1 Sm. Zucchini
1 Tbsp. salt or celery salt
2 tsp. Citric Acid or 1⁄2 cup bottled lemon juice
Glass preserving jars with lids and bands
Food Mill
Directions
Core tomatoes and cut into quarters. Bring tomatoes, any accumulated juice, and diced vegetables to a boil in a large stainless steel or enameled stockpot, stirring often; reduce heat and simmer, uncovered, 15 minutes or until vegetables are very tender, stirring often.
Press tomato mixture, in batches, through a food mill, into a large bowl; discard skins and seeds. Return tomato juice to stockpot. Cook over medium heat, stirring often until a thermometer registers 190°F; remove from heat. Stir in salt and citric acid or lemon juice.
Ladle hot juice into a hot jar, leaving 1-inch headspace. Remove air bubbles. Wipe jar rim. Center lid on jar. Apply band, and adjust to fingertip-tight. Place jar in boiling- water canner. Repeat until all jars are filled.
Process jars 40 minutes, adjusting for altitude. Turn off heat; remove the lid, and let jars stand 5 minutes. Remove jars and cool.
*Tomatoes that are very ripe and bursting with juice can be used here.
Storing Tomato Juice
I love storing our new V8 tomato juice in our basement storage room where it's cool and dark. If you choose not to process using the hot water bath method, you can also freeze your jars of tomato juice. Just make sure all of your jars are cool before placing into the freezer or you could end up with cracked jars.  The extreme temperature change can make your jars burst, leaving you a mess to clean up. Trust me on this one. Just let them cool for a day or so. 😉
NEW! Learn How to Sew | A Simple Sewing Series!
Let's dig out that sewing machine and get you learning how to sew all kinds of simple sewing projects just-in-time for the holidays! What would you like to learn to sew? Comment below!
If you haven't already subscribed to my blog, get signed up so you don't miss out on this simple sewing series!