These crispy, buttery Swedish lace cookies with just the right amount of chocolate will have you coming back for more!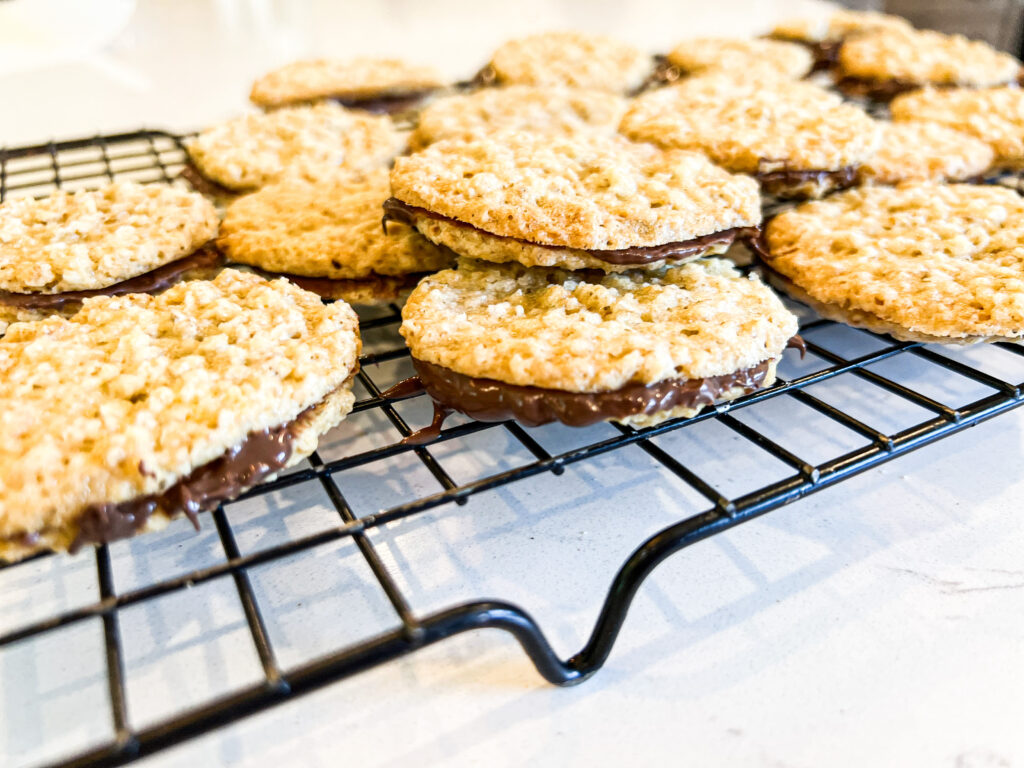 Swedish Lace Cookie
We've made these long ago with grandma and the taste for me is nostalgic. She certainly didn't use Nutella so I've adapted the recipe a bit.
These Havreflarn cookies or simply put Swedish Lace Cookies with Chocolate are hands-down my most favorite cookie. I am much more into a lighter, crispy cookie than I am the doughy, heavier version. I love that these are easy to freeze and also really benefit from the cool, dry environment of the freezer too.
As I read more into the Havreflarn Cookie- as she had written on top of her hand written recipe card, it seems like there's many variations and perhaps even origins. But let's not get caught up in all that just yet. These are buttery and crispy and they have chocolate in them. That's really all that matters.
Jump to Recipe
This Post May Contain Affiliate Links. Please Read Our Disclosure Policy.
Oatmeal Chocolate Cookies the Video!
Making these Crispy Oatmeal Cookies with Margarine vs. Butter
I usually make most cookies with butter. Why? Because we are dairy farmers and butter is life. But these cookies need margarine. Their delectable taste relies on it! These Havreflan cookies are really the only reason I keep margarine on hand! You could totally give butter a try with this recipe, but it will definitely change the result of this cookie, trust me, I dabbled with that experiment too.
The margarine just really brings out the flavors of the oatmeal and chocolate without overpowering any one flavor.
The Norwegian Havreflan
The jury is still out about which country hosted this delectable cookie first. But translated, Havreflan in Norwegian, means sweet, oatmeal cookie with a crispy or brittle texture best with tea or coffee. Perhaps it was Sweden then, who thought to add chocolate to the middle of two of these buttery lovelies!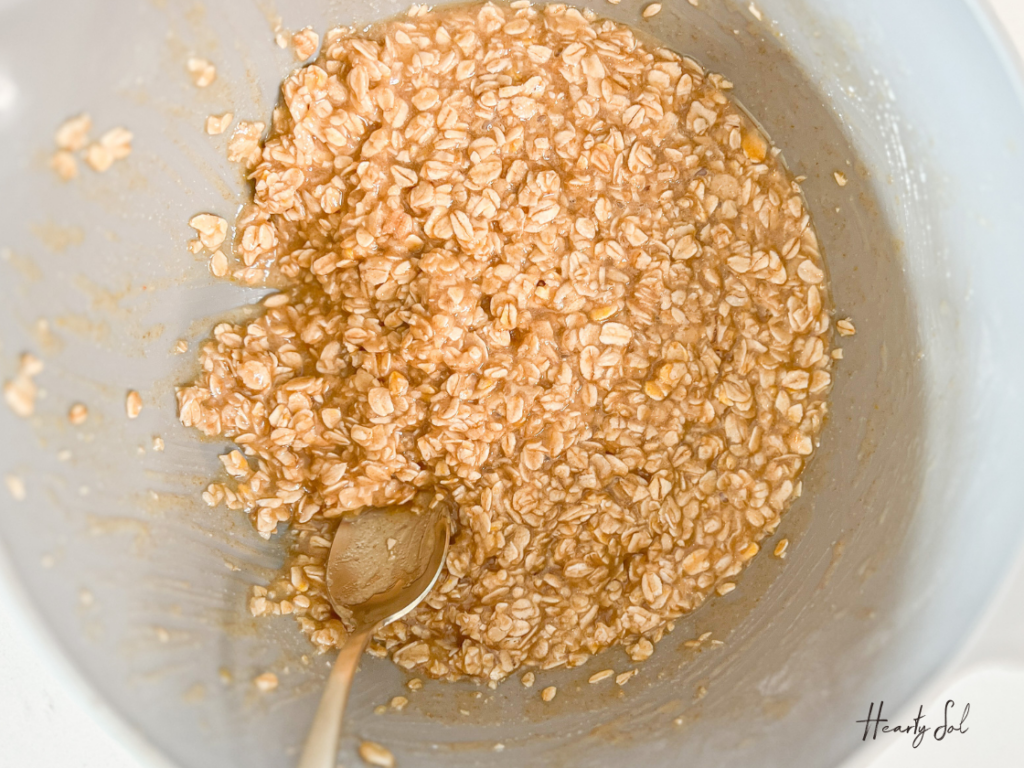 Why You'll Love Making Swedish Lace Cookies with Nutella
This recipe is super versatile. Make them look like sweet oatmeal tacos adding sprinkles of the season or keep them flat.
Add Chocolate or leave them plain crispy, butter delights all on their own.
Freeze them! YES, my friend the best part about these cookies is that they freezer super well and some of you might find them even tastier straight out of the freezer.
Sweet Lace Cookies with Quick Oats or Regular
I have made this recipe with both quick-cooking oats and regular. I enjoy the cookies either way. Sometimes I will take the oats and lightly pulse them through my coffee grinder or food processor to create less texture within this cookie. The decision is entirely up to you!
Materials you'll need to make these Buttery Lace Cookies with Chocolate
Baking wear + a couple of baking sheets. I really like using these silicon pan sheets because it saves on parchment paper, their reusable and they fit perfectly on my cookies sheet, but it's totally not necessary!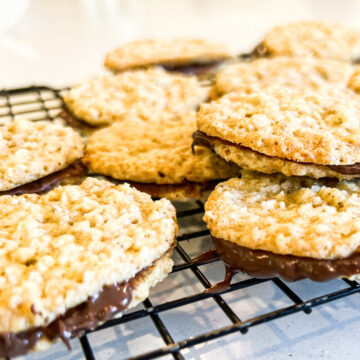 Swedish Lace Cookies with Chocolate
Crispy, buttery and delicious. A light variety of cookie with a touch of chocolate.
2 Cookie Sheets

1 Mixing Bowl
1

Cup

Minus 1 Tablespoon of Margarine

2.5

Cups

Oats (either regular or quick-cooking)

1.5

Cups

Sugar

1/2

Cup

Plus 1 Tablespoon of All-Purpose Flour

Almond Flour can be substituted to make this gluten free.

1

Generous pinch of salt

1

Extra large egg

1-2

drops

Vanilla

1/4

teaspoon

Baking Powder

1/4

teaspoon

Baking Soda

9

ounces

Bittersweet or milk chocolate or Nutella
Melt the margarine over low heat and allow to cool.

Combine oats, sugar, flour and salt to a mixing bowl.

Stir in cooled margarine, then stir in egg and vanilla.

Making sure that your ingredients are nice and cool, then add baking soda and baking powder. (We don't want to activate these 2 ingredients before they get to the oven).

Cover with plastic wrap or bowl cover and chill for around 2 hours.

Preheat oven to 350° and line baking sheets with parchment paper.

Once dough has rested and cooled, scoop tiny drops of dough onto cookie sheets in order to have identical cookies to sandwich together, I use 1/3 ounce. Place balls on sheet and leave 2" between them.

Bake for 8-9 minutes. The cookies will be golden around the edges and lightly colored in the center.

Optional: Use a glass to circle around the cookies when they are warm out of the oven to make them perfectly round and identical. I only do this if I am taking them somewhere 😉

Allow to cool on the baking sheets, then transfer to a cooling rack.

Add chocolate either by melting chocolate over a hot water bath in a heat safe bowl and spooning it on or by adding a dollop of Nutella.

(Hardened Chocolate like chocolate chips will make traveling, warm temperatures or freezing them, easier). We use Nutella when we are just eating them at home or sharing them with friends.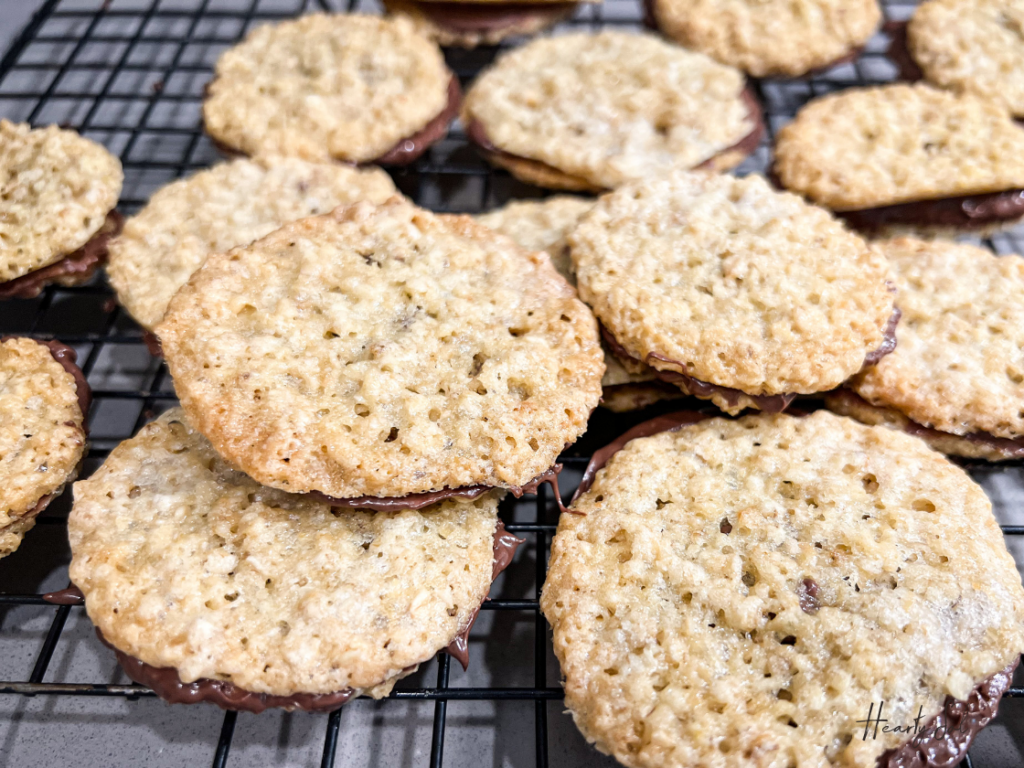 Questions People are asking about Lace Cookies
Do these lace cookies have nuts in them?
These cookies do not contain nuts. I imagine, though, if you wanted to crush up some nuts and add it to this recipe, you certainly could.
How do you make Lace cookies Gluten Free?
There is a super easy way to make these gluten free, by using an almond flour or another gluten free flour. Equally as delicious!
How long do Lace cookies last?
These Swedish Lace cookies do not like humidity. To keep them crispy, they like a nice dry, cool environment. So keeping them in an airtight container and even perhaps in the refrigerator if you are in a more humid time of year or environment is a good idea. They can last up to 2 weeks. Though, they always get eaten way before that, in our home!
Lace Cookies with or without chocolate
These amazing cookies are fantastic with our without the addition of chocolate or Nutella. Actually one of the first batches that I made, I was not careful to measure my scoops appropriately and they came out huge and kinda misshapen. I took the entire first batch, let them cool, crumbled them up into a jar and set the jar in the refrigerator. It made the most amazing granola to add on top of yogurt or added to milk!
You could leave the chocolate completely out of this recipe and these Swedish Lace cookies would be amazingly crispy, buttery and heavenly all on their own. The addition of chocolate is entirely up to you. When I get in a quick hurry, I don't even take care to spread the chocolate evenly on the cookies, I just dollop onto a cookie and smoosh the top cookie onto the chocolate, spreading it to the edges all on it's own.
Tips about these Havreflarn Cookies
Only drop 1/3 of an ounce onto the cookie sheet at time. I know this sound specific and you can experiment on your own, but take it from me. Just a little ball on the end of a spoon is sufficient!
Allow these cookies to cool on your baking sheet as oppose to transferring them when they are warm and gooey. They will set up so much better if allowed to cool flat on the pan.
Don't over bake these cookies. Bake until just the outside edge is brown then remove from the oven. I keep a pretty close eye at the 8 minute mark.
To make them perfectly round and to try to have a consistent round shape, use a glass jar to circle around them when they are still hot on the pan. (The video shows this well).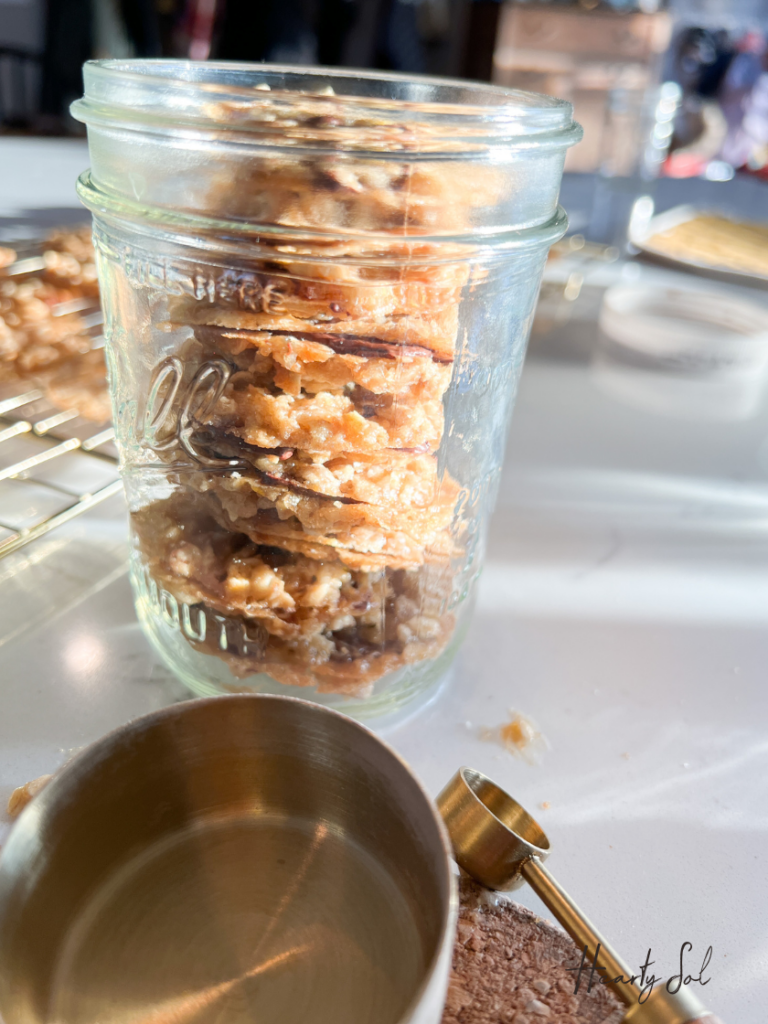 Home Baked Gifts
I love placing a few home baked cookies like these Swedish Lace Cookies with Chocolate in a simple wide-mouth jar, adding a small piece of fabric and tying a bit of twin around the top to gift them to the milk man, teachers or our families doctors office as a special holiday treat. It would be easy to slip a jar of these in a birthday basket or a hostess gift too!
Pin this Crispy Oatmeal Cookie Recipe for later!