Cinnamon doughnuts are a beloved classic, but what if we told you that you could enjoy their deliciousness without the guilt of frying? Baked cinnamon doughnuts are the answer! In this step-by-step guide, we'll show you how to make these scrumptious treats at home, and we'll answer some common questions along the way. Get ready to savor the warmth of cinnamon and the softness of baked doughnuts, guilt-free!
These are the most divine thing, EVER!
If you've followed along with us for very long, you'll have realized what a large influence my grandma(s) and my mom have had on me when it comes to baking and cooking. All the generational women in my life, grew up, were raised and lived on farms. They learned how to cook for a crew, keep things warm until the farmer finally came in to eat and how to make a mad casserole out of every leftover in the fridge.
Recently I was sifting through my grandma's recipe box, as I often do when I need some inspiration. As I looked through the recipes, I could tell exactly which era she was cooking in. There were a few microwave instructions, which indicates how excited everyone was when the first microwaves came out. There was lots of pimento cheese, cheese wiz, Velveeta, coconut, nuts and yeast cake used.
One recipe I came upon said Cinnamon Doughnuts! I read through it and could almost taste delight. I did modify her version as she, was originally frying them instead of baking, so it took me a few batches to get it just right! By the 3rd batch, I had nailed this baked cinnamon doughnut recipe. They are so moist and buttery. Just mouth-watering! So let's get to making some! Shall we?
Ingredients for Baked Cinnamon Doughnuts
Before you start, gather these ingredients:
1 cup all-purpose flour
1/2 cup granulated sugar
1 tsp baking powder
1/4 tsp baking soda
1/2 tsp ground cinnamon
1/4 tsp ground nutmeg
1/4 tsp salt
1/2 cup buttermilk
1 large egg
2 tbsp unsalted butter, melted
1 tsp vanilla extract
Making the Cinnamon Doughnut Batter
Step 1: Mixing Dry Ingredients
In a mixing bowl, combine the flour, sugar, baking powder, baking soda, ground cinnamon, ground nutmeg, and salt. These ingredients are the foundation of your delicious baked doughnuts.
Step 2: Preparing the Wet Ingredients
In another bowl, whisk together the buttermilk, egg, melted butter, and vanilla extract until well combined.
Step 3: Combining Wet and Dry Mixtures
Slowly add the wet mixture to the dry ingredients, stirring until you have a smooth batter. Don't over-mix/stir.
Making the Cinnamon Doughnuts
Step 4: Preparing the Donut Pan
Preheat your oven to 350°F (175°C) and grease a doughnut pan with cooking spray or butter.
Step 5: Filling the Donut Pan
Carefully spoon or pipe the doughnut batter into the greased doughnut pan, filling each mold about 2/3 full.
Step 6: Baking Time
Bake in the preheated oven for approximately 15-17 minutes or until the doughnuts spring back when touched and a toothpick comes out clean.
Making the Cinnamon Sugar Coating
Step 7: The Cinnamon Sugar Topping
While the doughnuts are still warm, dip them in a bowl of melted butter and roll them in a mixture of granulated sugar and ground cinnamon. This will give them that classic cinnamon doughnut flavor.
Print the Recipe for Safe Keeping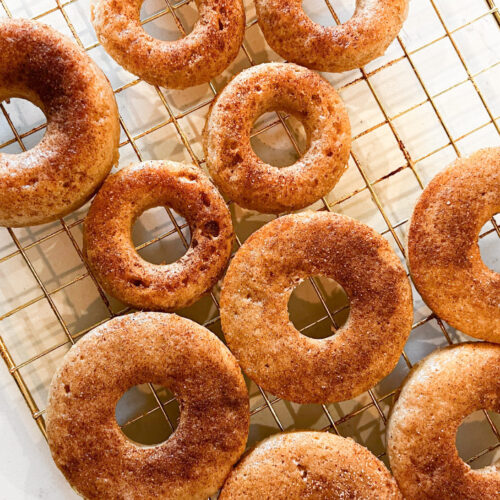 Baked Cinnamon Doughnuts
Delectable and moist! These baked cinnamon donuts are completely guilt-free!
1 Mixing Bowl

1 Doughnut Pan
Preheat the oven to 350F. Spray 2 doughnut pans well.

Into a large bowl, sift together the flour, sugar, baking powder, cinnamon, nutmeg, and salt.

In a smaller bowl, whisk together the egg, milk, melted butter, and vanilla. Stir the wet mixture into the dry mixture.

Spoon the batter into the baking pans, filling each one a little more than three-quarters full.

Bake for 17 minutes, until a toothpick comes out clean. Allow to cool for 5 minutes, then tap the doughnuts out onto a sheet pan.

For the topping, melt the 8 tablespoons of butter in an 8-inch saute pan. Combine the sugar and cinnamon in a small bowl. Dip each doughnut first in the butter and then in the cinnamon sugar, either on one side or both sides.
This Post May Contain Affiliate Links. Please Read Our Disclosure Policy.
Why You'll Love Making Baked Cinnamon Donuts
These baked donuts are healthier and, frankly, tastier than their fried counterparts! So you can enjoy more of them!
The moisture level of these donuts is amazing! Even on day 4, they are super soft and moist!
We love that we can dirty up the kitchen and make a few batches at a time. Some for now and some to freeze for later consumption! Maybe we'll even save a batch for Christmas morning!
Questions People are asking about Making Baked Cinnamon Donuts
Can I make these donuts without a donut pan?
You can use a muffin pan if you don't have a donut pan. Simply shape the batter into muffin molds, and you'll have cinnamon muffins instead.
Can I make these donuts dairy-free?
Yes, you can substitute almond milk or soy milk for buttermilk and use dairy-free butter. You won't miss out on flavor or texture!
How do I store leftover baked donuts?
Keep them in an airtight container at room temperature for up to 2 days, or refrigerate for a longer shelf life.
Can I freeze these Cinnamon Donuts?
Yes! I left mine on a pan, flash-froze them in the freezer for about 1 hour, then situated them in a gallon freezer bag, labeled them, and added the date
Baked cinnamon donuts are a delightful alternative to their fried counterparts. They're light, fluffy, and just as flavorful, all without the excess oil. With this easy recipe, you can enjoy the warm, comforting taste of cinnamon donuts anytime you like. So, gather your ingredients and whip up a batch of these baked beauties for a guilt-free treat that's sure to please your taste buds!
Pin this for later!