Crispy, buttery and always homemade! These homemade buttered Egg Noodles are easier than you think!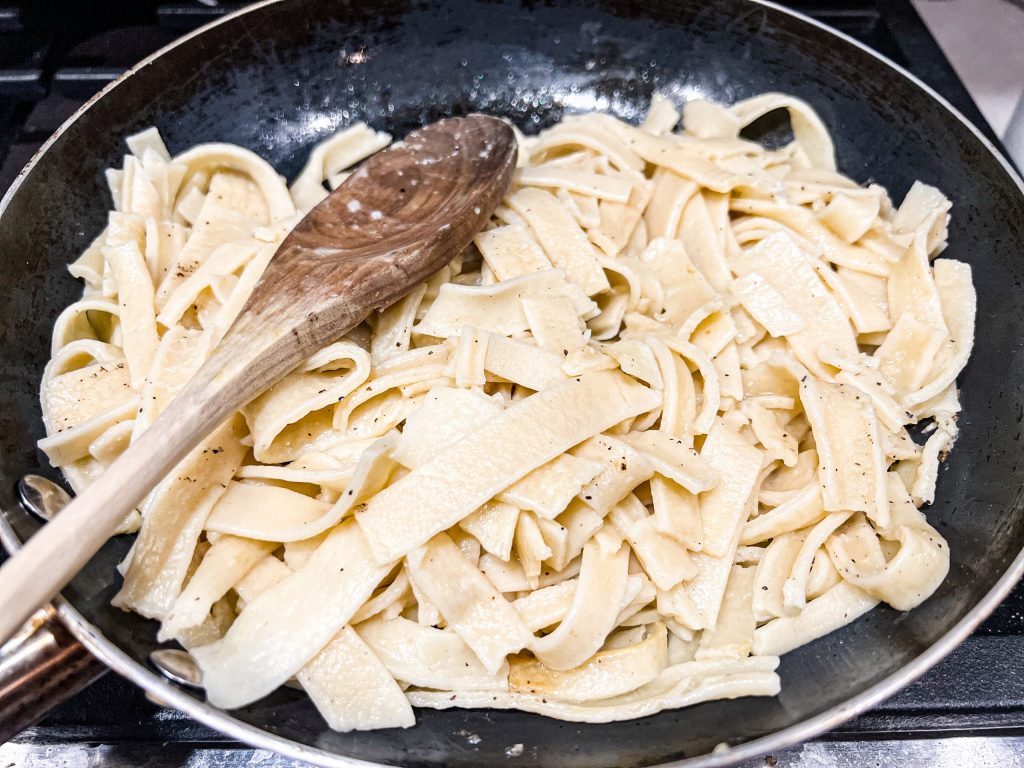 Growing up, we would pack up and head to grandmas for a day of making homemade egg noodles at her house. We could always knew she would head to the basement to bring up that bucket of vanilla ice cream for some cream cones, when we were finished. So we were happy to help!
Everyone would have a task. Someone would be the dough mixer, the roller-out-er, the cutter and someone would sort the noodles on the flour sack towels.
Then they would sit for a day or so to dry. This meant that grandma couldn't use her kitchen table for a meal, so we all went outside to eat a picnic that day!
Everyone who helped would get to take home bags of delicious homemade egg noodles. A delight that we all so very much treasured and looked forward too.
This Post May Contain Affiliate Links. Please Read Our Disclosure Policy.
Homemade Egg Noodles the Video!
Why You'll Love Making Grandma's Egg Noodles
You will know each ingredient added to this delightful recipe!
These are easy and quick. The drying time is the only thing that takes some patients!
You can make these with your family or start a new tradition in your home.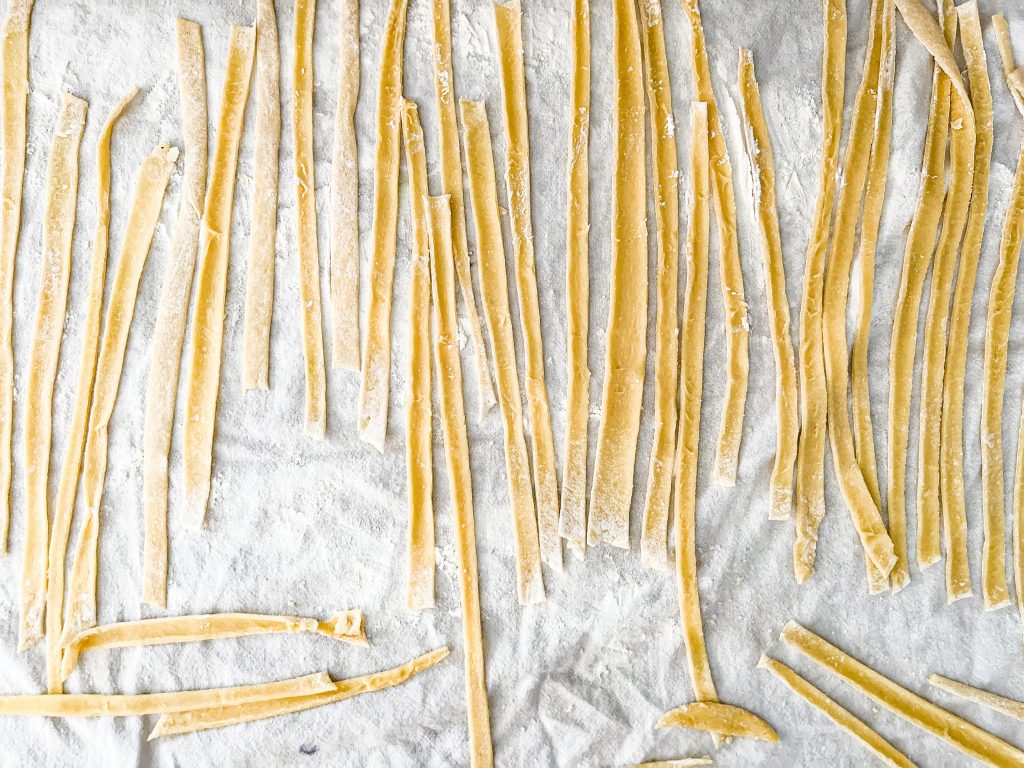 Materials you'll need to make this
Rolling Pin or Kitchen Aid Pasta Roller
Freezer bags
Sharp knife or pizza cutter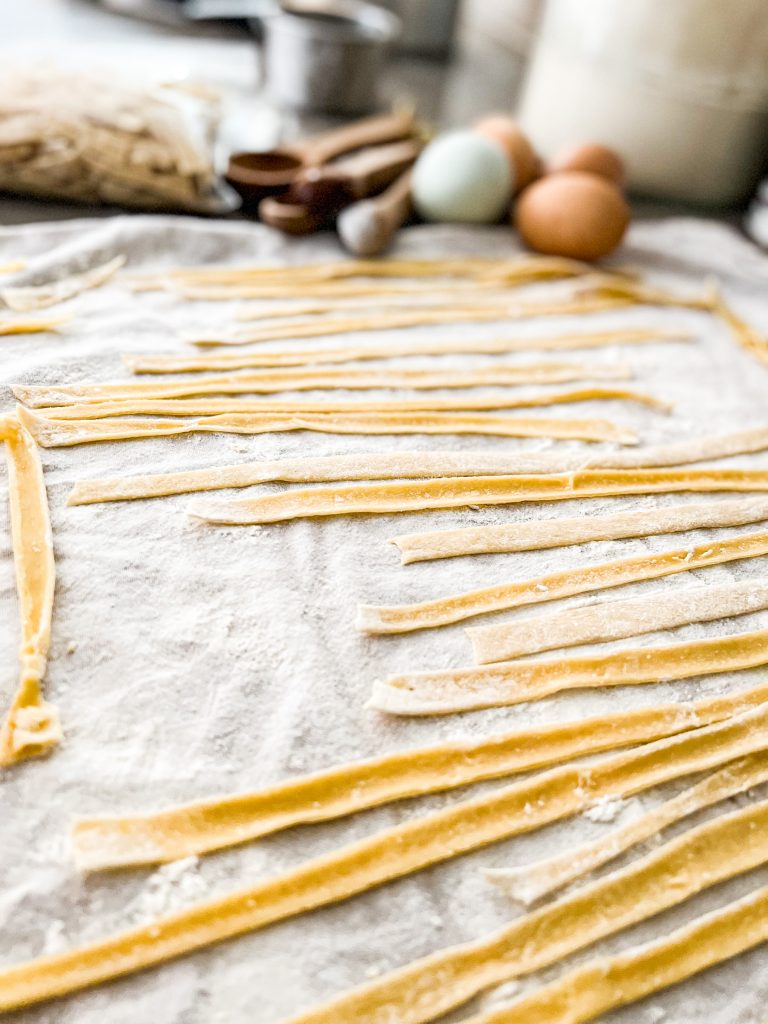 Questions People are asking about
Are these Egg Noodles shelf stable?
Since there are raw eggs in this recipe, these are not shelf stable. We store ours in the freezer or eat them up right away. You could also keep them in the refrigerator if you knew you were going to consume them in the next day or so.
How many noodles does this recipe make?
It's hard to gage just how many noodles this makes as you can cut them at different lengths/ widths etc. I'd say it makes a decent helping for 2 people. We always double, triple or quadruple the recipe depending on if we are making them for just one meal or making up a big batch to freeze.
Why do you fry the noodles after boiling them?
It's just personal preference! You could totally stop after you boil them. We ate so many fried egg noodles at grandma's and our house growing up! The buttery, crispy deliciousness just feels like home.
Tips about making Egg Noodles
A consistent thickness, when rolling out the noodles, matters. If all your noodles are the same thickness and width, they will cook at all the same rate. If you make some thicker than others, some noodles will be done, while the thicker ones will still be chewy.
Allowing these to dry completely is super important. I leave ours out for at least a day if not 2 depending on how thick they are. You want to be able to snap them like a cracker before bagging them up for the freezer.
Label your freezer bags! I know we all think we'll remember this special day when we made these noodles, but I always forget. So labeling what they are and the date you made the will help!
My favorite way to use my grandma's Fried Egg Noodles
Pin this for later!