A traditional dessert of Luxembourg, these Sweet Love Pretzels are soft with a delightful chewiness of almond and cinnamon.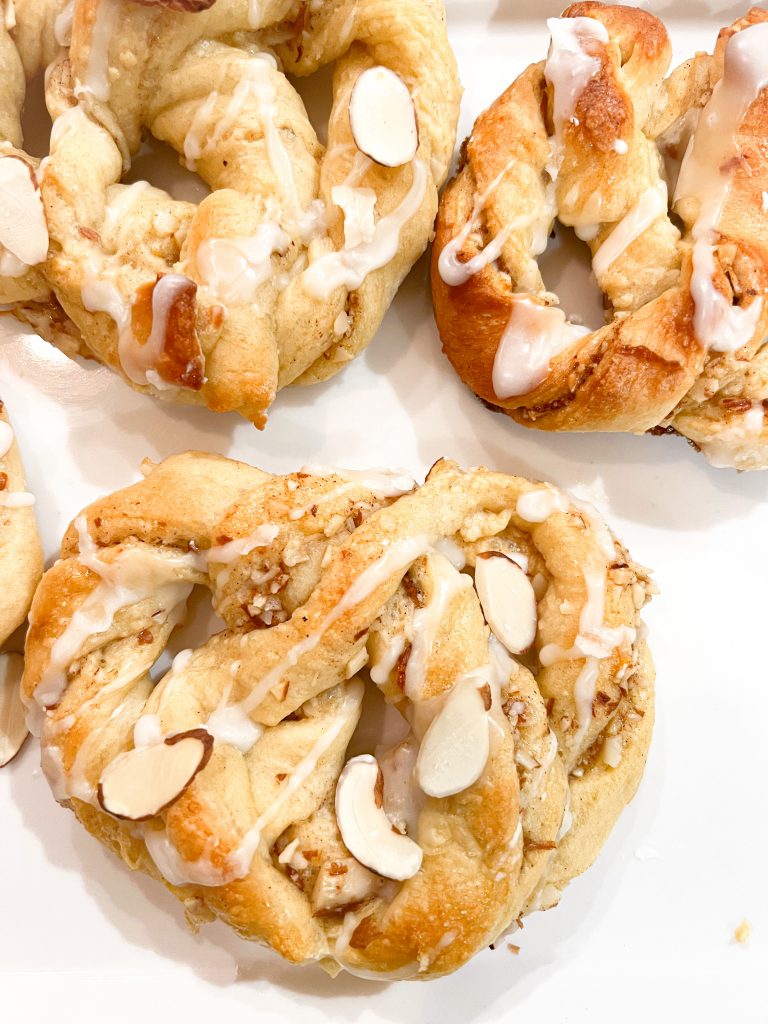 I would just love to be in the kitchen with my great, great grandma in Luxembourg as she made these Sweet Love Pretzels during lent time to celebrate Pretzel Sunday.
This recipe was tucked in an away within in grandma's 'special days' recipes. I can't wait to share more of these with you!
'Bretzelsonndeg'
Pretzel Sunday or 'Bretzelsonndeg' as the locals called it, is a celebration of love taking place on the 4th Sunday of Lent. Traditionally a man would offer a pretzel (this sweet puff pastry with icing and almonds) to his sweetheart as a token of his love.
If the woman accepts it, she will reciprocate with offering him an egg on Easter Day.
In the unfortunate event that she is not interested, the man will be given an empty basket. Hence the Luxembourgish expression 'De Kuerf kreien' (to be given the basket).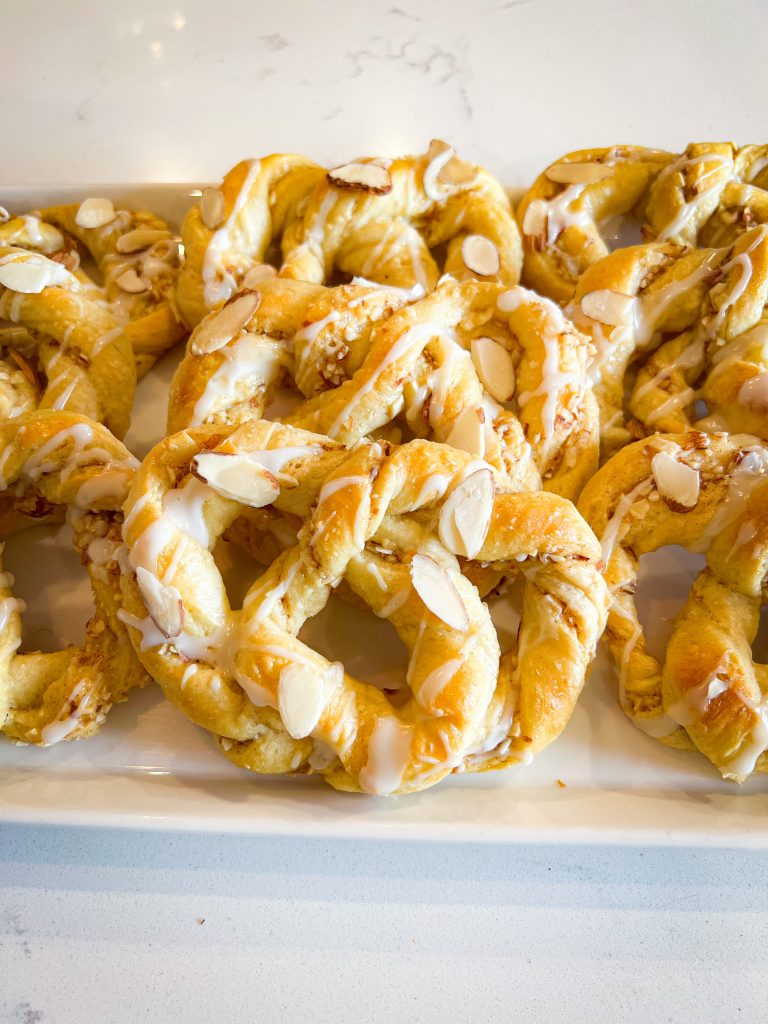 This Post May Contain Affiliate Links. Please Read Our Disclosure Policy.
These Luxembourg Sweet Love Pretzels are not over sweet. I would categorize them similar to as cinnamon roll or danish. All of the ingredients are well balanced including that bit of glaze and the crunch of the sliced almonds.
The dough of the pretzel is light and crispy and the hearty inside reminds me of a nutty/ cinnamon marzipan of sorts.
Making Luxembourg Sweet Love Pretzels the Video!
Why You'll Love These Sweet Love Pretzels
Light and not too sweet, similar to a cinnamon roll
Add as much or as little glaze
We like to use them during brunch or as a fine dessert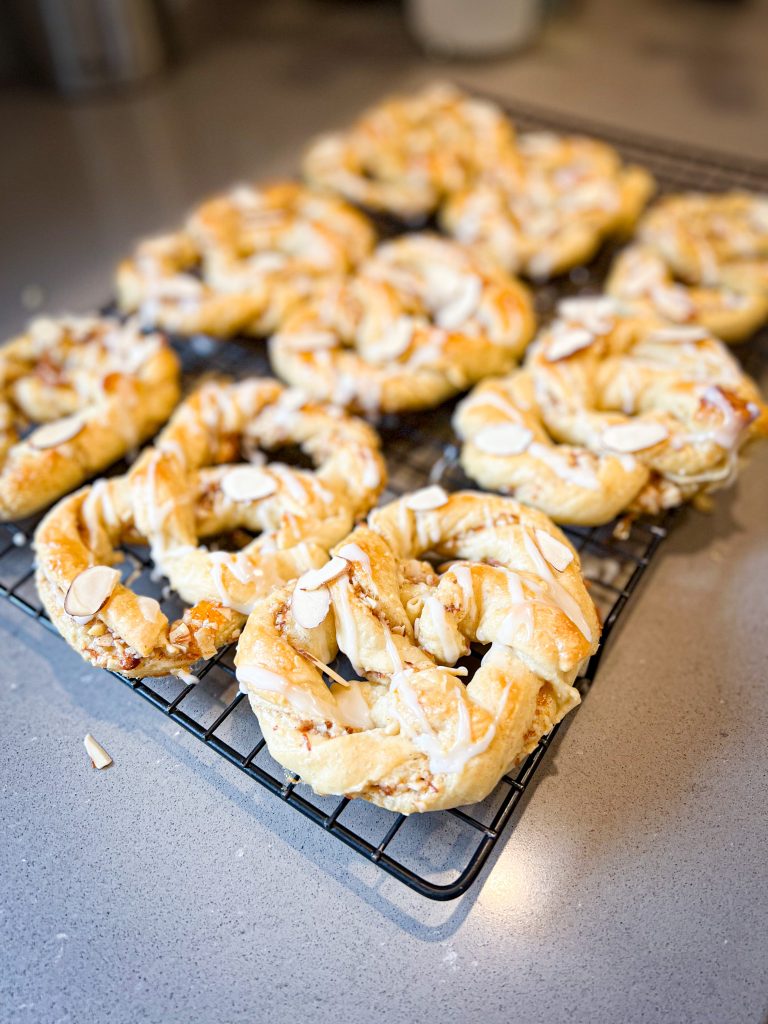 Materials we used to make this
Mortar and pestle to ground almonds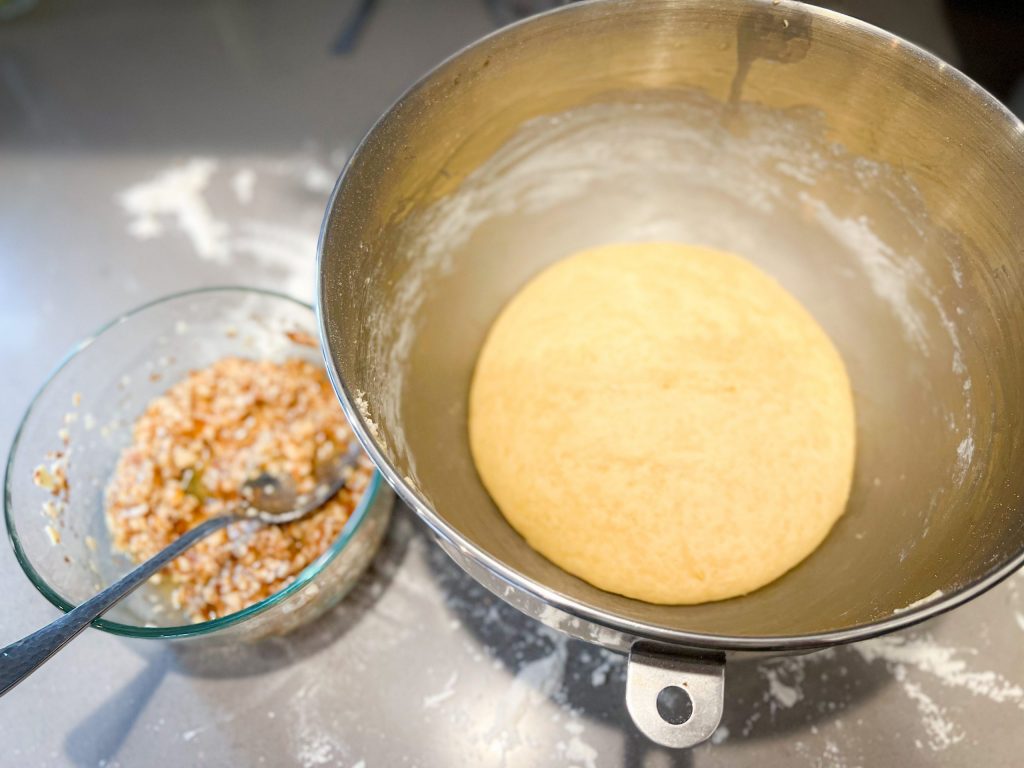 Making the Pretzel Dough
The dough will be dense but soft and chewy. I love using my stand mixer for this.
First met the butter and add egg and milk and wisk.
Combine the dry ingredients, flour, instant yeast, sugar, and vanilla sugar into the mixing bow and mix on low.
Then add the butter/egg mixture to the dry flour mixture with the dough hook knead for 5 minutes or until the ball is smooth. Add more milk if your dough seems to dry to stick together.
With your hands, shape the dough into a ball, set in bowl, cover with a clean towel and allow to rise for 1.5-2 hours.
Prepare the Filling
In a bowl, mix together the ground almonds (almond flour), brown sugar, cinnamon, egg white and apricot jam.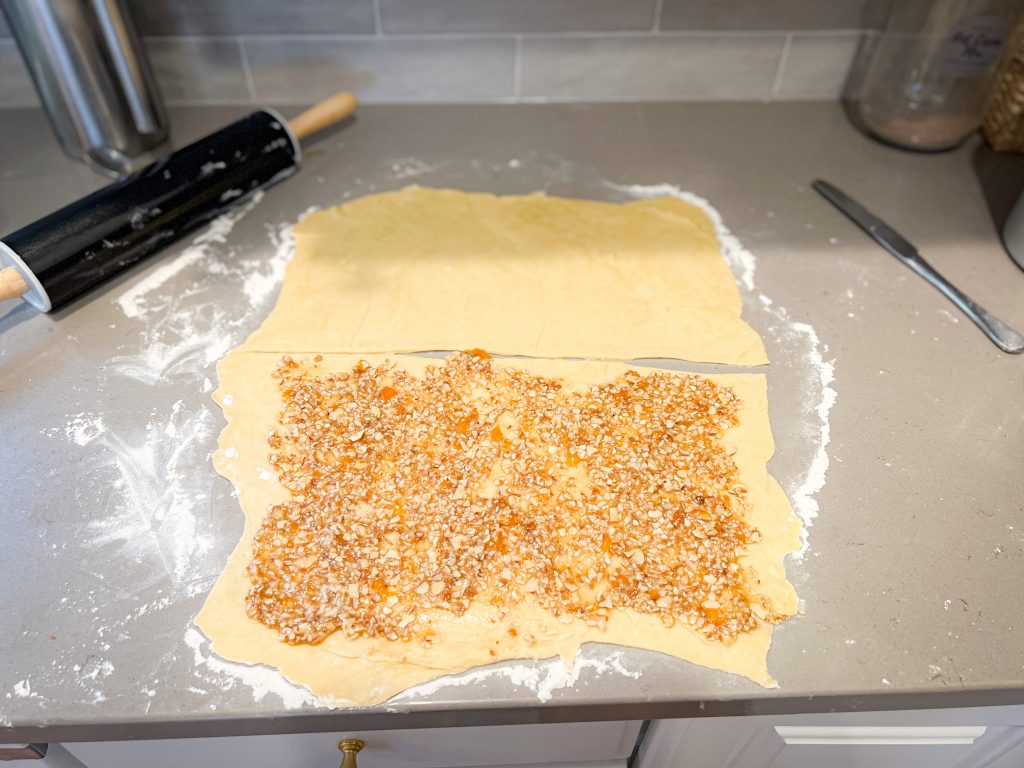 Roll out Pretzel Dough
After the dough has risen, roll out on a floured surface and cut into 2 halves.
Spread the filling out on one side and cover with the other half of dough.
Then using a sharp knife or pizza cutter slice into 1/2″ strips.
Twist and Shape the Pretzels
Twist the strips like a twisty straw, and shape into a pretzel shape.
Place the pretzels on a lined baking sheet and cover with a towel for another 15 minutes.
Bake Sweet Love Pretzels
Bake Pretzels at 350° for 10-15 Minutes.
Glaze and Sprinkle with Almonds
Prepare your glaze by mixing up the powdered sugar and milk and drizzle over cooled pretzels.
Sprinkle almond slices on top.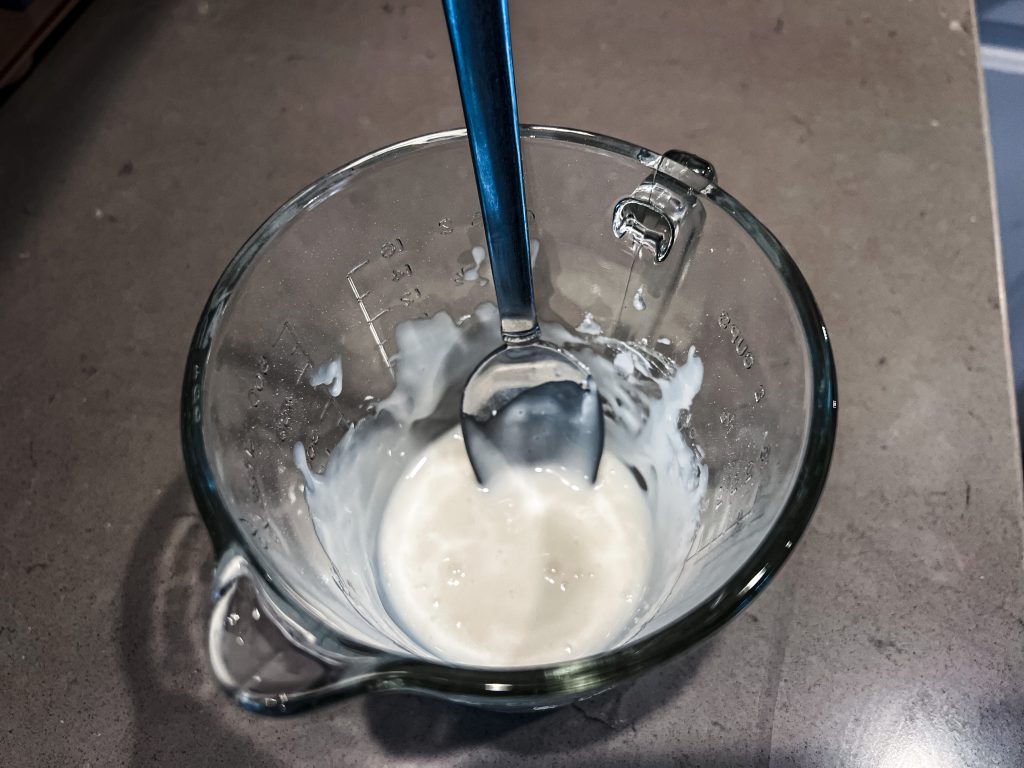 Enjoy!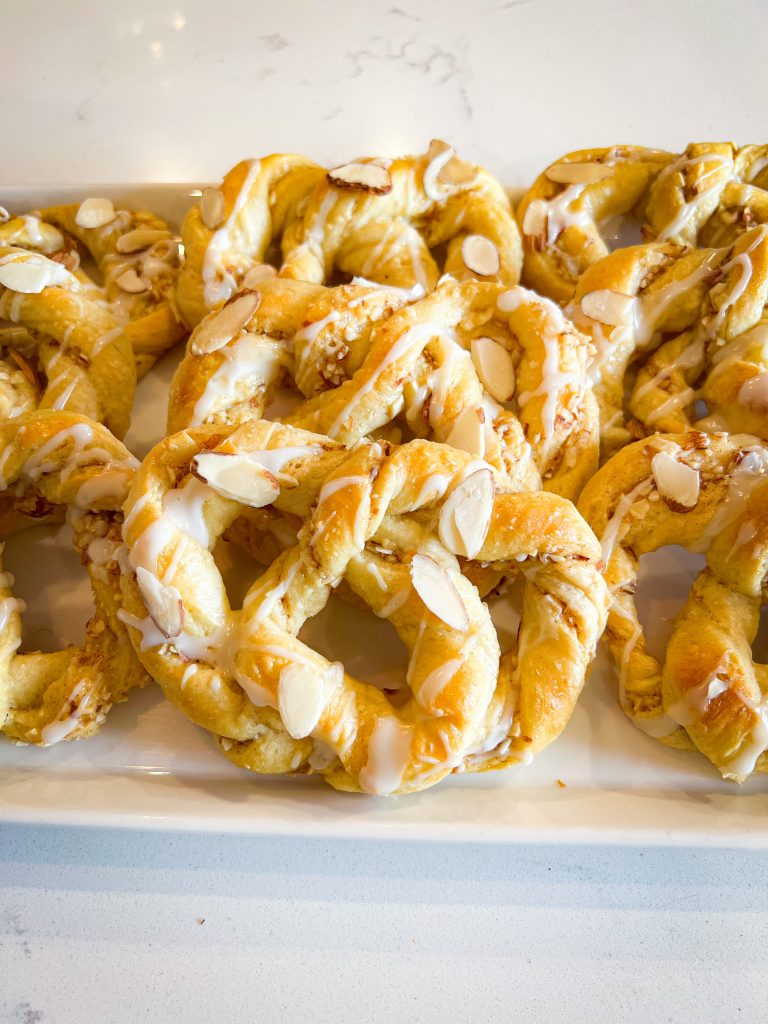 Questions People are asking about
How can I substitute the nuts in these sweet love pretzels?
My grandma actually made these with coconut instead of almonds. She just used what she had access to. You could completely omit the almonds and add a bit more cinnamon if you like.
Can I freeze these Sweet Love Pretzels?
Yes! Just freeze them in an air tight container before you glaze them!
I don't have a stand mixer, can I still make these Pretzels?
Neither did my grandma! 😉 Hand mixing is just fine too!
Tips about This
Using almond flour will help you not have to crush the sliced almonds and give you a smoother filling.
Store them in an airtight container to keep them moist.
Place them in a basket and take them to a neighbor who you think might enjoy this tradition!
Using a food scale really helps get precise measurements for the dough and ensures that once mixed together your dough will rise!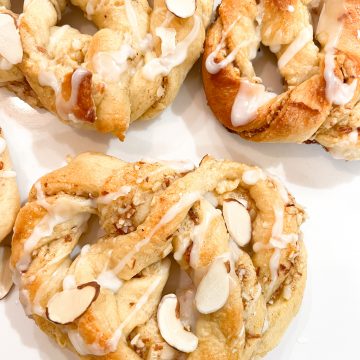 Luxembourg Sweet Love Pretzels
With a lovely chewiness, slightly sweetened and garnished with sliced almonds, these Luxembourg Sweet Love Pretzels are a dense but soft dough shaped in a lovers embrace to celebrate a tradition during lent called Pretzel Sunday.
For the Pretzel Dough
250

g

Flour

1.5 C + 1 tbsp. Flour

1/2

packet

(4 g) Instant Yeast

1.25 tsp Insant Yeast

50

g

Butter (melted)

1/4 C Butter

60

ml

Milk

1/4 C Milk

35

g

Sugar

1/3 C Sugar

1

tsp

Vanilla

1 tsp Vanilla

1

Egg

1 Egg
Filling
60

g

Ground Almonds (almond flour)

2/3 C Ground Almond (Almond Flour)

30

g

Brown Sugar (or Coconut)

1/4 C Brown Sugar

1

Egg White

1 Egg White

1/4

tsp

Cinnamon

1/4 tsp Cinnamon

1

tbsp

Apricot Jam

1 tbsp Apricot Jam
For the Pretzel Dough
Melt the butter, add milk, egg and vanilla and mix and set aside.

In a mixing bowl add flour, yeast, sugar and mix.

Combine dry ingredients with wet ingredients and knead for 5 minutes. Add a bit of milk if it seems to dry.

Shape the dough into a ball, place a clean towel on top and allow to rise for 1.5-2 hours.
Filling
Mix together all of the ingredients for the filling.
Roll out Prezel Dough
Prepare surface with some flour and roll out dough.

Cut in 2 halves and spread filling on 1 half.

Cover the filling with the other half of dough.

Use sharp knife or pizza cutter to slice into 1/2" long sections.

Twist long sections and then form into a pretzel on a lined baking sheet.
Rest
Once you formed the pretzels onto a baking sheet, cover them and allow them to rest for 15 minutes.
Prepare Glaze
Mix milk and powdered sugar to make glaze.
Bake
Bake pretzels for 10-15 at 350°.

Drizzle glaze and add almonds or coconut for garnish on top.
These Sweet Love Pretzels will last 1-2 days in airtight container. You can freeze them before you add the glaze. Once back out of the freezer allow to thaw, then add glaze and garnish.
Pin this for later!