Learn how to make your very own Mozzarella Cheese right in your own kitchen!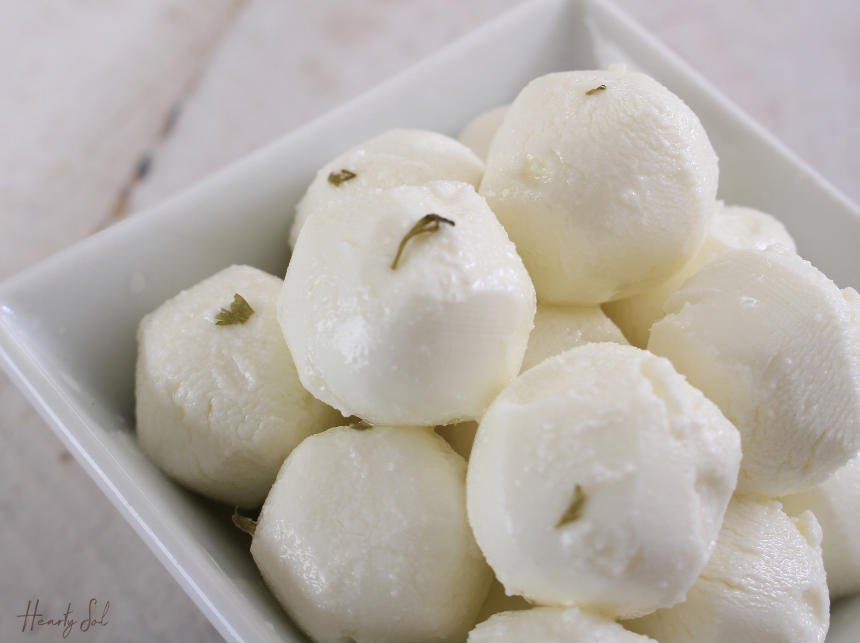 The outcome is so delicious and perfectly savory, you'll want to make it for everyone you know!
(This post may contain affiliate links which means I make a small commission at no extra cost to you.)
What you need to make Mozzarella Cheese Balls!
¼ tablet of Rennet- dissolved into ¼ cup of warm water
1.5 teaspoons of Citric Acid
1 gallon of whole milk or raw milk which ever you have access to
Thermometer, I use this one because it has a magnet that I attach right to my stove and don't have to burn my hands while it's reading.
Stainless steel pot, strainer, and slotted spoon Cheesecloth
*Faith that you, too, can make mozzarella cheese!
The Process of making your own CHEESE:
FIRST things FIRST- clean your working space (counter, sink, hands, pots, utensils really, really well.)
Get your thermometer ready to work!
Fill your stainless steel pot with your 1 gallon of milk
Dissolve ¼ of the rennet tablet into ¼ cup of warm water and stir.
Put on a burner at medium-low, so to slowly increase the temperature to 91-95 degrees Fahrenheit.
Once the milk has reached this temperature, add in your 1.5 teaspoons of citric acid and stir slowly for about 30 sec.- 1 min. You will notice the milk start to curdle and that's exactly what you want to see.
Remove the pot from heat and slowly stir in the dissolved rennet/water- for about 30 sec. to 1 min.
Place the lid on the pot and set your timer for 25 minutes.
While you wait, heat up 1 cup of water and ½ cup of sea salt on the stove. Bring to a boil, dissolve the salt and then cool down in the fridge (this will be for cheese brine for later).
After 25 minutes, remove the lid and you should see 2 things: the watery whey and the forming curd. (You know like Little Miss Muffet) ;)?
Take a clean butter knife and slice the curds into squares (this just makes the curds easier to remove).
Prepare your stainless steel strainer by placing it inside a bowl and covering it with cheesecloth.
Use your slotted spoon to scoop the curds into your strainer, covered in cheesecloth. Try to drain as much of the whey out before placing it in the strainer.
Tie up the cheesecloth hang up (using a cupboard handle or knob) so the whey can seep out for about 30 -45 minutes. I use our banana hook that's up underneath our cupboard to hang my cheesecloth ball on.
After the whey is pretty drained out, remove the cheese from the cloth into a bowl- gently breaking it up so it looks like cottage cheese.
The next step in Cheesemaking could happen 1 of 2 ways.
I'm not a huge fan of the microwave if I can help it, but using the microwave to get the cheese hot is an option.
Boiling Water Method: Boil up 1 quart of hot water to 170 degrees and pour it around the edges of the cheese to heat it up, 1 cup at a time. Mixing and stretching with your hands or a clean wooden spoon. Kneading like bread. Pour out the access water and add more hot water to keep melting down the cheese until it is smooth and shiny. This technique of stretching can be seen here! You may be tough, but it's going to get hot for your hands, so some folks like to use these thermo gloves.
It's HOT!
Microwave method: Heat the cheese for 1 minute in a microwave safe bowl. You want to melt the cheese down a bit, so we can start to pull and stretch it. Once out from the microwave, stretch and pull with your hands (like your kids do with their slime) or use a clean wooden spoon to work with. Microwave for 35 sec again, stretch, pull and smoothen. Repeat until you've found the right consistency (shiny and smooth)
At this point, you can make any shape of cheese that suits you.
A loaf, little balls, big balls or even strings. Once you shape the cheese place it in the cool water+salt mixture that you made while you were waiting in step #7. You can add a bit of ice to cool this water down if it is still room temp- we want it cool.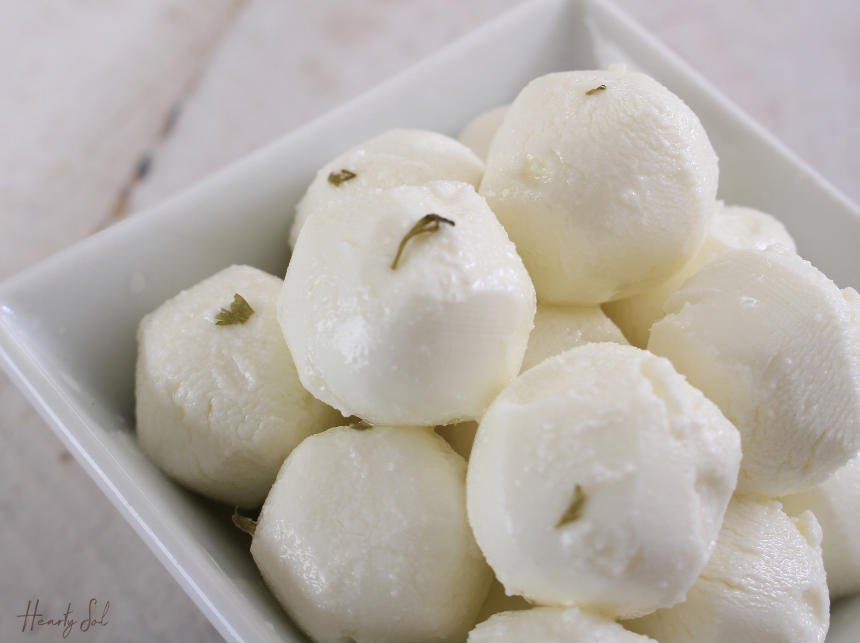 To store, pour a cup of brine water in a ziplock bag with the cheese to keep it from spoiling. Your new mozzarella is good in the fridge for up to 1 week. You'll know if the cheese has gone bad if it smells like rotten milk. Toss it to your chickens. 😉
Off I go to smoke my new mozzarella cheese! Enjoy!
Pin this Cheesy Post for Later!