This Crusty French Bread is lovely with a bowl of hot soup or made into an amazing Spanish bocadillo.
If there's one thing that brings our family members around the kitchen, it's the smell of fresh bread! We can literally make a meal out of a loaf of this crusty French Bread, a chunk of cheese or a stick of butter!
Making Fresh French Bread From Scratch Video Recipe
I will never claim to be a pro-cook, but I do know how to make a food-memory connection. My childhood memories of food are mostly from my mom and grandma's fresh, from scratch recipes. Those loaves of hot, soft bread are like a magic connection! This is exactly what I want for my family and the people I feed. When all 5 senses are activated in a positive way, we tend to positively associate with those around us at that time.
How long does this bread last?
I have spent countless hours experimenting in the bread-making arena. I have had major flops and huge successes and everything in between! I've practiced and tweaked our family's recipes before releasing them to you. My goal has always been efficient. If I am going to spend the time to make something I want it to be delicious and to be able to last a little while. So considering this, I tend to keep dairy and eggs out of my bread recipes. This bread tends to last about 1-1.5 weeks when stored in an airtight container or plastic ziplock. Now, it generally doesn't take but 2 days for it to be completely consumed around here, but alas. If by chance there is some remaining at the end of the week, we will use it to make french toast. The more dried out the bread is, the better it soaks up the egg mixture.
Does making fresh bread take a long time?
The mixing part is simple, straightforward, and rather quick. Taking the time to allow the bread to rise, can be tough. I know we live in an instant world, but some things are worth waiting for! If I know I'm going to want a fresh loaf to go with supper I will just plan at least a couple of hours out.

What type of yeast do I use for my homemade bread? (The most common question I get asked)
Here's what I know. Active dry yeast and instant (or rapid-rise) yeast are the two most common yeasts available to us as home bread bakers. These two yeasts can be used interchangeably in recipes, but active dry yeast needs to be dissolved in water (I like mine in a 1/4 C. of warm) before using while instant yeast can be mixed right into the dough.
The type of yeast you use is up to you. Each type of yeast reacts differently and produces baked goods slightly differently, so there's no one right answer. I recommend picking one kind and becoming familiar with it by using it over and over again- unless your recipe calls for one yeast in specific. Practice making bread and you will understand how yeast works. As long as you have some variety of yeast on hand, you can make any recipe calling for yeast.
(This post may contain affiliate links which means I make a small commission at no extra cost to you.)
How do I Substitute Instant Yeast for Active Dry Yeast?
Yes! Active dry yeast and instant yeast can generally be used interchangeably, (one-for-one) although active dry yeast may be slower to rise. So for instance, if a recipe calls for instant yeast and you use active dry yeast instead, you may want to consider adding about 10-15 minutes extra for the rise time. If a recipe calls for active dry and instant is used, reduce the rise time by 10-15 minutes. Other than that the recipe can stay exactly the same and there is no need to make any changes.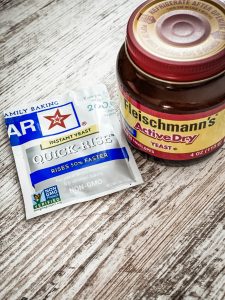 Aside from carefully watching my mom and grandma's build recipes, bread, and pasta, I really love having this book around for reference. Mastering Bread- the Art and Practice of Handmade Sourdough, Yeast Bread and Pastry. Not only is it super education, but it looks good on a shelf too! 😉
How is making Sourdough different than regular bread?
And then there's Sourdough which doesn't need any store-bought yeast at all.  Regular bread is made using store-bought yeast that reacts with gluten making the dough rise. Since sourdough is made from a combination of yeast and bacteria growing inside a paste of flour and water, there's no need for additional yeast. These bacteria produce lactic acid which ferments the dough. They also give the sourdough bread it's characteristic sour taste.