Read about how I rewired this Western Electric rotary phone to make and receive phone calls as our landline!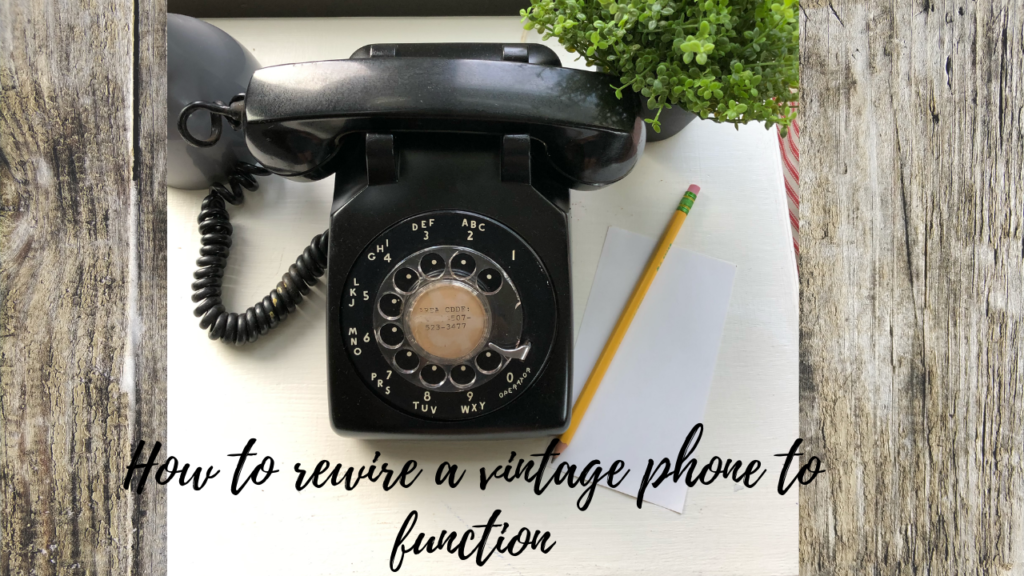 This post may contain affiliate links which means I make a small commission at no extra cost to you.)
I've always loved old or vintage items and I'm pretty choosy about what comes into our house. This black 1950s Western Electric rotary phone was one thing that belonged to me! I love the idea of having to pause and sit down in order to have a conversation. Needing to be patient and selective to dial a number. The 1950s was an era when they made things to last…or at least longer than 10 years.
When I found this beauty, I knew that it needed to be part of my home. But the fact that I could possibly make it work with our modern technology intrigued me and there was nothing stopping me to make this thing ring again!
3 days and about 5 handfuls of peanut butter m&m's later and I did it!
I think I'm going to start rating the difficulty of my projects by how many m&m's I need to complete the job. 🙂
Re-wiring
First I found a phone cord, you can find what I used here.
I cut off 1 end and stripped the red, yellow, and green wires, down to the bare wires.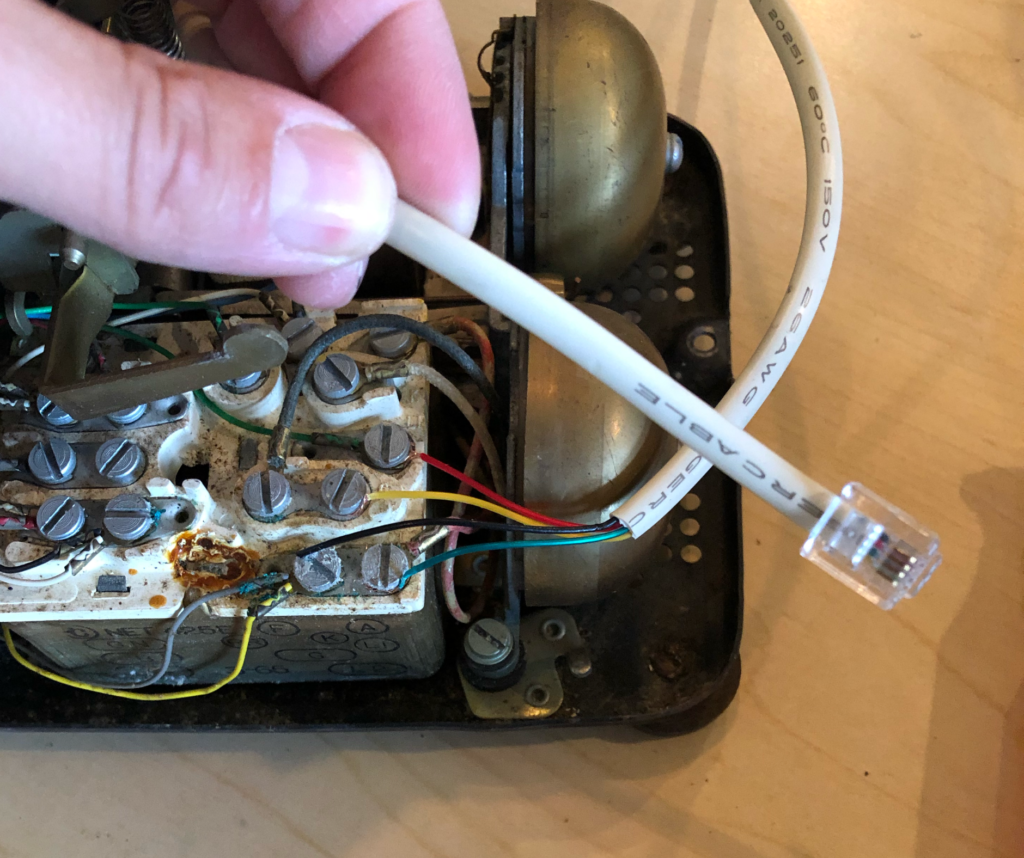 I dissembled the phone to get to the guts and all the wires. Luckily there were only a couple of screws in the back. In the 1950s they wanted to make it easy for a phone repair person to fix a phone. Thoughtful!
Day 1
Where to put each wire!? I am not a certified electrician, but I have messed around with wires before so, I figured like most projects I get myself into, I can do it!
After searching countless youtube videos and nothing describing this operation-I was on my own! So in I go to loosen the screws, move wires around, tighten the screws and document each move, so I know what I've already tried and what didn't work.
Day 2
I'd get frustrated, then toss in a couple of m&m's (stress eating didn't help) and start on something I could actually complete… laundry or dinner. Yes, laundry! I mean a person's got to be really frustrated in order to want to do laundry!
I'd come back and start all over again. This went on for a whole three days.
Day 3
Sunday, we came home from church and the phone was still sitting apart, wires exposed, screwdrivers in a mess on my counter. This project HAD to be wrapped today!
Note: I only ended up using the red, yellow and green wires and not the black wire from the phone cord.
Just when I had exhausted all of my options, I gave it all one more try. I could hardly believe my ears, it rang!! BUT would it make phone calls?
I sat down to dial all 10 numbers with the rotary and sure enough! I plugged it in and sat in on our side table in the living room! It was meant to be!
Watch how I rewired our 1950s Western Electric Phone, here!
See how we decorate with old things in our modern farmhouse here.
Do you love old things? How do you incorporate old things into your home?
Cheers!