This classic broccoli, cheese and rice casserole, also known as "Yum Yum Broccoli Casserole" is a nostalgic 1980's side dish. Get ready to relive the days of cheese wiz, my friend!
Have you ever had nostalgia when it comes to a food dish? I sure do – I still remember dropping my ESPRIT bag off on the chair and scooting my chair up to the family table to eat mom's grilled chicken and special Cheese Broccoli and Rice Casserole back in the 1980's. It had a bit of crunch from the water chestnuts, and just the perfect combination of rice and cheese! In fact, you can still buy a similar broccoli cheese and rice dish that is TV-dinner-style from Stouffer's!
This side dish is the perfect addition to pretty much any meal – check out our Main Dish recipes or Field Meals Recipe Book to spark some inspiration! You can also use this dish as an excuse to tell your family stories of how great our generation was 😉 Now let's jump into the meal – I hope you enjoy this classic recipe!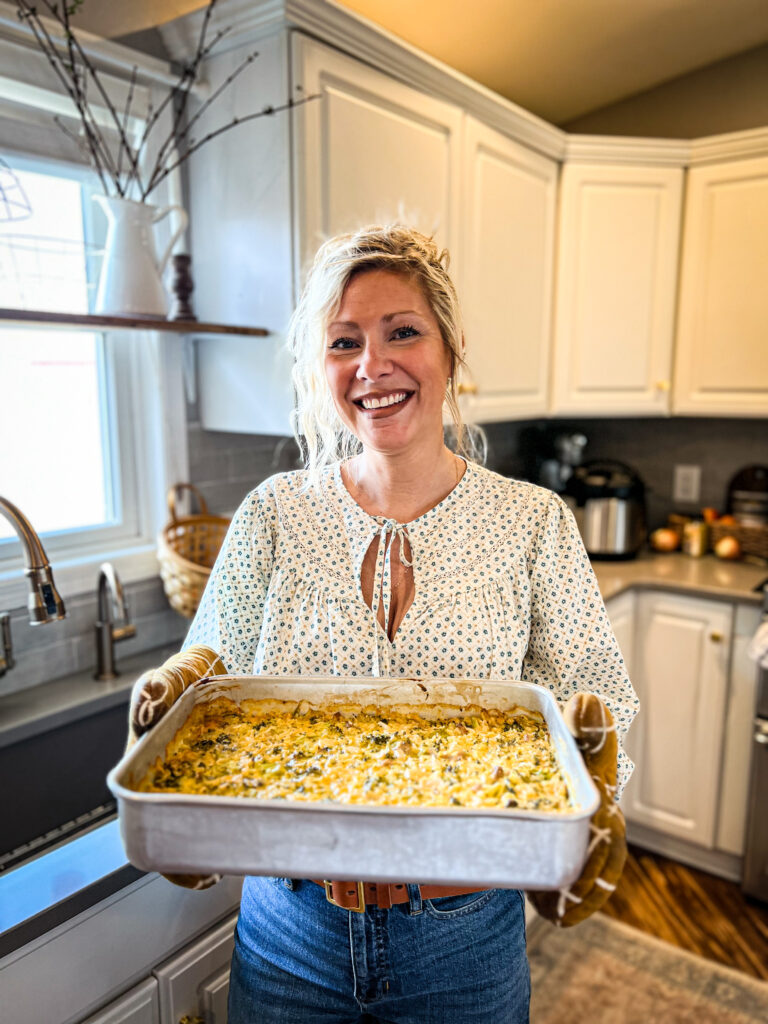 This Post May Contain Affiliate Links. Please Read Our Disclosure Policy.
Why you'll love making this Classic Casserole!
Buy an extra cheese wiz can and you can snack on crackers and cheese wiz while you make this 🙂
It makes a nice big pan! This easy side dish is perfect for toting along to family gatherings or out to the field for the crew!
The leftovers, if you have any, are extra delicious! I can't say that for many side dishes, but this one is good!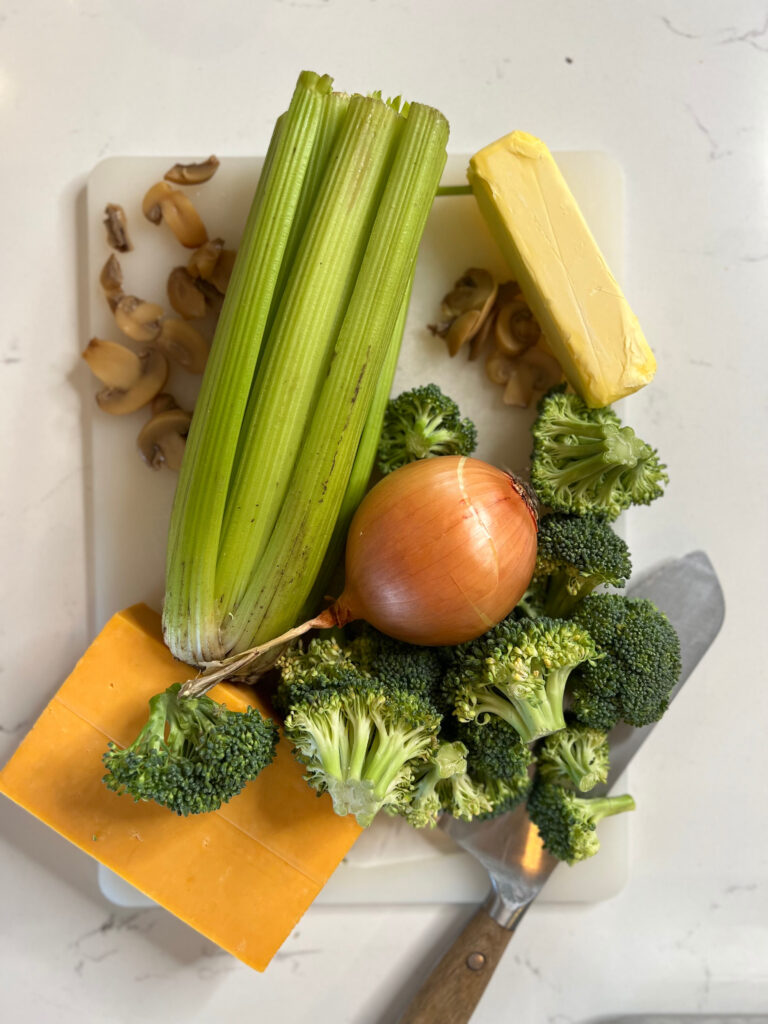 Ingredients to make this Broccoli Rice and Cheese Casserole
It seems like every single recipe for this delicious casserole comes with a list of new ingredients! Click on another blog and there is a whole different list of ingredients. Here's what we deem to be the best in your Yum Yum Broccoli Casserole:
Cream of Mushroom Soup – This cream of mushroom soup will provide a thick, creamy, and flavorful base for the casserole
Mushrooms – Along with the cream of mushroom soup, these mushrooms bring in a rich flavor
Onions – Can't argue with the flavor punch that onions add to any dish!
Celery – Celery is a great green that adds a great crunch and the knowledge that you are eating some veggies
Water Chestnuts – Like celery, what water chestnuts lack in flavor, they make up for in the satisfying crunch you get when you bite into them
Broccoli – The star of the dish! The broccoli mixes wonderfully with the cheesy rice flavors and gives a vitamin boost
Margarine – Although we love to use butter here on our farm, the blend of oils in margarine is needed to make this casserole as delicious and savory as it is
Cheese Wiz (jar) – The savory and nostalgic flavor of cheese wiz is really the cherry on top of this comfort food! You will be greeted with its cheddar flavor in every bite!
Minute Rice – We find it easiest to use minute instant rice especially because the white rice doesn't fight against the other flavors. Other rice options include: jasmine rice, basmati, medium grain rice, and long grain rice.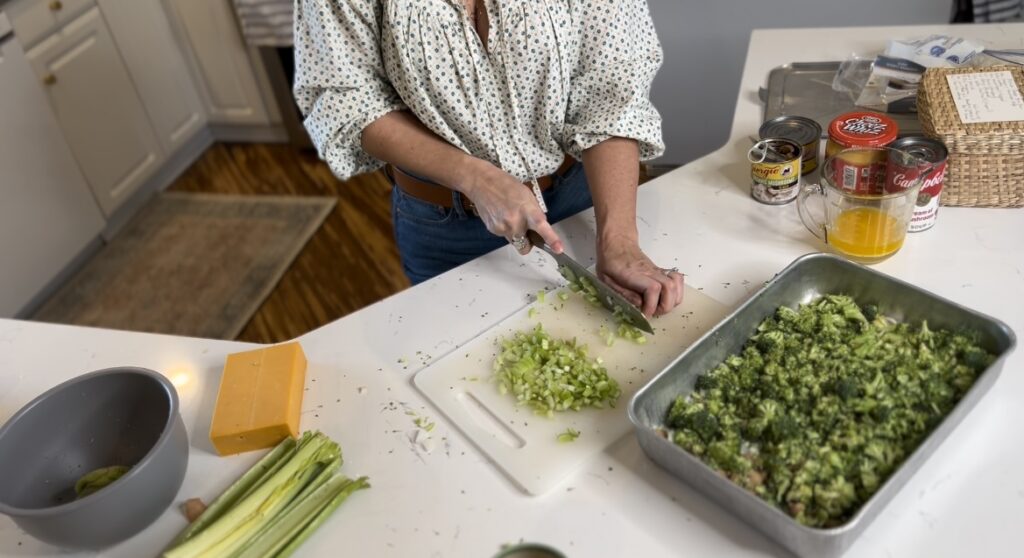 Broccoli Cheese and Rice Casserole Recipe
1 can Cream of Mushroom Soup
1/2 cup Water
1 cup Mushrooms (chopped)
1/4 cup Onions (chopped)
1/4 cup Celery (chopped)
1 can Water Chestnuts (chopped)
Broccoli (I usually cut up 2-3 heads and just throw them into the pan raw. 2 heads of broccoli equals about 4 cups of broccoli florets)
3/4 stick margarine
1 small jar of Cheese Wiz (8oz)
3/4 cup Minute Rice
Steps to make this Broccoli Casserole
Mix all ingredients together in a large bowl
Pour into greased 9×13 casserole / baking dish
Bake for 50 minutes at 350 degrees F.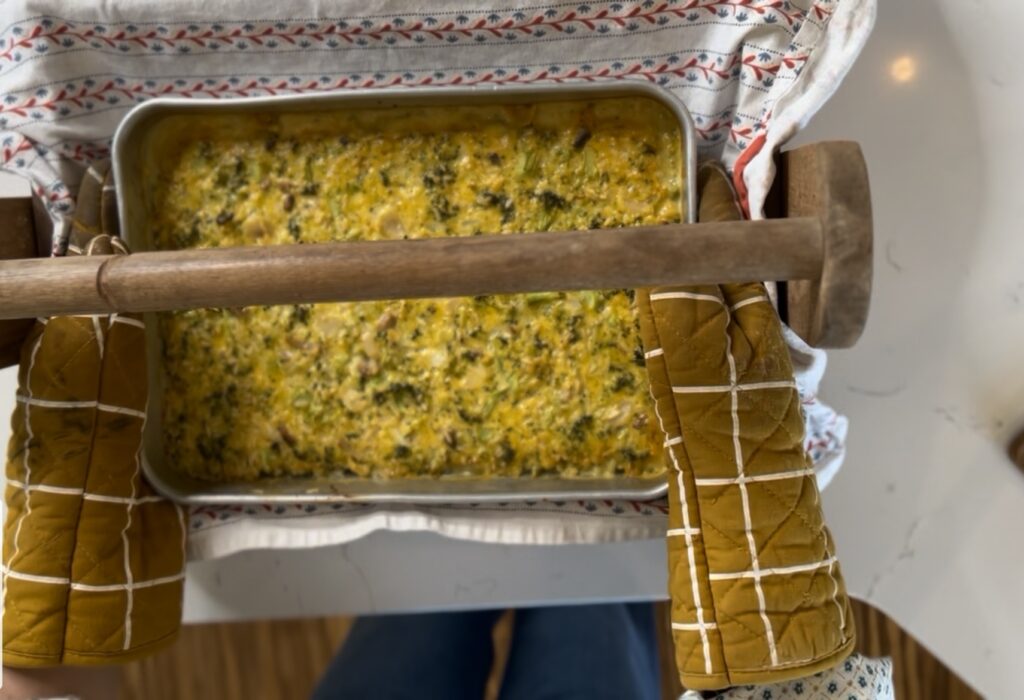 Questions People are asking about this Broccoli Rice Casserole Recipe
How to store a broccoli cheese rice casserole. Can it be made ahead of time?
Yes! Just store it in an airtight container and it will be good in the fridge for about 5 days. This is definitely a dish you can make ahead and refrigerate it overnight. The leftovers are just as creamy and tasty!
What cheese goes into a broccoli rice cheese casserole?
There are many different kinds of cheeses you could use in this casserole. To stick to this recipe be sure to use cheese wiz but you can branch out depending on what you have in your home. The most common substitute for the 8 oz of cheese wiz is a cup of cheddar cheese or a mix of sharp cheddar cheese and cream cheese.
How to make homemade cheese sauce
Writing this post has made me start to crave some broccoli with a creamy cheese sauce! Thankfully, if you are catching onto these cravings as well, we have a Homemade Cheese Sauce Recipe that pairs along nicely with our sourdough pretzel bites and fresh broccoli!
Tips for this Cheesy Broccoli Rice Casserole
For an extra flavorful crunch you can add Panko breadcrumbs, ritz crackers, parmesan cheese, and/or cornflakes on top on top of the casserole!
Feel free to add chicken breasts or rotisserie chicken to this dish for an extra flavor and protein!
Try this broccoli cheese rice casserole as your newest addition to your 4th of July, Thanksgiving, and/or Christmas menu – don't be surprised if you are asked to bring this perfect side dish again!
Printable Recipe Card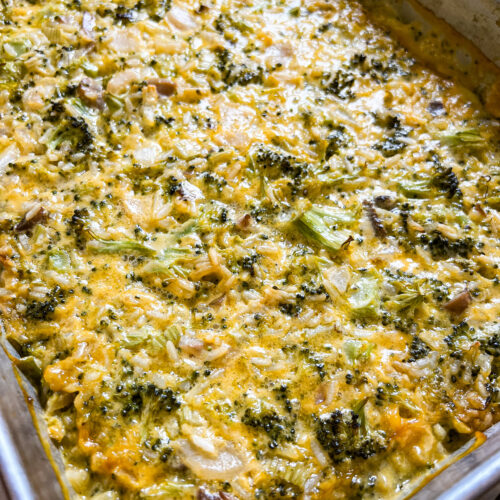 Cheesy Broccoli, Cheese, and Rice Casserole
This classic broccoli, cheese and rice dish, also known as "Yum Yum Broccoli Casserole" is a nostalgic 1980's side dish. Get ready to relive the days of cheese wiz, my friend!
Mix all ingredients together

Pour into greased 9×13 casserole dish

Bake for 50 minutes at 350 degrees f
Pin this for later!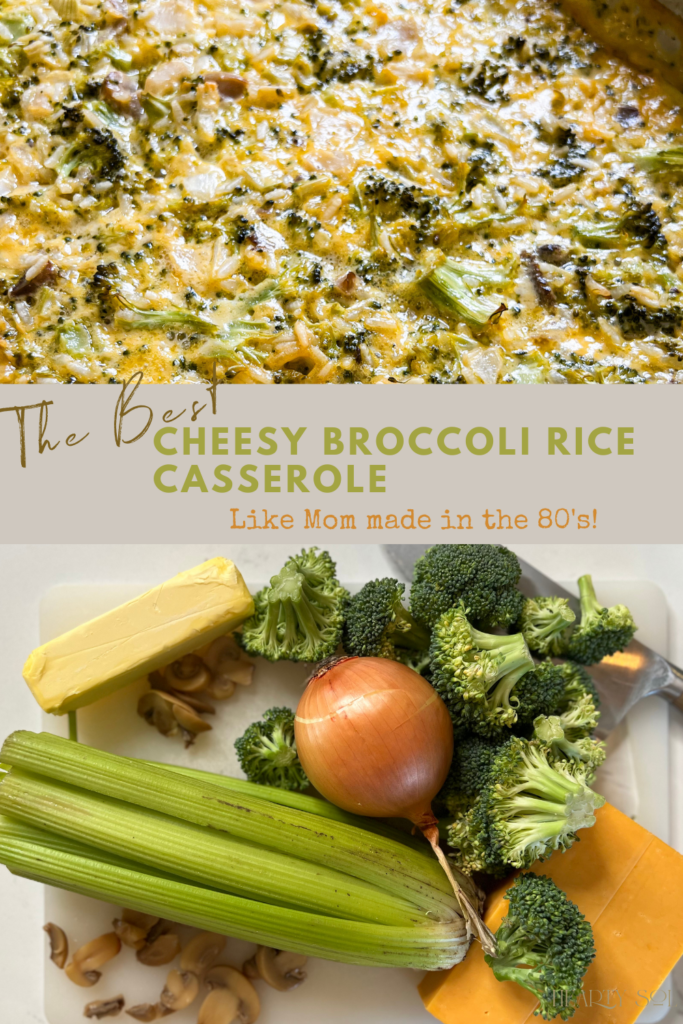 Check out our other Delicious Recipes!