Nothing says home like scalloped corn. This is an easy recipe that pairs well with just about any entre.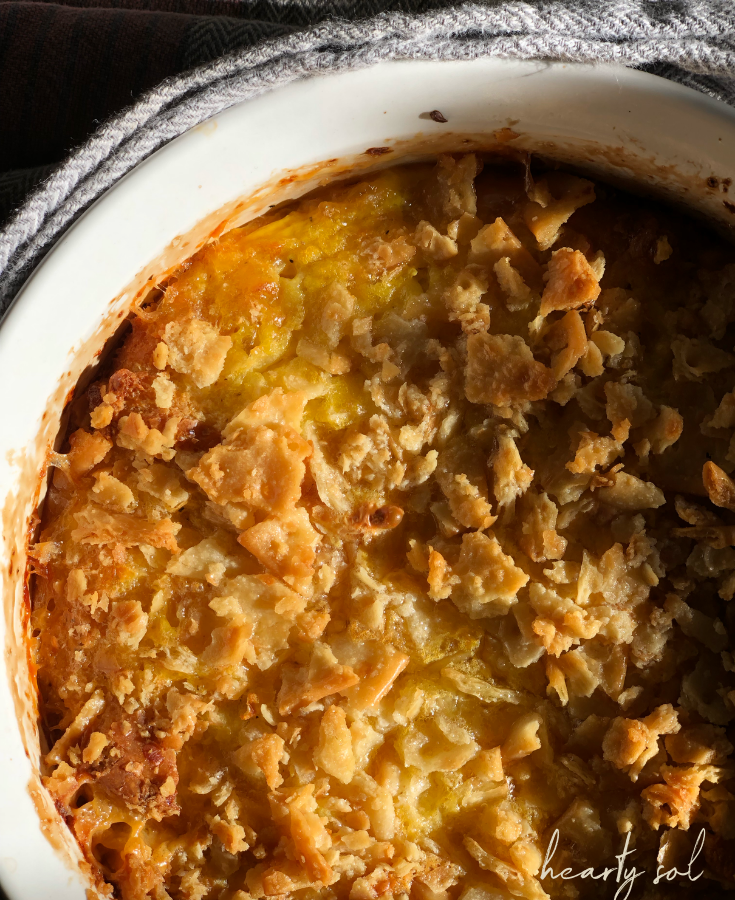 Jump to Recipe
Scalloped Corn Casserole
Like many of the recipes I have in my recipe box, I'd have a recollection of a childhood meal or dish that we had- then I'd call my mom. She'd go on about 1 cup of this, and a dash of that. I'd scramble to translate that into modern-day measurements and eventually come up with a shareable recipe.
The Best Holiday Side Dish!
Scalloped corn was one of those recipes! It was a dish I remember having at thanksgiving as a kid. I mean you could totally bring just corn OR you could jazz it up and make it scalloped corn!
Corn Casserole with Crackers
This recipe calls for saltine crackers to help give the corn texture. I remember my mom using saltine crackers because that's generally the crackers we had on hand, but I've used Ritz crackers, Town House crackers, Club crackers and even a left-over bag of Gold Fish crackers! (If that didn't get the kids excited!)
Sourdough
I've even used leftover sourdough bread which has it's very own distinctive taste in this recipe. Its crusty texture is just right for soaking up all of the creamy goodness of scalloped corn. If you haven't yet tried making sourdough bread, give it a whirl! Check out my tutorial for how we make it, here!
Making Scalloped Corn Casserole- The Video
Pin this Recipe for Later!
Scalloped Corn with Frozen Corn
If you have frozen corn from your summer garden or just from the grocery store, you can use it in this recipe! Just be sure to thaw the corn and drain off any liquid before adding it to the casserole.
When taking this dish a distance, I've combined all of my ingredients, including the frozen corn and then upon arriving at our destination, I will pop it into the oven to bake. The corn acts just like a little cooler and will keep all the ingredients at a cool, safe temperature while traveling. Just be sure to use foil or a nice secure lid so you don't have things like eggs running around in your car!
Can I make this in the Slow Cooker?
Yes! Just spray the inside of the slow cooker with cooking spray so the casserole doesn't stick as much. Then add the mixed ingredients and set the slow cooker to high and cook for 2-3 hours. Check your casserole often and make sure the sides aren't getting too brown. If they are, you can turn the slow cooker to low for the remaining time. The casserole should be cooked to an internal temperature of 160 degrees Fahrenheit since it contains eggs.
Can I make this in the Instant Pot?
Oh Yeah! You could also use that trusty Instant Pot to make scalloped corn! Pressure Cook/Manual on High Pressure for 50 minutes and Quick release the pressure. The mixture will look jiggly but will firm up once it has time to rest.
Easy Scalloped Corn Casserole
Buttery, cheesy and corny
Preheat oven to 350 degrees

Melt 1 stick of butter in a bowl.

Combine 1/2 of the melted butter with 12 crunched up soda crackers.

Using the remaining 1/2 of melted butter to mix with the creamed corn, whole corn, 1 slice of bread, 4 slices of cheese, and egg- in a greased, oven-safe casserole dish.

Sprinkle top of the casserole with the buttered cracker mix.

Bake for 45-50 minutes in a 350 degree oven.
More Holiday Inspired Dishes!
Now all you have to decide is which dish will you try first?