Savory and light, this chicken harvest casserole is packed with veggies and flavor! 
This dish is the perfect garden clean up meal. At the end of the summer, we have tons of fresh produce and this casserole can handle the most variety! The recipe calls for certain veggies, but I have mixed in so many different variations, it's not even funny! Everything from root vegetables to canned mushrooms can go in this casserole! I also love this casserole recipe because unlike a cream-based casserole, this is a much lighter and healthier version. Don't get me wrong-a good cream-based casserole can really stick to the ribs, but sometimes it's nice to lighten things up a bit.
This chicken harvest casserole is even better on the second day when the broth has been cooked into the veggies and the chicken.
5 Things You Can Do With A Whole Chicken & Not Waste a Thing Video
Once my veggies are par-cooked I like to take my metal chopper and chop them up, slightly finner. This is the best way to get kids to try new veggies. For some reason when they are smaller, it seems new things go down easier ;).
(This post may contain affiliate links which means I make a small commission at no extra cost to you.)
The quickest way I know to make delicious chicken broth is by using Watkins Chicken Soup Base. It takes up much less space in my cupboard than housing cans or cartons of chicken broth and I can make several cups of chicken broth with it. I love that I don't have to open a 16oz carton of broth, and only use 8oz of it. This allows me to make servings of any size I choose without waste. I use it in everything from soup to nuts. I mean literally, I have used it on nuts before. We even sprinkle it on top of chicken legs before they go on my grill.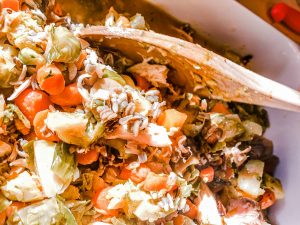 What makes this recipe so delicious is the fact that it's light and still super flavorful. My harvest crew needs hearty and tasty all in one. I know that with this casserole they get it all!
To top off this recipe make an easy from-scratch loaf of French Bread to go with your Chicken Harvest Casserole!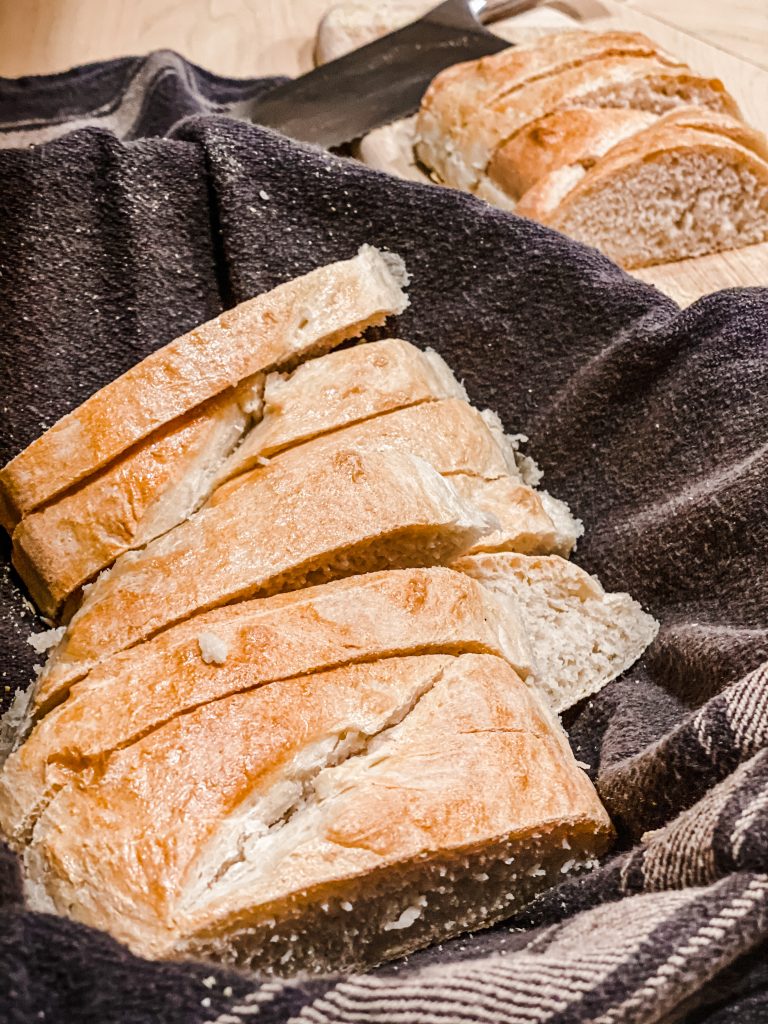 Pin It for Later
My classic white 9×13′ baking dish. Mine was passed down from a generation who also loved classic design and multifunction, but here is one similar. I've you've been here a while you know how hard I work to keep only the things that I love and that function in multiple different ways. Whether it's a pan of cinnamon rolls, brats off the grill, or our favorite hearty casseroles, it transitions beautifully from the oven to the table. I love this pan because not only is it a perfect size for our large family and farm crew but it is also just the perfect serving dish. I don't feel like I need to transfer into a separate serving dish for presentation and then add another dish to wash. This classic piece is one worth keeping around.
Watkins Chicken and Gravy Base. Why? Because it's so so tasty, takes up less space, and has all-natural ingredients in it.
My metal chopper. Our kitchen wouldn't be complete without this little guy. Ideal for chopping veggies up after they have had time to cook for a bit.
Chicken Harvest Casserole
Delicious, light and packed with veggies!
2

tbsp

olive oil

1/2

onion (chopped)

2

cloves

garlic

2

lbs

chicken (shredded)

1

sweet potato cubed

4

carrots (chopped)

1

lb

Brussel sprouts (quartered)

1

can

mushrooms (chopped)

1/2

cup

dried cranberries

1/4

cup

chicken broth

1

can

cooked wild rice (drained)

1/2

cup

sliced almonds

1

tsp

dry thyme

1/2

tsp

paprika

salt + pepper to taste
Place cubed or shredded chicken into a 9x13" pan

Heat olive oil with chopped veggies, garlic, thyme, and paprika until softened.

Add chicken broth and simmer.

Combine veggies and broth with chicken, rice, and add cranberries & almonds.

Bake at 350°F for 20 min.
Pin it for later!

HEARTY BUILDS
Building a Flipping Work Bench with FREE PLANS
LIFE ON THE FARM
How We Stay Organized | Living with Less | Purposeful Living
Farmhouse Bedroom Makeover | Spring Farm Prep
OTHER DELICIOUS RECIPES FROM HEARTY SOL
Making Sourdough | Everything You Need to Get Started
Making Banana Bread and Banana Bars
Our Family's favorite Hot Cocoa Mix
Honey, Lemon, Ginger Tea and the Benefits
How to make your own Mozzarella Cheese