Never again will the Shamrock Shake be deemed "limited time only" – with this Creamy Mint Shake recipe you can make this refreshing dessert right at home!
Combining creamy vanilla ice cream and mint extract give this seasonal specialty an extra refreshing taste and flavor.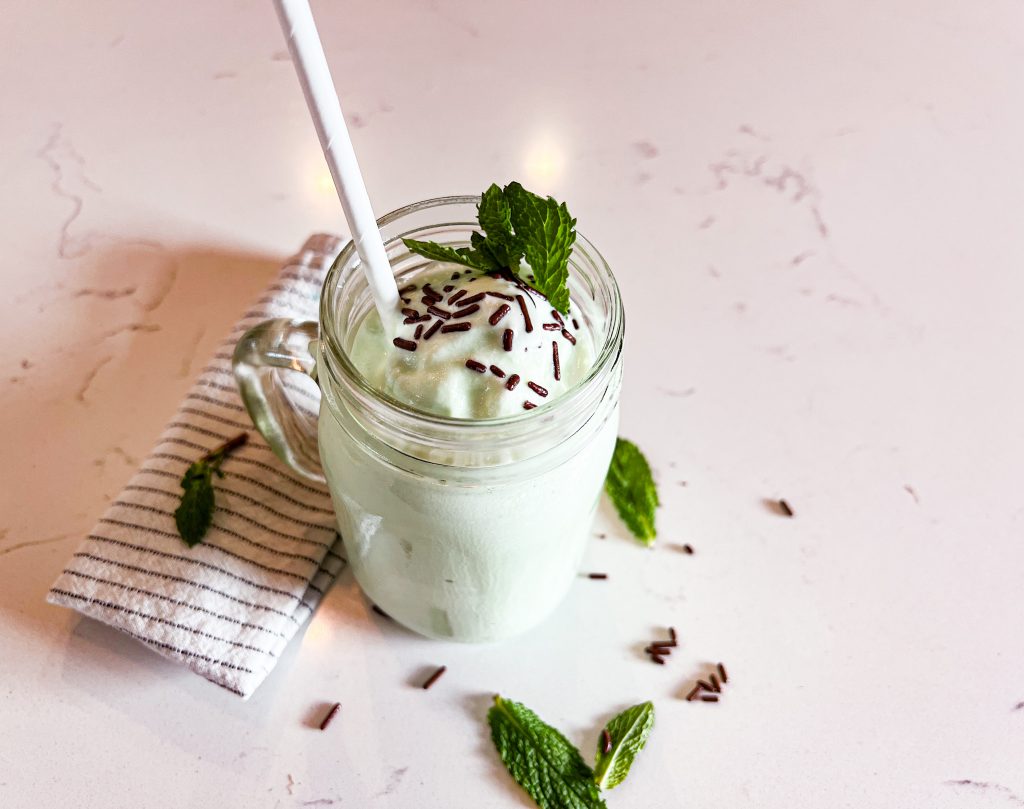 Homemade Shakes from Scratch
Ah, the tastes of spring. Rolling through the local McDonald's drive thru during the month of March (aka shamrock shake season) only meant one thing, green mint shakes! Whether St. Patrick's Day is one of your favorite holidays or not, this shake alone is a reason to celebrate!
I remember growing up, when our parents would let us try a spoonful of their after dinner grasshoppers at a fancy midwestern supper club. I was hooked on the minty flavor, only it was alcoholic. So we learned how to make our own kid-friendly mint shakes at home- sans the alcohol, of course!
Even though this minty beverages seems like a seasonal dessert, to us it's a delightful treat all year round! They've even made an appearance at our New Years Eve parties, birthday celebrations or our family get together card parties.
These mint shakes also make an excellent cool down treat for the guys in the field during the hot summer months! They love this unexpected refreshing minty shake when they've been working in the sun all day. You can check out what else we serve our hard working farm crew here!
This Post May Contain Affiliate Links. Please Read Our Disclosure Policy.
Making the Creamiest Mint Shake- the Video!
Creamy Mint Shakes at Home!
We all love the seasonal specialties to look forward too. When we were kids we could hardly wait for March to roll around so we could have a fish sandwich and a shamrock shake from the drive through.
These days are a little different and as prices increase, it's nice to know we can still celebrate the season here at home. This recipe is delightful because you can bring it out any time of the year that needs a little refreshing dessert.
The green color can be added, but can also be left out, if you prefer. It's more for looks and fun, so not necessary to the taste of the shake.
The combination of vanilla and peppermint extracts gets you as close to the drive through version as humanly possible and that was my goal! Add a few garnishments to go above and beyond and you'll have yourself some serious seasonal memories!
Using good quality ingredients are key to this shake's success. We use Watkins extracts and Kemps Vanilla Ice Cream and yes, it does seem to make a difference.
Why You'll Love This Homemade St. Patricks Mint Shake
You can save on gas and make these right at home!
These are the perfect after dinner deserts that everyone loves to help make
The soothing cool mint will actually help with digestion! This homemade spin on the recipe also has less calories than traditional shamrock shakes
This copycat recipe allows you to have a minty shake any time of year!
*You can also make it an Adult drink with the same creamy texture! See Recipe below!
St. Patricks Day Treat
Start a new tradition at St. Patricks Day supper by serving up these Cream Minty Desserts!
Ingredients you'll need to make this Creamy Mint Shake
3 Cups vanilla ice cream
1.5 Cups milk
2 Drops green food coloring
1 Tsp. Watkins Pure Peppermint Extract
1 Tsp. Watkins Vanilla Extract
A Blender or food processor of sorts. We don't use a blender, I just use my Kitchen Aid Immersion Blender Stick!
A Couple fancy glasses, or just good old Ball Jars!
Adult version: add 3/4 oz. White Creme de Cacao Liqueur
How to Dress up your Shamrock Shake
Optional Garnishments for extra aesthetic and flavor
Chocolate sprinkles
Maraschino cherries
Piles of whipped cream
Mint leaves
Colorful or green sprinkles
Cacao nibs
Chocolate syrup
Mini chocolate chips
Oreo cookie pieces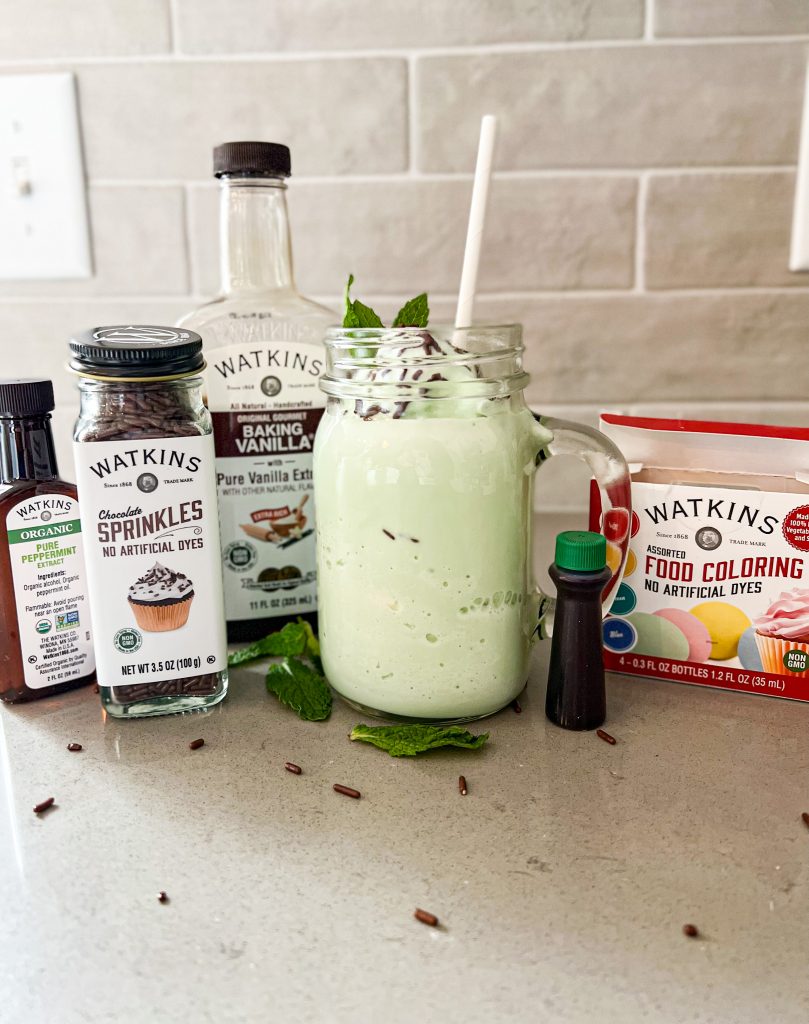 Printable Shamrock Shake Recipe Card
Creamy Mint Shake
A quick and delicious, creamy mint shake that you can make right at home!
Add all ingredients to blender and blend until desired consistency!
Helpful tips!
Feel free to try substituting regular milk for almond milk, soy milk, or coconut milk
You can play around with different ice cream flavors such as mint chocolate chip ice cream
Add chocolate! You can elevate the delicious taste of a shamrock shake and make it a mint chocolate shake!
Pin this for later!