Let's roll up our sleeves and peek inside our kitchen to make a perfect artisan sourdough bread. We'll leave that kitchen scale in the cupboard for now.
Let's start out this very post with the fact that I am not a perfect baker. I am not a professional bread maker nor do I aim to be. I am just a momma of 4 who wants to fill bellies with good things. So, if I can make this beautiful loaf, so can you.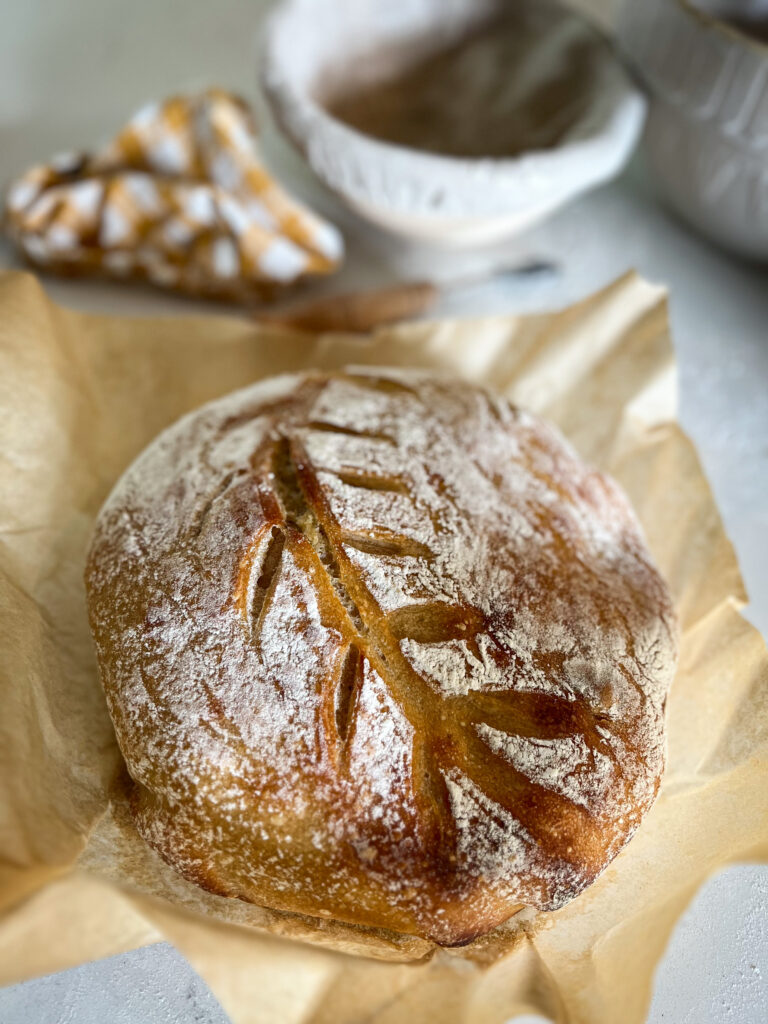 There are plenty of breads that I really love using my kitchen scale for. In the depths of the winter when the cold Minnesota days bring us inside for months at a time is when I love experimenting with my sourdough bread starter. It's just so easy to have it out on the counter or waiting for us in the fridge.
The kitchen scale was something I veered away from for a really long time. Then I realized that I had one stuffed in my farmers market box for weighing tomatoes. One day, I decided to see what the fuss was all about.
I really love how precise it can help me measure. It seemed like bread turned out really well when I did use it. So take it or leave it and believe me there will be plenty of bread recipes, here, that you will want to use a scale for. For this one, let's keep it quick and simple, shall we?
Our kitchen has been like a science lab of water and flour lately and I wanted to share with you a sourdough recipe that needs no kitchen scale, just measuring cups and teaspoons. Although you could totally convert it, if you wanted to.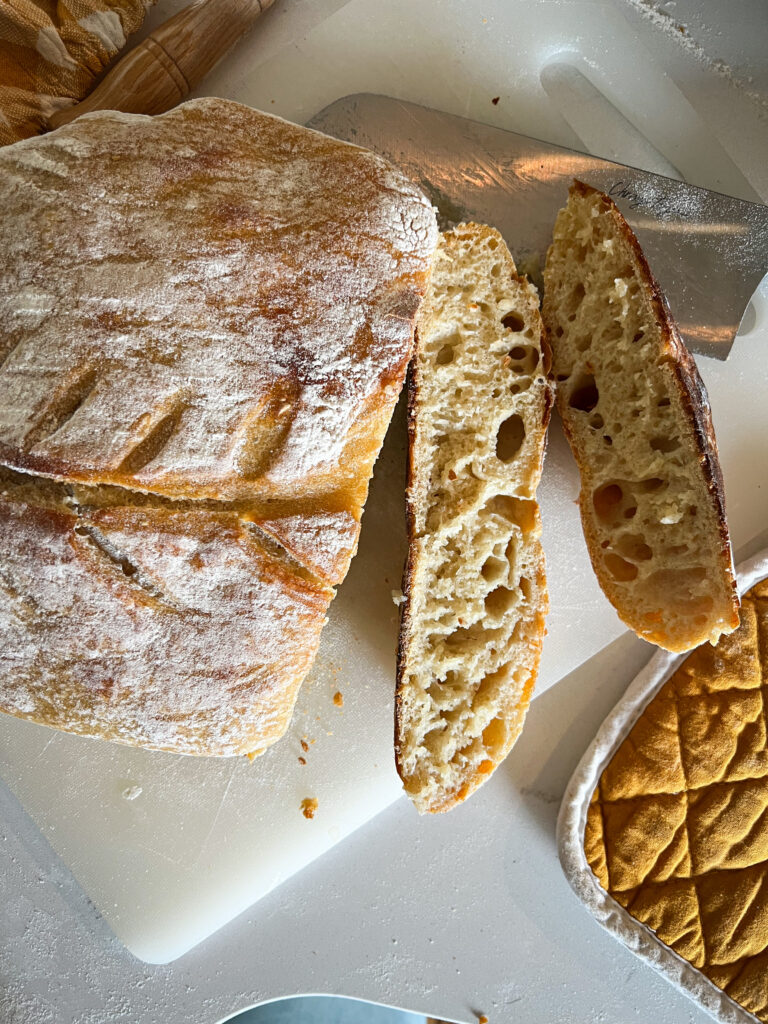 Simple Sourdough Bread Making
There are a few things worth noting when it comes to making sourdough bread or really any kind of bread. If this is your first time making bread, don't worry! This is all about doing your own experimenting and seeing what works for your home's temperature, your family and your daily schedules.  
For us, I like to prepare a dough the night before I bake it, so that the rising times can occur while we sleep and the next day we can either continue to fold the dough or bake it straight away.
The taste of fresh bread is so, so worth it, so experiment when you have time. The thought of the golden brown crispy crust is both mouthwatering and motivating! I like to experiment with my sourdough throughout the winter months to really get a good handle on it. Even with step-by-step instructions, it does take some practice and you will mess up, but that's precisely how we learn the best.
Also, there is no wasting a failed bread attempt! If I try a new recipe or try to speed up my baking process and a loaf doesn't turn out, your artisan loaf can always make some toasty sourdough croutons or a grilled cheese!
Taking the time to learn and teach yourself is worth it, I promise!
This Post May Contain Affiliate Links. Please Read Our Disclosure Policy.
Why You'll Love This
4 ingredients! Just flour, water, salt, and yeast (along with a cup of the active starter!)
Makes 1 full loaf of bread. This can be used in a multitude of recipes, makes a great compliment to a slather of butter, or can make a delicious sandwich!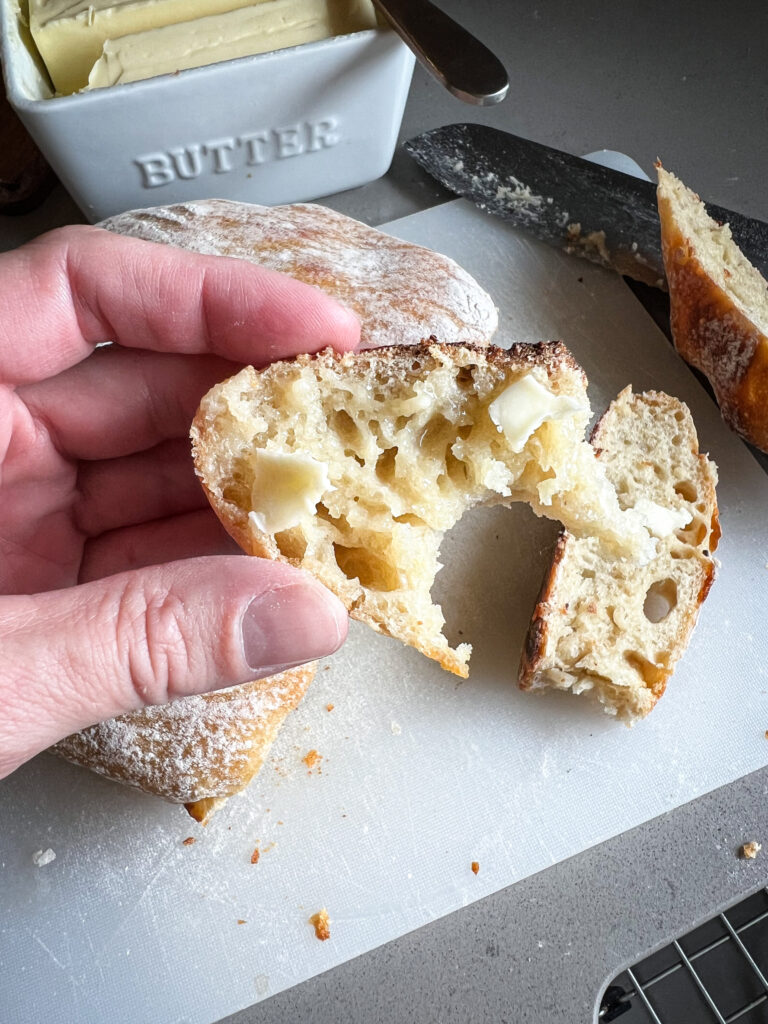 Materials you'll need to make this
Sourdough Starter, you can make your own sourdough starter here
A razor blade or sharp knive to score with (optional)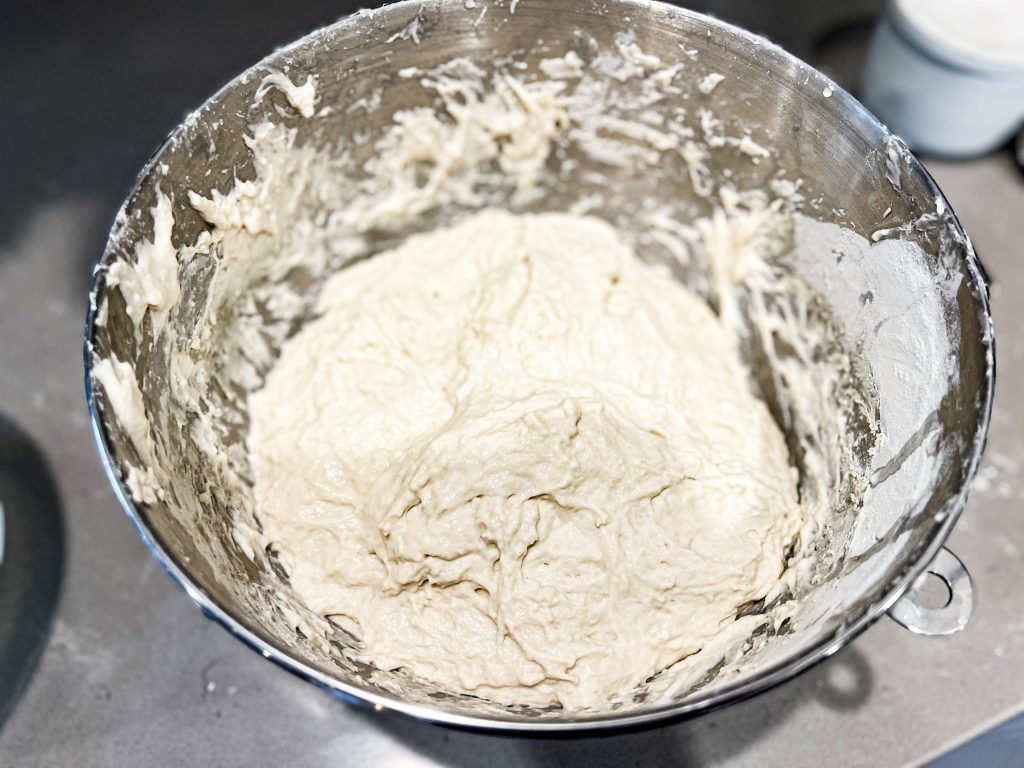 Artisan Sourdough Bread Loaf Printable Recipe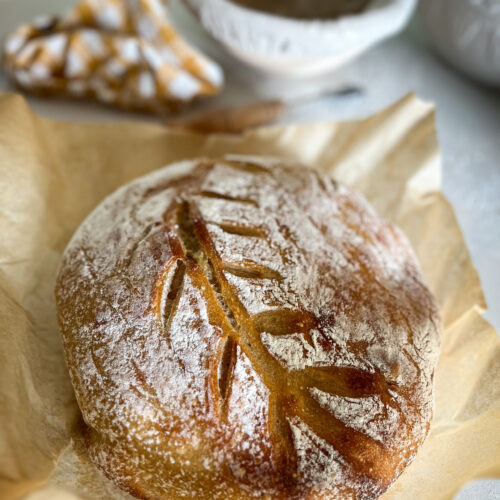 Artisan Sourdough Bread Loaf | No Scale
Skip the scale and just make a fantastic sourdough bread!
1

Cup

Active Sourdough Starter

3

Cups

Water (room temp)

6

Cups

Flour (I use 3 Cups of White and 3 Cups of Whole Wheat flour)

2

tsp.

Sea Salt

1/4

tsp.

Yeast (I sometimes will add just a little pinch in the winter time when the kitchen is colder) Not necessary if your kitchen is warmer.
Combine the starter and 2 cups of room temperature water in a large bowl and combine.

Add yeast (optional) and 3 cups of flour and stir.

Add in the last cup of water, 3 more cups of flour and salt and stir.

Cover with plastic or clean towel and let the dough rise for 12-15 hours in a warm place. (I like to combine all of these ingredients before bed- so it can rise overnight).

After the initial rising of the dough, remove plastic/ towel and sprinkle with a bit of flour and flour your hands to slowly fold the dough over itself. Flour your hands more as this can be kinda stick initially. Slide your hands along the edge of the bowl, grab an end, and gently fold it over the top to the other side of the dough. Do this around the whole bowl for about a minute.

Cover the dough again, place dough in a greased bowl on a piece of parchment paper allowing to rest and have a final rise for another 2-4 hours. 

Preheat the oven to 425°. Place your cast iron pot into the oven to preheat with the stove. This cast iron will act like a small steam oven of sorts for the first part of baking this bread- so it's important that it's nice and hot before your bread goes into it.

While you are waiting for your pot to heat up, you can use a clean razor blade to score a design right into the top of the dough ball if you wish. There are lots of cool designs out there that can add to the final shape!

When your oven is ready, use some pot holders to carefully remove your hot dutch oven. Grab the dough by holding on to the parchment paper and lowering the entire paper with the dough on it into your dutch oven and cover with the lid.

Bake at 425° with the lid on for 30 minutes.

Remove the lid and bake for another 15 minutes.

Remove from the pot with the parchment paper and allow to cool a bit before slicing it and slathering it with butter!
Questions People are asking about Artisan Sourdough Bread
Why won't my bread rise?
The temperature of your kitchen affects your bread process more than you would think! Sometimes in the wintertime or colder areas my bread, too, will have a tough time rising. I usually have good luck if I add a pinch of yeast or turn the light on in my oven an allow it to rise in the oven. Rising times will differ with different temps in your house.
How long will my artisan sourdough bread last?
When we make fresh bread it doesn't last long around here. I typically use it up in 2-3 days or keep it in a ziplock in the refrigerator.
Is it important to preheat my cast iron pot before baking the bread in it?
Yes! Believe me, a preheated dutch oven will give you the best results. I tried to put it into a cold pot and it didn't turn out nearly as fluffy and beautiful as when placed into a preheated cast iron dutch oven.
What is the difference between regular bread and artisan bread?
The difference between artisan bread and regular bread is in the ingredients. Artisan bread is usually made with strictly water, yeast, flour, and salt while regular bread can include ingredients such as sugar and olive oil.
What is the difference between sourdough artisan bread and artisan bread?
The difference between sourdough artisan bread and artisan bread is the fermentation process. Sourdough requires the starter which takes 5+ days to craft. On the other hand, artisan bread can be whipped up within a day using bread flour and instant yeast.
How is sourdough best served?
Warm Fresh Sourdough Bread with butter is already delicious! If you want to turn this from a snack into a meal, pair it with one (or all!) of our homemade soups:
– Creamy Potato Soup
– Tomato Soup
– Green Been Soup
Pin this recipe for later!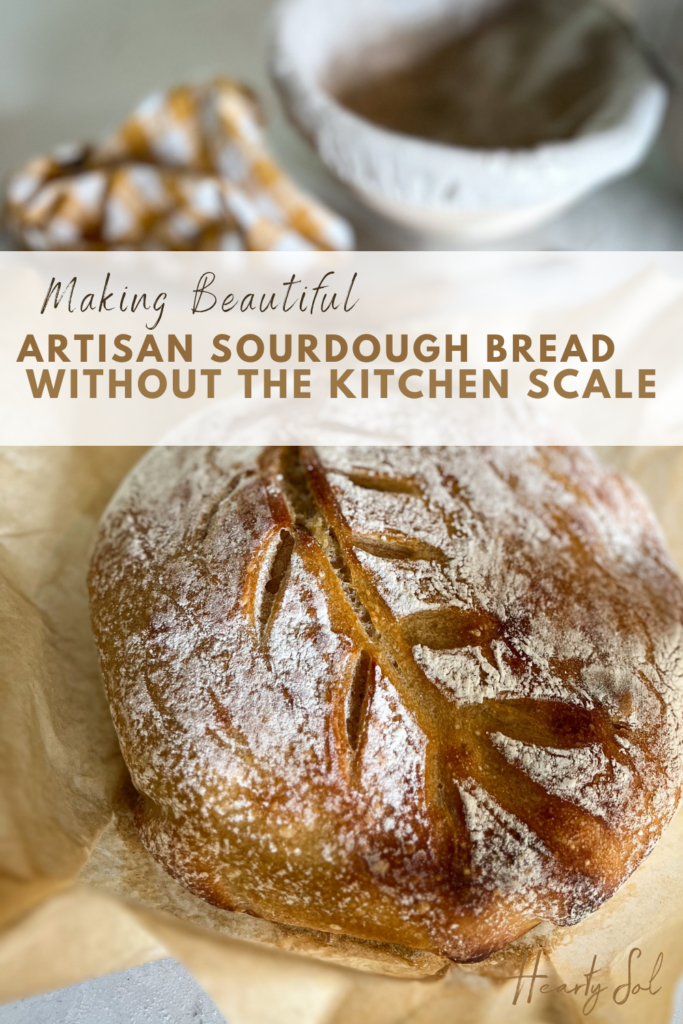 Check out another one of our delicious sourdough recipes!
Sourdough Pretzel Bites + Homemade Cheese Dip
Read our other Blogs!