Celebrate your special day with our specialty cut wedding flowers, grown right here in Southeastern Minnesota by our family!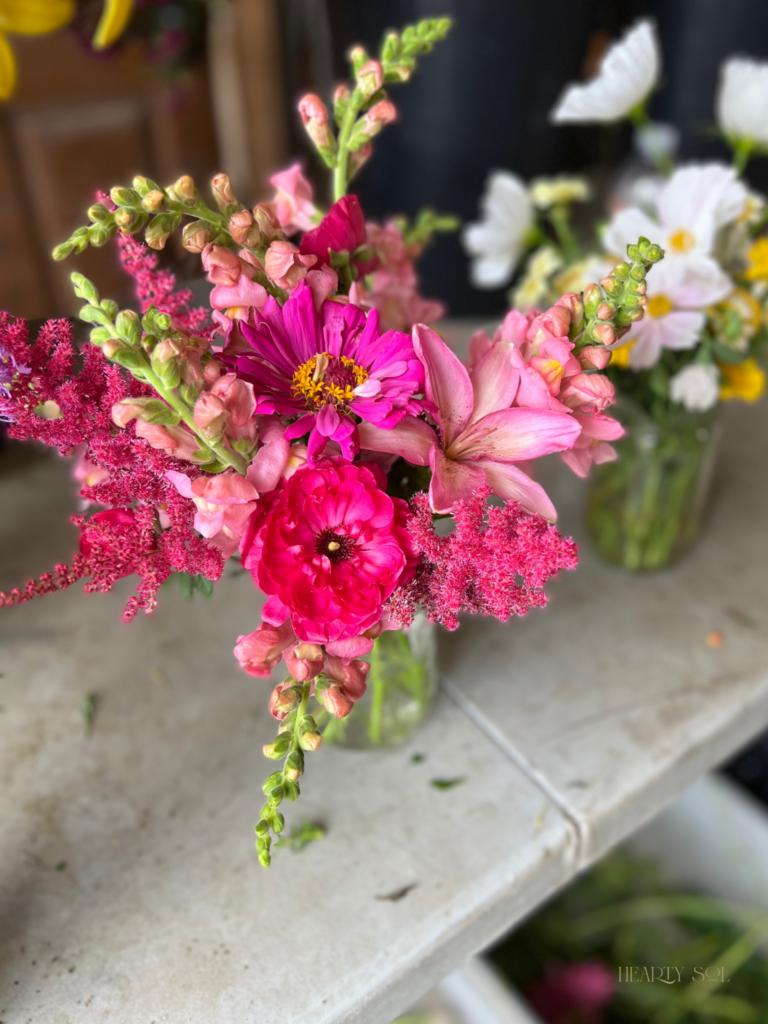 Wedding flowers from Hearty Sol Gardens are the perfect way to celebrate your wedding in a unique and eco-friendly way. All of the flowers in your bouquets, buckets, and arrangements are 100% grown and raised here on our farm in Lewiston, Minnesota. We focus on growing sustainably and regeneratively in order to aid our soil, land, and environment to be the best it can be.
Here at Hearty Sol we offer:
Bridal Bouquets
Boutonnieres
Bridesmaid Bouquets
Focal Flower Arrangements
Wrist Corsages
Pinned Corsages
Buckets of Flowers
Please note: these flowers are fresh and right from our garden meaning they are only available for order end of May through early October. Please do not place an order if your wedding takes place outside of these dates. Earlier spring flowers (May through mid-June) will be primarily tulips, lilies, blossoming branches, peonies, and other shorter stemmed items.
Bridal Bouquets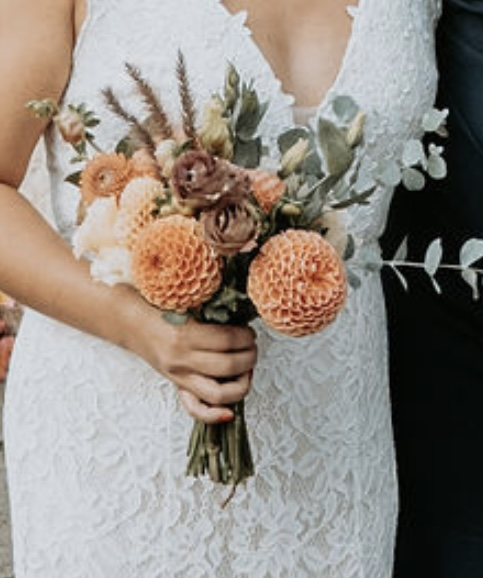 *If you are interested in dried flowers for a bouquet, please email me at [email protected].
Boutonnières
Bridesmaids Bouquets
Focal Floral Pieces
Selecting Flowers from our Gardens
All of our flowers grow right here on our farm in Southeastern Minnesota. Our farm focuses on sustainable and regenerative growing to provide the best flowers that come from the best growing conditions. Our guarantee is that every flower in your bouquet will come from our gardens.
Due to the unpredictability of Mother Nature, we cannot guarantee or reserve flowers. Because of this, the more flexible you are when it comes to which flowers, colors, and variety you want, the better experience you will have! We do recommend that you come visit the garden the week prior to get a good gauge for what flowers will be available the following week. We can even put together a sample bouquet at that time.
Answering Your Questions!
How does it work ordering flowers from the Hearty Sol Cut Flower Garden?
Flowers are grown here in our gardens from the end of May through early October. You may place an order for any date during that time. Due to the busy nature of our gardens and dairy farm in the summer, deliveries are not available. We welcome you to stop by the farm to pick up your orders. Please be sure you fill out the form in order for us to communicate about pick up times (more information in the form and link below).
What's your style of designing?
Our style of bouquets is a looser one filled with a variety of different flowers and colors depending on your taste. These flowers will provide a seasonal flare to your wedding and It will look like your flowers were gathered from the field (they really were!).
What are my options when it comes to selecting Flowers from Hearty Sol?
We can accommodate two color palettes: neutral and blush or bright and bold. Our flowers are dictated by nature, so while we cannot guarantee any specific flowers, you can rest assured that your bouquet will be naturally stunning!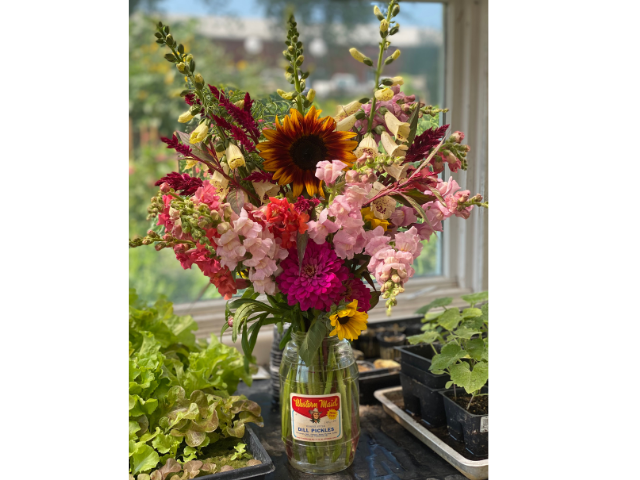 Tips about Keeping your Floral Wedding Flowers as Fresh as Possible
Keep your flowers out of direct sunlight. If you have a refrigerator or cooler to keep them in, they would be extremely happy, but if you only have shade as an option, they'd be fine there, too.
If you would like, you can also add on a bucket of flowers in a matching palette to your bouquet for all of your DIY purposes. One bucket contains 50-70 stems in a mix of foliage, fill, and focal flowers.
Sign up to order your Wedding Flowers!
or use this link for our Hearty Sol Shop
Looking for a spot to buy Flower Bouquets for any occasion?
We have you covered with our Fresh Flower Subscription – check it out and enjoy more locally grown seasonal flowers!