There's just something sweet and classic about dried oranges. Make them once and save them for next year or create a holiday tradition.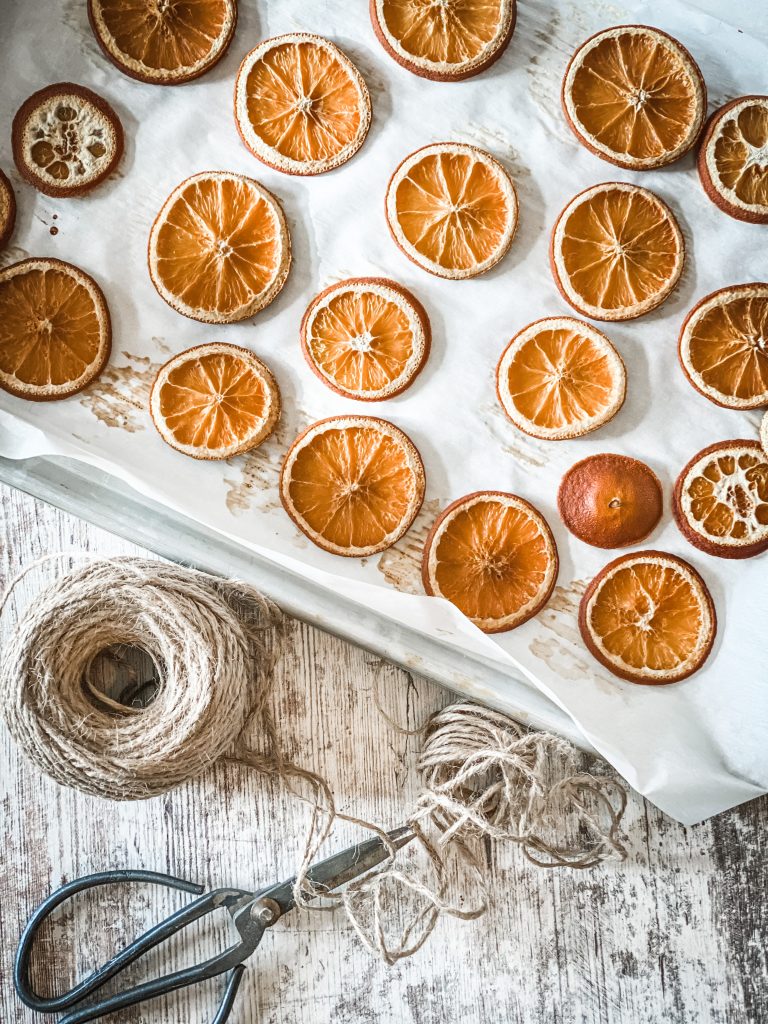 This Post May Contain Affiliate Links. Please Read Our Disclosure Policy.
I love adding in as many natural elements like dried oranges to our holiday decor, as possible. This means four things:
1. I can source almost all of our decor from our yard or the grocery store.
2. When the season is finished I can toss everything into the compost and it will naturally turn into nutrients for the garden. Also things like dried oranges, pine bough, popcorn and pine cones won't be taking up space in our storage room :)!
3. We are making memories that the kids will remember and perhaps want to pass down to their kids someday.
4. We adore our Scandinavian roots and love to honor them with these minimalistic pieces of decor that are simple and inexpensive to make!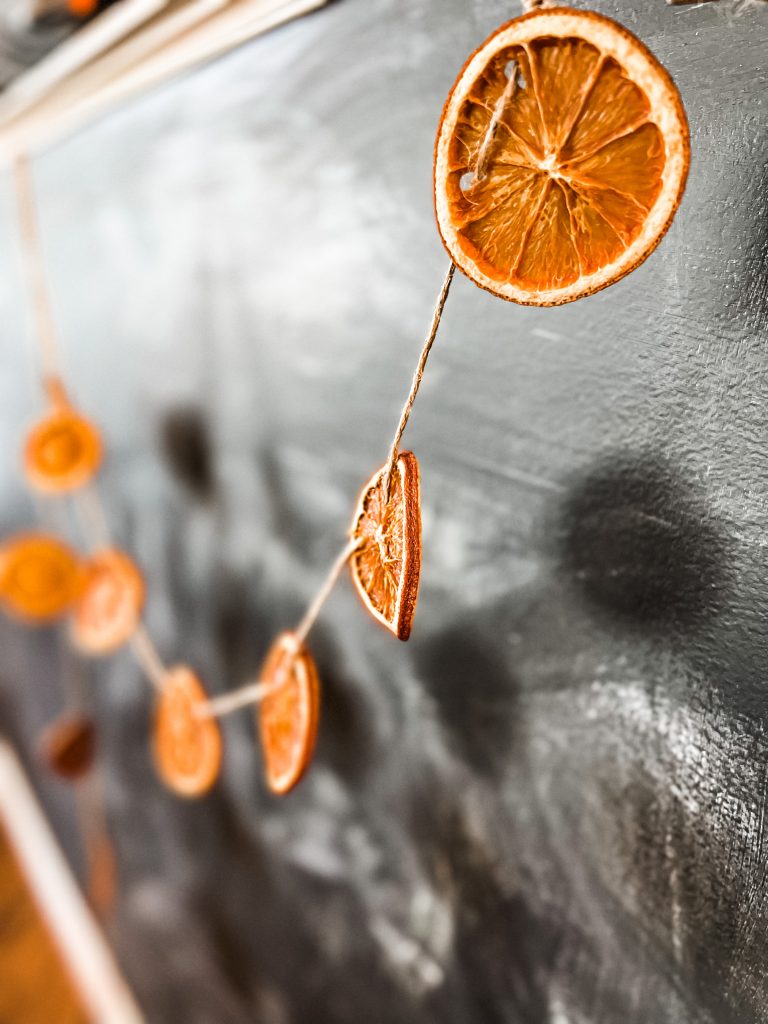 Making Old Fashioned Dried Orange Slices
Dried Oranges are really simple to make and chances are you may have a few left over oranges or tangerines around anyway. I always grab those old ones that no one is going to want to eat. It saves me from having to toss them to the chickens and the smell of baking citrus is amazing in your kitchen.
So let's get baking, shall we?
What you'll need to Make Dried Oranges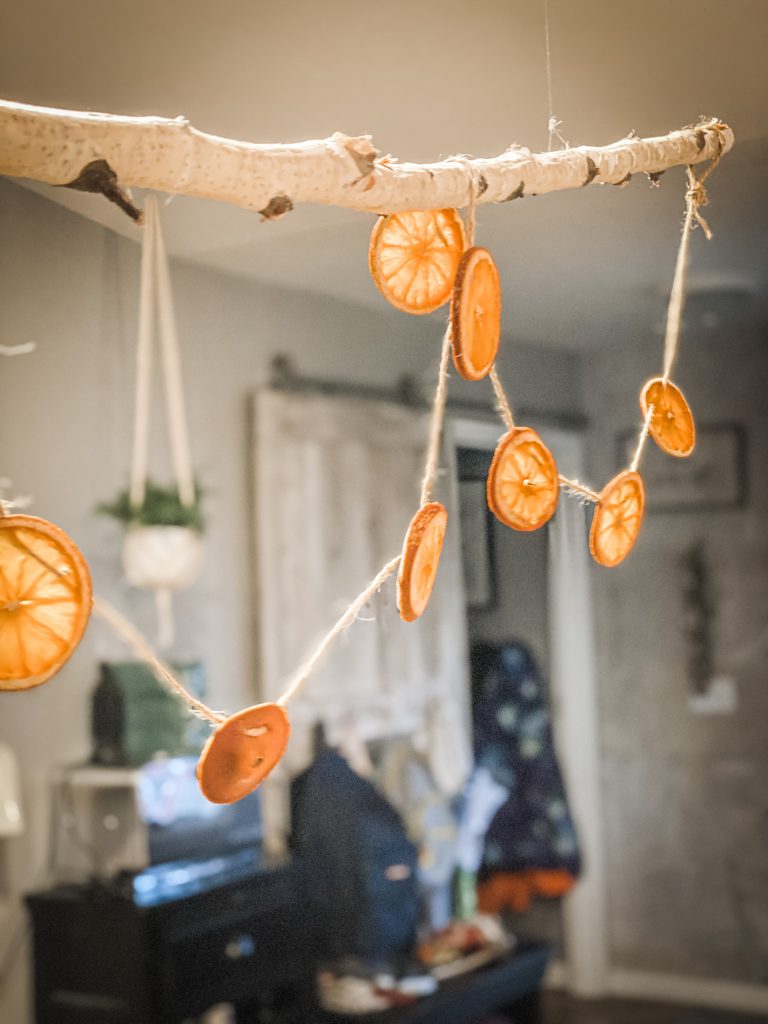 What can you do with Dried Oranges?
Decorate your tree with single strung orange slices
Jazz up a real or faux Christmas wreath by wiring 3 or 5 slice and a few pinecones to the wreath ring.
Create a garland of dried oranges, drape them from your living room curtain rods or your bed's head board.
Toss a few in a simmering pot of cider and cranberries. Remember these are oranges (originally created as food). 🙂
Time needed: 3 hours
How to Make Dried Orange Slices
Preheat the Oven

Preheat the oven to 225° F. I like to use my convection setting on my oven as it tends to move the air around more, making flipping the oranges optional.

Prepare your baking pans

I add a piece of parchment paper to 2 large baking pans.

Slice Oranges, Lemons or even Grapefruit

Using a sharp knife or mandoline, carefully slice fruit evenly 1/4 or 1/8 of an inch and lay on parchment paper- not overlapping the slices.

Blot with Paper towel

Blotting the fruit slices with a paper towel helps remove moisture and speed up the drying process.

Bake your fruit slices

Bake your sliced fruit at 225° for about 2 hours, flipping them after about 1 hour. You will notice them start to brown and no longer shinny- that's when you know they are done!
Each oven is a little different. So just do some checking around that 1.5 our time frame to make sure they don't over bake.

Allow to cool

Allow the fruit slices to cool good before stringing them.

String them

Using a needle or just the end of a scissors, poke a hole and add your string!
Questions People are Asking about Dried Oranges
Can I use my dehydrator to make these dried oranges?
Yes! Last year we made them in the dehydrator after we were finished making venison jerky. The dehydrator was already out, so we took advantage. Just dry them down until they are no longer pliable.
Can we make dried orange slices in our air fryer?
Also yes! Load your sliced oranges onto the air fryer shelf and air fry for 3.5 hours on 55C./ 130F. Remove slices from air fryer and allow to cool before stringing them or placing the into to a storage container.
How long will these dried orange slices last?
The ones we made in dehydrator are the ones that we put up this year. We stored them in a paper bag so they had room to breath. They weren't molded at all. I imagine they will last a few years with the right storage. We just love the tradition of making them each year and not having to worry about storing them.
How do you to store dried orange slices?
We kept ours in a paper bag with our Christmas decor in our cool, dark basement storage room. All came out well. To prevent any mold, be sure they are completely dried before storing.
Pin This for Later
Tips for Dried Oranges
These dried oranges are so nice to have around because then can easily transfer from fall decor through the winter!
When you are done using them, remove any wire or string, then toss them in your bird feeder or out to the chickens for a nice winter treat!
Let the kids help! This is one of those projects everyone can help with and they'll remember that!