Decorating with holiday greens is one of our favorite things. We love being able to use something that we can find here on the farm to decorate or make a wreath with.
Learning how to make these holiday greens last will ensure that you will be able to keep them up all winter long.
How to Decorate with Holiday Greens Keeping them Fresh and Fragrant
This Post May Contain Affiliate Links. Please Read Our Disclosure Policy.
What to Look for when Purchasing Fresh Holiday Greens
Are you purchasing from a big box store or from a local source?
If you are purchasing from a large store, they may have had those greens stocked for several days or weeks before you are purchasing them. This may affect how long your holiday greens will last.
Purchasing from a local source may mean fresher cuts and locally sourced greens meaning your garlands and wreaths will last weeks longer than the big box store.
Are the greens turning brown already?
If you notice any browning on the tips of the evergreens, this is a sign that these greens have been cut for some time, already and may be losing moisture. The needles will become brittle and start falling off if they are away from a water source too long.
How do I measure for Garland?
For a Banister or Railing:
Measure the length of the banister or the width of the mantel, then calculate 1 1/2 times that dimension. Example: 6′ wide mantel x 1.5= 9′ of garland. This length will allow for a swag or give between bows or contact points.
You could also wrap a piece of string or yarn around the column or railing in the same way that your garland would be positioned. Then measure your piece of string with a tape measure.
Around My Front Door:
Regardless of style, most garlands can be made at six feet long. Be sure to measure your door and determine if you want the garland to go all around the door or just a little on top. I love this video tutorial from Balsam Hill that shows you how to measure around your door for garland.
The Evergreens that Last the Longest
Cedar / Juniper- great for outdoor use in garlands and wreaths, but won't survive long indoor. Heat will make the foliage turn brittle. Some varieties will have little blue berries that are so very charming in wreaths.
White Pine and Blue Spruce typically used for outdoor wreaths, garlands and swags. I love putting a couple of springs in a glass bottle of water that we have in each of our bedrooms. White pine is so light and airy that it has a hard time supporting heavy ornaments.
Redwood branches are lovely for holiday decorating too. We use them to arrange our porch pots and can be a nice.
Balsam bares the iconic smell of the holidays. It can be harder to find as most balsam trees are either on Christmas Tree farms or farther north. Makes great wreaths, garlands, swags, but lasts the longest outdoors.
Holly is generally found more in south and can last up to weeks if used indoors because of it's waxy exterior.
Eucalyptus dries quickly and still makes a beautiful arrangement. It's certainly adds a fresh scent when used in indoor arrangements. When our eucalyptus is finished in our arrangements, we love to bundle it up and tip it up underneath our shower head for an amazing effervescent shower experience.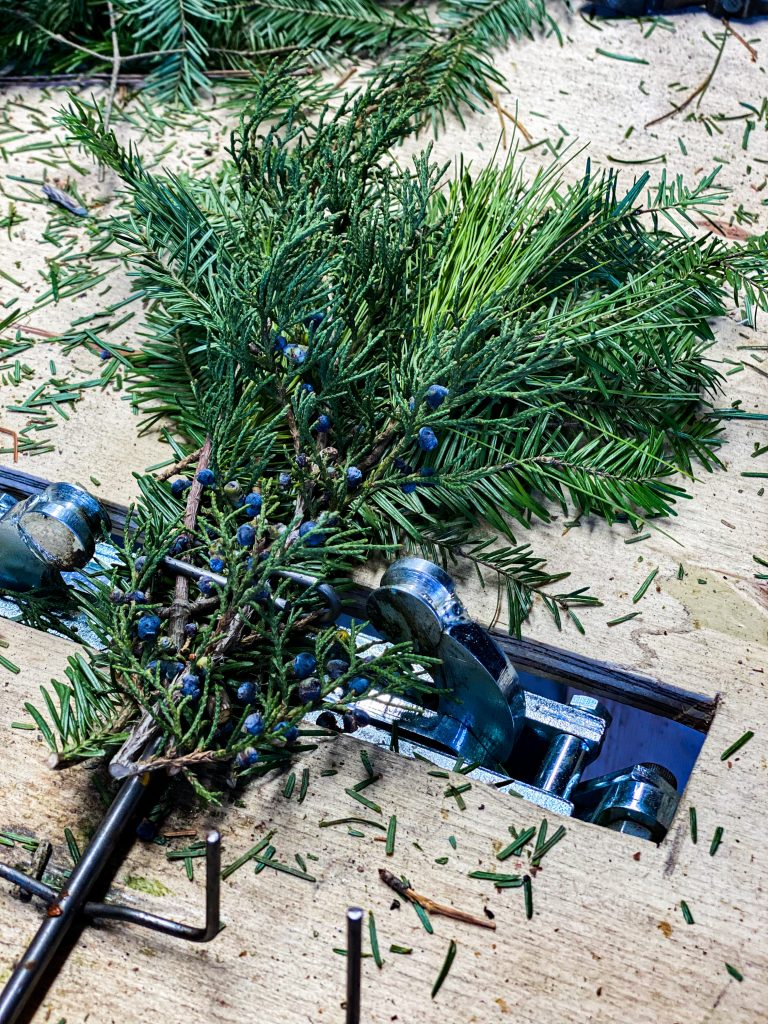 Holiday Greenery Care Instructions
How to Keep Holiday Greens Fresh and Smelling Amazing!
Wreaths, Garlands and Swags
There are several anti-desiccant sprays that you can spray on your indoor and outdoor greens to keep them lasting the longest.
Keep your fresh greens away from direct sunlight and heat will ensure the longest life.
Misting with a water or even setting them under a shower for a bit will help them last.
Porch Pots
If you have a porch pot in your care, it's likely filled with a soil or sandy mixture. By placing your winter porch pot outside and it may receive a dose or two of precipitation, and your pot should be just fine. If your pot is in a drier environment, you will want to water the pots soil to keep your greens staying fresh and fragrant throughout the winter season.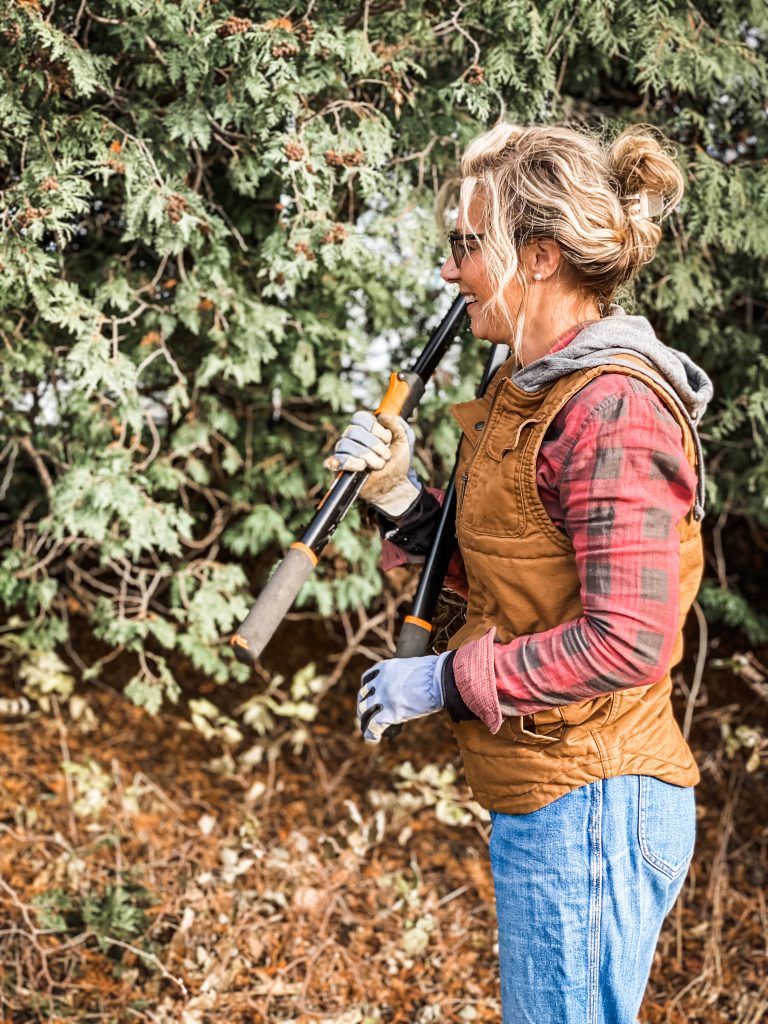 What is Anti-Desiccant Spray
This is a spray that provides a protective waxy coating to reduce water loss from an evergreen's foliage. Any of the products below will help your greens last the longest possible by locking in the moisture.
After they are applied, you should not need to mist with water as the waxy coating will prohibit the greens from receiving the water.
Here are a few that we have used with success before:
Wilt Stop Spray- all ready to be sprayed. Spray on your garland/wreaths outdoors and let sit for an hour before bringing indoors.
Wilt Pruf Concentrate to be added to water, then sprayed on outdoors before bringing indoors.
Can I make my own Anti-Desiccant Spray?
The simple answer is yes!! Here's what we do. Grab your favorite spray bottle.
Our Homemade Anti-Desiccant Recipe:
Print Recipe
Anti-Desiccant Recipe
This is a misting spray to help keep your fresh holiday greenery last longer
1

Drop

Pine Oil

1

Gallon

Water
Mix 1 drop of Pine Oil into a Gallon of Water. Gently stir, add to a clear spray bottle and label.

**Be sure to label your spray bottle so everyone knows it's not just water. Keep your jug and spray bottle of anti-desiccant spray out of reach of children.

Mist Holiday Greenery (Wreathes, Garland, Porch Pots, Etc) Once a Week. This will ensure the greens will last for weeks long, then if you didn't mist them.
Questions People are Asking about This
How long does Fresh Greenery Last Indoors?

Fresh greenery will last indoors for about 2 weeks; it will last longer outdoors in colder climates. Keeping greenery away from direct sunlight and heat sources as well as misting daily with water will help cutting last longer.

How long does Fresh Greenery Last Outdoors?

Wreaths and garland that are positioned out of direct sunlight outside could last up to 4-6 weeks. Misting with water will help keep them fresh, longer.
What is the best misting spray to use for making Greens Last Longer?

A simple bottle of water will do the trick. BUT you could also use an anti-desiccant spray. This is a spray that provides a protective waxy coating to reduce water loss from an evergreen's foliage. (See above for some our favorites.)
Shop the Hearty Hopper- Online Shop!

Pin This for Later
Bonus Holiday Greenery Tips!
If you are planning on keeping your holiday greens up for the duration of the winter, take them down every once a week and stick them under the shower for a good rinse-off. This will not only remove any dust that has accumulated but it will act to rehydrate the holiday greens.
We love using these hooks for a temporary placement of greens. Leaving around the doors, vinyl siding and walls without nail/hook holes.
If you're picking up a wreath or piece of garland for your home from a local vendor, why not grab one for your neighbor or friend who can't get out. You're sure to bring them more than just holiday cheer this season!
Shop our Amazon Holiday Shop!
More Hearty Holiday Posts
Our Latest Posts