Enjoy our Cozy Farmhouse Christmas Home Tour | Classic Christmas Decor | Holiday House Tour
Grab a cup of cocoa, curl up with your kids and come on in! With a neutral base of paint in our home, we can easily make decorating our home easy and yet so magical! Adding a few red pillow covers, bedding and some wreaths makes this season's focus more about family, coming together, and being thankful for the true meaning of Christmas. Enjoy the tour!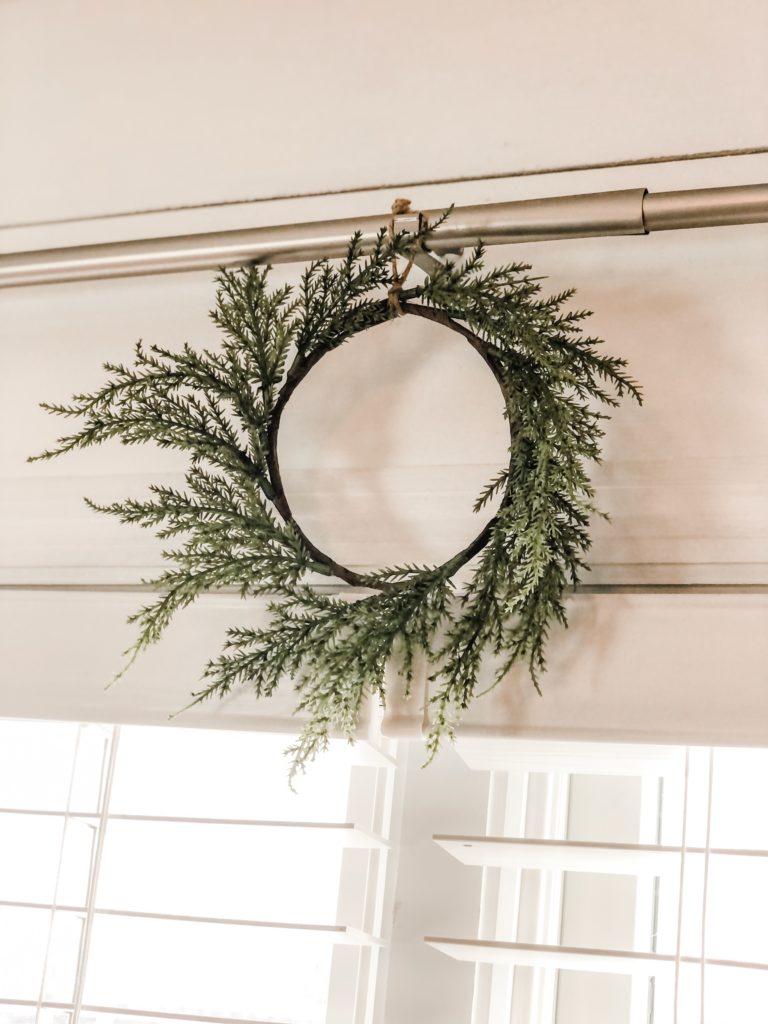 (This post may contain affiliate links which means I make a small commission at no extra cost to you.)

Cozy Home Tour- come on in!
The Taste and Smells of the Season
Our Favorite Chocolate Chip Cookie Recipe for this time of year is one of our most popular posts!
Classic Decor | Holiday Home Tour
Christmas Greenery
This is the year of greenery here on our farmhouse Christmas tour. Little lit trees, wreaths, and sprigs of green fill our neutral farmhouse canvas.
Bring on the Cozy!
Learn how I made this 1950's phone work with our current landline here!
When less really is MORE
We really do appreciate less and less each year. I do a pretty good curation from season to season of what we really do still love and enjoy putting up in our home. Many things that we bring are a combination of things that are family heirlooms, things we can't live without and a few things from around our farm like white pine branches and pine cones.
Nordic Decor
Our Norwegian roots inspire the nordic tree decor and use of red during the holiday season.
Not only are these tree decorations kid-friendly by they can also be complemented with all of our handmade yarn and wool ornaments.
Handmade Ornaments and Stockings
So many of the most loved decor in our home is handmade including these stockings! These stockings were one my first sewing projects I made when I got my sewing machine.
Do you prefer real or aux Christmas Trees? We have gone back and forth. We had consistently picked out a real tree from a tree lot for several years. The smell is like no other!
Then one year we had a snow storm on the one night we had planned to go pick out our tree. When faux Christmas Trees went on sale at the end of the season, I picked up a Nordic Inspired Christmas Tree to have as a second or just in case we couldn't get out to get one.
Simply Outdoor Lighting Hack!
We don't need to spend a lot of time trying to secure lights to the outside of the house. Check out our simple Christmas Light Hack to save your self time and energy this season!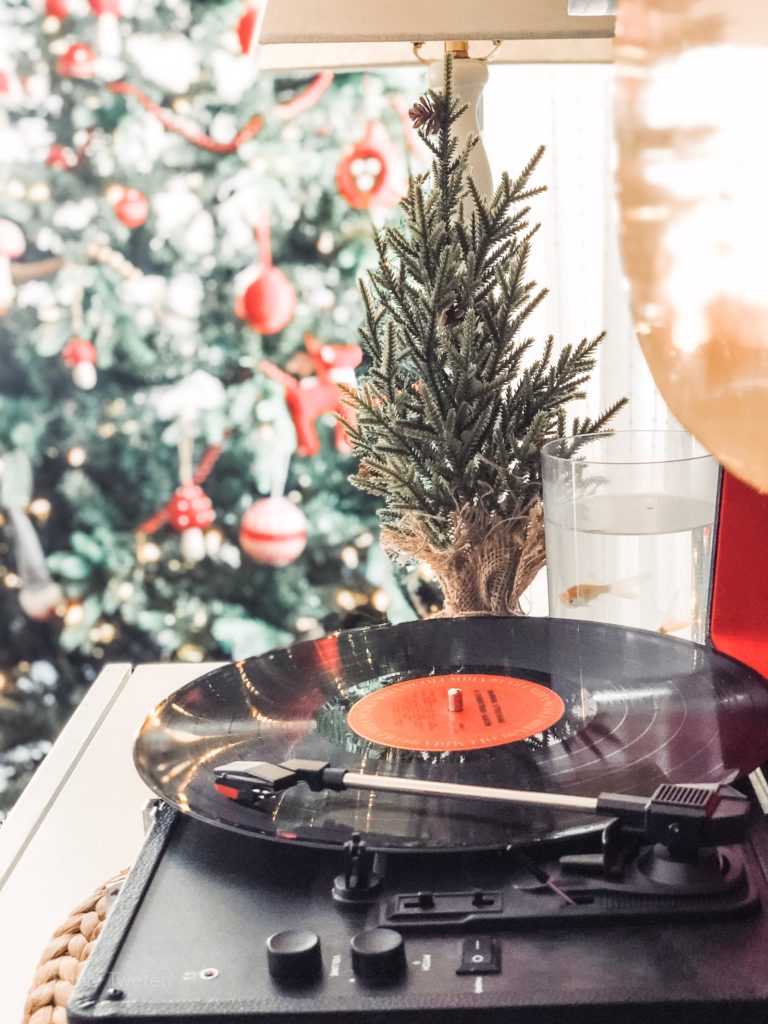 Music
Music plays such a big part in our lives but at Christmas time, it gets just plain magical! We bring out our record player just for the holiday times. Typically we will find one Christmas record that claims the song of the year and play it over and over again while we dance like fools in the living room.
We have more fun dancing and giggling at dad's fancy moves than anything else in the Christmas holiday season!
Calm and Content
The dim glow of the Christmas lights and the warm movement of the fire brings out everything hygge in our home. Hygge- pronounced "hoo-guh" is a Danish term defined as a quality of cosiness and comfortable that creates the feeling of contentment or well-being.
Staying in, cuddling under a blanket, sitting in front of the fire with a warm cup of cocoa and some popcorn and embracing the quiet, slowing times instead of loathing the cold or cursing the weather is how we take our cold MN winters.
Cozy and Warm Lighting
I love the warmth of a fire place during the holidays. Heck, I love the warm of the fire all year round. This past fall we did some research into real wood fireplaces, gas, and electric! I really, really love the sound and feel of a real wood-burning fire place.
After doing some research, I realized that this was going to be an expensive and permanent project. I like to be able to rearrange our living space through out the year and wanted to be able to keep our layout as flexible as possible.
Real fireplace, chimney install, mantle etc was going to cost 8-10K! This was just not in our budget.
I wanted to be able to add some wood for a nice natural wood fire feel, too. I did tons of research and landed on this Real Flame Hollis Electric Fire Place with a storage area for some real logs. I love it! We love even more that if someday we did invest in a real wood-burning fire place, that we could move this one down stairs.
Although the company does not recommend placing a TV on top of the fireplace, we do have our Samsung Frame TV on top and it's as cool as a cucumber. Next, I need to find some nice winter art for the TV!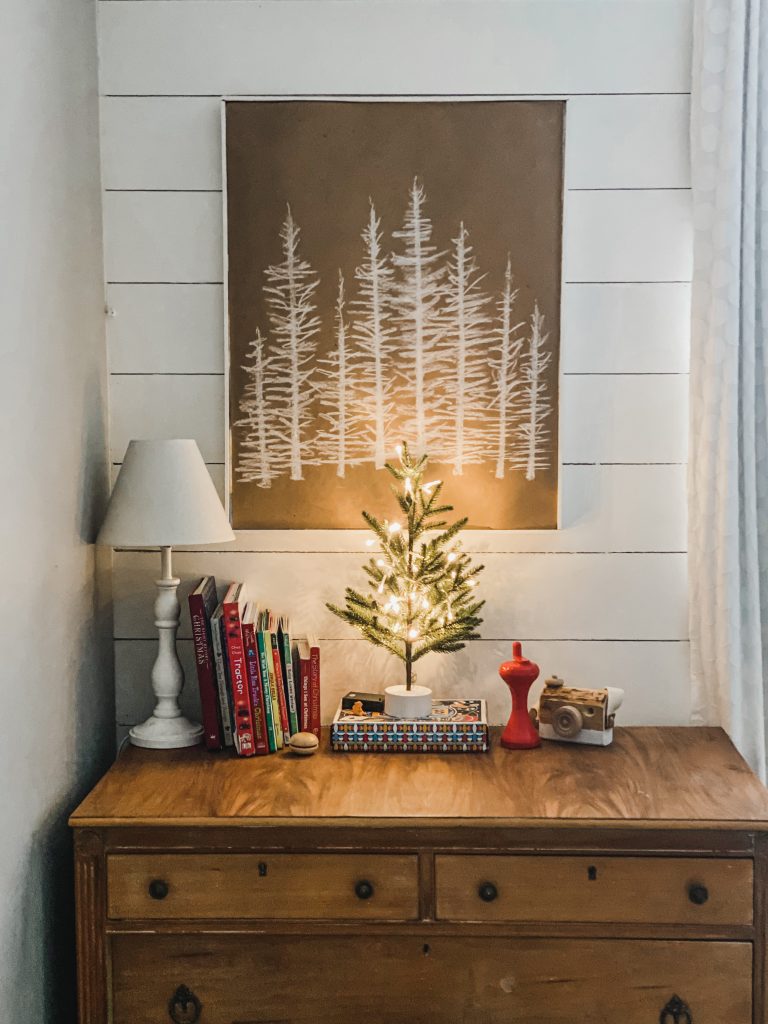 The most simple thing we can do in the farmhouse during the holidays is to replace a picture or another piece of decor with a green wreath or a hand-drawn seasonal drawing. I love how easy that is! I used a piece of butcher paper and some white chalk to draw some crude pine trees. Then just fixed it to the original painting with some double stick tape.
Make your own Hot Cocoa Tutorial
While you're enjoying the spirit of the season whip of some homemade hot cocoa. This batch makes plenty for gift giving and enough for you to keep for your own family!
Tips for Christmas contentment and simplicity
Reuse what you have- placing it in a new spot will make it feel fresh.
Instead of buy new ornaments or decor, swap with a sibling, parent, friend or neighbor to eliminate having to purchase more. This gets you a new color of ornaments or a different wall decor without having to store multiple sets.
Exchanging gifts can be fun, but it can also add the stress of finding new spots for all the new treasures. Agree on an experience like a movie theater night, museum visit or trip to a hotel with a pool!
Get your home ready for the chaos of having kids home, gifts coming in and out by doing a simple 'things' overhaul. What do we not need, play with, wear anymore? Move it out of the house before bringing more in.
Simple Gift Giving Guide
Do you have some last-minute gifts to grab? Check out our Simply Gift-Giving Guide here!
I sure hope you enjoyed our Farmhouse Christmas Home Tour 2019 | Classic Christmas Decor | Holiday House Tour
Pin it for Later
Wishing you and yours a very Merry Christmas!
Cheers!