If you're craving something light, buttery, and full of vegetables, stir up this easy green bean soup!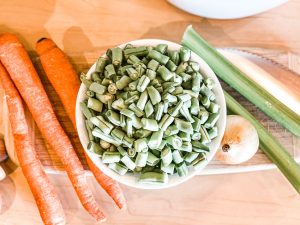 Fresh Green Bean Soup is one of those soups that I couldn't wait for the green beans to be ready for picking so I could gather them up, bring them in the house and cook up a steamy pot of this soup for my dear Grandpa! He loved this soup so much and I loved, even more, making it for him! We have always been garden buddies and some of my first memories are with him and grandma picking beans or tomatoes in their garden. The smells of dill while grandma was making pickles in the kitchen, still bring me back to those days as a kid. They taught me so much about hard work and growing food. I love to honor those memories by making these family recipes for grandpa. He would "mmm" through the entire bowl of this green bean soup and that brought me great joy!
Easy Green Bean Soup
It's like the temperature drops 5 degrees and just like that, I step out of the garden and into the kitchen, again. Before I step out of the garden I grab a bucket of green beans, an onion, a couple of carrots and head in to make some green bean soup.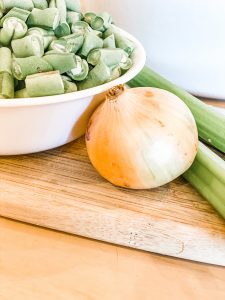 I have found that making soups are a great way to get our kiddos the veggies we want them to have. Chopping them up in small sizes also is one of my tricks. It's much easier and less frustrating for them to keep the veggies on their spoons when they are a bit sized.
After a big garden season, I love to chop up all of our leftover green beans, onions, carrots, tomatoes, peppers, squash and pumpkin and freeze them up for wintertime. This is a quick and easy way to make the fresh garden season veggies last all winter.

How to make easy Green Bean Soup
1. Wash green beans, taking off the ends and cut up into ½" sized pieces. Cut enough to fill 2 cups of beans.
2. Chop up 1 small onion, 2 carrots and a couple of stalks of celery.
3. Toss all of the above into a big pot or a dutch oven with 6-8 cups of water. Add salt, pepper and a couple of tablespoons of butter. This is what we use.
4. Add the secret ingredients 😉 3-4 tablespoons of Watkins Chicken Soup Base and 1 can of evaporated milk.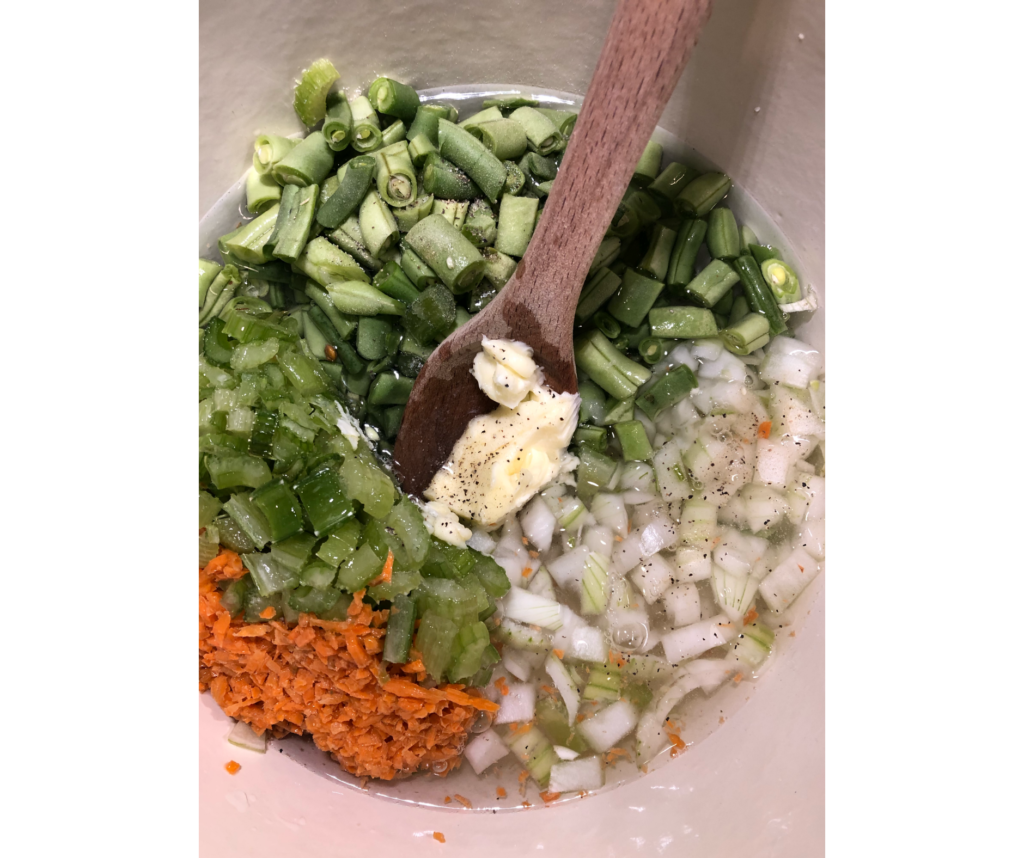 5. Bring all of this to a boil and simmer for 15-20 min. Serve with soda crackers and butter OR an amazing Spanish Bocadillo!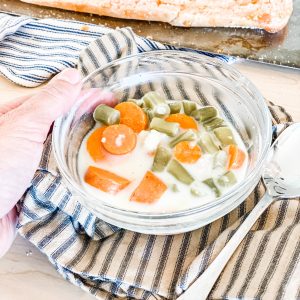 Green Bean Soup
If you're craving something light, savory, packed with vegetables, and easy to make, give this green bean soup a try!
Wash beans, remove ends and chop up into ½" pieces

Chop up onion, carrots and celery into small pieces

Place all chopped up veggies into a large pot or dutch oven with 6-8 cups of water

Add salt, pepper, chicken soup base and evaporated milk.

Bring to a boil and simmer for 15-20 minutes

Serve with crackers and butter!
Enjoy!