These easy paper bag stars were a huge hit last year. In this tutorial I'll show you how we make our fun paper bag starts!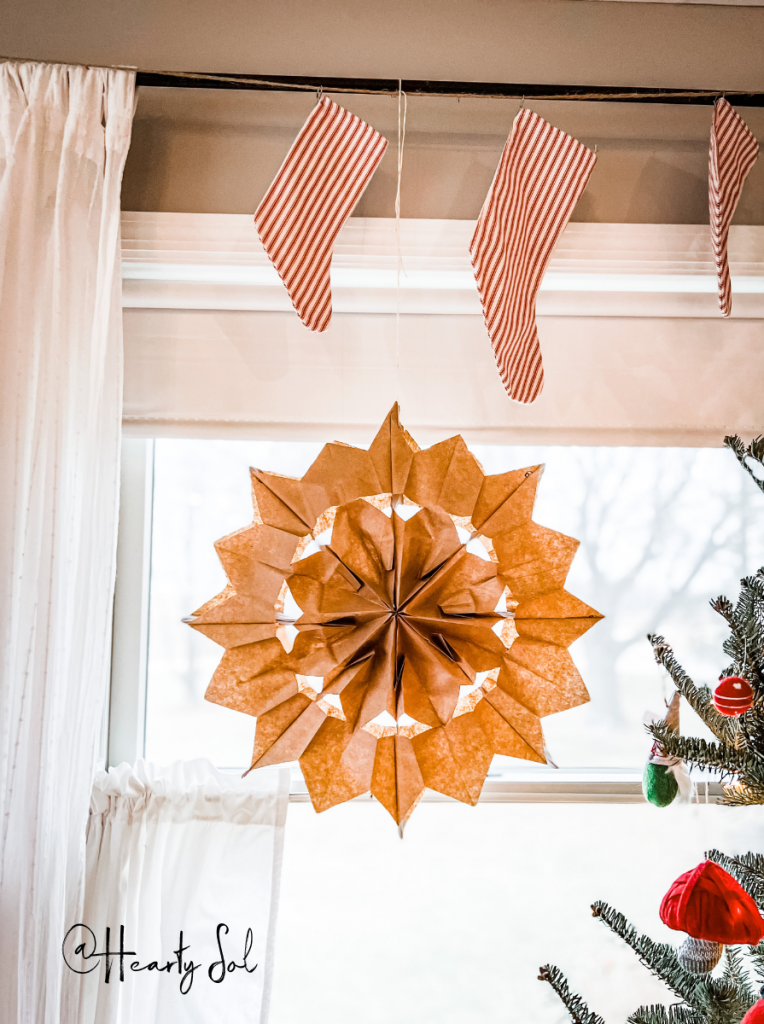 Once a holiday hits and the kids are home, we love putzing with easy homemade decorations to make our home feel, really, like OUR home. Finding things we already have around the house eliminates our need to have to 'go out' to get materials.
This Post May Contain Affiliate Links. Please Read Our Disclosure Policy.
Our little craft cubby has everything we need. Add a dash of childhood wonder and imagination and voila, we have simple and inexpensive decor!
Why You'll Love making Paper Bag Stars
This is a simple and inexpensive craft that even the littles can help with.
Odds are you may have a few brown paper lunch sacks somewhere. Add a few colored paper bags to the mix for New Years or a birthday party!
They are light and easy to hang using a simple 3M removable hook.
Add cut out some triangles or other shapes from the bags and turn these stars into winter snowflakes!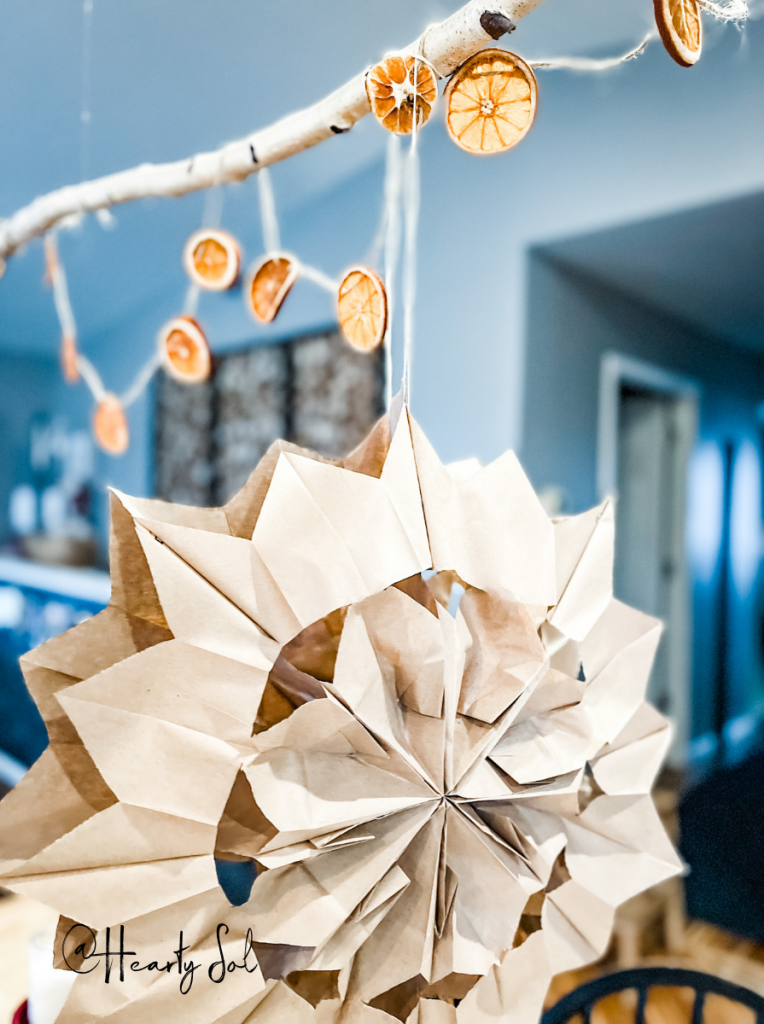 Materials you'll need to make Paper Bag Stars
Fish line or thread for hanging (optional)
How to Make Paper Bag Stars
Time needed: 10 minutes
Making Paper Bag Stars- The Tutorial
Count out the Paper Bags

For standard-sized lunch bags, you'll need to use 7-9 bags. The sweet spot for ours has been 8 or 9, so to make sure they can meet at the end without stressing the glue on the other bags. For smaller bags you will use 12-14 bags.

Add Glue

Add glue to the back of each bag, along the bottom and up the center.

Stack and Repeat

Stack another bag on top of your glue, facing the same directions, pressing it in place. Add glue to the top of this bag, just as you did with the first and repeat until you've use up all the bags you counted out.(7-9)

Cut as desired

Once you have all your bags glued together, cut the top corners off, forming a point and get creative to make whatever shape you want. You may find a bit of cutting fatigue as you go along, so making 2 stacks of glued bags, cutting them out the same, then glueing them together can help with this.


Glue the last bag

Open the bags up to make sure they meet at the end, if it seems tight, add 1-2 more bags so not to break the glue seams. Hold the ends together for a good minute to make sure the seams will stay.

String up

Punch a hold in the the last 2 bags that you glued together and add string to hang.
Questions People are asking about these Paper Bag Stars
Can I reuse these Paper Bag Stars from year to year?
Sure, you could with proper storage! I personally love not having to store these and they are made from paper, so easy to recycle and make new ones for next year.
Did you use different sizes of lunch sacks?
Yup, we used 2 different sizes of lunch bags. I had a stock of paper bags that we used at our farmers market in a couple of different sizes. It seems the larger the paper bags were, the harder they become to cut through. So keep that in mind. The thinner the bag is, the better.
I love the Dried Oranges in your posts, how did you make those?
I have just the post for you, sweet hearty fan. Click here for our tutorial on how to dry oranges for decor.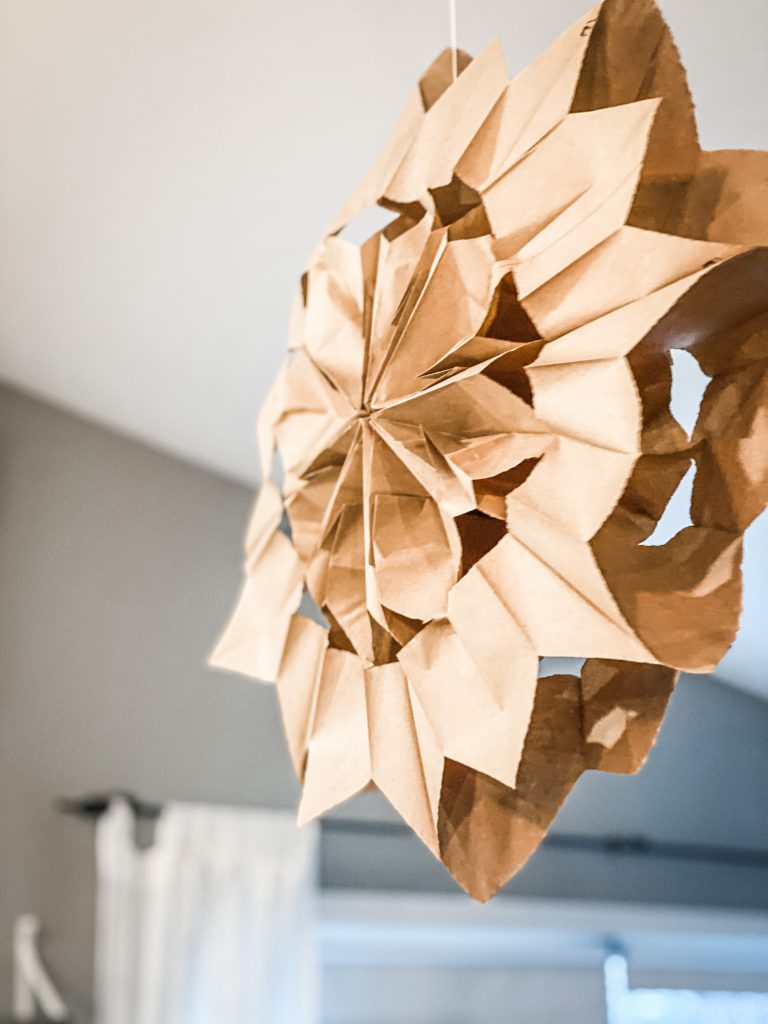 Tips about making Paper Bag Stars
Let the kids help with the glueing, but let an older kid or adult do the cutting. Cutting thought 8 bags can be a little tough.
Make sure to face the bags all the same way when you are glueing them together or you may just create another kind of craft by accident ;).
The last section of glue really needs some good holding and pressure. I hold this seem for at least 10-20 seconds so I know that the glue has held before I punch my hole in the top.
If you are using a lot of bags or they are thicker, they can be really hard to cut through. We recommend making two stacks of glued bags, cutting as desired and then glueing the two stacks together.
Pin this for later!