Here are our Top 10 Tips for Traveling with kids. How to prep, stay sane and make memories that will last a lifetime.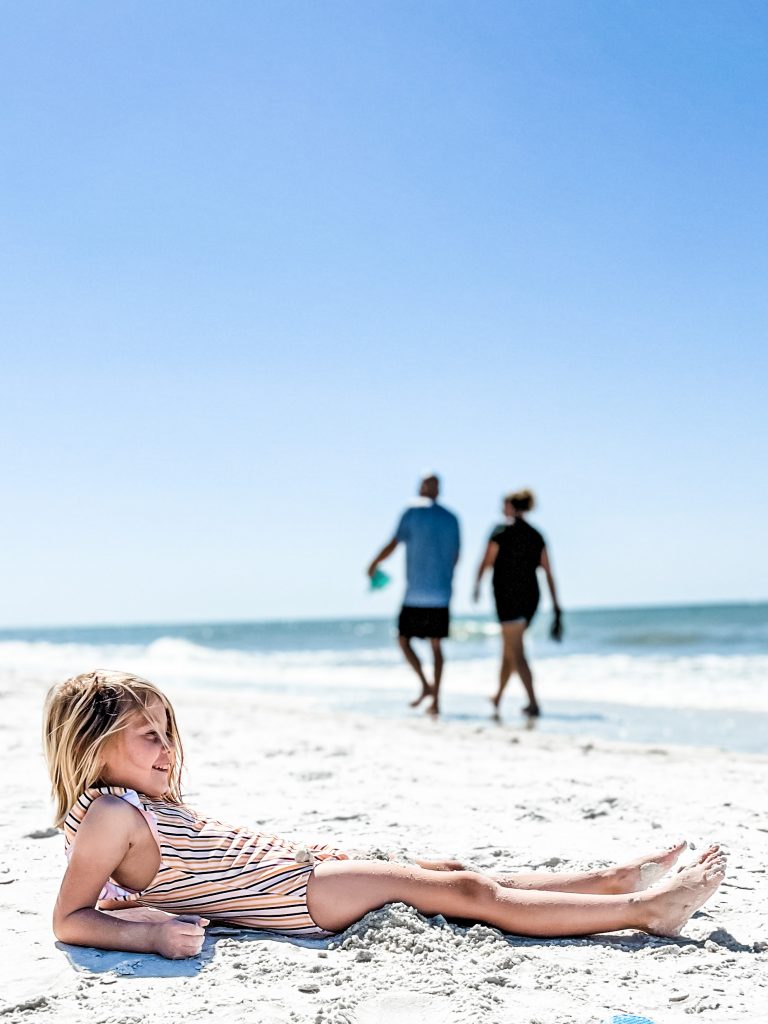 Carey and I have been farming most of our lives. We've dedicated ourselves to the farm, our animals and this life that we have built for our family.
One thing can sometimes be a stigma around farm life is that we never leave. Or we can't take breaks, vacations or time away from the farm. Yes, farm life is busy and constant. But we think it's important to instill in our kids that there are also perks to owning our own business.
We want them to love the farm as much as we do and so that also means work/ life moderation. Our goal is to be able to get away once or twice a year and show them that sometimes we work and sometimes…we adventure!
This also helps them look forward to our little family trips together and understand that if we work really, really hard- we get to go have a little fun away from the farm!
I had some major apprehensions going into our first big trip as a family. We would be flying with 4 kids under the age of 13 and that means lots of prep work, planning, list making, packing oh and I should probably remodel the kitchen the week before we leave, too!
But let's get right into it, shall we? I know you didn't come here to chit chat!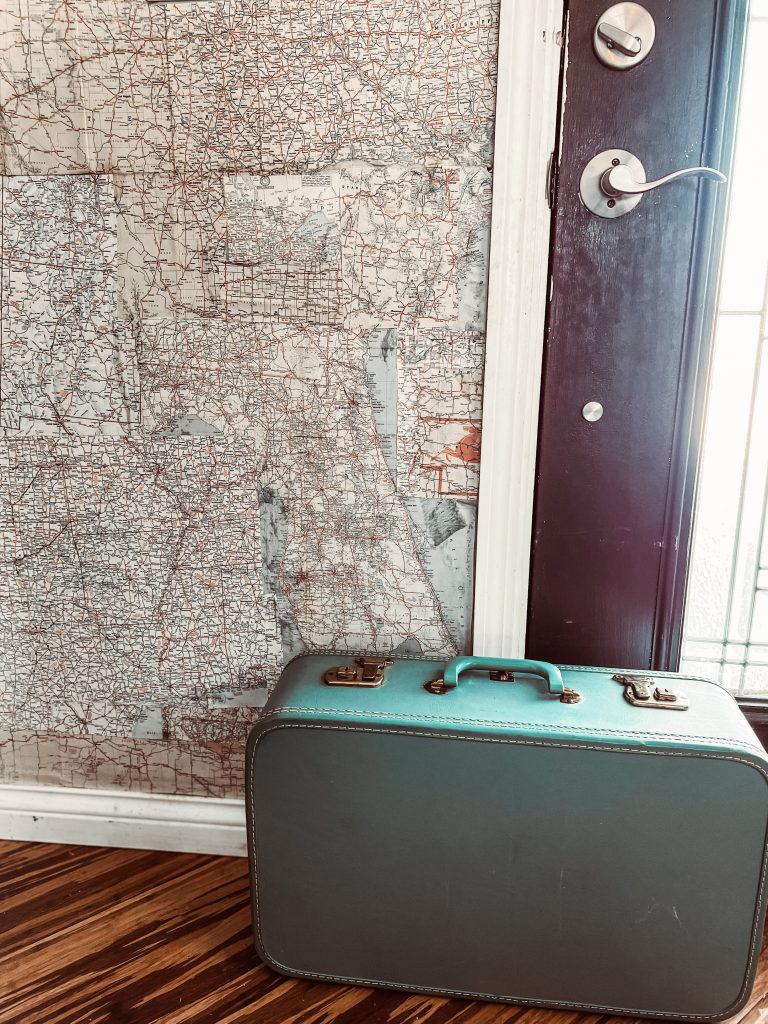 This Post May Contain Affiliate Links. Please Read Our Disclosure Policy.
10 Travel Tips for Traveling with Kids
Teaching kids how to travel
Kids aren't innate in knowing what to do when they leave the comforts of their home. I really enjoyed teaching the kids, how to pack to fit the most we could in a suite case, what to look for when you get to an airport, how to hand wash your clothes in the hotel sink, how to budget while traveling, how to know how far you've walked on a beach and still find your way back etc.
These simple life skills will hopefully be ones that we get to practice every now and again so that when they are no longer living and traveling with me, they will have gained a set of skills that will help their adventures to be safe and enjoyable!
Did the kids miss a few days of school. Yes they did. But did that mean that this trip was entirely non-productive or educational? Not a chance! I would not give these days with our kids journey about together, back! We have only mere moments with them until they fly the coop to go find their own adventures.
Preparing to Travel with Kids
Preparing for me, starts about a month before we leave. I have this innate sense to want to completely clean the house, declutter, reorganize drawers and really get things ready for when we return.
There is nothing worse, in my book, than coming home to a messy house- knowing that you no longer have a vacation to look forward to.
I clean toilets, the garage, stock up animal feed, get buckets around, clean out stalls, pens so all the animals have a lovely time while we're away. Make lists for the people taking care of our farm while we're gone.
Also, we make sure to unplug any unnecessary appliances and turn down the thermostat while we're away to save on energy and avoid any risk of fire.
I do my best to do every last piece of laundry and dishes. Cleaning out the refrigerator of things that could go bad and then emptying all the garbages around the house is a good idea too!
Packing
Because we were going from winter in Minnesota, to warm and sunny in Florida, we would need to go through summer clothes, sandals and swim suites and because kids grow at a crazy speed since the last time we wore shorts, many things that I had brought out of storage didn't fit them.
So we had to purchase some new sandals, swim suites, shorts and make sure if ordering online, we had enough time to get them here to pack up before we go.
While I was at going through clothes, I just went ahead, and got completely caught up with laundry and Marie Kondo'd everyone's drawers, because that's also nice to come home to. Also it would be the only time that it would last for more than a week all nice and organized like that.
Food
Our flight was around lunch time so we packed a backpack lunch and divided it between our 2 adult back packs. We each sat with 2 of the kids so, once seated on our flight we took the time to eat our lunch, helping to pass some flight time.
We tried to infuse a bit of healthy eating as much as we could although we were 'on vacation'. This was our excuse to nibble on licorice, chips and way more sprite than we ever allow at home.
Eating out with 6 people can add up quick, so we made a grocery list to be delivered from Walmart so we could pack up some sandwiches and lunch items for the park.
We did buy the refillable bucket for popcorn that we carried from park to park and bought the refills for $2.50 whenever we could.
Flying with Kids
Best tip I can give you when flying with kids…chose an early afternoon flight! While Carey and I are just fine with those 5am flights, I am so glad we were able to wait out that early departure zoo at the airport.
We found less crowds, everyone was fully awake, had time to eat breakfast. We left with a clear, awake mind to make sure we didn't forget anything and generally everything seemed to go smoother!
Years ago, I would have had large bag packs full of surprise goodies for the kids to parcel out when one or another gets fussy or bored. Now, I feel like since flying was so new, there were plenty of things around us to keep our attention.
Looking out the windows, checking out the wings, fitting into the tiny bathroom, getting to chose a complimentary beverage to sip on, etc! Most of the time people watching with a snack was sufficient!
Save on all the extras and just grab a couple coloring books, word searches and some markers especially with our age of kids (5-13).
Safety
We implement a pretty good buddy system when we get into crowds larger than our farm yard chickens. We have a code that we can use if we suspect something fishy and want to inconspicuously warn the others. When someone says "LE" in our crew, everyone knows to stick close.
Brightly colored clothing is not only fun, but easy to spy in a crowd and helps if ever having to identify someone missing. I loved that my son had on bright colored orange shoes as I had to peek in the mens room to make sure he was still in there, but didn't want to break men's room code of ethics!
Pack a few bright hats, shirts and shoes and be sure to notice out loud for the whole family to hear- he look, dad is wearing his bright blue shirt today!
We also discussed with the kids what they would do if they were ever lost in a big park or airport. Who might be a good, safe person to approach. Do you know your parents phone number? Can we identify helpful signage? Our goal has always been, not to create paranoia, but awareness.
Phones/ Devices
As you know there are a million ways to be able to use a smart phone. Some helpful and some entertaining. My goal for this vacation was to be able to fully be present with our kids and have fun. That meant, putting my phone in my back pocket and bringing it out every now and again to take some fun pictures and videos.
Genie Plus is an app that Disney currently used when we were there. It is used as a way to purchase lightening passes and schedule rides. It is an add on to the original package. We opted not to use it. As we stood in line and got chatting with folks, it seemed, although still in the early phases of this app, it was super cumbersome to use. It had people glued to the app from 6:45am when they had to wake up to schedule rides until the end of the day- which was usually when they could get a ride scheduled. We were glad not to pay extra for that responsibility.
Our oldest has a Gabb Wireless phone that she kept charged up and in a fanny pack in case we ever needed to communicate or do a GPS location.
Age for Traveling with Kids
This is only my advice. You may feel differently about this topic and I will always recommend you doing what is right for your family and situation. If you were to ask us, 'were you glad that you waited and saved up for this big trip to Disney World?' The answer is yes!
At the time of our trip to Disney our kids were 13, 11, 7, and 5 and boy did that help! Not only are they old enough to remember how much solid quality time we got as a family venturing our way through the Disney parks, but I truly feel like we got our moneys worth.
Disney is expensive and I really wanted to make sure we were at a good place in age to really enjoy it and not have to worry much about the heat, stroller fans, hauling diaper bags, bottles, nap times, infant car seats etc!
There were plenty of folks that we witness with smaller kids than ours that were really struggling. I would feel horrible if we had spent the kind of money that we did and were constantly stressed out, resentful, or having to go back to the hotel because of a hot, fussy baby.
Time of Year
As someone who has traveled quite a bit and living in Minnesota where the winters are long, I knew just when we wanted to go somewhere warm.
For us, mid February or March is a perfect time to get out and find the vitamin D. This means that we have put in almost 3-4 solid months of cold winter weather already and spring will be just around the corner.
Some folks who decide to go away mid October or during the holiday break, come home to 3 more months of cold, snow and winter. I wanted to be able to feel a true break in winter and then see signs of spring when we get home!
Lines, Waiting, Patience
How do we get our kids to sit still for so long? Here's our biggest parenting trick, yet-are you ready? Weekly church and reading to them.
I once took our oldest to a well-child check up and she sat in a chair next to me, patiently waiting for the doctor to come in for about 15 minutes. When the doctor came in he asked her, "does your momma read to you?" She said, "yes!" He winked and said, "I can tell!"
He went on to explain that he's noticed that the kids who say that they are read to, are able to sit longer and quieter than kids who aren't. They tend to acquire more patients. Then go on to become kids who can handle standing in an airport security line, wait at the dentist office or patiently wait hours for their favorite ride at Disney!
We did work up to the waiting thing for both the adults and kids! First we waited 15 minutes for a Sing-A-Long, and gradually worked up to the 3 hours that we waited for Avatar!
While we waited we really enjoyed chatting it up with the folks around us. We got a chance to tell them about our dairy farm and find out where they were from. They asked lots of questions about farm life and we had an opportunity to get in front of an unknowing audience.
We ate lunch, played charades, did word searches, some did homework, made up secret handshakes, played cats cradle and found the time passes pretty quickly when everyone was in good spirits.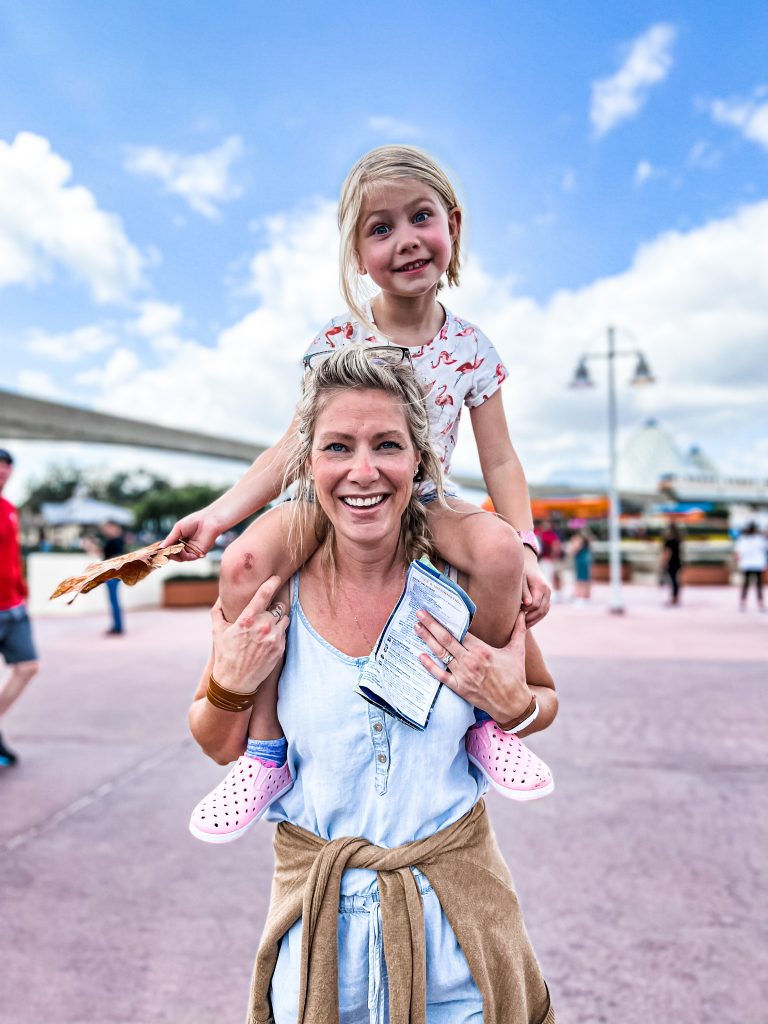 Little Travel Tricks that Worked for Us
#1. Do a grocery pick-up. Make sure you have a fridge/ microwave in your room first. Then set the delivery time for a few hours after you arrive. Voila! Check out what we put in our cart right away in our complete printable travel list.
#2. Only pack what you can carry rule. Our littles would have brought 8 stuffies and a lego set if we would have let them. We told them they will be in charge of carrying anything they wish to bring. They took some time packing and repacking until the weight was just right for keeping up with the family at the airport. Their packing list is also on our complete travel list. Luckily a couple coloring books, crayons and a few toys kept them occupied! We were surrounded by new things, all the time so they didn't need things from home as much.
#3. Take 1 park backpack for snacks/ drinks. Some families who will still need diapers, wipes, baby items may need 2 backpacks. With the ages of our children we were able to fill up one backpack with snacks/ drinks for the day, rolled up either shorts, or a long sleeve shirt for everyone depending on the weather and a few essentials for the day- also on this list. It was nice just having one so we could trade off and on to help lessen the load on one person.
#4. Everyone had a buddy. There are an even six of us. But in any case we made it clear that we are going into busy territories at times and everyone needed to keep an eye out for each other, holding hands in the airport, busy park days and wild lines.
#5. Pack bright colored hats or shirts for small people who may tend to wonder or get lost. Remembering what they put on that day and even mentioning, "hey, dad is wearing an orange shirt today," will help if someone gets disconnected.
#6. Older children may have phones or location watches like our Gabb Wireless devices. This helped us reach them if they are old enough to distance a bit.
#7. Under the age of 7, bring a stroller! Our 11 year old would have road in the stroller if she would have fit. The stroller will get beat up through airport security, kids hopping in/ out all day long and transporting in and around. Besides, at Disney you set your stroller aside in stroller parking while in rides and shows- trusting that no one will take it. So don't invest in anything super expensive. The one we took had duck tape on it and it was perfect ;)!
#8. Pack Lighter, bring a couple of laundry tabs for washing laundry. Then, let them pick out a shirt, hat, sweatshirt or outfit to wear while there and then bring home as a souvenir of their vacation. Our kids love checking out a good foreign thrift store!
#9. Pringles cans! Before we left home, we bought 3 cans of Pringles. Three flavors, of course. We used them a total of 3 different ways. First, our flight was right around lunch time and we usually crave something salty when flying. So 2 cans were munched on right away. The next day we took the full can along with sandwiches to the park with us. That was lunch for day one.
After all three cans were empty, we rinsed them out. Then filled them with wheat thins, carrot sticks, cookies, fruit loops, animal crackers, meat sticks, tangerines, liquorish, string cheese etc!
We set those three cans in one of the pockets of the backpack each day. They made for the perfect travel snack all day long!
When we headed to the beach, those cans turned into beach souvenir receptacles. The kids filled those cans with some sand from the beach- stacked up all their favorite shells, coral and shark teeth from their beach combing. Then we brought them home with us!
#10. Bring smaller water bottles to fill up at the airport/ parks. We would fill up a the water fountains when we found water bottle fill up places. Also restaurants were always willing to give us a few glasses of water.
Questions People are asking about Traveling with Kids
Where did you stay?
We decided to stay on site at Disney World at the Art of Animation Hotel.

This was a fantastic choice! Our room was roomy enough for everyone to spread out a bit. It came with with 2 bathrooms, 2 televisions, a murphy bed that turned into an eating/ crafting table, small kitchenette, a pull out couch and a queen sized bed for us!

We liked that we could simply take a bus or a gondola ride to and from all the parks this way. No navigating and parking a rental car.

Purchase the coffee mug and fill up with coffee, hot cocoa, adult beverages or soft drinks for free while you stay there. We didn't find out about that until we were leaving. It was a missed deal!

We also did laundry here. The pool and splash pad were a kids dream! They even had tie dying activities, hair wrapping and my personal favorite henna at the poolside!

If you are looking for Disney souvenirs, you can purchase them right there for the same price, at the hotel and save yourself from toting them around at the parks all day.

It was just fun to walk around and see all the animated characters around too. We loved seeing Matter!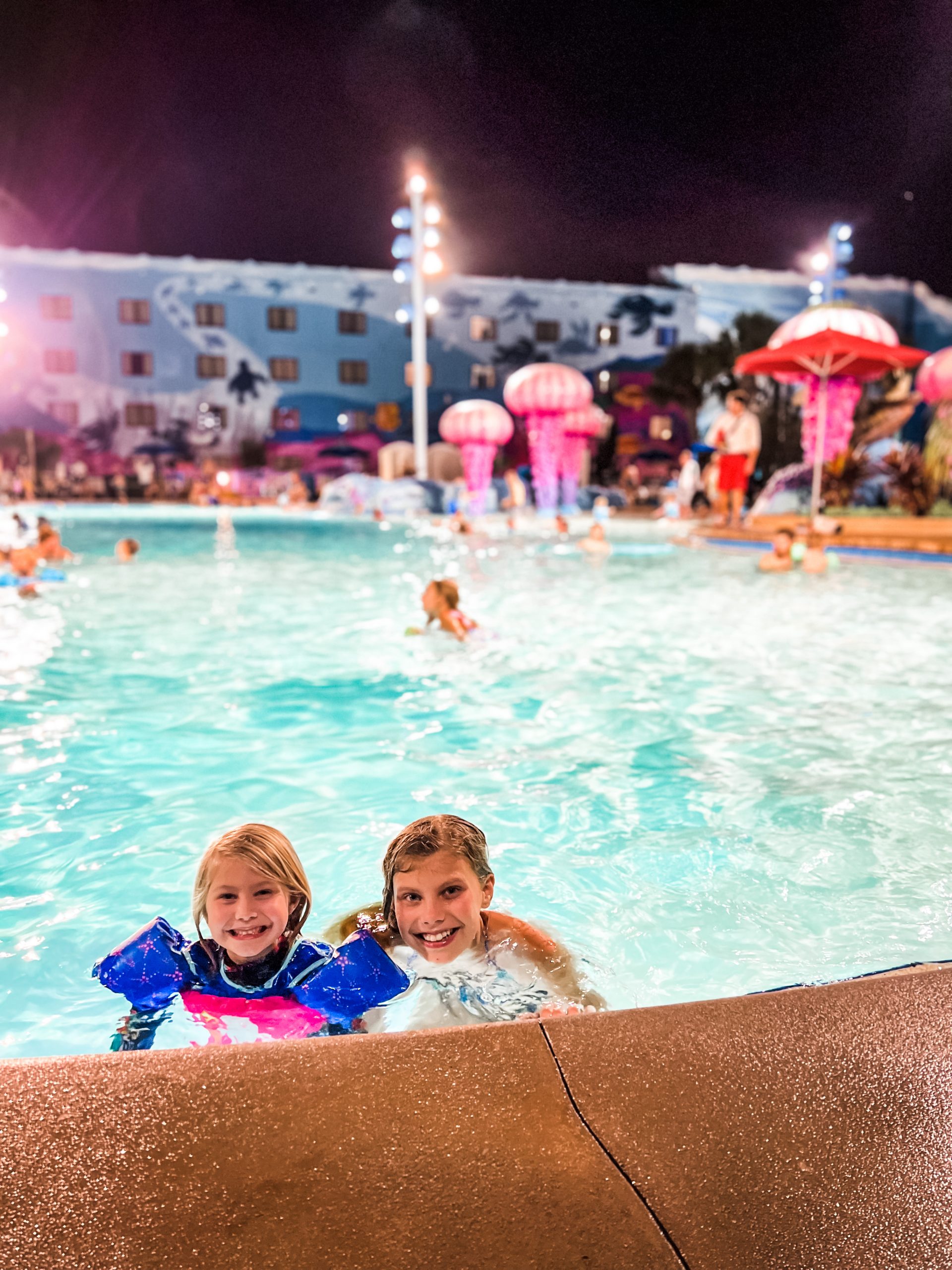 Did you go to a Beach?
Yes! After Disney we wanted a little down time before heading back home so we spent a few days at Clearwater Beach.

We had a hotel that was a 5 minute walk to the Gulf of Mexico and it was just perfect. I loved that we didn't have to navigate just too much to have some real great memories at the beach.

Clearwater beach was really white sand, clean and had a large range of shells and shark teeth to find. We even found 2 washed up starfish while we were there!

Don't forget the sunscreen! I never remember that the sun is different here, that at home in Minnesota.

Just before the beach, there was a bin of beach toys to borrow and return and a little lending library. It was handy so we didn't feel like we needed to purchase beach toys and then tote them home. Our oldest, loved finding this little library to find a new book to read in the sand.
Would you do it all over again?
Absolutely! The trip was just what we needed and things couldn't have gone smoother. Seriously!

We did have to save up for this one, though. Most trips that we do from here on out, likely won't be at this cost. But Disney World was a once in a lifetime trip for our family of 6 and we were so blessed to be able to make this happen!
Challenges We had While Traveling with Kids
Booster seats for our rental van.
We got a rental car for the last leg of our trip to the beach. Knowing that we still have 2 kids needing a booster seat we had a couple options. Bring the or rent them.
We packed 2 Bubble Bum Seats with us. These are super easy, they roll up and inflate taking up a tiny amount of room in a suitcase. Plus they meet all federal carseat standards and regulations. Plus it saved us $22/ day to rent the rental car's boosters.
That darn grocery list.
We had made a nice big list to be delivered from Walmart the night we arrived at our destination. We wanted to pack up a lunch and eat breakfast in our room that next morning.
Many of the items were 'not available' later on and the fee for having things delivered within a 2 hour window was $8-$19 extra.
We ended up having 2 deliveries because we would forget to add something or an item became unavailable. If we had our ducks in a row, had really considered what we needed, we could have been more efficient with this.
No screens on our flight.
We knew ahead of time that there would be no movies screens on our flight. Dunt, dunt, donnnn! I know, I know! We don't have ipads and knew that just Carey and I had phones. We brought along our trusty tiny Cinemood projector to save the day! The only thing I wished it had was a headphone jack.
The littles and the big kids took turns watching movies that we had downloaded from Disney+ and Netflix. We could also connect it to the airplanes free wifi. Unfortunately that wifi was super slow and I'm sure overused on our flight.
They also watched a movie while we waited in the airport once, too! No fighting over devices or 'screen time'!
Waiting in line.
The lines for rides and shows at the Disney parks could take anywhere from 15 minutes to 4 hours. Yup! Easing our way into a 15 minutes sing-a-long and gradually increase our waiting time.
This helped so it didn't feel so extreme for everyone. We would also take this time to open up the backpack and eat lunch or a snack and rehydrate.
The kids kept busy with an app on our phones called 'Charades' a charades game for everyone. That got super fun!
Our oldest did a little journaling. We chatted about what our favorite parts of our trip had been so far. We ordered our next Walmart delivery order. Called home to check in with the farm back and examining the park map etc.
Sometimes Carey and I would take turns holding Wren while she napped. She really got some good naps in this way. 😉
Pin this for later!