Creamy, hot and chocolaty! This hot cocoa mix is what will get us through our long winter. This has been a family recipe since we were kids and now and it's a winter-time staple.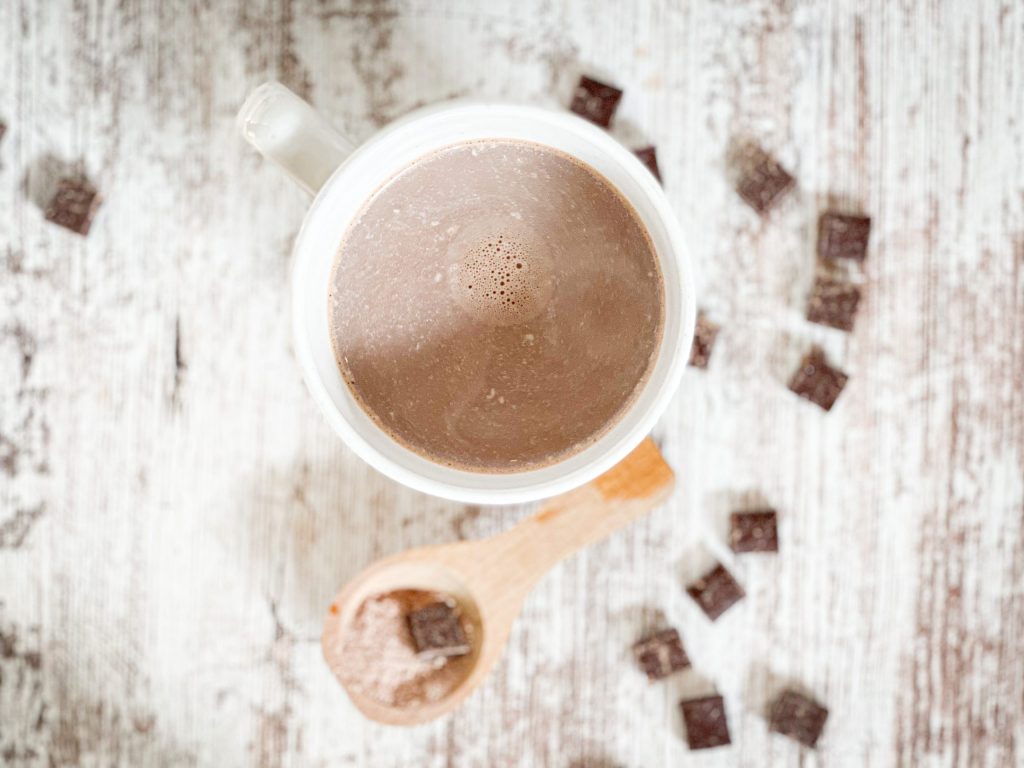 Growing up, we would come tromping into the house after a big day of sledding. Pull off our sopping wet mittens and snow balled hats as mom would plop a few little marshmallows into our homemade hot cocoa.
There was nothing better! It was creamy, warm and so so chocolaty! The only thing better was the cookies she was about to pull out of the oven. I would be the first one to stand by the open oven door, sipping my cocoa and warming up.
Mom always made this recipe big enough to fill an ice cream bucket. It would last us just about the entire winter! This recipe can make enough to have and share!
Speaking of sharing grab my free hot cocoa printable tags – handy for gifting!
This Post May Contain Affiliate Links. Please Read Our Disclosure Policy.
Making Creamy Hot Cocoa Mix- Video
The best part of the recipe is that there are 4 ingredients. I love knowing what's in my hot cocoa. This recipe has been in my recipe box for quite some time now and it has easily become a winter-time staple with our four kids, too.
How to Make the Creamiest Hot Cocoa- The Recipe
Creamy Hot Cocoa Mix
5

Cups

Dry Powdered Instant Milk

(2) 9.3

Oz.

Containers of Nestle Quick Chocolate Powder Mix

1

Cup

Powdered Sugar

3/4

Cup

Powdered Creamer- Original Flavor

Optional

For EXTRA Creaminess add (2) 3.56 oz. Box of Vanilla or Chocolate Pudding (do not mix up as pudding)
In a large bowl or ice cream bucket, mix all ingredients together.

Add ingredients to a sealed container for up to six months.

To serve: Mix 1/4-1/3 cup of Creamy Hot Cocoa Mix to 1 Cup of hot water.
Why You'll Love This Creamy Hot Cocoa
Make a big batch and it will last you all winter long!
We love being able to have something quick to whip up if the kids have friends over for sledding!
Dunking our favorite Oatmeal Chocolate Chip Cookies in a warm mug, warms more than just the innards!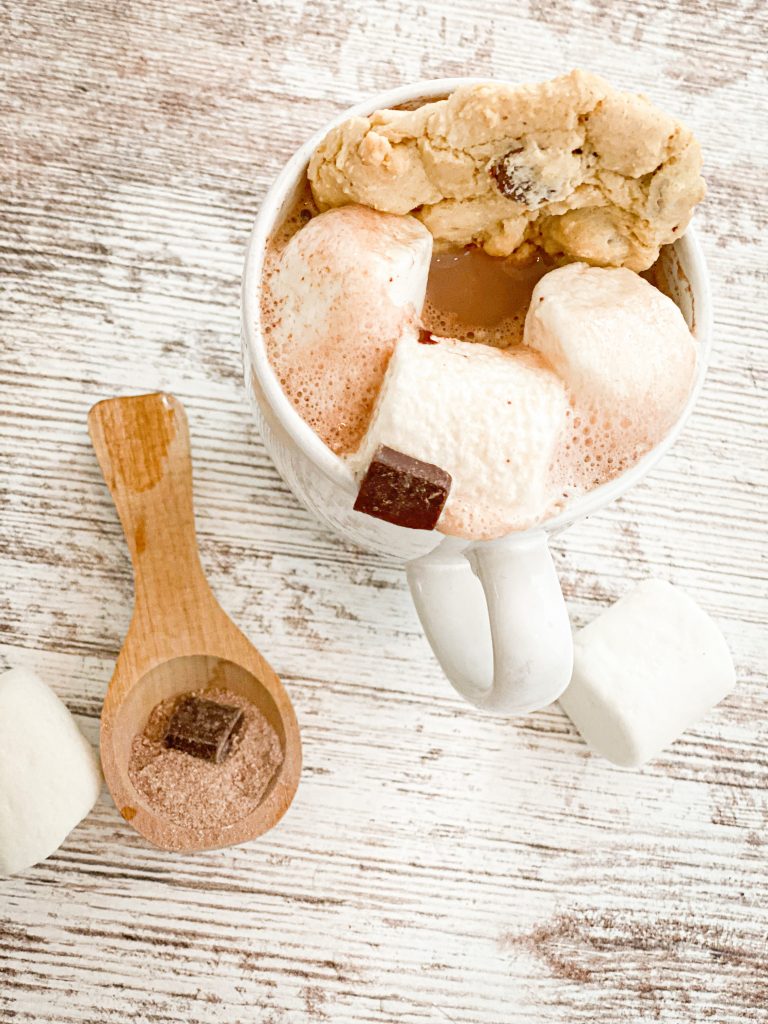 Questions People are Asking about Creamy Hot Cocoa Mix
What if I want to give this Cocoa Mix as a Gift?

We love gifting this simple to make cocoa mix with everyone and anyone. I just add a label to one of these cute little jars, dress it up with a ribbon and a tag of appreciation and away we go!
Can I turn this in to a Mexican Flavored Cocoa Mix?

Yes!
By adding 2 tsp. cinnamon, 1/2 tsp. cayenne pepper and 1/8 tsp of nutmeg! That will give it a little kick!

How can I make this for a crowd or a party?

I love to add this mixture to our crockpot for a large gathering. It's a way to ensure a nice consistent temperature that I know isn't going to burn little mouths.
Pin This for Later
Tips
Our kids love making this cocoa treat on their own and you know it's going to occasionally spill somewhere. Our homemade cleaner gets this chocolatey mess cleaned up without a stain.
Adding bits of chocolated, crushed candy cane and marshmellow cream are some other yummy alternatives!
This recipe makes a lot. So why not share and brighten someone else's day. The neighbor, mailman, bus driver, teachers and you know your UPS driver would love this! 😉
Other Yummy Hot Drinks: