There's nothing better than finding a solution to cleaning- right under your kitchen sink! This homemade cleaner and disinfectant is tough on all stains, spills, and all your household messes!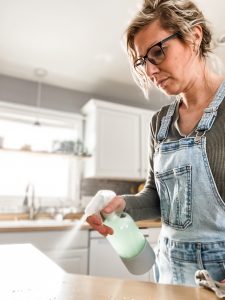 We've been making this homemade cleaner for so many years now and I just can't go back to buying the stuff from the store. My cleaner is tougher than anything I have ever bought and can be used in more ways too!
Grass stains out of ball pants, gum out of hair, lipstick off the backseat of my car, and slim out of the carpet! It really works!
It works so great, we keep a bottle of it everywhere from the barn, to the bathrooms.
I end up refilling my glass spray bottles about 1 per weeks as we use it to clean and disinfect our countertops, kitchen tables and bathroom daily.
The only place I don't use this cleaner/disinfectant is on our windows and mirrors. I love our Homemade Window Cleaner for that!
DIY Cleaning Solution | Make Your Own
It's held to such high regards around here, that it recently was promoted to a beautiful glass spray bottle! All things loved around here go in glass, but I'll save that for another post.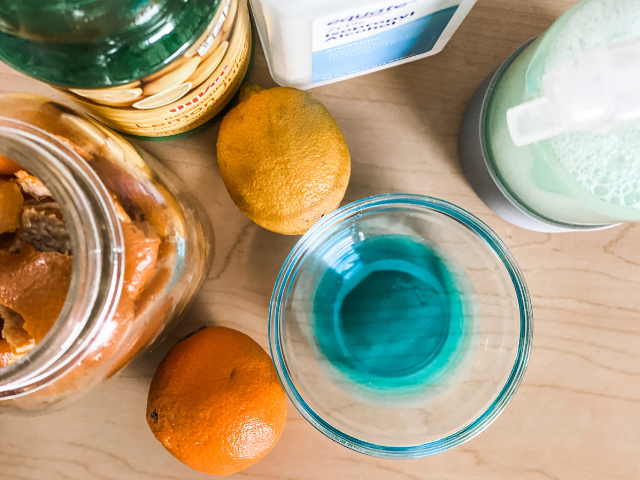 Using 4 common household ingredients!
the Kids clean…
The kids clean and I love that this is completely safe for them to use since I know exactly what's in it! They clean their tub, tops of their dressers, their sink and around the toilet. Spray away, kids! Because we know that there's no harsh chemicals and is tough at the same time!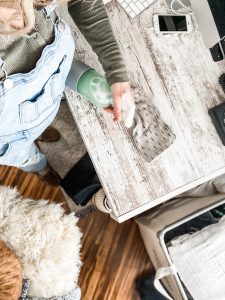 Printable Recipe Card!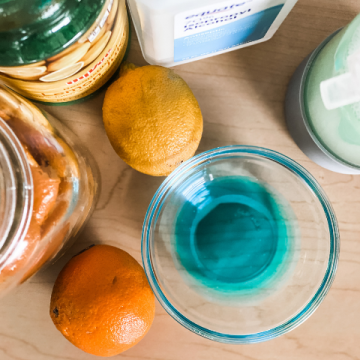 Homemade All-Purpose Cleaner
This little bottle of Cleaner is tough on everything from laundry stains to slime in the carpet!
1/4

C.

Dawn Dish Soap

1/2

C.

Lemon Juice

3/4

C.

Vinegar

1/2

C.

Rubbing Alcohol

1.25

C.

Water
Option: Make a citrus infused vinegar for a fresh scent by placing lemon, orange or grapefruit peels in a jar and filling the jar with vinegar. Let sit for a week remove peels and then measure out 3/4 C. to use for this recipe. Keep the rest in a covered jar under your sink.
Mix all ingredients together and fill a spray bottle.

You could also double the recipe and keep a gallon jug of it under your sink to fill up your bottles when needed.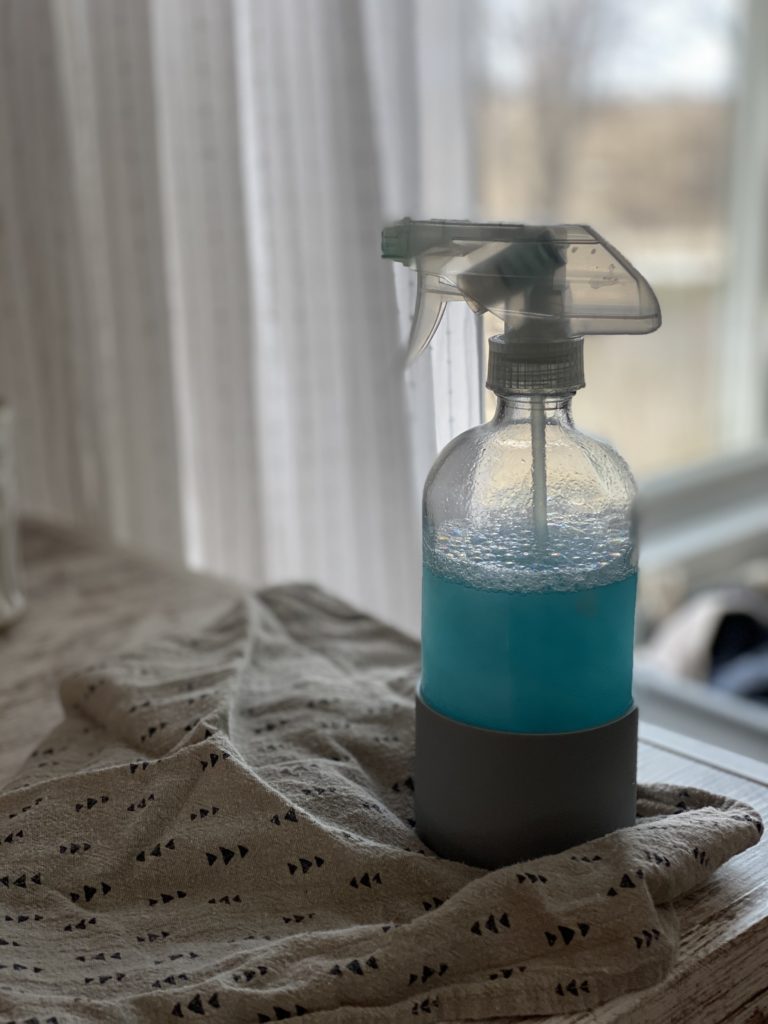 Questions people are asking about this Homemade Cleaner
Is this Homemade Cleaner a Disinfectant?
Yes! The alcohol in the recipe helps with disinfectant. You can either use 70% or 90% rubbing alcohol. I love using it in the bathroom and our main eating areas, for this reason
Can I use this cleaner on my furniture?
We always recommend doing a test on an area that is less conspicuous just to see how the cleaner works and shows up. I really love how it works on our cloth couch. Some cleaners can leave a ring where the spray/ stain was, but because this contains some alcohol, it helps spread that out and dissolves and residue.
Is it ok to use on wood?
Generally speaking nothing in this will harm your wood. It will clean and disinfect brilliantly. Our kitchen table is wooden and we use it there all the time. I imagine that if your wood is polished, you may not want to let this cleaner- that has vinegar sit on it for very long as it may tend to break down that polish.
Can I clean my windows with this, too?
I have, and it won't hurt the windows, BUT the dawn dish soap in it, will tend to leave a few streaks that you may have to buff out. For windows, glass and mirrors I use this Homemade Window Cleaner recipe!
Pin it for later!
HEARTY BUILDS
Building a Flipping Work Bench with FREE PLANS
LIFE ON THE FARM
How We Stay Organized | Living with Less | Purposeful Living
Learn to Sew! Free Simply Sewing Series
Farmhouse Bedroom Makeover | Spring Farm Prep
OTHER DELICIOUS RECIPES FROM HEARTY SOL
Making Sourdough | Everything You Need to Get Started
Making Banana Bread and Banana Bars
Our Family's favorite Hot Cocoa Mix
Honey, Lemon, Ginger Tea and the Benefits
How to make your own Mozzarella Cheese
JOIN OUR HEARTY LIVING COMMUNITY!
Hearty recipes, farm living fun
and handmade projects straight to your inbox.
Hello, I'm Emily. I'm so glad you're here! Join me and my family as we find beauty in our everyday life on the farm, hearty recipes and a handmade home. Find more about me and our story here.