Getting your home clean doesn't have to mean hoarding a ton of crazy cleaners under your sink. This homemade cleaning solution is made up of 5 simple ingredients and one of them comes out of your faucet! 
This amazing all-purpose cleaning solution and disinfectant tackles my shower water spots, sticky stove junk, even slim out of the carpet and more recently silly putty out of our daughters' hair! I've gotten pencil marks off of walls, burnt pans to sparkle, stains out of the laundry, and paint off of a rug, even crayon off of the table using this solution! I know, it doesn't take much to get me excited, but this cleaner has a permanent home next to the kitchen sink!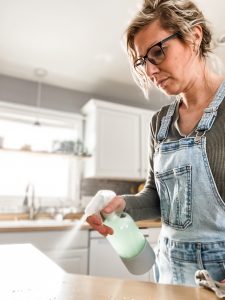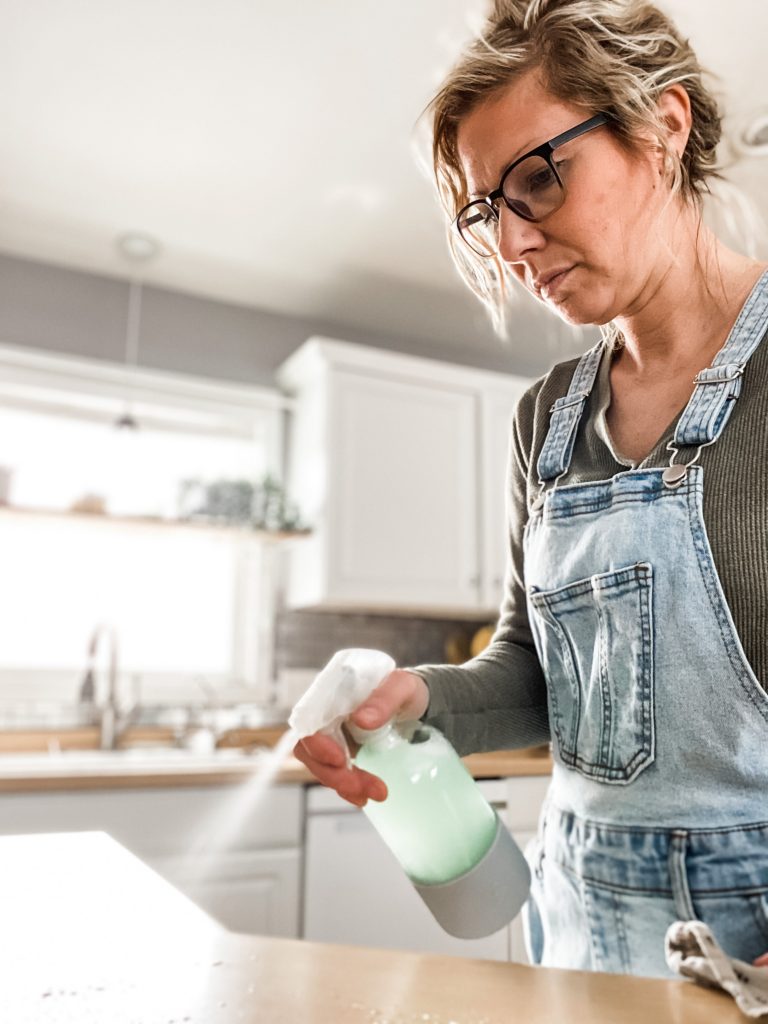 DIY Cleaning Solution | Make Your Own
It's held to such high regards around here, that it recently was promoted to a beautiful glass Grove spray bottle! All things loved around here go in glass, but I'll save that for another post.
Using 4 common household ingredients!
The best part of this whole thing? You run out of your handy dandy cleaning solution and you just gather up the ingredients you need because they are likely things you already have in your pantry.
(This post may contain affiliate links which means I make a small commission at no extra cost to you.)
The recipe:
2oz or ¼ C. of Dawn Dish Soap
4oz or ½ C. of Lemon Juice
6oz or ¾ C. of Vinegar
4oz or ½ C. of Rubbing Alcohol
10oz or 1 ¼ C. of Water
Mix together and add to your favorite spray bottle. I like to make a double batch and keep an extra portion in a jar under my sink since we use it so often!
the kids clean...
The kids clean and I love that this is completely safe for them to use since I know exactly what's in it! They clean their tub, tops of their dressers, their sink and around the toilet. Spray away, kids! Because we know that there's no harsh chemicals and is tough at the same time!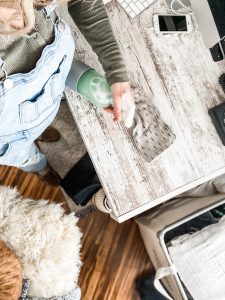 Optional:
Feel free to add any other on-hand ingredients such as essential oils of choice and fragrance, baking soda or more water for a less potent clean, but let's be honest, the original recipe is kick-butt when it comes to removing tough grit! It's by far the single most used cleaner in my house! Occasionally I will gather a bunch of orange and lemon peels, toss them into a glass jar and then fill the glass jar up with vinegar. Put a cover on the jar and let sit on your counter for about 1 week. Then utilize this as your vinegar ingredient! It will smell extra citrusy in your home!
Print This Recipe for your Kitchen Cupboard!
Homemade Cleaning Solution | Simple and Effective
Ingredients
¼

c.

Dawn Dish Soap

½

c.

Lemon Juice

¾

c.

Vinegar

½

c.

Rubbing Alcohol

1 ¼

c.

Water
Instructions
Mix all ingredients together and add to a spray bottle.

For sticky messes allow the solution to sit and work a bit before scrubbing.
Pin it for later!
JOIN OUR HEARTY LIVING COMMUNITY!
Hearty recipes, farm living fun
and handmade projects straight to your inbox.
Hello, I'm Emily. I'm so glad you're here! Join me and my family as we find beauty in our everyday life on the farm, hearty recipes and a handmade home. Find more about me and our story here.