Roman Clay walls make a lovely statement in any home. After applying DIY Roman Clay to our own basement wall, I'm excited to show you how it's done!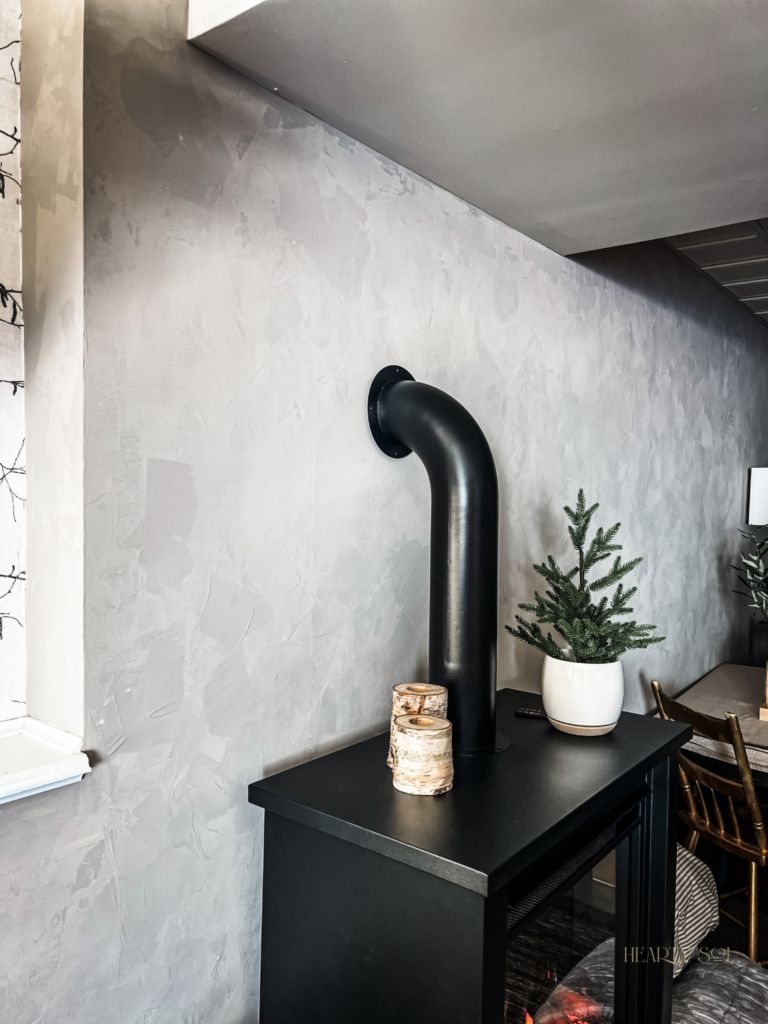 My DIY Roman Clay Wall Application Recipe:
Add 1/3 Drywall Joint Compound to 2/3 Paint. Mix well with a drill paint mixer and apply to wall or surface with a scraper or palette knife.
We'll the basement is officially finished and I can't decide if I'm more elated about how this Roman Clay wall application turned out or that I am no longer tearing up sewer-soaked carpet!
Although the flood in our basement was untimely (just before Christmas), it did give us an opportunity to re-examine our downstairs space.
We are in a whole different chapter of our lives now, then we were nearly 11 years ago, when we first moved in. Our youngest of four kids is six which means we no longer need an entire level of toy land type area. Of course the kids still love to play with their kitchen, tractors and doll house but we have been pairing down toys a little more every year.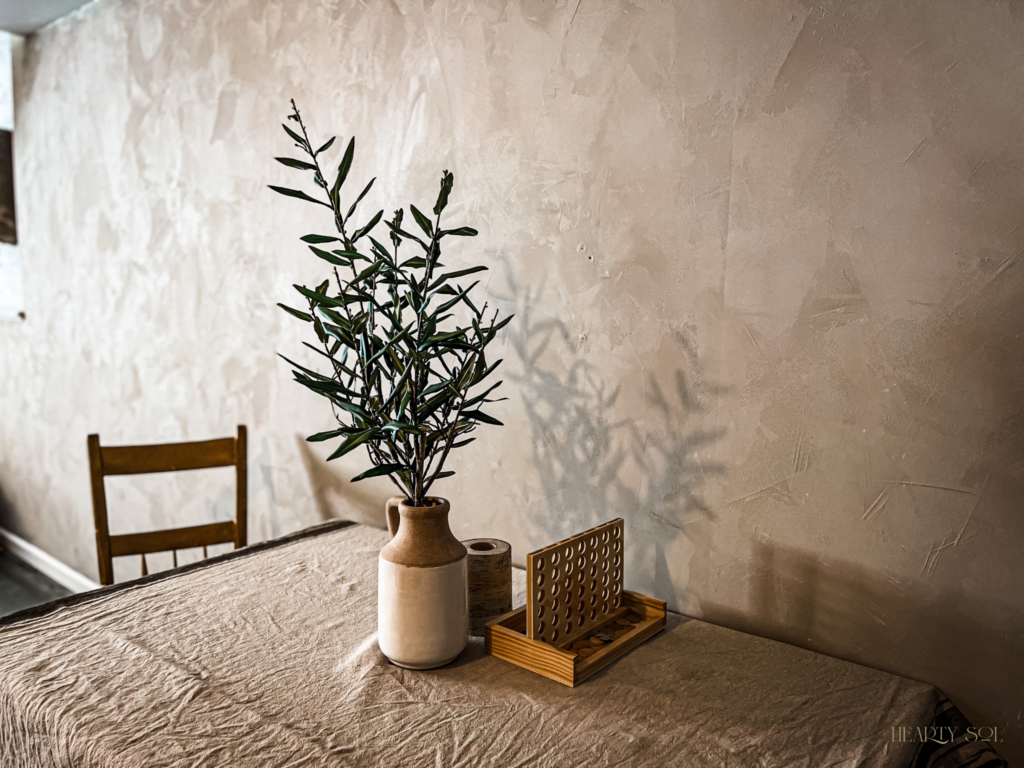 Once we got the carpet up, the floors cleaned, then stained and sealed we decided to turn this wild, rumpus room into a cozy space for play, cuddles by the fire, guests to stay and my sewing machine (oh and there's still a treadmill in there, too that my husband swears we'll use one day).
What started as an unplanned disaster, turned into a warm, multi-functioning living space where we can host gatherings, overnight guests, slumber parties and just a nice hang out spot for the teenage years ahead of us.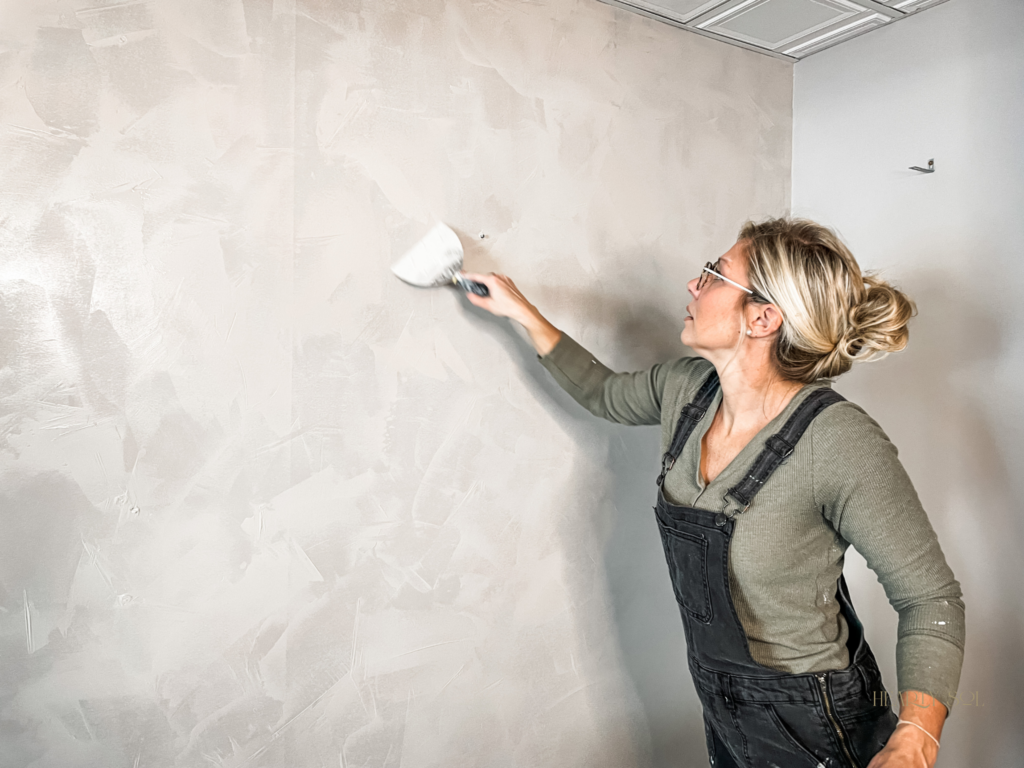 Once I finally got to the creative part of this project, I caught my second wind. After my many travels abroad, I wanted to re-create the rustic textures, inspired by places that I had adored.
When traveling to different parts of the world, I always make sure to take a piece of our trip home with me. This can be an actual souvenir or a cultural inspiration that reveals itself in how I decorate my home. This time, it was the look of Roman Clay walls that stuck with me. After living in Barcelona, seeing homes in Italy, and traveling to Scotland, dreams of Roman Clay danced in my head. I seriously couldn't get over how great the rustic-textured, matted appearance looked. It seemed to add such a cozy and romantic feeling to any space it touched – a truly great addition to any home!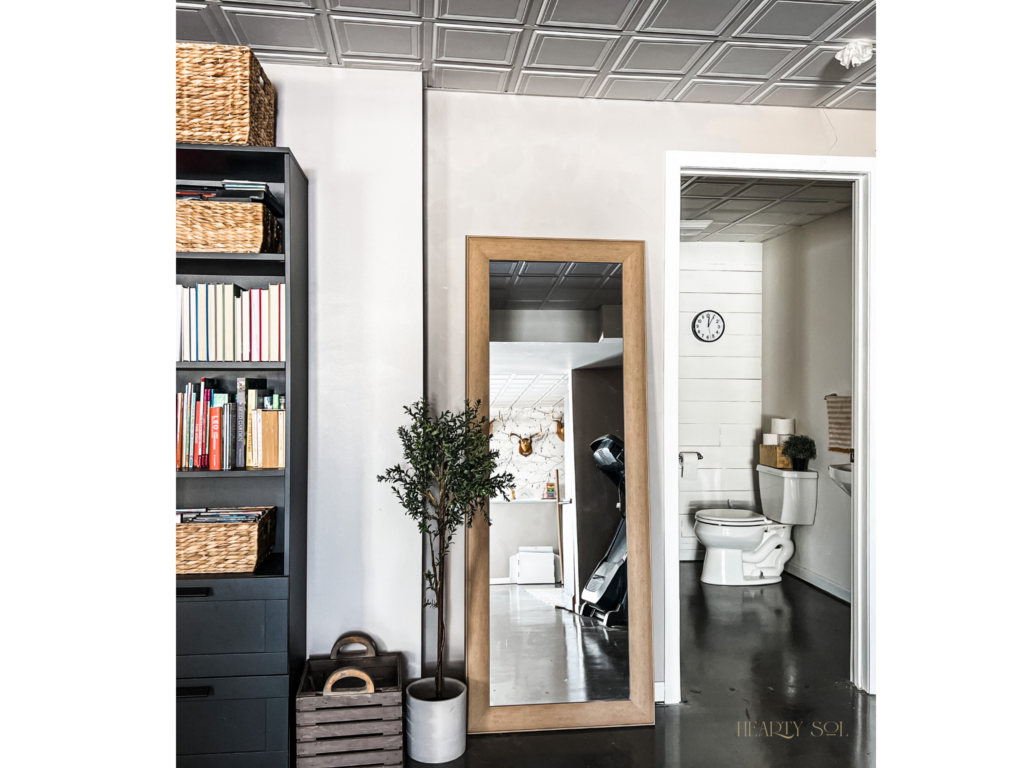 Roman Clay cultural Inspirations
When it came to the process of making and applying the Roman Clay, it was one part experiment and one part experience! During college, I had the opportunity to study abroad, travel and live in many different interesting places in Europe. Spain, Italy, Portugal, France, Scotland all had influence in this project. I call these inspirations that I bring home from my travels that influence how I decorate, my best souvenirs.
In college I was also involved in set and backdrop design. Many of our tasks were to test different wall applications. Using styrofoam, wood, paint, and any other inexpensive and light-weight material, we were challenged to depict different textures, bricks, looks, and cultures which included trying my hand at Roman Clay application. These experiences in creating back drops and sets only furthered my desire to have this look in my own home and is what I used to formulate this Roman Clay recipe!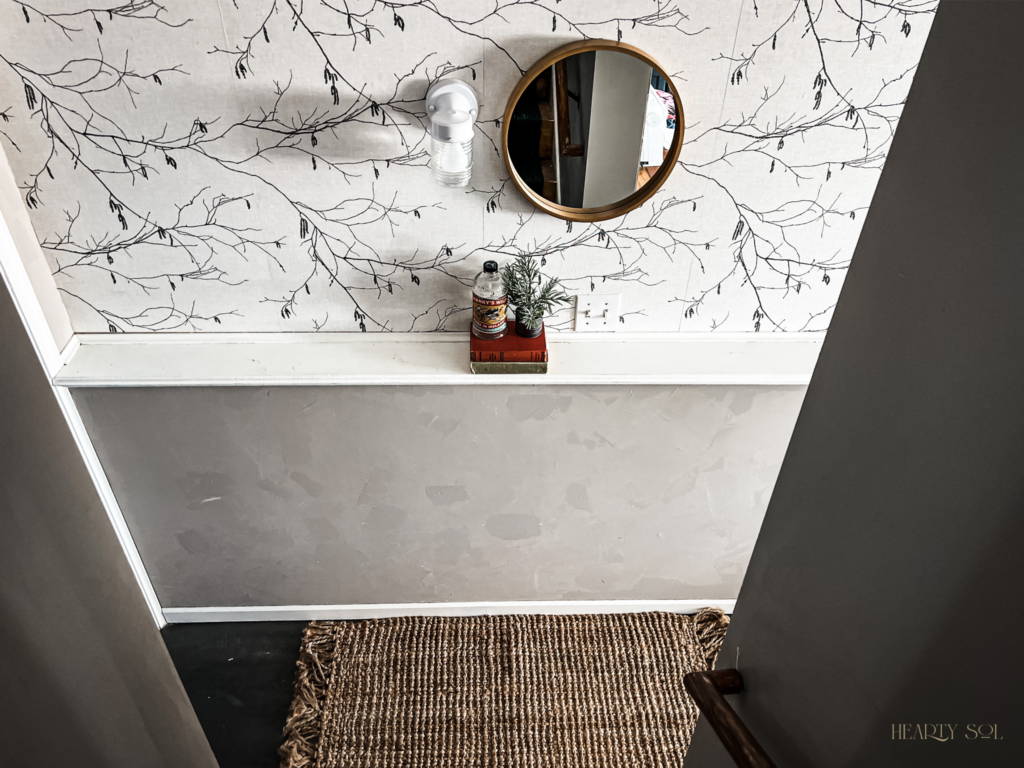 How will I know if Roman Clay is right for my space?
I suggest starting with a small space. Because it is quite a process, you'll want to make sure that you enjoy the warmth and rustic textures before going through mixing up the paint and the compound together.
Starting in a closet, a small wall or even just working on a small panel board is a good idea to not only practice on, but to get a sense if you like the application before applying it to an entire space or room.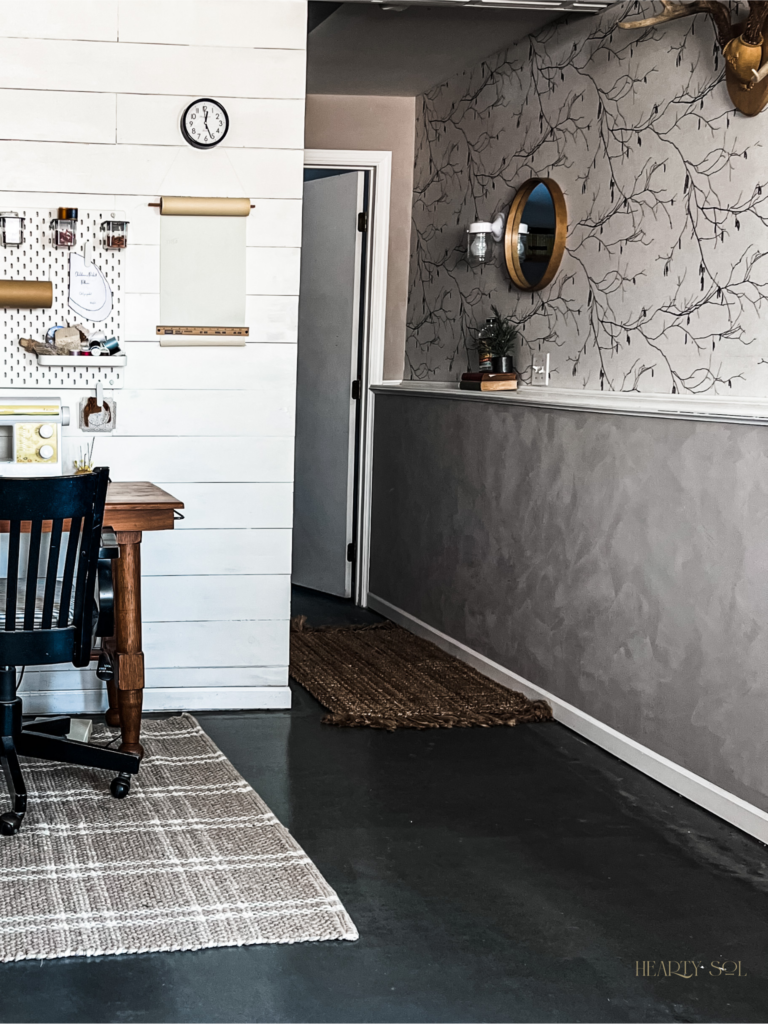 Youtube Tutorial: How to make and apply your own Roman Clay
This Post May Contain Affiliate Links. Please Read Our Disclosure Policy.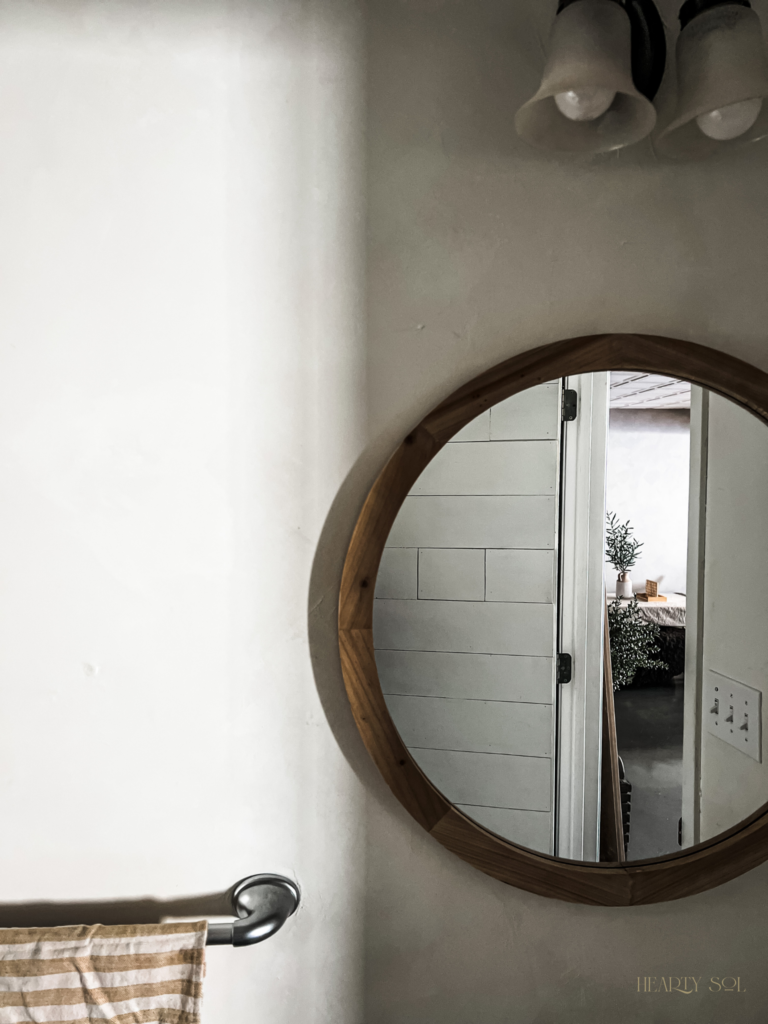 Why You'll love Making your own Roman Clay
The imperfect look of the Roman Clay wall is the perfect choice for your home! The subtle texture and unique cement look adds culture, warmth and personality to any room.
You can choose any paint color of your liking! (I used Sherwin Williams 7023 Requisite Gray)
Roman Clay looks great in any space you apply it to! It is also commonly used around fireplaces and for fireplace highlights.
Save money by making your own Roman Clay instead of having to stick with one color palette.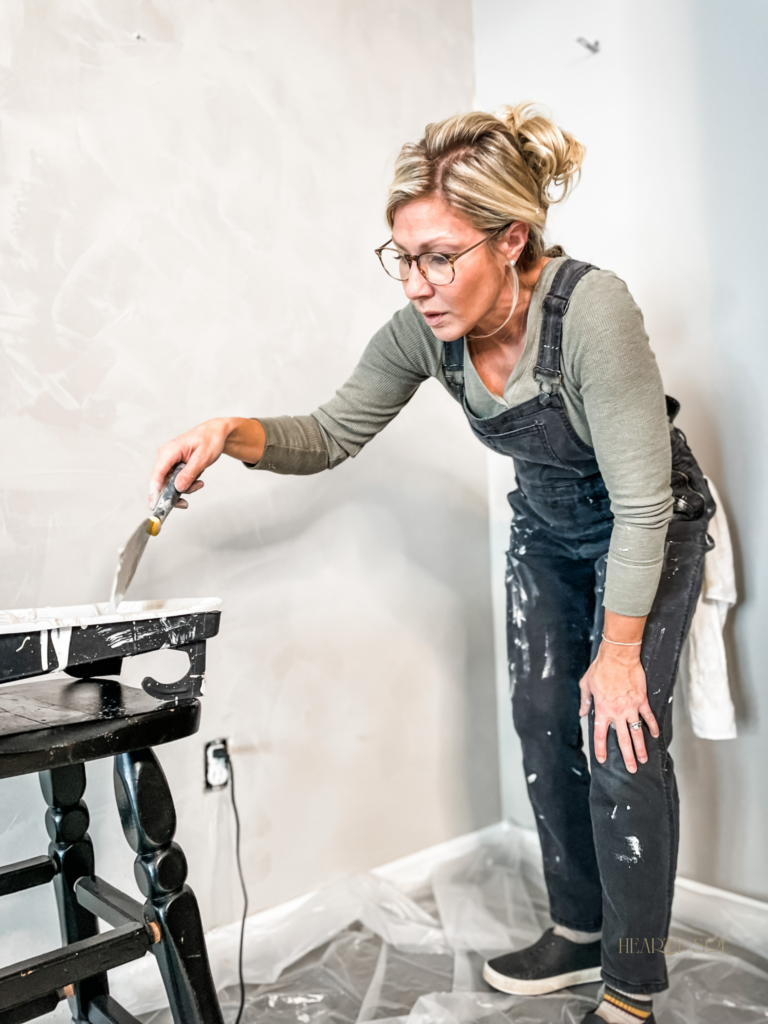 Materials you will need to make Roman Clay
2 old buckets (Works best if one is a square bucket) or a flat painting tray. I like the buckets with measuring lines on them so I can get a more accurate guide like this one.
Drywall compound mix (wet or dry) This is what I used: Easy Sand 90
Paint color of choice: satin/eggshell finish is best (I used Sherwin Williams 7023 Requisite Gray)
Putty Knife (aka Metal or plastic scraper)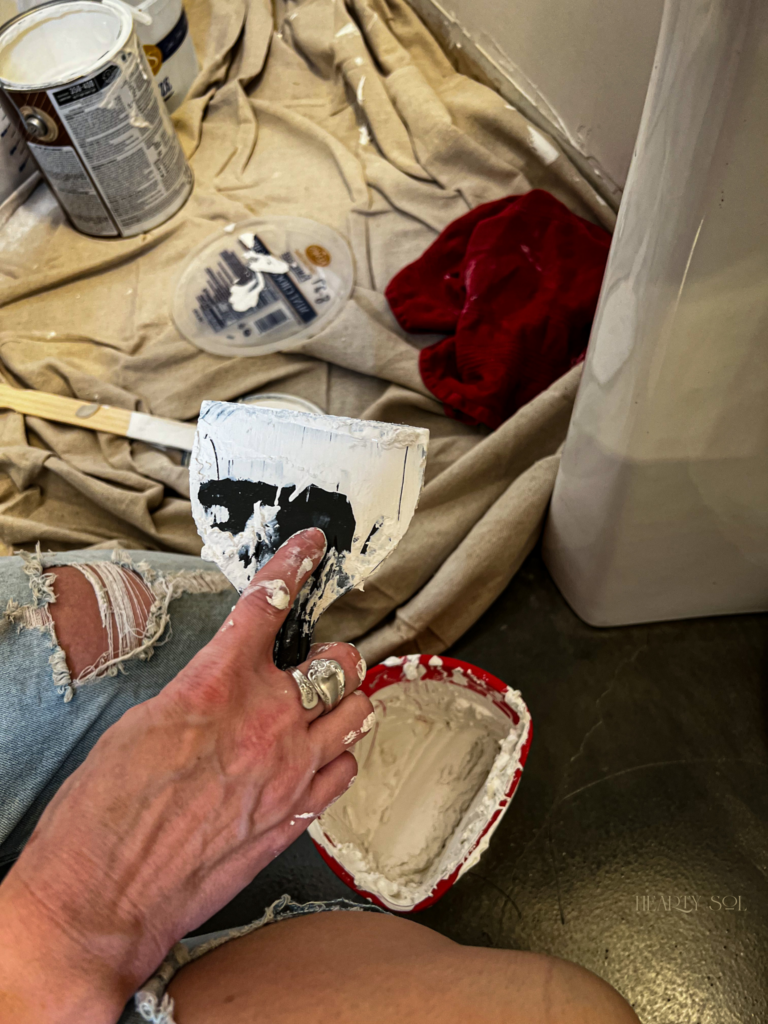 Steps for Making your own Roman Clay
Mix a few cups of drywall mix and water together with a drill mixer. Think of this as making batter – blend well and make sure there are no lumps (otherwise you will have dry powdery residue on your wall) You can also purchase pre-mixed buckets of drywall mix.
Take your paint and pour about 2/3 of it into a different square bucket or container (the flat surface of the square bucket helps when you are scraping and loading the Roman Clay)
In the paint bucket add 1/3 of drywall mixture to the 2/3 of paint. Mix with drill mixer along the way (I eyeballed this at the start – just make sure to start small and mix well as you go). *Important: Add drywall compound tTO the paint, not the other way around
Take your putty knife/scraper and apply the mixture in a cross-hatch, crazy 8 pattern, or S- patterns. There is no perfect "Roman Clay technique" just do this until you have covered your entire surface. The idea with the first coat is to completely cover your surface. Our previous wall paint had a glossy finish, so I could tell where I had missed spots or where it didn't cover as well.
After the first coat, do a second coat, and possibly a third coat (I did 3, but 2 would probably have been sufficient). *Check out "Questions people are also asking about DIY Roman Clay" for dry times.

Note: If you are a fan of very smooth surfaces, you can sand between coats. I chose not to in order to preserve the texture.
You can apply sealer as a "top coat" after you have finished the Roman Clay. However, since ours is in our basement I didn't see a need (the sealer is more applicable if the Roman Clay is in a living room or bathroom).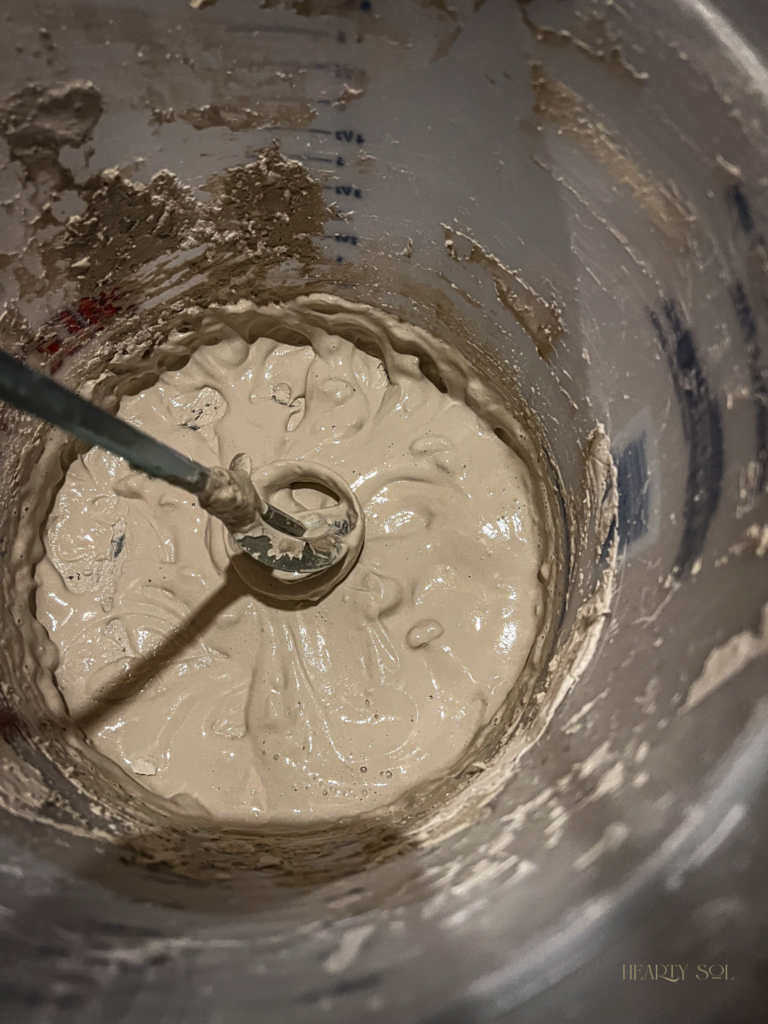 What Paint Colors did you use for your Roman Clay Application?
In our bathroom we used a custom color that I love. We call it Creamy White. I loved how our sample space (our downstairs bathroom) turned out with the roman clay combination with this creamy white paint!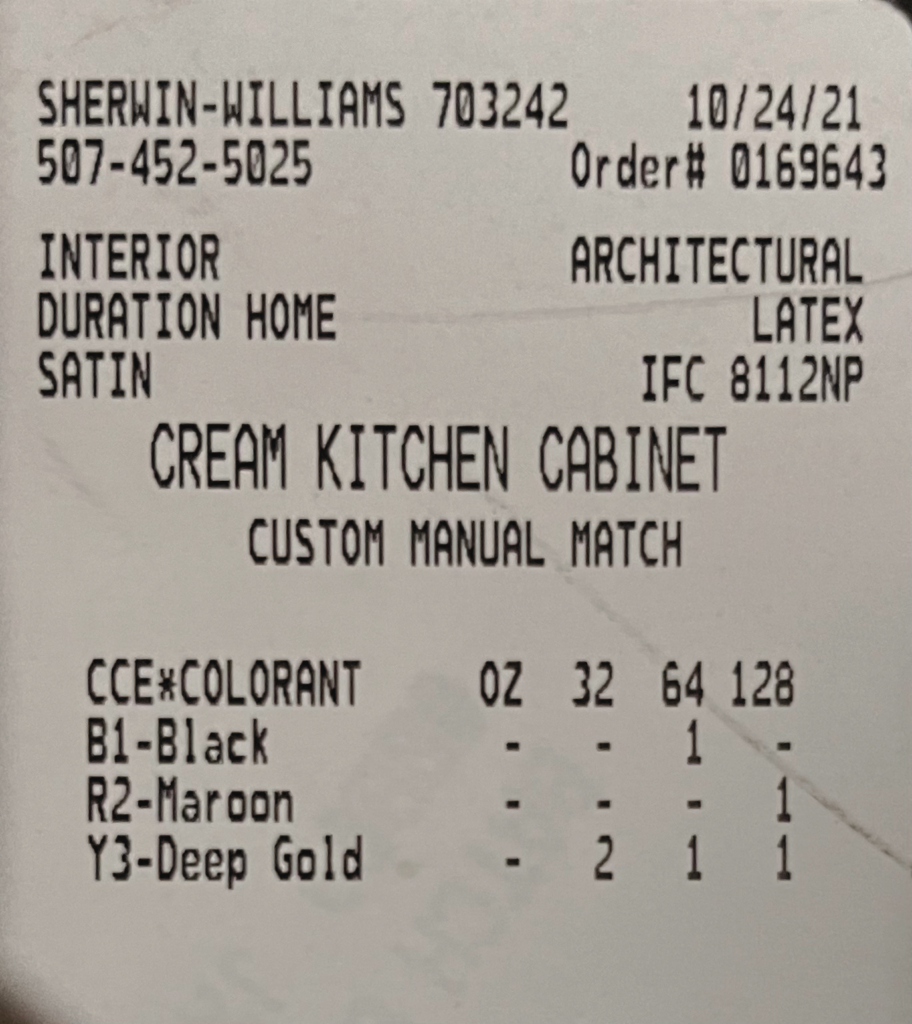 Our main room is a color from Sherwin Williams called 7023 Requisite Gray. I selected it carefully as this would be in our basement- a space with little natural light, so I didn't want something too dark. I wanted moody, rustic and soft, but not too dark. If was doing a room or wall with more natural light, I would probably select something darker, as adding the dry wall compound will lighten the color, once dry.
Questions people are asking about Roman Clay
How long does it take for Roman Clay to dry?
Because the space I was covering was large, I chose a 90 minute dry-time drywall compound. This gave me enough time to apply the first layer before it hardened completely – this first coat took about an hour to apply and an hour to dry (the Roman Clay drys in a lighter color so you will know it's dry when there are no more dark spots). For the second coat, I covered any spots that I felt needed more texture or coverage. In the third coat, I went over specific spots that I felt needed a little something extra. The total process with making, applying, and drying took me about 1.5 days.

*The dry times will always depend on how thick you apply
*Remember that if you make more Roman Clay or mix your buckets you run the risk of the colors not perfectly being matched. I was ok with this because I wanted to go for more texture and depth. In order to avoid this, however, just make more than you think you will need!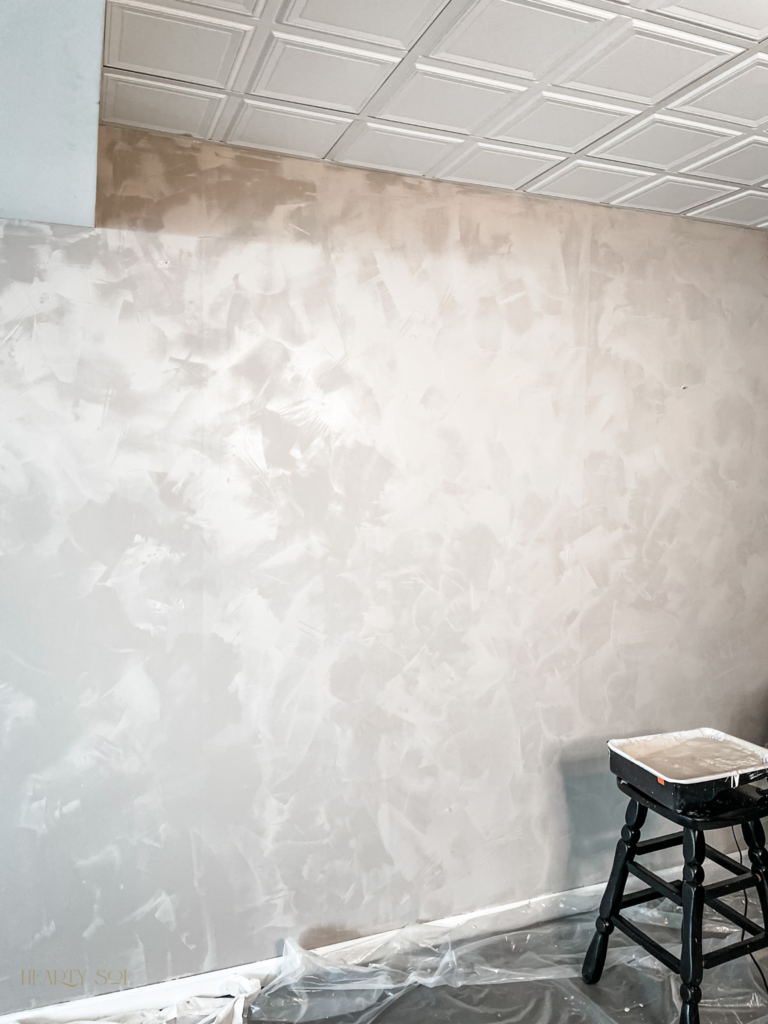 What is the difference between lime wash and Roman Clay?
The difference is in the application! Roman clay is usually applied with a putty knife whereas lime wash is applied by a brush. Because of this, Roman Clay ends up with the look of natural clay or stone. Lime wash on the other hand, gives a more suede/velvet appearance.
What do I use to apply Roman Clay to my wall?
The most basic answer is a putty knife. Other names for this are drywall knife, plastic putty knife, plastic spatula, and joint knife. All of these serve the same purpose and can be found at your local hardware store or Home Depot!
Am I stuck using only certain colors of Roman Clay?
There are companies who make Roman Clay and I did a fair amount of research there. The thing was, that you had to chose from a small color palette. I'm not a box-me-in kinda gal, so this is when I started experimenting on my own, so I could decide which color I wanted!
How do you chose a paint color to go with the Roman Clay
When selecting a paint color, consider your space. Do you have lots of natural light or not? We selected a moody paint, but something that wasn't too dark for our basement, since it doesn't get a ton of natural light.
Also know that your application of the roman clay will lighten as it dries on the wall.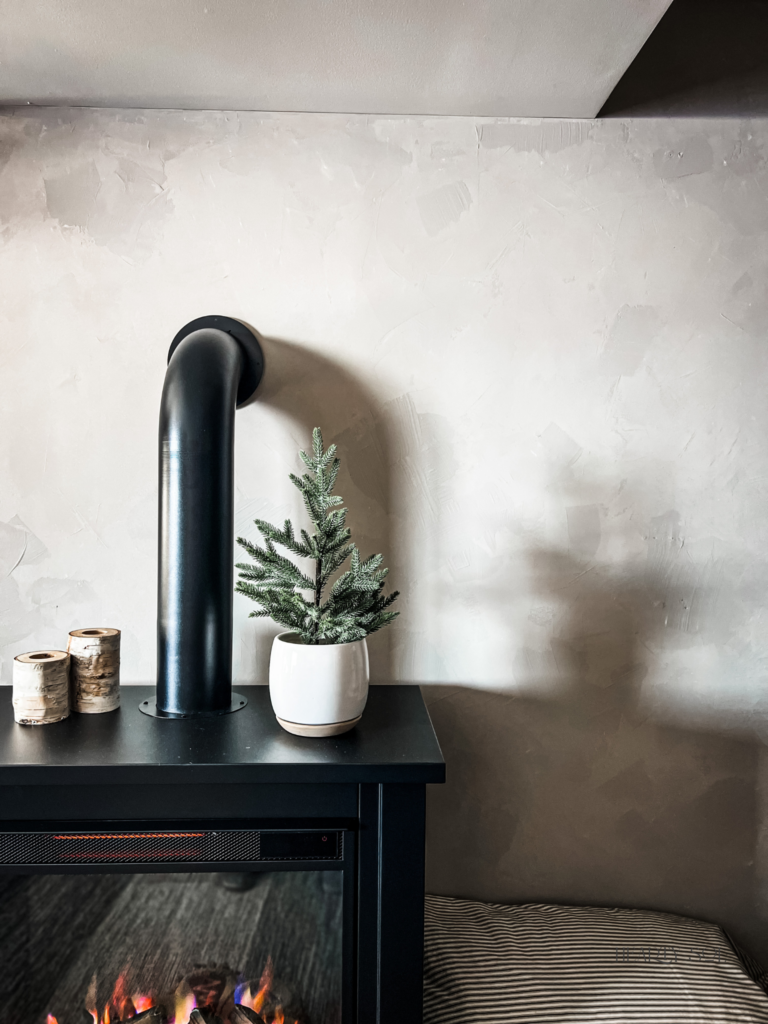 Helpful Tips!
Always make more than you think you will need! If you run out and need to make more, it can result in color inconsistencies. To play it safe, making more upfront is the way to go.
Be prepared – there will be a mess! I'm usually one who can get away with painting in good clothes … not this project. Make sure to wear drop clothes, cover the floor area you are working on, and have a wet rag on hand!
The drywall mix in your paint may harden quickly. Make sure to apply the Roman Clay quickly or in smaller areas.
Appearance note: In the final product, the Roman Clay will lighten in color and take on a chalky/ cloudy look after it dries.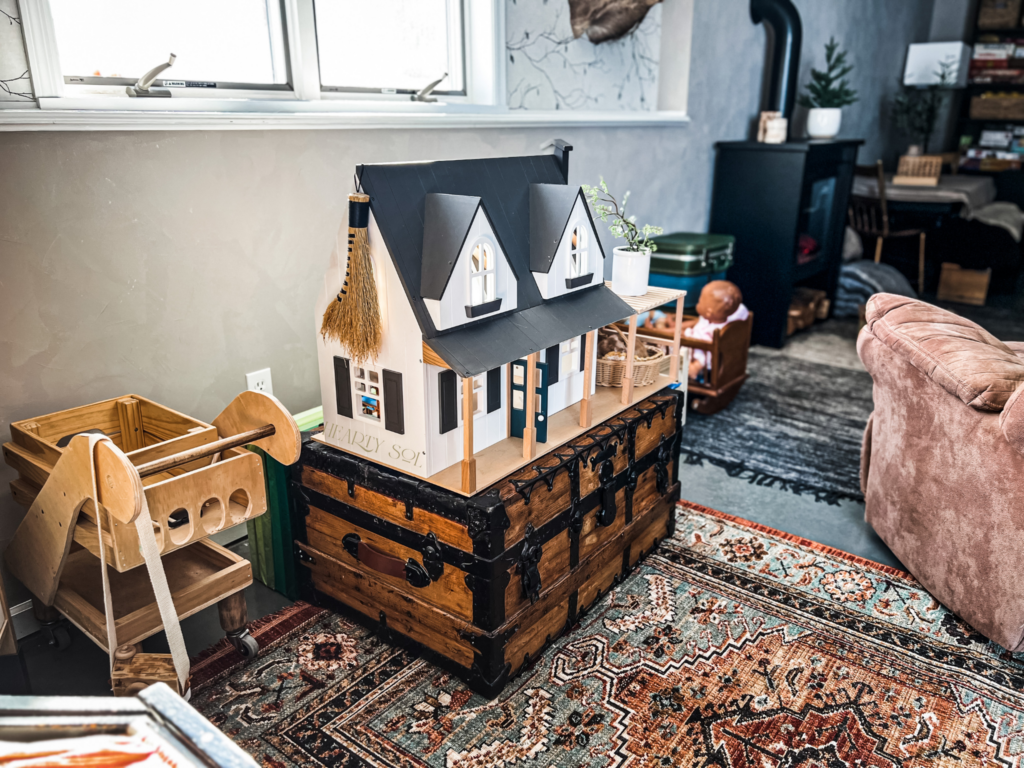 Shop this Post
Due to the unexpected flood in this basement and the inconvenience of this all happening just before the holidays, it was a lot more work than I was hoping for. In the end, we are so excited about how it all turned out and came together. We added a ton more life, warmth and purpose to this space. Previous to this, it was just a big play room with my sewing table in it and our build-in murphy bed.
Now we have a whole other living space that we can be proud of. We're excited to host, invite guests into and hang out in our new space.
I've gotten so many questions about where did you get those plants, rugs, decor, fireplace, television etc. So I put together all of the links here and here.
Let me know if you have any questions about this process down in the comments.
Other Simple Wall Applications to try:
How to Use Peel and Stick Wallpaper
Pin this for later!