How we turned our busy play room in a farmhouse guest room by building a Murphy Bed!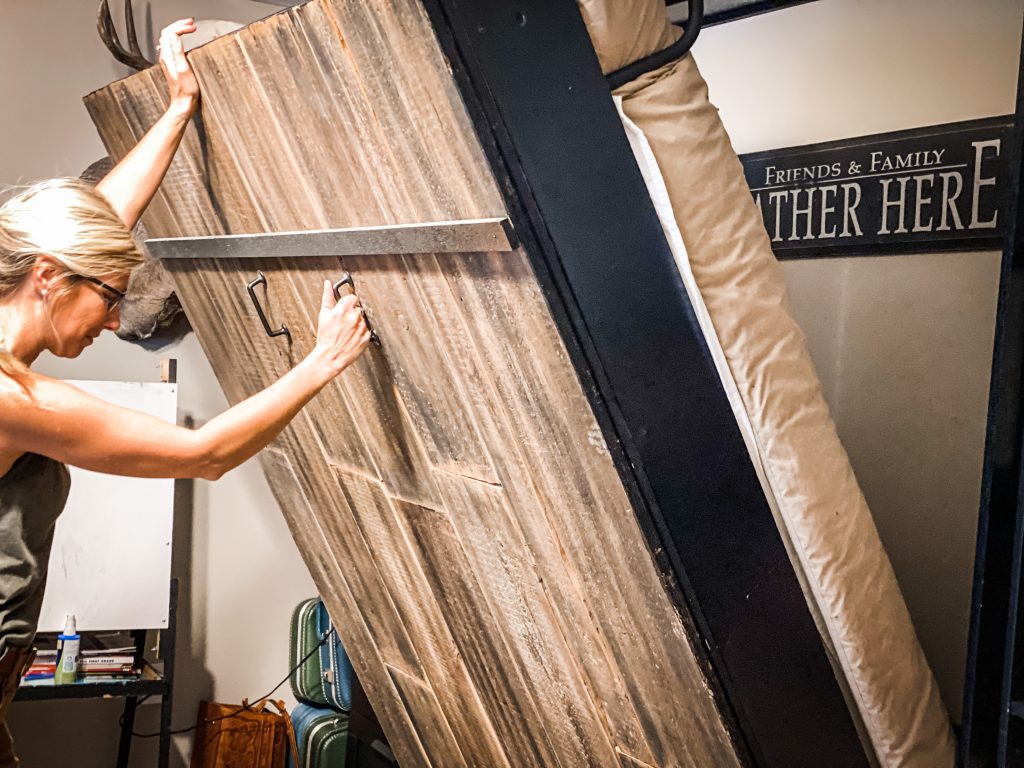 Our lovely farmhouse needed guest space and we had all 3 bedrooms maxed out! It was winter and the baby was 2 months old. I was feeling a bit cooped up and needed to feel productive. Which meant it was time to roll up my sleeves and turn the kitchen table into a work shop bench!
Our downstairs had been home to many things at times. Mostly a large play space for the kids. We also have a couch, rocking chair and a small electric fire place. Our home has been known to house guests of all kinds! Employees on stormy nights, out-of-town friends and family, grandma and grandpa, and an annual deer hunting buddy!
No more rooms in the Inn
It happened 3 times, a stormy night, grandpa and grandma stayed and our deer hunting pal, had to sleep on….wait for it… a futon mattress on the floor! Oh, it hurt my hospitality instincts to the core! I could not have our guests (or close friends and family) sleeping on the basement floor. Even though our home's rooms were occupied. I had to come up with an idea to create a transferable space that could be both guest quarters and play space.
Why did we decide on a Murphy Bed?
Our downstairs basement space had to function as a multipurpose space. Playroom by day and guest quarters by night- sometimes with very short notice.
A bed that can be folded up into the wall, would be the perfect solution. But could I build one?
I had been doing some research about how to make a murphy bed on a budget. After speaking with my trusty carpenter uncle, it was advised to get some serious hardware as this thing would be heavy and it's not worth chancing that it could come off the wall or envelope a human inside of it.
Creating a bit of storage space on either side of the bed was also a goal. This would also help anchor the project. So, I measure, haul the baby and the toddler to Ikea on a school day and get back just in time for the girls to get off the bus! Phew. We assemble the shelves just in time for my husband to get in from work!
Ps. Our InstaPot gets to put in overtime when I'm in project mode.
Our Murphy Bed Kit
We ordered our Murphy Bed kit here. When it came, I tore into it and started compiling our lumber. This kit made it so easy to assemble! We loved the instructional dvd (I'm sure by now there is a YouTube Video) and the easy to read instruction guide. Just be sure to mark your cut outs- left and right;).
This project took me about 1 week from start to finish to complete, as I was tending to four littles, (one nursing), homework and a full-time working farm, but could easily be finished in a weekend with less distraction.
I also wanted to utilize the barn boards from our 100 year old barn that we had recently revamped to add a touch of rustic to the outside panel.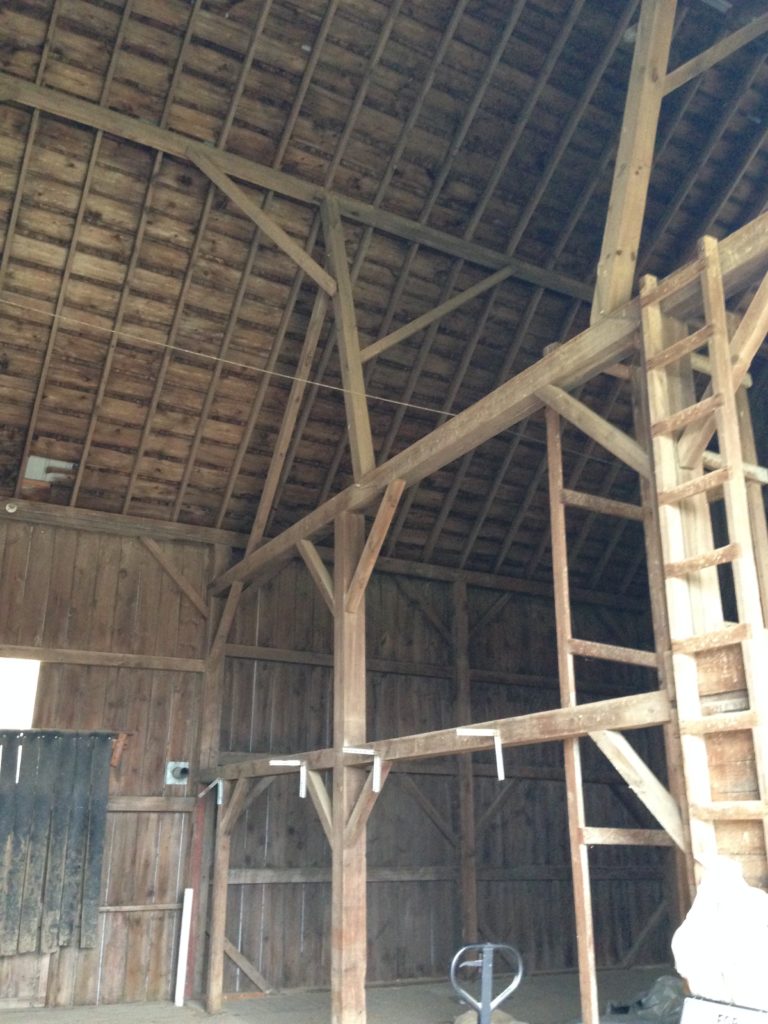 We stained the barn boards a dark stain.
Once the murphy bed was assembled it was time to screw it to the studs in the wall with some heavy duty screws. Then we added some trim and finished attaching the barn boards to the front panel.
Guest Room + Play Space
I wanted to add some soft low lighting so I grabbed these inexpensive clip lights while I was at Ikea
This space has been the site for so many dance parties, farming, cartwheels, and dress-up. So many memories and giggles can continue to happen because we found a way to dual purpose this space!
Storage for the Murphy Bed
We use the drawers on either side of the bed to keep the pillows. We are able to keep the comforter and sheets on the bed and it fits nicely back in its place. It literally takes 2 minutes to set up! We also like the fact that there is a built in safety feature that eliminates me worrying about one of the kids pulling it down on themselves.
I love that we can accommodate over night guests in literally an instant!
Speaking of the kids, this also makes for a fun place to stay for the weekend or an extended week of cancelled school due to snow. 🙂 It helps to mix things up a bit! The kids love having sleep-overs in the downstairs guest room, too!
Shop this Post
(This post may contain affiliate links which means I make a small commission at no extra cost to you.)
Tips for Building a Murphy Bed:
Gather the right tools from the start.
Get help! I am a very independent person but this project is definitely a two-person job.
If you are using this kit, watch this tutorial video from Create-a-Bed
Other Hearty Builds:
Ever Wanted to Learn How to Sew?
Join my 8 Lesson Sewing Course!