"Don't tell me how educated you are, tell me how much you have travelled."- Mohammed
Our Mexican Agricultural tour was extremely enlightening when it comes to thinking about our food production, imports and exports.
My dad and I recently traveled to Puerto Vallarta and although we stayed at a beautiful resort, I wanted to understand the meat and potatoes of this area we were visiting. The churches, the buildings, the living conditions and the farms were high on our list to check out.
The sites, the smells, the authentic food and the people were really amazing! I truly believe that when we travel, it changes us. It leaves us with a broader perspective then when we arrived. We make connections, lasting impressions and learn something new about another human being; their culture, home, farm and family.
Traveling allows us to look beyond our tiny little bubble on this planet and makes us realize that the world really does not revolve around us, our family or even what we do. It's so much bigger than we realize.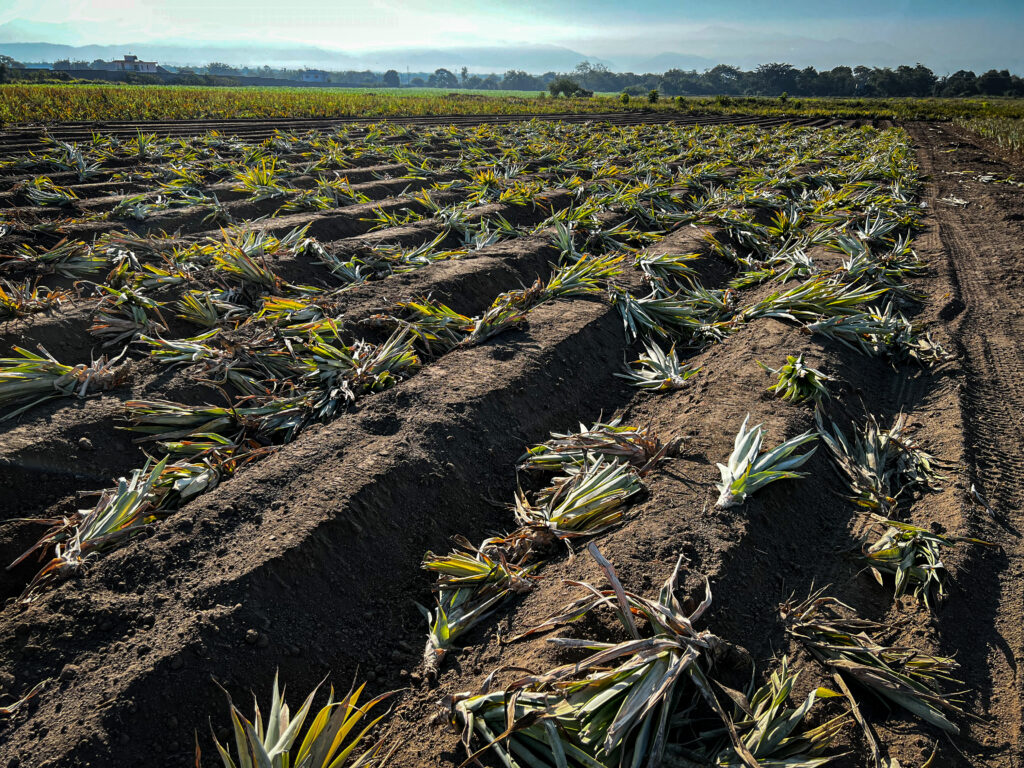 Growing Pineapple in Mexico
While visiting a pineapple farm in Mexico, we learned that it takes approximately 18 months for a pineapple to reach maturity and ready for picking with the soil, weather and environment in Mexico.
Below and around the pineapple, baby shoots are growing. On this farm those shoots are cut out, turned upside down, placed on top of the main plant and dried out (think like a garlic or onion). They then will be replanted as new starts for the next plant. The soil that these are grown it was loamy and sandy.
The way that they use the whole plant for growth, production and then regeneration is what makes this fruit super sustainable and regenerative. Someone handed me the pineapple to look at and it ended up going back with us. I got stuck holding this beloved pineapple, so I made sure to cut it up and share it with our friends one night as we grilled up some fish together!
The irrigation systems were interesting to me, too. In one field we had folks digging in new plants and in the other field folks were moving water through the fields, by drawing out trenches with shovels and hoes down the rows of corn and pineapple. They'd allow that water to sit there as they would walk back up to the top of the field to start drawing down another trench through the next row. They would go row to row, creating trenches until the while field had been watered. Then they would dam up the gravity-fed stream that led to the field.
Growing Corn in Mexico
We stopped by a corn farm since many of the folks we were with could relate to this crop. The family that we visited was eager to feed us their corn. They had some small cobs on sticks for us as well as some corn cakes and some cold, fresh hyacinth juice. We all tried it! The corn on the cob was chewy and resembled field corn to most of us but the corn cakes and hyacinth juice were delightful!
A few of us needed to use the restroom at this point and were delighted to be escorted to the Taj Mahal of rest areas in this village!
"Travel isn't always pretty. It isn't always comfortable. Sometimes it hurts, it even breaks your heart. But that's okay. The journey changes you; it should change you. It leaves marks on your memory, on your consciousness, on you heart, and on your body. You take something with you. Hopefully, you leave something good behind." – Anthony Bourdain
Growing Watermelons in Mexico
Because of the particularly sandy soil conditions and warm year-round temps, Mexico is an excellent place to grow watermelons. They grow these seeded watermelons in mounded rows that were covered with plastic to act as a weed barrier.
They showed us how to pick a rip watermelon by finding it's yellow sunny spot. If that spot is more whitish, the melon isn't ready yet.
These melons had seeds, but they were crunchy similar to a nut – so we ate them!
Growing Tomatillos in Mexico
These 'green tomatoes' or tomatillos as they are called also grow well in Mexico. These tomatillo fields were mounded and were using plastic as weed barrier, also. These fields had a more intentional irrigation system using drip tape and hoses to each plant.
When asking the locals and the farmers 'how much rain they get' a month/ year, they seemed confused. They don't measure rain in inches or even centimeters. They have a rainy season- 3 months (usually during the summer). So they have to compensate for the dryer times of the year. Very little rain will fall when it's not the rainy season.
This Post May Contain Affiliate Links. Please Read Our Disclosure Policy.
"Wherever you go becomes a part of you somehow."- Anita Desai
Growing Coffee Beans in Mexico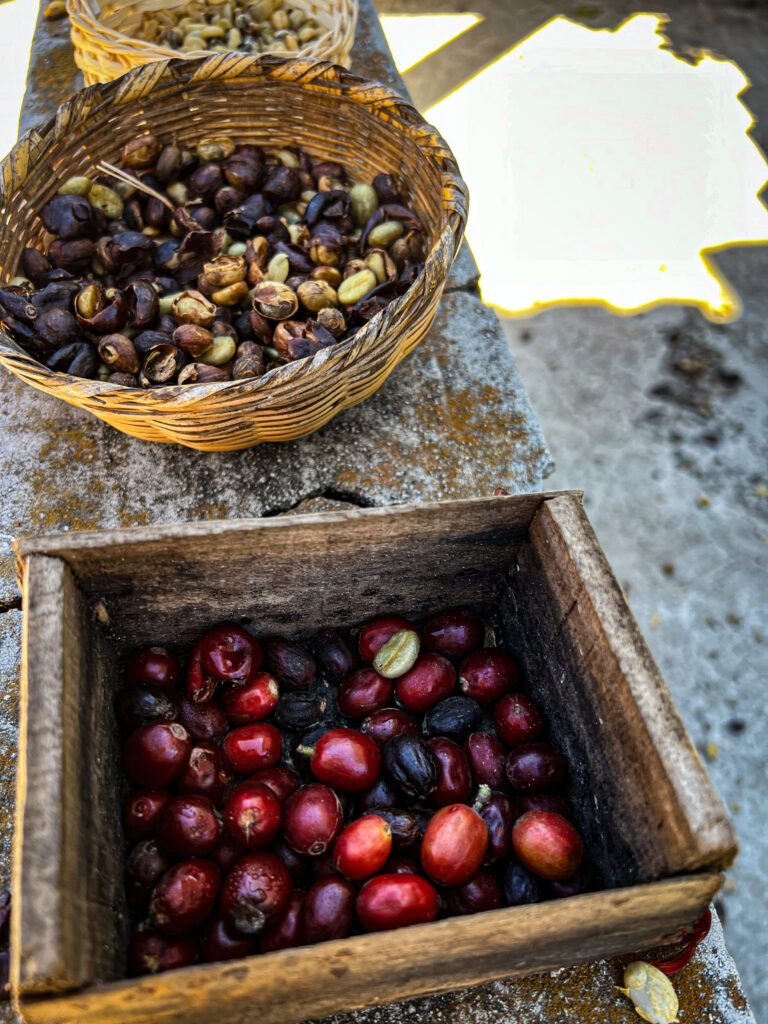 We visited a coffee bean farm and boy did that smell amazing! We were fresh off the bus and the aroma had me! Coffee berries are grown on trees and at this farm in particular were picked by hand, processed and roasted right here! I adored that most of these farms that we visited had photographs of the generations of family who joined in to bring in the crop.
Most families worked together everyday. Sometimes up to 4 generations were represented. They are very proud of their families farming practices and legacy.
Growing Blue Agave in Mexico
We had a very interesting presentation by one of the Blue Agave farms near Puerto Vallarta and
It needs sandy soil, neutral ph and grow for about 10-12 year old agave in order to make the kind of tequila that we were drinking to create the amount of sugar in this tequila. The center of the agave is processed and used to make this special tequila. We were told that the older agave plants produce more notes and flavor than the younger ones. The younger agave plants can be processed after about 3-6 years in order to make 'quick tequila' for consumption at bars and clubs.
Touring San Sabastian
Tucked in the hills of the Sierra Madre mountains, San Sebastian del Oeste has a strong Spanish colonial heritage. It was founded in 1605 by silver miners, and today retains the same colonial charm and many of the original structures! The residents of San Sebastian are dedicated to preserving the history and heritage of their village. The region is rich in natural resources like gold and silver. The small town became one of the main mining centers in New Spain, eventually becoming a official city in 1810.
Revolution in 1910 suddenly haulted the mining activity in the region and many mining projects were moved. The last mine was abandoned in 1921. Today, most of the inhabitants are emigrants, dedicated to the culture and history of this unique city they love.
Many of the pueblo's historical structures still remain to day and function as museums, restaurants and churches. The buildings homes/ haciendas and churches have been very carefully maintained to make visiting San Sebastian del Oeste a immersive historical and cultural experience.
We wound back and forth up a mountain for nearly an hour and a half to get to this sleepy little Mexican village on top of the Sierra Madre mountains. Most of us, including our tour guide were ready to down the dramamine by the time our bus finally stopped. It's was windy, it was curvy and the bus slowly heaved up and down around each narrow bend. But we made it!
We ate lunch at a local restaurant and toured around. My favorite was the Catholic church in this city. The story of San Sebastian. St. Sebastian's feast day, January 20th, was the day before we toured this beautiful city. So the city was still decorated from the celebration.
As his story goes, St. Sebastian joined the army and later became a captain under Diocletian. When it was discovered that he was a Christian who had converted many soldiers, Sebastian was ordered to be killed by many arrows. The archers left him for dead, but a Christian widow / an angel nursed him back to health.
He presented himself to Diocletian, who condemned him to death, for the second time, by beating him- himself. His body, thrown into a sewer, was found by another woman who then buried him near the catacombs.
St. Sebastian was popularized by Renaissance painters and believed to have been martyred during the persecution of Christians by the Roman emperor Diocletian. He is a patron saint of archers, athletes and those who desire a saintly death. He was also venerated as a protector from the bubonic plague and as a patron of plague victims.
This experience has given me an opportunity to meet new people, take time to ask clarifying questions and to open up my mind to another culture and land. Plus, I got to do it all with my dad! If you ever get an opportunity to see something outside of the small communities or cities that we live in, I 100% say, go for it! Traveling has only expanded my mind and made me a more compassionate person.
I have never regretted traveling, I only regret the times I couldn't go!