Fitting in with our homes aesthetic, we wanted our baby gate to coordinate with our other barn doors in our home.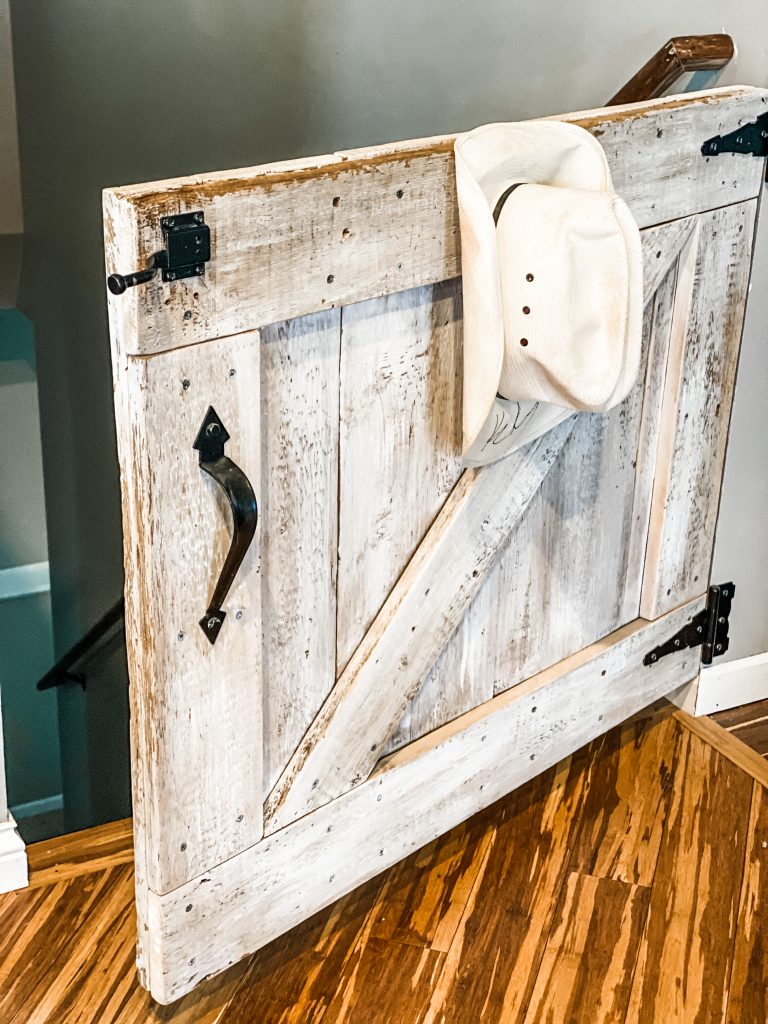 After our previous baby gate gave-way and sent our 1-year-old down a flight of stairs, we had the opportunity to update the top of the stairs. We decided that since we had already built a barn door to the entrance of our laundry room, we could make a baby gate to match.
In my spring house tour post, you may notice a cool barn wood gate at the top of our staircase. If you missed the tour, find it here!
Barn Boards
Our 100-year-old barn had just come down and we luckily had old worn-out 1×5's on hand. But really there are so many ways to make new boards look rustic, you wouldn't need to have authentic 100-year-old barn boards on hand. You could purchase any kind of 1×5 board and distress.
I did love that our old boards had some real character ingrained in them- like knots and big holes. (Which again, you can replicate on new boards if you want to get creative.) I decided to use these different characteristics in interesting ways, that you'll see in the final project.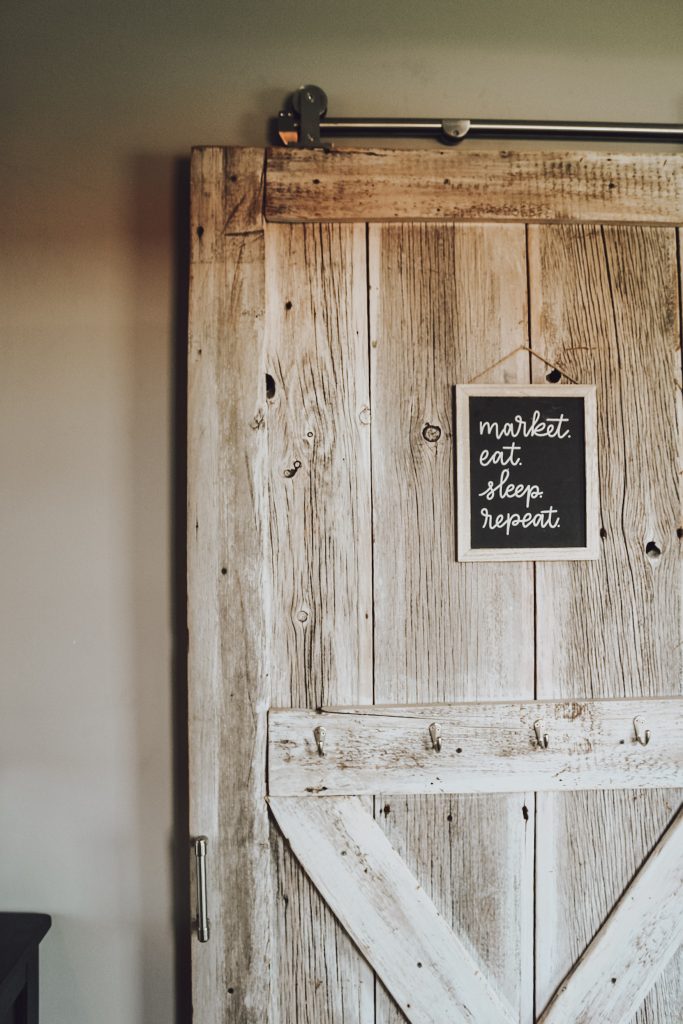 Sanding
Since our boards had evidence of barn-life on them and our children would be around this a lot, I decided to do a good sanding job on them. Then, I blew out the deep crevices with an air hose.
Whitewashing
Our larger laundry room door was also white-washed so I wanted to replicate this theme. My white-washing method was to lightly paint the wood with white paint, then brush on some water over top. I scrubbed it in so the 2 blended or would use a dry cloth to combine. There was no real method, it was just about adding paint or water according to how translucent I wanted it to be.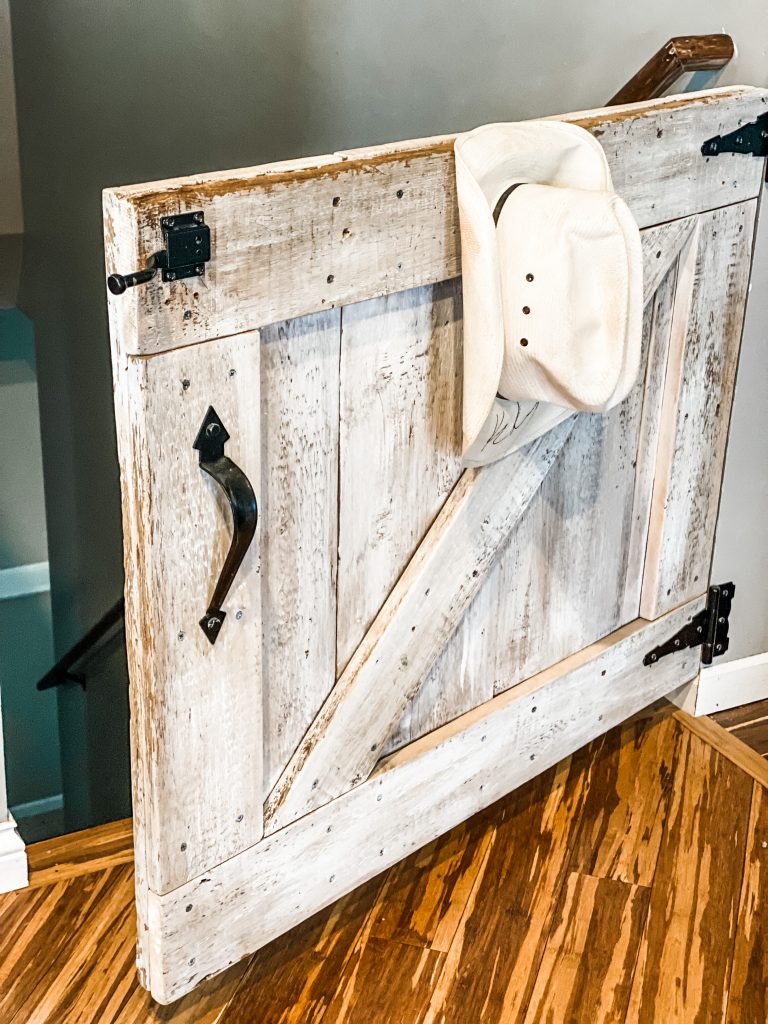 Assembling your Barn Door
Cutting all the boards out accordingly, I laid them all out on cardboard.
We played around with the design a bit before settling on this one.
I vertically placed 4 – 1×10 boards for the back. Then 1- 1×5 on top and the bottom. 1- 1×5 on the sides, then 1- 1×5 going across.
With 1″ wide- old boards, I knew enough to pre-drill everything going in. Then we tacked everything together with 1.25″ screws.
I did end up painting over the screws with a little white paint so they wouldn't stick out as much.
We love the little peaky hole in the gate. The kids think they're being super sneaky when they peak out from the bottom side of the gate.
Gate Kit
We used an outdoor gate kit like this one . I wanted to make sure that we screwed the hinges into some studs as we knew this gate could see use with 4 kids. We really like that we can open this gate all the way up the the wall, so we have plenty of space to move furniture up and down the stairs without having to remove the gate from the wall.
Decorate your Barn Door Baby Gate
I love that, because this is wood I can add a little nail and our little baby gate becomes a seasonal background for wreaths, cowboy hats or bells. Ooh bells double also-known-as a 'I know who got out of bed early' alert :).
Why You'll love this Build
I love a simple project that I can build in less than an hour and makes such a huge impact to our home.
You can use reclaimed wood or distress brand new lumber to make this look authentic to actual barn wood
Since our kiddos no longer actually need safety from the stairs, we have thought about taking it down, but we just love how this little baby gate looks. Plus we have an occasional niece or nephew who stops by for a visit. We like that our home is a safe place for those kiddos to run free.
This little half door could also be really cute in the entrance of a child's bedroom!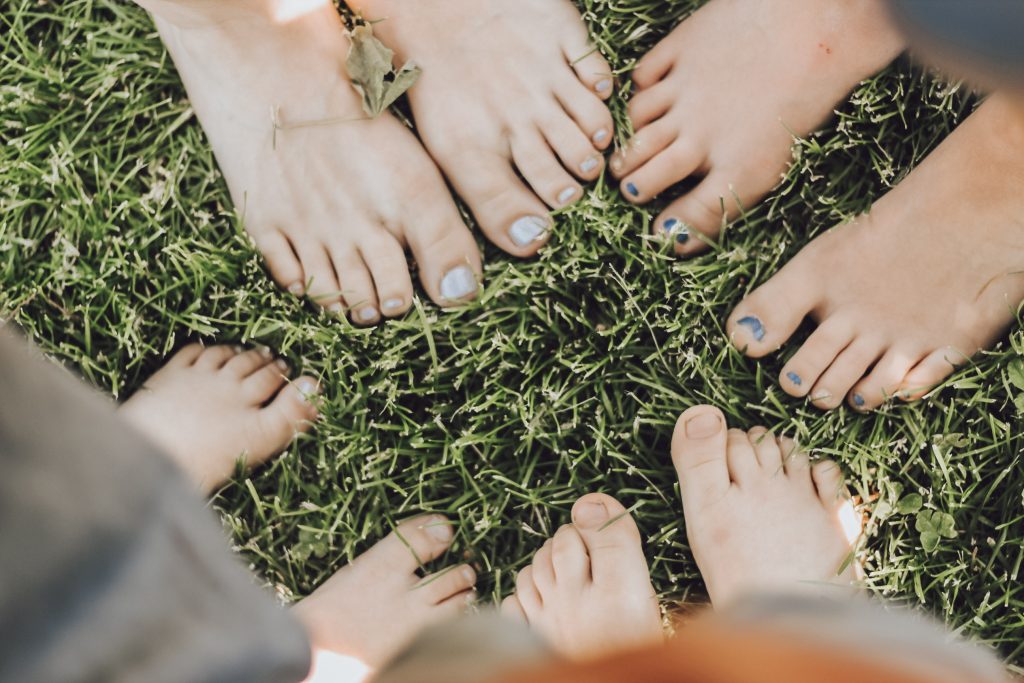 The form you have selected does not exist.
Have you made this Barn Door inspired Baby Gate?
Show me how yours turned out in the comments below! I'd love to hear how your experience went!
Pin this Project for Later
Other Hearty Building Project
Murphy Bed | Making Farmhouse Guest Quarters
Flipping Work Bench Plans + Instructions – Free Plans
Simple Little Desk Tutorial– Free Plans