Create this custom desk/ table to suit your very own space and style.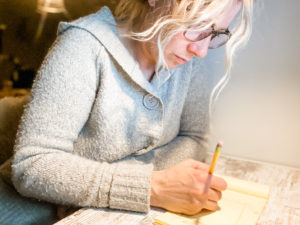 A New Space
If you have been following along for a while, you would know that we are the DIY-kind of family. It just happens. I swear it's really not intentional. Come to mid-winter it seems that somehow the spaces we live in every-single day begin to get boring and need a little refresh!
This is what's happening inside my head:
I want a new space to photograph recipes and crafts for the blog.
Wanted a new standing desk.
It would be kinda cool if this desk had wheels…ok, EVERYTHING I build, is adorned with castors. (One time I was at a garage sale and found a 5 gallon bucket of 2″ castors for sale and nearly lost my head)
If I can make this table easy to move, I will be able to use it for so many things, including a cool coffee bar, (or just bar-in-general) ;), moving desk, a puppet show on wheels, and very likely a base for a fort at some point.
This post may contain affiliate links. Read my disclosure policy here.
Choosing the materials for my desk
A few years back we tore down a 100-year-old barn and had saved a few barn boards from that.
I sanded and white-washed them and made both a barn door and a baby gate. More about our barnboard baby gate here! I love how the white-washed wood looked, but the wood would be too rough of a surface for a desk. I wanted something smooth but that looked like our other two builds.
Enter Menards. I walked out with more than I needed, like most trips to the store. But I was ready, well mostly. I really didn't have a plan, but now you don't have to worry about that because I have included a free plan and video tutorial making it a slick and easy project for you!
Desk Video Tutorial 
The plans include a materials list for you to print off and take straight to the store. If it is easier to gather lumber and grab your hardware online, I've got you covered there too.
Desk Hardware you'll need:
2″ L brackets for the legs
1″ L brackets for attaching the shelf
Flat brackets for the shelf pieces
2 1/2″ Torque head screws
1″ panel nails or a brad nailer
Wood Stain (similar to my favorite color!)
Other Tools Needed
Miter Saw (I use this for nearly everything I make!)
1/8″ Pre-Drill Bit (Also my favorite set)
Square Layout Tool
Grab your FREE Plans + Materials List HERE!
I grabbed everything that had this white-washed look to it, but you don't have to bother over shopping with this easy laid out list in your pocket!
AND THAT'S IT
How will your desk look? Send your photos in our comment section!
OTHER SIMPLE CRAFT POSTS
Making a Flipping Work Bench + Video
How to make a Waldorf Doll | a 4 Part Series
10 Projects to Repurpose Sheets
How to Reupholster a Chair | Simple Tutorial
How to Make a Girls Dress |No Pattern Needed
PIN IT FOR LATER
YOU MIGHT ALSO LIKE
Our Homemade Spaghetti Sauce | A Family Recipe
How to Make Buttery Scalloped Corn
JOIN OUR HEARTY LIVING COMMUNITY!
Hearty recipes, farm living fun
and handmade projects straight to your inbox.
Hello, I'm Emily. I'm so glad you're here! Join me and my family as we find beauty in our everyday life on the farm, hearty recipes and a handmade home. Find more about me and our story here.