A classic thing like a batch of soft homemade play dough can really bring a kid back! I love the smell of fresh-made play dough, there's really nothing like it!
A Fresh Batch of Homemade Play Dough
After a few days into Christmas break, we were yearning for something tactile. We had been working on some new bread recipes and I thought I'd get out our most favorite play dough recipe to let the kids dig into some dough too.
(This post may contain affiliate links which means I make a small commission at no extra cost to you.)
Basic Ingredients Play Dough Recipe
Our kindergartener who loves learning in person and is a very hands-on learner found it easy to work on his new words using these play dough letters and number stamps! He wrote grandma an entire letter in play dough. I guess, sometimes, it's finding a new way to learn if the former just isn't working!
This batch of play dough made enough for all 4 kids to split up and have their own softball-sized ball of dough. We could very well add color, glitter, essential oils or any number of items to the play dough, but we decided to leave ours white as we were all out of coloring. Our youngest was working on a glitter snowflake from school, so she rolled her play dough through the glitter for something 'extra special'. It's the small things! I said, 'you add glitter, girl!'
The Best Play Dough Recipe
Using play dough as a way to destress turned out good for all of us. We all needed to peel our eyeballs away from our screens and smoosh play dough between our hands. Something about being able to use our senses feels welcoming after a long day sitting still in front of our computers.
The kids are getting so much life out of our new batch. They'll get our bin of play dough toys out and play until dinner time. Quietly, building little people, making pizzas, practicing words or kneading it as mom does with her bread dough. We make sure to keep this on the kitchen table or counter as the coconut oil will make a bit of a stain on furniture or bedding.
I love this recipe because there are very few ingredients and this batch makes a nice soft, pliable batch that doesn't dry out and lasts a long time (when kept in an airtight container) or just a ziplock bag.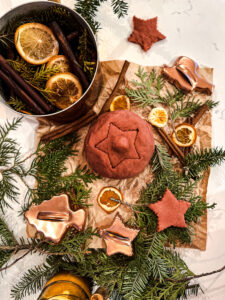 Winter Scented Play Dough
Our homemade winter potpourri made with our dried oranges, cedar bits, cranberries, cinnamon sticks, cloves, and balsam sits in a copper pot onto of our stove throughout the holiday time. We love to incorporate this cinnamon, citrus, evergreen scented water into our play dough to make Christmas Play Dough.
Simply strain off 2.5 cups of your scented potpourri to incorporate. The water usually is a bit darker after that pot has been stewing a bit, so I like to add a few drops of red or green food coloring to the dough.
This also makes a wonderful gift any time of the year!
The Recipe
The BEST Play Dough Recipe
Lovely, soft and lasts a long time!
2.5

Cups

Water (boiled)

(Strained Winter Potpourri water)

1 1/4

Cup

Salt

1 1/2

Tbsp

Cream of Tartar

2 1/2

Cups

Flour

5

Tbsp

Oil (coconut or vegetable)
Stir all of the dry ingredients together in a large bowl.

Boil 2 1/2 cups of water and then add 5 Tbsp. of Oil to the pan.

Pour the hot water with oil into the bowl containing the dry ingredients and mix.

Add food coloring if desired.

Allow this to cool a bit before kneading with little hands.

Knead until the desired consistency is acquired.

Store in an airtight container, baggie or jar
Make it a Play Dough Valentine!
This batch of play dough would make an excellent valentine for a classroom! You could even dye some pink and some red to match the season! Finding little disposable cups with lids or just a snack-sized ziplock bag to put your individual play dough balls in, would make the cutest little valentine- not to mention inexpensive! 😉 If you wanted to get even cutsie-er you could attach their name letter to each portion.
I love adding our own personal touches to our handmade Valentines! One year we put a little ball of play dough in a ziplock baggie and added our own tags! Don't worry, I made some for you too!;)
Grab your FREE Play Doh Printable Valentines Tags HERE!
Pin this recipe for later!
Other Hearty Fun!
Another fun Handmade Valentine!
How to make a Waldorf Doll | a 4 Part Series
10 Projects to Repurpose Sheets
How to Reupholster a Chair | Simple Tutorial
How to Make a Girls Dress |No Pattern Needed