Whether you have your own worn out sheets or find fun vintage sheets at a thrift shop, there are thousands of uses for sheets! They are an inexpensive fabric that some people just toss out. Grab those things and get creating!
(This post may contain affiliate links which means I make a small commission at no extra cost to you.)
#1 Curtains out of pillow case sheets
This little window needed an update. All this curtain is made of is a king-sized pillowcase, cut in half. Using curtain clips to hang it from a tension rod makes it the most simple thing you can do to update a window. No SEWING necessary! You can either hem the edges or leave them raw. I left mine raw for now. After I wash them once, I might decide to hem them depending on how badly they fray. HINT: After you wash your curtains, simply hang them back up on their rods to air-dry. This is especially nice in the winter time when your home might need a little more moisture in the air.
#2 Tents/ forts from vintage sheets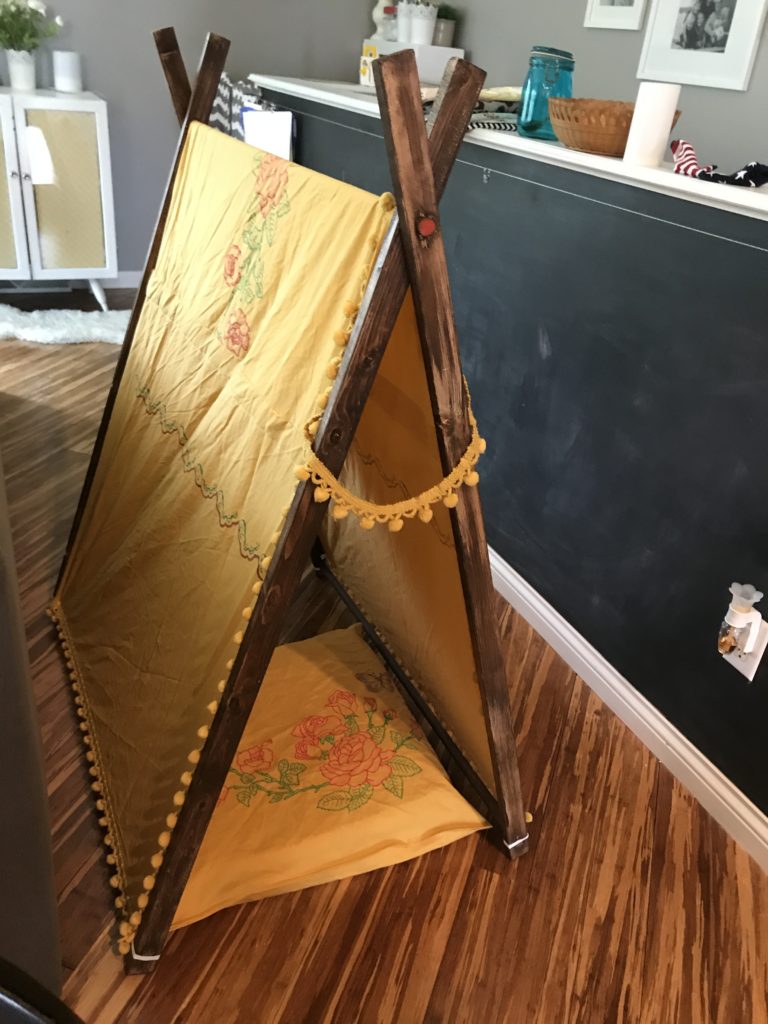 This has got to be the funkiest set of sheets I've ever found. From what I can tell, someone had bought these mustard colored sheets and jazzed them up with painting this design on them. Somehow it worked! I was drawn to them. The Mexican-ball fringe and the color caught my eye!
I created a little wooden frame with 1″x 2″ sticks and (3) 1″ round rods.
We love that this little tent can close up nice and flat to fit under any twin-sized bed!
Fit the fabric to the frame and add some elastic to the corners to keep in place.
Not into woodworking OR sewing? Get your card table out and place a sheet over top! Add some mini white lights on the inside for fun, too! When all else fails, you're snowed in, or you're just trying to keep that flu-ridden kiddo in quarantine from the rest (mostly kidding here- but if it was the chicken pox- not kidding), set up your card table, toss a sheet on top, hand them the bucket and tell them it's the pretend hospital!
#3 PJs/ Dresses that used to be bedding
I loved this set of vintage sheets that I found at a garage sale. The pattern was pretty and the fabric was just the right kind of nice and cool for the summer.
I simply used my favorite pj pants as a pattern and voila!
My friend Lisa over at Farmhouse on Boone has a nice tutorial video about how she did this same technique to make her kids pj sets!
This dress was made with an old duvet cover. I used the lining for the pockets since the fabric coordinated so nicely.
The ding-dong dress was a style that my mom used to wear. It's 1950's pattern was designed so that a little girl could easily get into this dress on their own and foster independence- they called it "self-help dress". I had looked forever for this pattern and got lucky on etsy one day!

#4 Rugs from sheets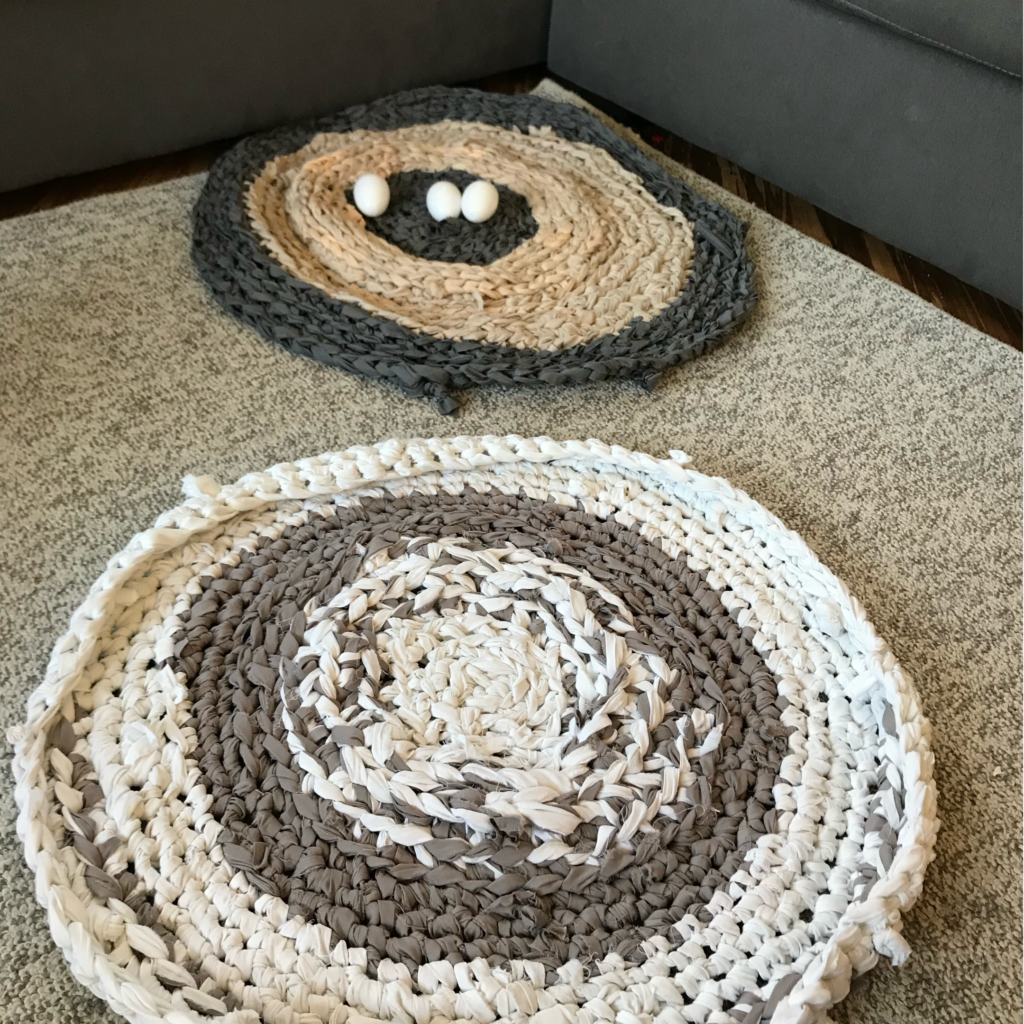 A stack of 3 queen sized sheets can make you about a 3′ round rug. I made one for each of our kiddos to have. Yes, the "If 1 then 4" rule came into play here. They use them to sit on while playing a game, reading or have fun pretending they are turtles with their rugs on their backs.
You could easily thread cording or rope through them to create a little sack or taco carrying pouch.
The efficient way to cut up 3 queen sized sheets is to cut slits- 2″ apart going down the length of the sheet. Then go back and rip the sheet at each slit. Tie the strips end to end and then roll yourself a big ball!
Grab a big crochet hook, I have one like this! Make a loop at the end of your big ball. Crochet 6 times, then just start crocheting around those 6 stitches. I add a few in as I go around to make it bigger.
If you like closer instructions about how to crochet in a circle, find them here.
#5 Shower Curtains from sheets
No need to spend tons of money on a fancy shower curtain. You can change out your shower curtain on a whim when you're repurposing sheets.
Paint on them like savyhousekeeping did, dye them in a pretty gradient pattern or just leave them a simple crisp, clean white.
#6 Outdoor Shade/ Curtains from sheets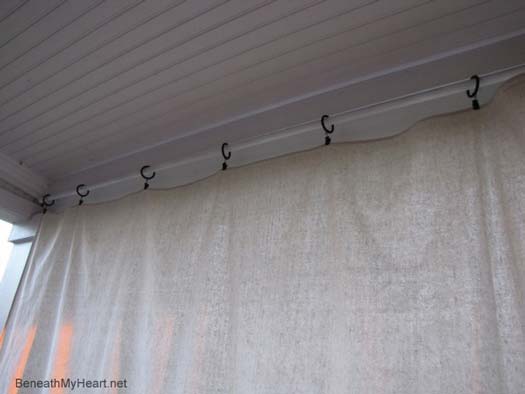 Spray your king-sized sheets with some outdoor waterproofing spray like this. We used some curtain hooks like these.
What more could you want when you have a cabana look right on your own front porch? Making your front porch a shady retreat is welcomed after a busy summer day.
I love how this gal made her curtain rods.
If you are wondering about mildew…we checked around. Yes, outdoor curtains may mildew. To prevent that, keep your curtains from touching the ground and be sure to "unbunch" them to allow them to dry.
#7 Bench Pad from a sheet
Find the color of sheet of your choice, or dye it to your liking. I used an old blanket for the inside of this bench pad, since we wanted to complete the project and didn't have the appropriate bench pad cushion.
I decided to sew the edge of the blanket (folded up) to the inside of the covering so that when washed the entire pad wouldn't get all bundled up in the inside.
We found a couple of leather belts at a sale to help with the
movement of the bench pad. The belts also function as lovely seat dividers.
#8 Cover-up for Garage Equipment- (keep the dust off)
We like to keep those hard to fold fitted sheets for placing over the strollers, bikes and other equipment in the garage over the winter or dusty times.
The elastic on the edges make it easy to bundle things up and keep them nice and clean until the next use.
#9 Capes from colorful sheets
Cut out your cape from any colored sheet, using the pattern idea from above. Add any label or initials to the back to personalize and you're off! You can add a snap or simply tie the front. (Watch for strangulation hazards with this project. Make the neck fastener an easy release if stepped on.)
#10 Beach Blanket from a fitted sheet
So now that you used up all of your flat sheets making these amazing projects, you grab one of those left-over fitted sheets and hit the beach. Or grass, depending on your beach availability! We put coolers and our beach bags to prop the up the corners of the fitted sheet. Creating a sandbox like frame.
What are your favorite things to do with unused sheets?
Comment below!
Cheers!