Skip the jar of spaghetti sauce and make something new, tonight! This bubbly, savory sauce from scratch will satisfy even your pickiest eater!
Jump to Recipe
From Scratch Spaghetti Recipe
This spaghetti sauce was one of the first recipes that my mom taught me how to make. I was a teenager so naturally I was all, "awe mom, why can't we just buy sauce in the jar like normal people?"
As an adult, I had to rack her brain to get me the recipe. And with most good recipes, there's no written recipe. It goes like this: "you add some of this, a pinch of that, bring to a boil and simmer… and voila!"
We finally got the recipe down during our first years of marriage and now I understand how easy it is to just add this, a pinch of that, a cup of this and voila!
Make this recipe even easier by using your instant pot!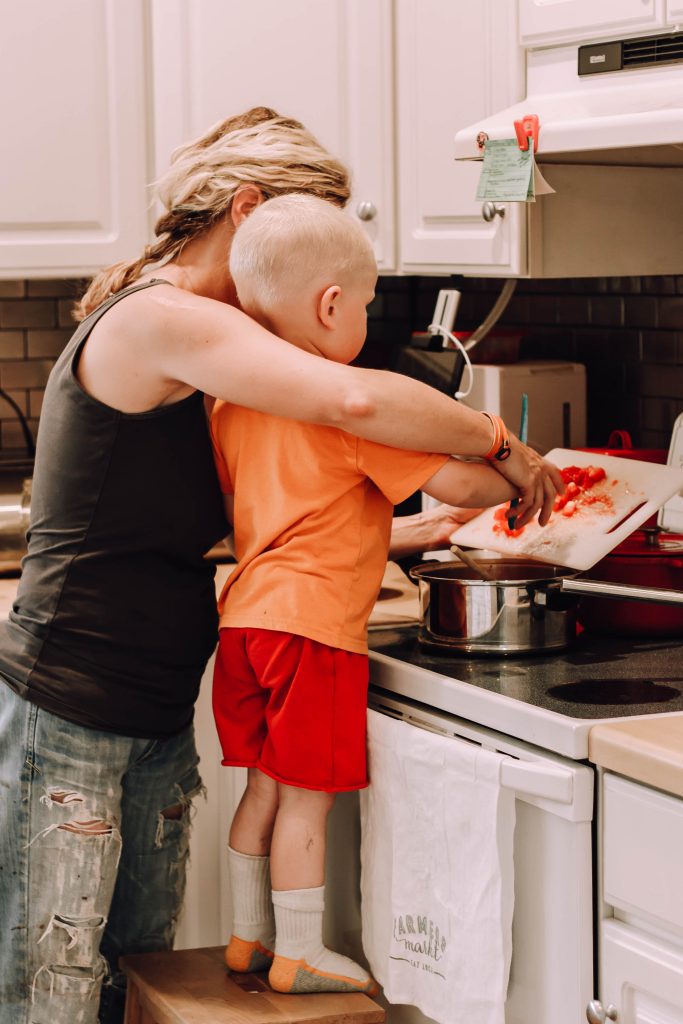 (This post may contain affiliate links which means I make a small commission at no extra cost to you.)
In your Instant Pot, simply brown your hamburger using the saute button. Once cooked through, add all of your ingredients, put the cover on and use the soup button. Cook up some spaghetti noodles and just like that you've got yourself Homemade Spaghetti Sauce! Easy, peasy, lemon squeezy!
Spaghetti Sauce from Stratch
Skip the canned sauce and make this scrumptious homemade spaghetti!
1

lb

ground beef

chopped onion (to your liking)

1/2

tsp.

garlic powder

salt & pepper

1

can

tomato soup

1

can

water (I use the tomato soup can)

1

tbsp.

lemon juice

1

tsp.

italian seasoning

1

tsp.

mustard

1

tbsp.

brown sugar

1

can

mushrooms (optional)
Brown hamburger (drain off grease) then add garlic powder, salt and pepper and onion.

Add tomato soup, can of water, Italian seasoning, lemon juice, brown sugar, mustard and mushrooms.

Bring to a bubbling boil and simmer for 15 minutes.

Serve over spaghetti noodles and enjoy!
Bonus- the leftovers are really good!
Double Bonus- tired of spaghetti leftovers?
Make Homemade Sloppy Joes!
Chop up the sauce use this Homemade Sloppy Joe Recipe. Heat up and add to a fresh batch of sourdough rolls, and now you have a whole other meal!
Sourdough is one of our families staples. Using sourdough starter, I've created a little FREE Recipe book containing "5 Tasty Sourdough Recipes" Get your copy right to your inbox today!
Field Meals:
We pair our homemade spaghetti with a nice fresh Caesar salad, a bit of garlic toast and of course our yummy refrigerator pickles! Sprinkle everything with a good amount of parmesan cheese and it makes a nice hearty meal for our busy field crew!
Hint: If you're making this during the cold months, you may want to put your spaghetti in a piece of tin foil to keep it warm. See all of the necessary materials needed for a successful field meal season here!
If you want to know more about how I prep for field meals?
Grab my free Field Meal Recipe Book too!
Other Recipes that go well with our Homemade Spaghetti
What's your favorite side dish to go with your spaghetti?