It's funny, when I left my corporate job working as an in events and hospitality, I always wondered how I'd fill my days, as a farmers wife. What do people who work-at-home do all day? Must be luxurious! (wink, wink).
So like most topics that puzzle me, I asked my mom, "what in the heck do I do with my days?" She told me, "You have to learn how to relax and enjoy life. Open the newspaper and read the articles." I still have a lot to learn in this arena.
I even googled, "How to Relax".
I guess some people are just wired differently. My personality type does best when busy. I tend to be the person creating the work for myself.
I bet I can count on one hand how many naps I've taken since moving to the farm almost 7 years ago. Need to schedule more naps!
Yin Yoga has helped me learn how to be still, breathe and be present, but there's still room for improvement.
What does this farmer's wife do all week, anyway?
Laundry
If I could just manage 1 load/ day, I'd be able to stay on top of the laundry. My friend tells me that she noticed that the amount of laundry seemed to increase to a drastic level after the 4th baby came along. We cannot figure out why this would be, but OYE! It's the one thing I can count on, to always be there for me;).
Make the food
Breakfast and sometimes lunch is free-range around here. If the 2-year-old manages to make her own toast in the morning, using the wooden tongs for both grabbing the toast and buttering, I figure we are all closer to independent living. If I make something other than left-overs for supper, the crew is delighted! The kids get really excited when we have to "feed the guys" because they know either mom or grandma will be cooking in large quantities!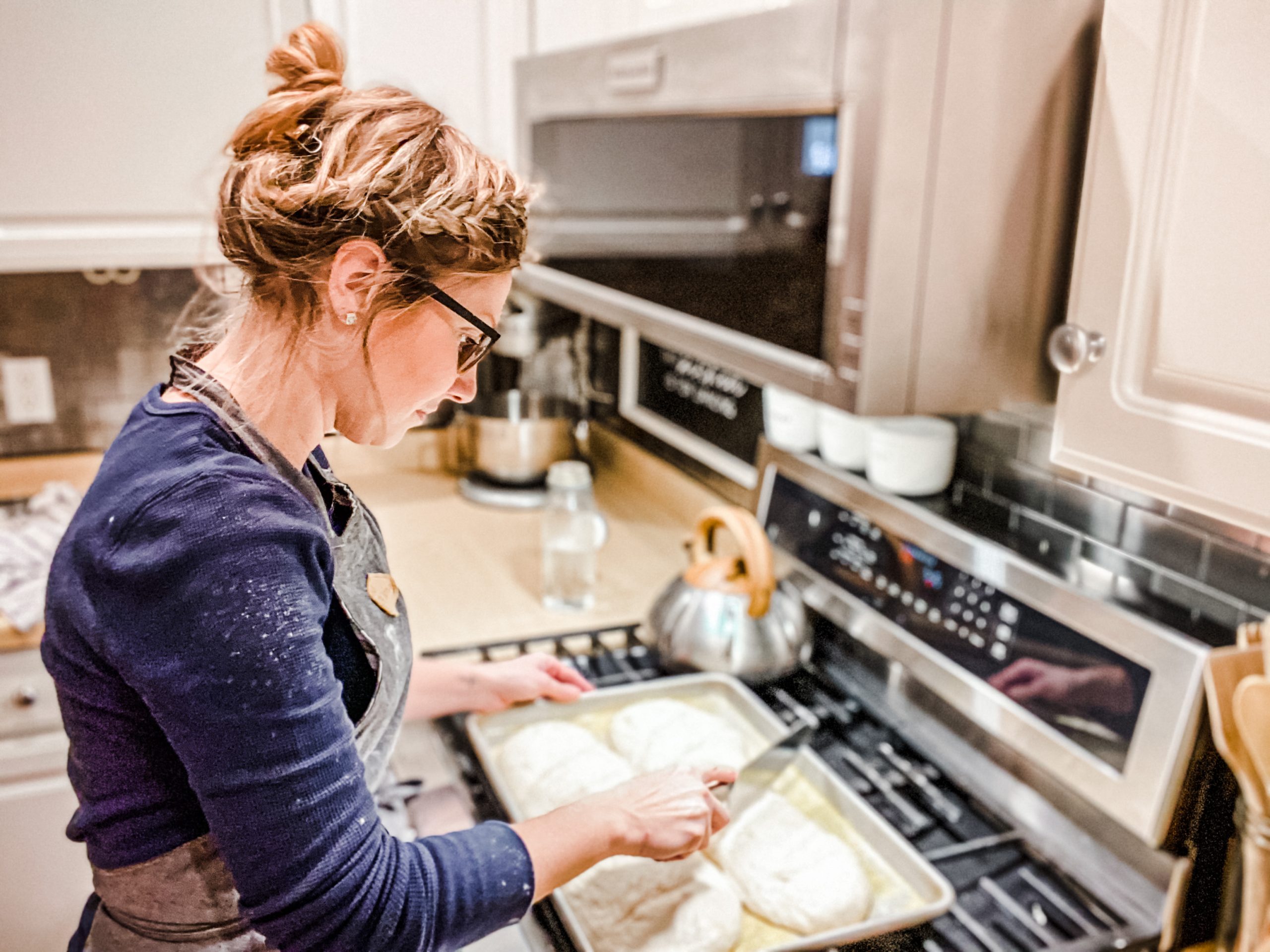 The in-between
In between meals, baths, laundry, household up-keep, and outside maintenance, there are projects, research, planning, and maybe even a little dreaming!
"Sailing…takes me away!"
I did take some time away to garage sale with my bestie, last week. We hit all the sales we could handle, dickered and fit a vintage bicycle into my SUV. Grabbed some Mexican food and daiquiris to top off the day!
I found some sweet old books for $1 each, some nice leather belts for projects, a vintage biscuit cutter for $1, a never used-vintage leather wallet for $1. The best garage sale was when I found all sorts of new to me clothes. You know sometimes you go and find all sorts of clothes for the kids, well this time, it was my turn! Momma hit the jackpot! It feels nice to refresh the wardrobe for only about $10/ for 10 pieces! When I spend $1 per item, I don't feel so bad donating things when they are done living here.
The vintage bike has a good story!
The gentleman that was selling it had $65 on it. Rightfully so. It's vintage, right? I immediately had a connection to it. The story going on in my head? The girls will be growing out of their little bikes and can use my bike…then I can buy this vintage bike with a basket, rearview mirror, and a rear paper basket! I don't NEED a new bike, but I asked the guy if I could take it for a spin around the block.
He said, "have at it!" I left my bestie to scope out the sales and took off. I thought I'll see if there are any sales close by and rode around for a while. It was in mint condition! The tires were pumped up. NO rust! It was begging me to buy it! I got back and he said, "well, don't you look good on that bike!". I said, "maybe, but I really only have $10 to buy a new bike," and considered the conversation over.
He leans in and whispers, "well, you're in luck, it's my sister-in-law's bike and I never really liked her anyway. You can have it for $10!" "I'll throw in the rear basket for free!" We rearranged my SUV and packed the bike in along with our other goodies and headed home!
Field Trip with the 4th Grader
I love being able to have the time to go with our kiddos on as many field trips as I'm allowed. It's time well spent, watching how the kids interact with each other and getting to know their teachers and other parents. Getting the 411 on how 4th graders are these days compared to when I was in 4th grade- interesting for sure!
One of the stops was touring the banks of the Mississippi to find treasures, skip rocks and play cats cradle. What is it about finding treasures? I'll forever be a treasure hunter!
Cheese Making!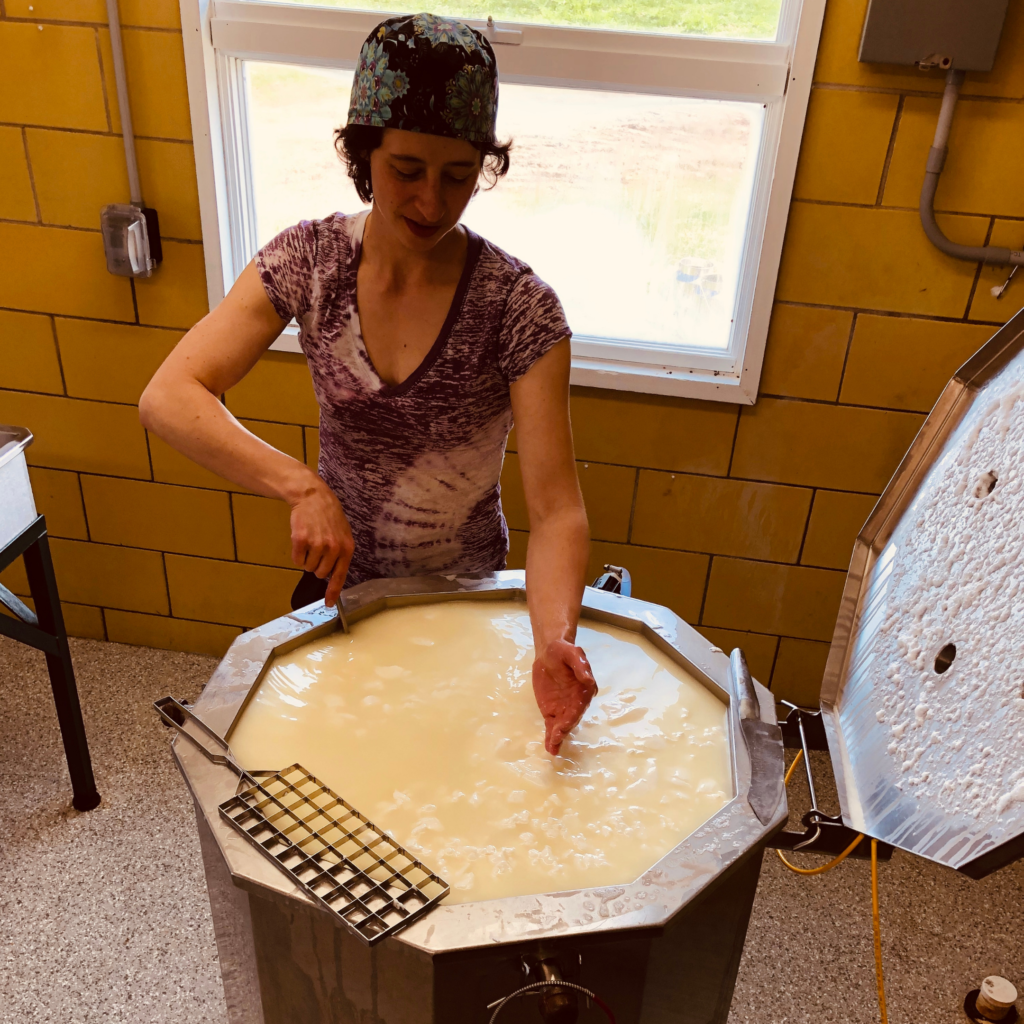 I had the pleasure to hang out with this talented, hard-working lady this week! Her name is Katie and she is the captain of Capra Nera Creamery!
She milks her goats, has a baby and makes cheese, oh and has a farmer husband too;).
I was in seventh heaven watching how she manages all of this at once. It's always fun knowing you're not the only one busting your butt for your family and your business!
These rounds of cheese are so incredibly delicious! Coming soon to the Twin Cities Farmer's Market!
Market Prep + Research
We've been taking lots of notes lately for our first year at our local farmers market. How are things priced, wrapped, displayed? We're taking it all in!
Night work
And then there's this time after all the people are asleep when I get to create an inventory for the up-coming market! I love this part of the day, the best. I can barely keep my eyes open, but its when the quiet and creativity come together.
Plant the Corn
There was a pretty giddy farmer ready to hit the field when we got this corn planter filled with corn seed, on this late evening! He went until it rained, and if I recall that was around 4:30am. And just like that he now knows every current popular song on the country radio.
Kiss the babies
Their kisses make my smile lines grow!
Add to our funny farm…
We finally convinced the dairy farmer to let me diversify and buy a Southdown Babydoll Ewe! Her name is Hazel. We'll show her at our local fair and have plans to breed her in a couple of years! She's the sweetest thing, but man is she quick! Oh, and she has a perma-smile….so when she's running away from us, she looks so sly!
Give our FACEBOOK page a like and share this post if you feel moved.
What topic should we talk about, next? (Comment below)!
What did you do that was extraordinary this week?
LIFE ON THE FARM
How We Stay Organized | Living with Less | Purposeful Living
Learn to Sew! Free Simply Sewing Series
Farmhouse Bedroom Makeover | Spring Farm Prep
DELICIOUS RECIPES FROM HEARTY SOL
Making Sourdough | Everything You Need to Get Started
Making Banana Bread and Banana Bars
Our Family's favorite Hot Cocoa Mix
Honey, Lemon, Ginger Tea and the Benefits
How to make your own Mozzarella Cheese
SEWING PROJECTS
Making your own Favorite Tank Top
Making a Waldorf Doll | Start to Finish instructions with Videos
Making a Flat-Bottom Zipper Pouch
Cheers!