Learn how to make our favorite Instant Pot Applesauce just in time for apple season!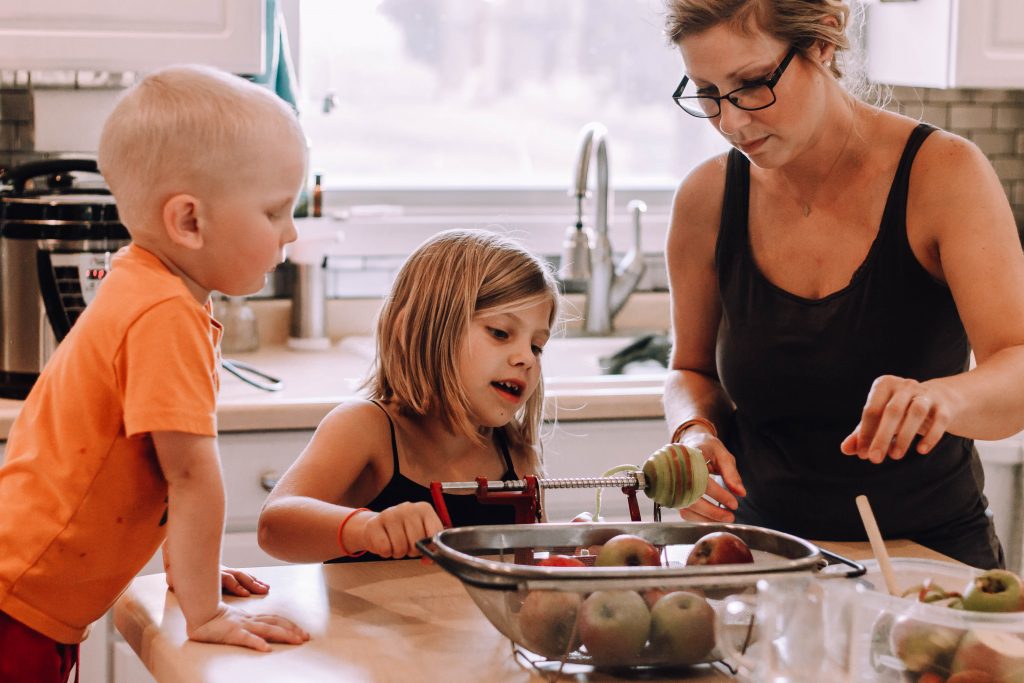 (This post may contain affiliate links which means I make a small commission at no extra cost to you.)
It's Fall Ya'll!
It took a bit of convincing, but yes the cooler weather has got me back in my kitchen. It's always exciting to introduce our home to fall flavors again especially when our apple trees have a great year! Apple season spans August – October so it's the perfect time for this recipe!
We've been snacking on apples and cooking up some warm applesauce to freeze for the winter. And by winter I mean, it'll last until the end of November, maybe!
We will be using our Instant Pot for this recipe, but we have also made it in the Crock Pot or in our Dutch Oven.
Love your Dutch Oven and want another great recipe that we love?
Find our favorite Dutch Oven Green Bean Soup recipe here!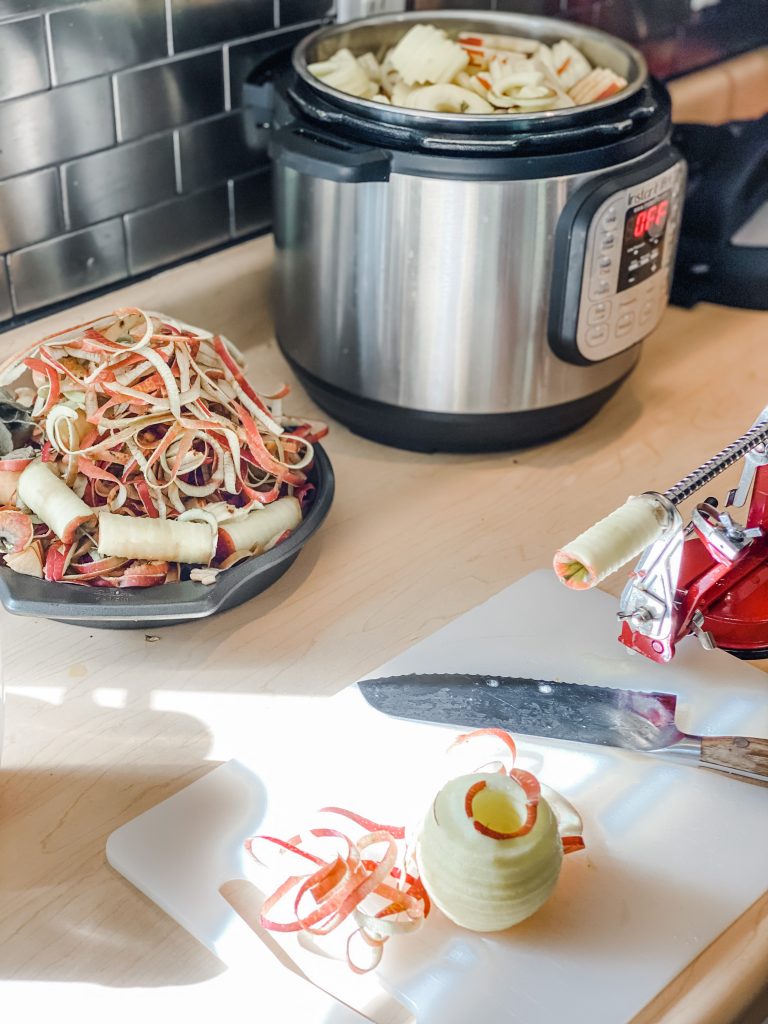 Why you'll love making Homemade Applesauce
You get to choose your desired consistency! This is a huge plus especially for any texture sensitive people out there. You can range anywhere from smooth applesauce to chunky applesauce depending on your preference.
Natural sugar is the main factor in homemade applesauce, this isn't always a guarantee in store-bought applesauce with processed sugar among other ingredients
Making this recipe is a fun family activity to get your mind and tastebuds prepared for fall! You can use this recipe and take an apple picking outing at your local apple orchard!
You will end up with a lot of applesauce! This means you can get creative; add it to vanilla ice cream, use it to make apple muffins, apple pie filling, the recipes are endless!
Ingredients
Fresh Apples: We grab ours from our apple trees in the backyard! You can use any kind of apple, we had honey crisp.
Lemon Juice: Lemon juice serves as a counter to the sweetness of the apples and Red Hots. It also helps preserves the apples (like putting lemon juice on apple slices)
Red Hots: You heard that right! To get that yummy, warm, cinnamon flavor we use Red Hot candy!
Steps to make Homemade Applesauce
1. Prep Apples
Wash, peel, core and cut apples.
The kids love to help prep and core the apples using our Johnny Apple Peeler! We love using this little machine that does it all for us!
2. Add in the Ingredients for the Applesauce
After coring and peeling, I cut the apples in half and toss them into the instant pot with 1 cup of water, 1/4 cup of lemon juice and 1 cup of red hots.
Seal your Instant Pot and use the 'steam' setting for 20 minutes.
3. Blend!
Once your sauce is done cooking, allow the pressure to release naturally, remove lid and chop up a bit and stir. The apples should be soft. I use my immersion blender to blend to a smooth consistency.
At this point you could add a bit of white or brown sugar, stevia, maple syrup, or honey for more sweetness. We opt out of sugar on batches when using sweeter apples like honey crisp.
4. Jar it up!
We fill up little jars and add easy lids so the kids can take them from the fridge to school. You can also use mason jars or any freezer-safe containers. Freezing larger jars of applesauce is a great way to have the sweet taste of fall all year round.
How to make Instant Pot Applesauce: The Video!
Printable Recipe Card
Easy Instant Pot Applesauce
When apples are abundant or you just want to have a taste of the fall, this homemade applesauce recipe cooks up quick and easy!
instant pot

Immersion Blender

Jars to store Applesauce
Peel, core and cut up the apples and add them to your instant pot

Add 1 Cup of Water, 1 Cup of Red Hot Candies and 1/4 Cup of Lemon Juice

Seal your Instant Pot and place on Steam mode for 20 minutes

Allow to release naturally

Use an immersion blender to reach smooth consistency of applesauce

Jar up and either eat, refrigerate or freeze!

You could opt to can this sauce also. Just follow the directions that come with your jars
Questions People are asking about Instant Pot Applesauce
Can you freeze homemade Applesauce?
Yes! Applesauce freezes well. Freezing is what makes it last all fall and winter long!
How long does homemade Applesauce last?
We freeze ours which keeps it safe to eat for up to 6 months. Because we love this recipe so much it, usually only lasts us til November!
Can Applesauce replace eggs when baking?
Sure enough, applesauce can be used as replacement for eggs when baking. 1 egg = 1/4 cup applesauce
Pin this Apple Sauce Recipe for later
Check out more of our recipes!
Check out our other Instant Pot Recipes!