Smokey, salty hard boiled smoked eggs | simple and so delicious!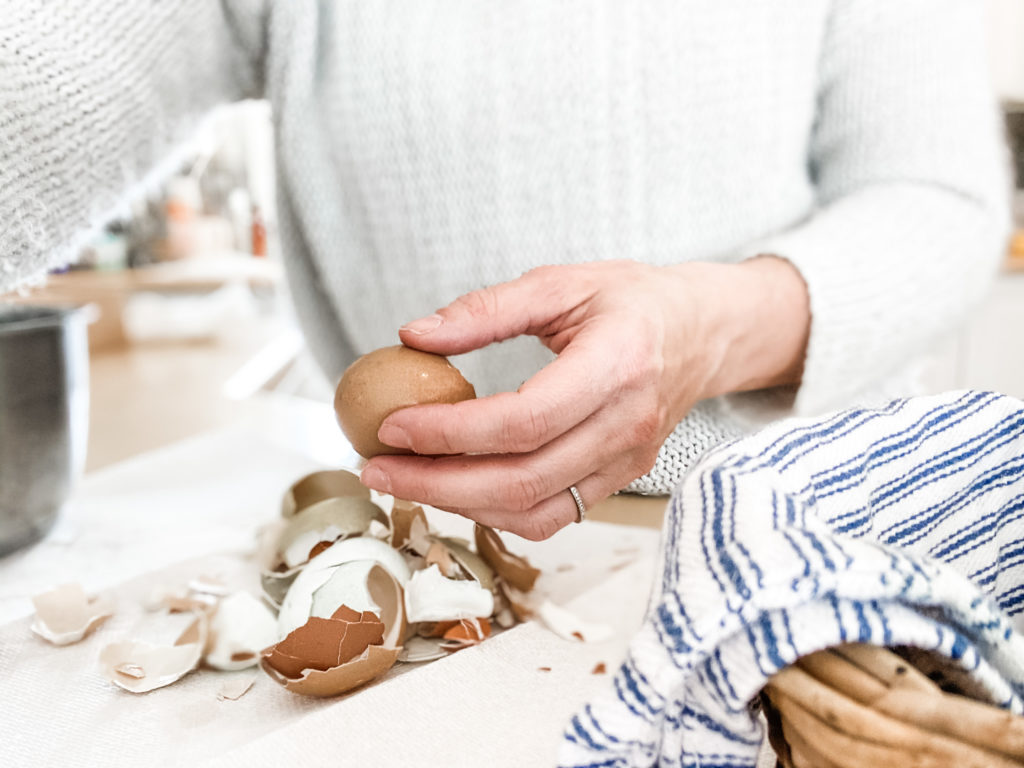 Spring Time on the Farm
When spring rolls around you can feel the sun warming up just in time to melt the blanket of snow and ice that we have been under for the past 5 months. This is the time of year when we love stripping all the beds, washing all the heavy blankets and pillows and hanging them out in the brisk air for a good airing out.
A nice refresh of everyone's bedrooms inspires everyone to tidy up and get ready to be back outside again, too!
Making Smoked Eggs | The Video Tutorial
Jump to Recipe
What to do When you Have So Many Eggs
Eggs are in abundance this time of year on our farm. Once the weather warms up a bit our hens crank up the egg production. After we make omelets, quiches, egg bakes, scrambled, over hard and poached egg we start boiling up eggs!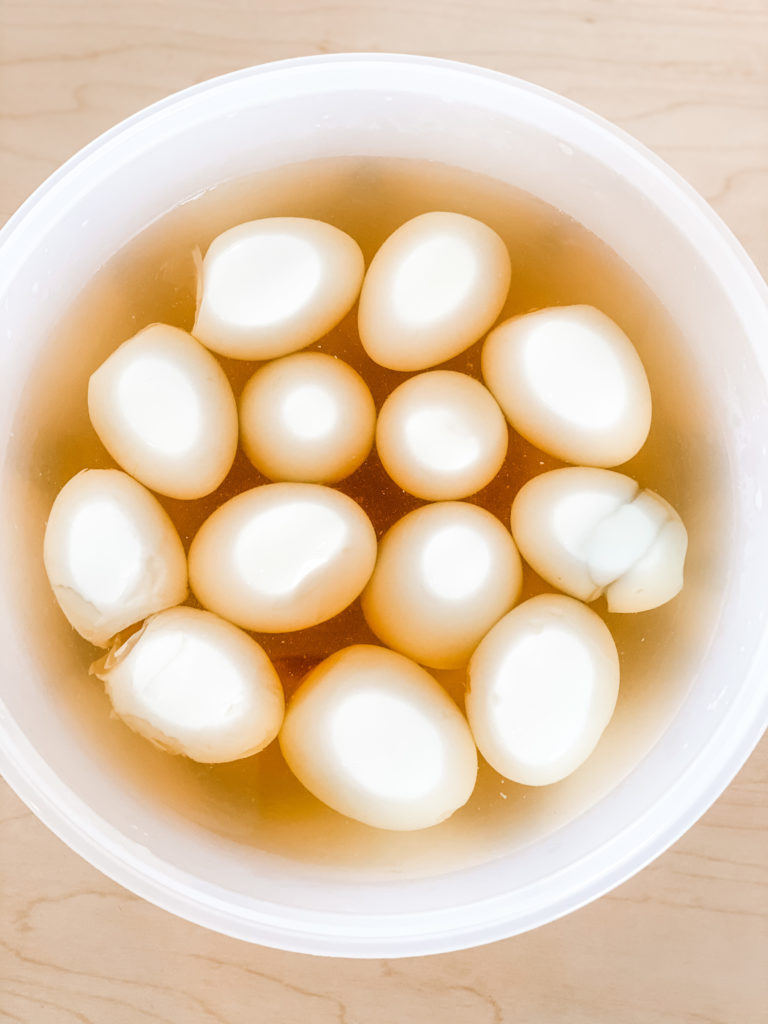 Smoked Eggs make Nutritious Snacks
Our kids love hard boiled eggs for a snack during all times of the day.
But my favorite is smoked hard-boiled eggs. These lovelies are the perfect snack or addition to a meal. When I get tired of eating them whole, I'll slice one up in my salad or mash a few up for an egg salad sandwich.
The smokey, salty taste goes well with a sweet lemonade! Yummm!
Pin it for later!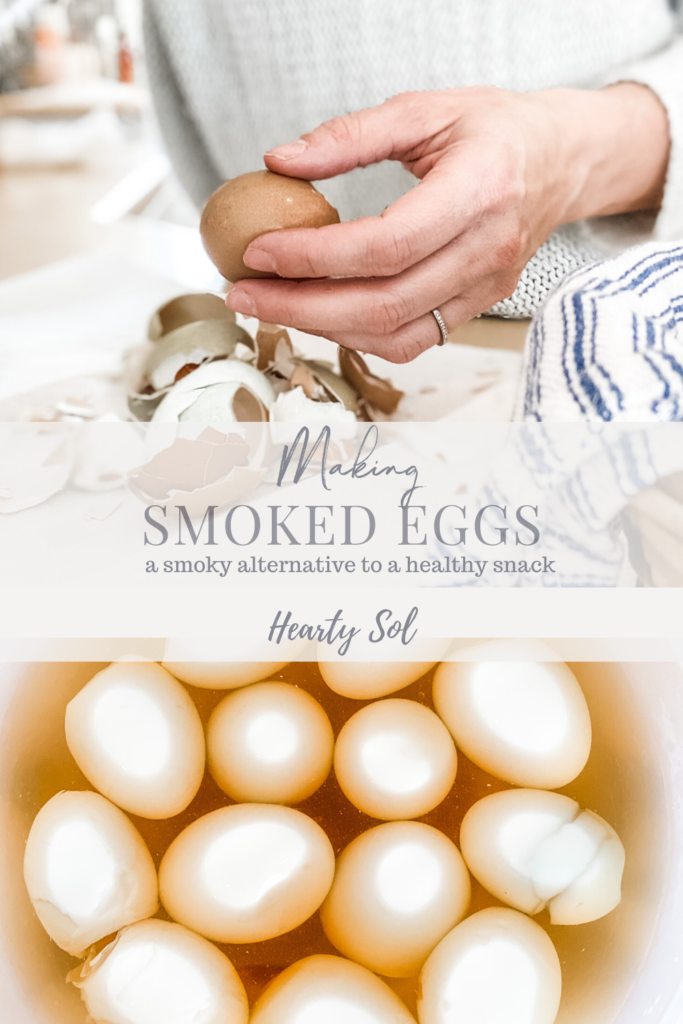 Boiling Fresh Eggs
Since we have laying hens our eggs are always super fresh which typically results in a messy hard boiled egg. Attempting to peel fresh eggs can be super frustrating as the peels don't like to release from the egg very easily. Here's how we have been boiling up our farm fresh eggs to get them to peel easily!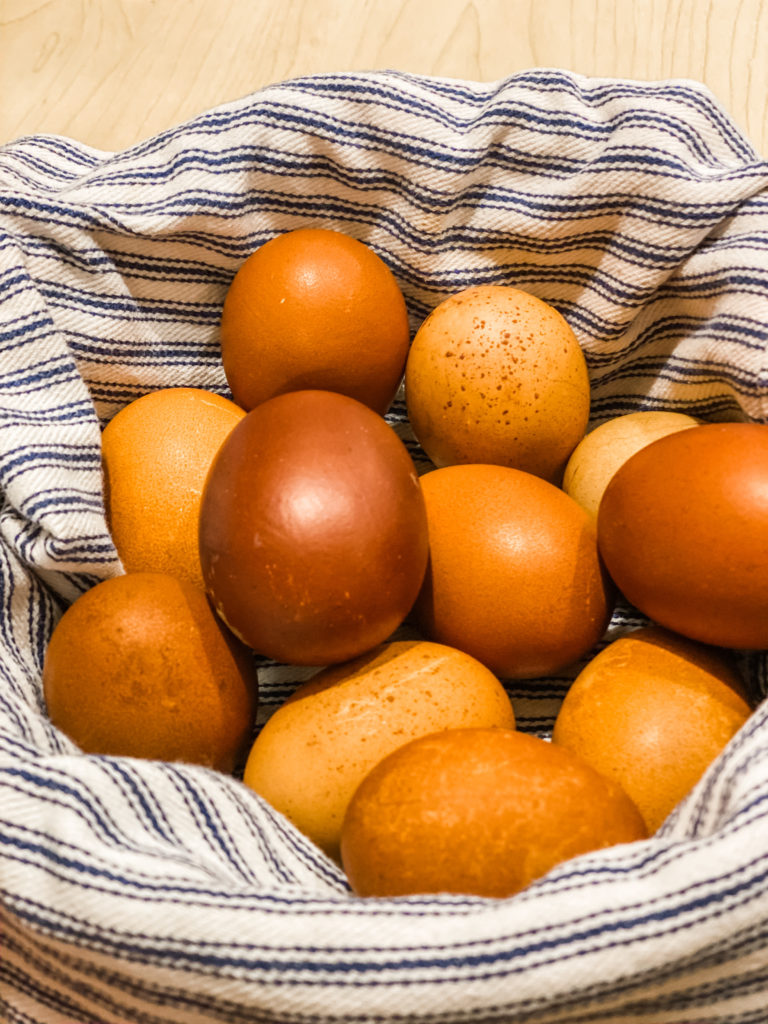 The Smoked Egg Brine Recipe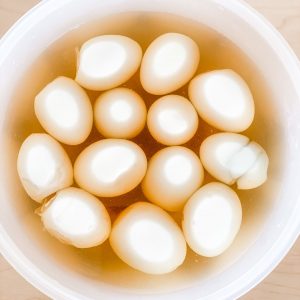 Smoked Egg Brine
1/4

cup

Kosher Salt

1/4

cup

Brown Sugar

4

cups

Water
Mix together and place eggs into brine for 1 1/2- 2 hours
Once your eggs are really cool and you have slipped them away from their egg shells, plop them into the brine mix. I can fit a lot of eggs in this brine. I've done up to 20 before and can fit more.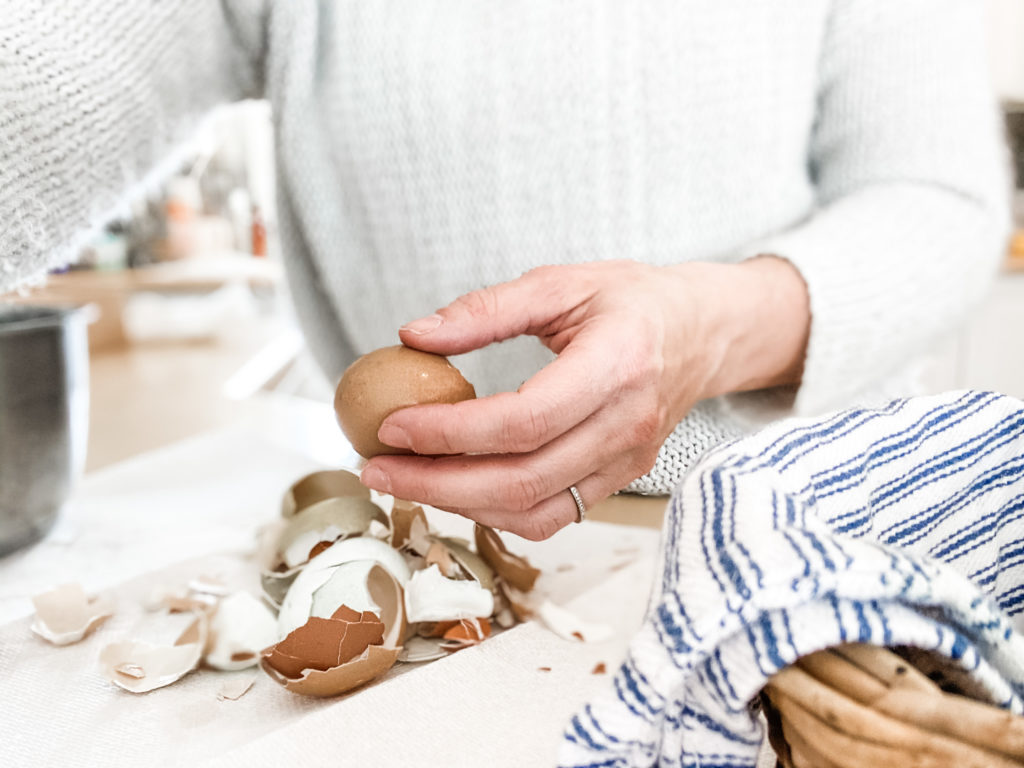 Just be sure the brine covers the eggs. No need to cover with a lid or refrigerate.
Let the brine work it's magic for 1 1/2- 2 hours. Leave them in longer if you prefer a more salty taste and less if you prefer a little less salty.
Crank up your smoker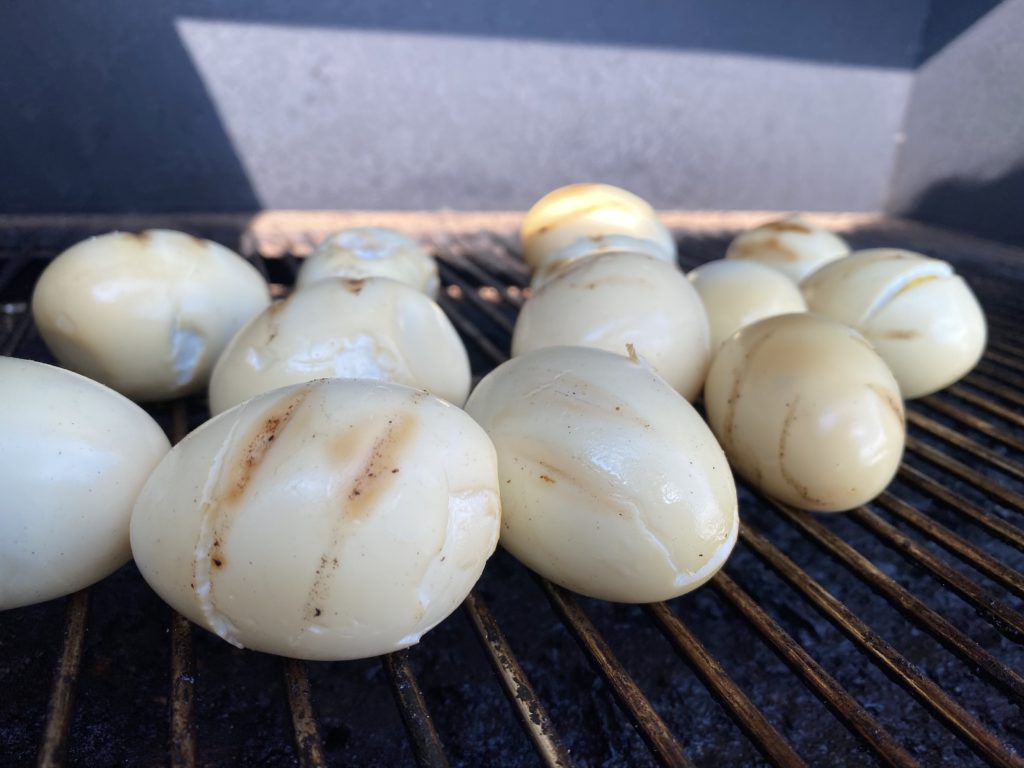 We've had fun experimenting with our Daniel Boone Green Mountain Grill during this season.
We really loved having it around 2 summers ago when our stove/oven went out smack-dab in the middle of summer harvest.
During this time not only am I in charge of feeding our family of 6 but also a large field crew. Field meals are a big part of our summer season, here on the farm.
This was not the time to be without a stove.
Smoker Grill
But alas our trusty Green Mountain Grill got us through. I have made everything from banana bread, cinnamon rolls, to casseroles on our smoker grill and it was fantastic! This works out great because as I was working outside too, I could keep an eye on the things cooking.
I didn't mind one bit not to have to be in the kitchen during our lovely summer weather.
Increase your smokers temp to 200 degrees. Once it has reached that point, and your eggs are done brining place your eggs right on the grate. Love those grill marks!
Smoke the eggs for 30-60 minutes depending on how much you like that smokey taste. I typically smoke them for about 50 minutes or until they have a nice smoky look to them.
How to Store your Smoked Eggs
If your smoked eggs last long enough to need a storage container, then you can place them in a jar with a cover in your refrigerator. They last about as long as your boiled eggs. But use your eyes and nose to make the freshness call.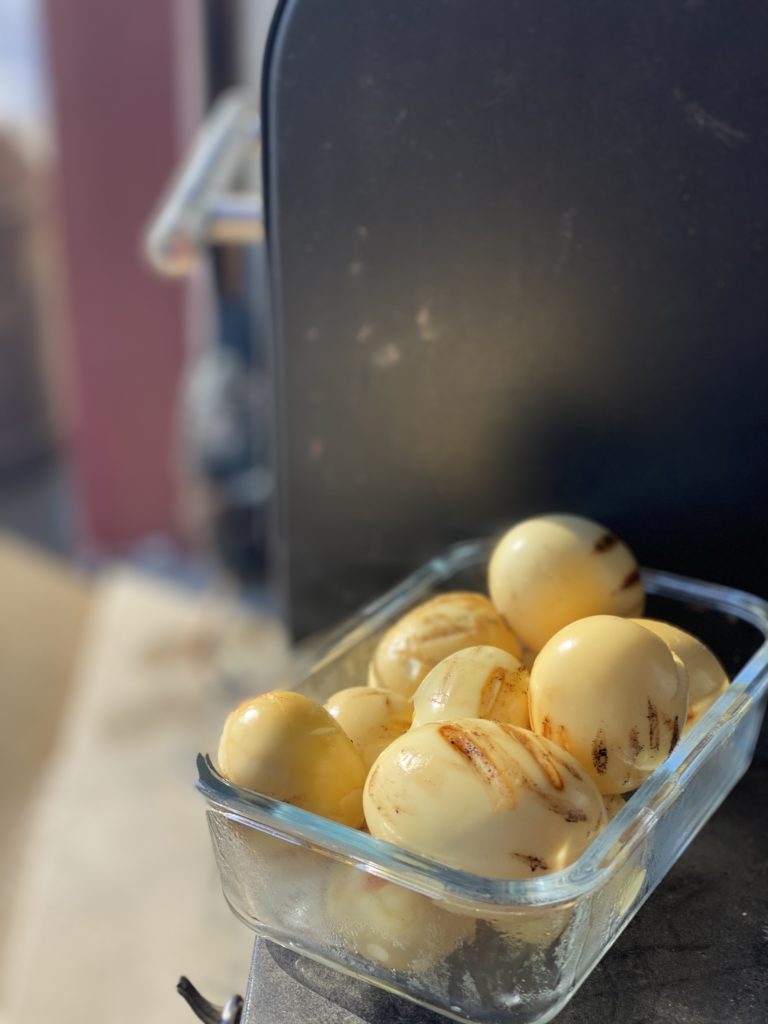 What can I do with my new smokey snack?
I am sure there are hundreds of answers to this question but here's what I do. We eat them whole- best right off the warm smoker! Slice them up in a salad. Mash them up, add a squirt of mustard, a couple of tbsp. of mayo a pinch of garlic powder to make a delightful egg salad sandwich. This is my favorite!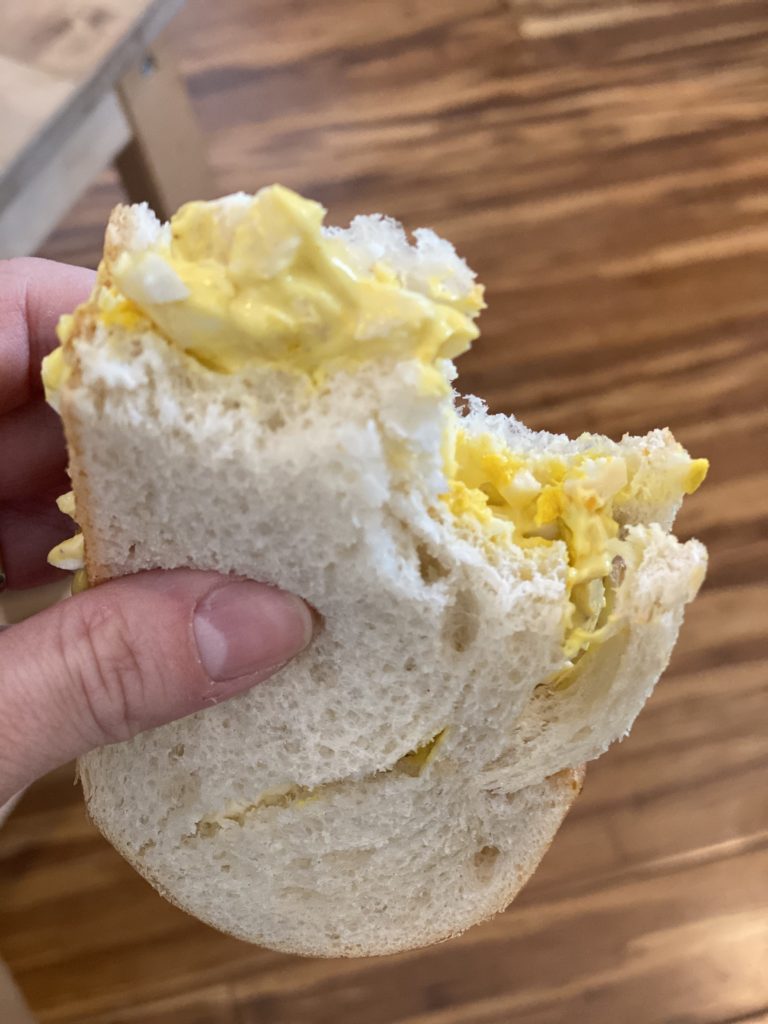 OTHER POSTS YOU MIGHT LIKE: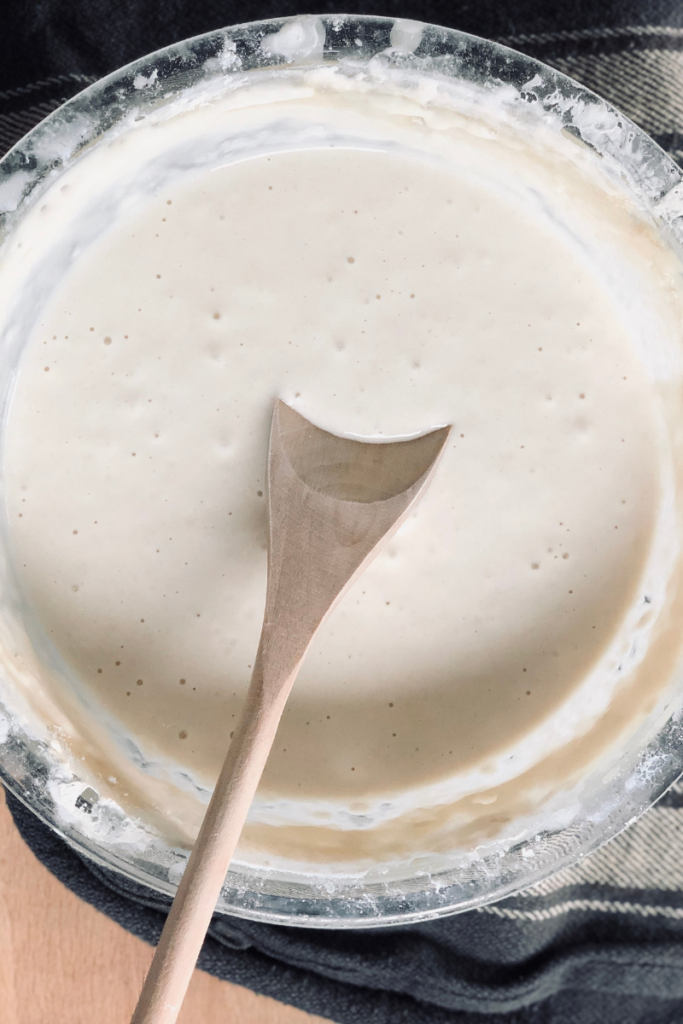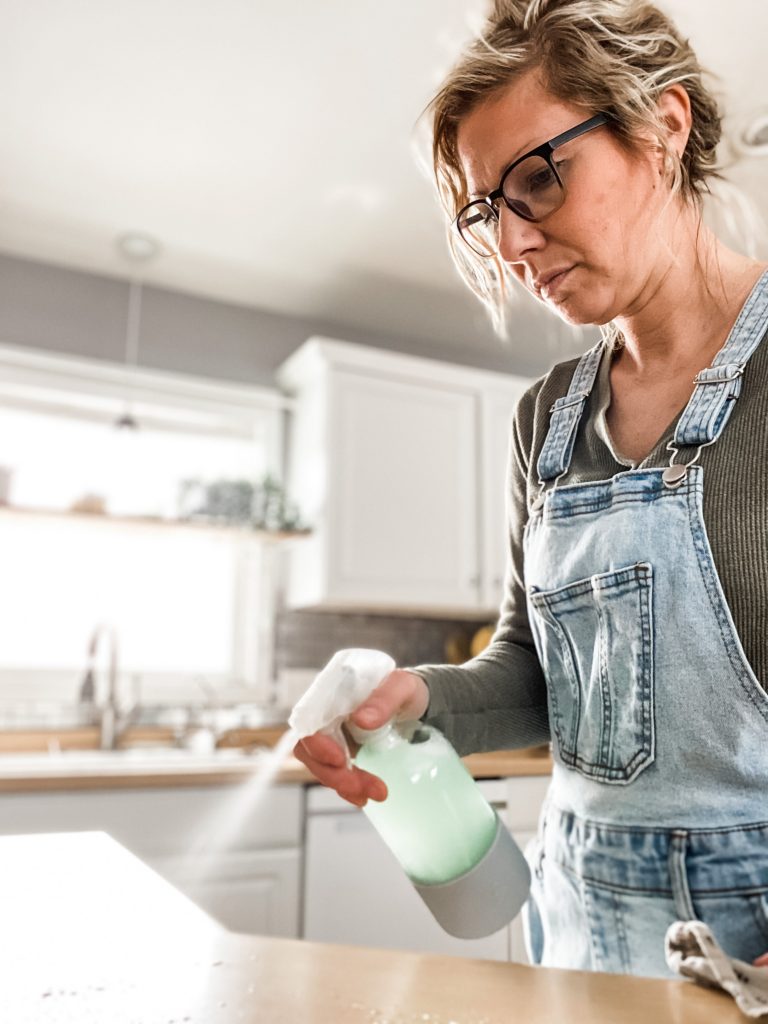 OTHER SIMPLE CRAFT POSTS
How to make a Waldorf Doll | a 4 Part Series
10 Projects to Repurpose Sheets
How to Reupholster a Chair | Simple Tutorial
How to Make a Girls Dress |No Pattern Needed
YOU MIGHT ALSO LIKE
Simple Banana Bread
JOIN OUR HEARTY LIVING COMMUNITY!
Hearty recipes, farm living fun
and handmade projects straight to your inbox.
Hello, I'm Emily. I'm so glad you're here! Join me and my family as we find beauty in our everyday life on the farm, hearty recipes and a handmade home. Find more about me and our story here.