This coveted juicy and tender Roast Beef Sandwich Recipe came from a 1940's pool hall – here is your invite to enjoy this special recipe with us!
What's not to love about a Roast Beef Sandwich?
Picture it, is the 1940's and you're young and in love so you get married. The wedding is finished and you and your wedding attendants head over to the pool hall for the reception. You sit down with a with a glass of beer and a juicy roast beef sandwich in a homemade bun. It's dripping in goodness, so you have to shove a paper napkin down your dress, so you don't get that wedding dress dirty. Oh and there's definetely some jazz being played in the background.
My grandparents had this recipe from way back in the day, served it at their anniversary and have passed it on to their kids and grandkids. It's one of the most coveted recipes in my box because grandpa actually signed off on it's amazingness! This historic and nostalgic dish has its roots as a traditional English dish from the 1700's – there's even a song called "The Roast Beef of Old England"!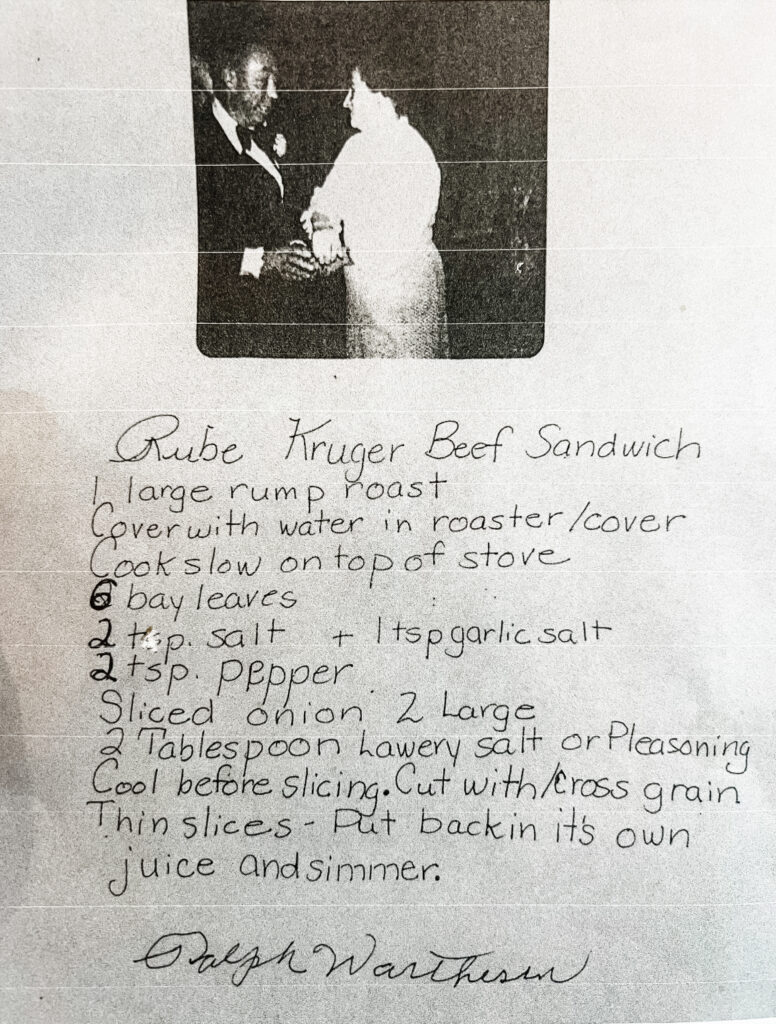 This delicious sandwich is made with love and you will feel it in each bite – it really is a winning combination of ingredients and it makes for a hearty meal! It isn't something you can just get at your local deli counter and it's a step up from a trip to the Arbys drive thru (although those curly fries are pretty great!).
I took the original recipe translated into Instant Pot times and voila'! With freezers full of beef, here on the farm, we like to pull this recipe out for family gatherings, old fashioned card parties, and an occasional birthday!
This Post May Contain Affiliate Links. Please Read Our Disclosure Policy.
Why You'll Love this Delicious Roast Beef Recipe
This meal can be served hot or cold! Hot roast beef sandwiches are just as great as the chilled leftover roast beef will be!
Homemade Roast Beef Sandwich recipes like this one allow you to cook it with the flavors that you like as opposed to deli meat / deli roast beef where it is already cooked and cut.
This is a great sandwich to serve on holidays and/or anytime you are hosting!
Ingredients to make a Roast Beef Sandwich
Instant Pot (slow cooker)
1 Large Rump Roast
1 cup Water
6 Bay Leaves
2 tsp Salt
1 tsp Garlic salt
2 tsp Pepper
2 Large Sliced Onions
2 tbsp Lawery Salt or Pleasoning Seasoning
Steps to make a Roast Beef Sandwich
Add Roast to Instant Pot with 1 cup of water.
Add all of the ingredients above into the pot
Press the Meat button and adjust to 50 minutes, making sure to seal the Instant Pot.
Once cooked, cut with the cross grain into thin slices and place back into its juices to simmer for about 30 minutes (this beef broth can be used for other recipes especially soup!)
Add to bun, top with any ingredients you'd like and enjoy!
What should I put on a Roast Beef Sandwich?
If this sandwich is one thing – besides from being so tasty – it's flexible! You can switch up the toppings and the bun to customize to your liking!
Sandwich topping ideas
Caramelized Onions
Slice of provolone, cheddar, swiss, mozzarella or pepper jack cheese
Horseradish mayo
Au jus right out of the pot
Red Onion
Worcestershire sauce
Coleslaw
Blue Cheese
Pickles (Try out our homemade refrigerator pickle recipe!)
Homemade sauces to try: Remoulade Sauce and Horseradish Cream
Sandwich bread / bun ideas
Rye Bread
White Bread
Hawaiian Rolls
Traditional Hamburger Bun
Artisan Bun
Sub Rolls
We like to use Rhodes Frozen Bread Dough
The list goes on!
Printable Recipe Card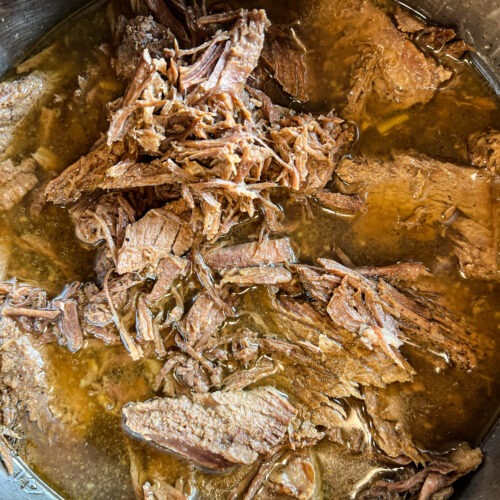 Rube Kruger Beef Sandwiches
The best and juiciest roast beef sandwiches
Add Roast to Instant Pot with 1 cup of water.

Then add all of the ingredients above.

Press the Meat button and adjust to 50 minutes, making sure to seal the Instant Pot.

Once cooked, cut with the cross grain into thin slices and place back into its juices to simmer for about 30 minutes.
Questions people are also asking
What cooking method is used for Roast Beef?
In this recipe we use our Instant Pot because it is considered a multi cooker meaning it can cook food in a variety of ways. That being said, there is no right or wrong way to cook roast beef. You can use an air fryer, crock pot, or just throw it in the oven!
Are Chuck Roast and Beef Roast the same?
Chuck Roast is a larger cut of meat that can be used in pot roast, beef stew, etc. and it is cut from the shoulder area of the cow. Beef Roast on the other hand, is cut from the rear legs of the cow. While both taste great, Chuck Roast is more fatty while Beef Roast is more lean.
What do you serve with a Roast Beef Sandwich?
Who doesn't love a sandwich and soup combo? Check out our delicious soup recipes that will pair along nicely with your fresh Roast Beef Sandwich:
– Creamy Potato Soup
– Homemade Tomato Soup
– Green Bean Soup
Potato Chips or French Fries are always classic as well 🙂
How can I use my leftover Roast Beef?
Besides from whipping up another great sandwich, you can use Roast Beef in many other recipes including Beef Stroganoff, Roast Beef Hash, Pot Roast, Sliders, etc. You can also add the meat to enhance your pasta, soup, or salad dishes.
Tips for making these scrumptious Roast Beef Sandwiches
Cook the meat up, store it in a gallon freezer bag, label it, and freeze it for busier times around the house or farm (make sure to thaw it either in the refrigerator or cool water bath – not just out on the counter). Then all you need is a fresh loaf of bread, buns, or heck even serve it over a heaping pile of mashed potatoes.
Don't toss the juice! The juice is the best part! If you still have some left after all of the meat is gone, use it in a soup or as the liquid in your next casserole.
Speaking of juice, when serving a hot sandwich, you could also put the juice in individual cups to dip the sandwiches in!
Pin this for later!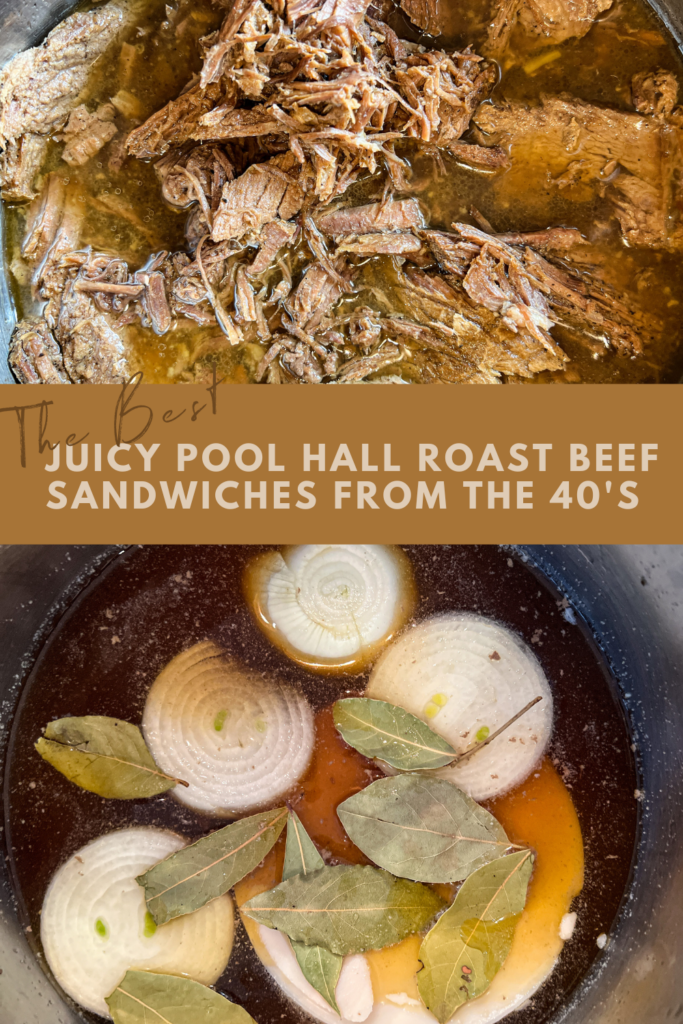 Check out our other Instant Pot Recipes!
Check out our other recipe blogs!