Making your own Avocado Oil Mayonnaise is easier than you think!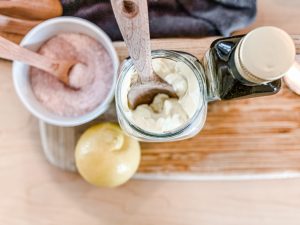 Making Avocado Mayo | Homemade | Easy Tutorial Recipe Video
Is making your own mayonnaise hard?
NOPE! Making avocado oil mayo is like magic and I used to be intimidated about making my own mayo. It seemed like some interesting kind of hocus pocus to me! With only 5 pretty common ingredients and 5 minutes, you'll have yourself a jar of your very own Avocado Oil Mayonnaise!
(This post may contain affiliate links which means I make a small commission at no extra cost to you.)
Do I have to use Avocado Oil?
Certainly not. This summer when the hungry tractor drivers were rolling in at a fast pace, I was plum out of my favorite avocado oil and brought in some olive oil to sub. It was just fine! I just love the taste of my avocado oil as it has such a mild flavor. The crew had no idea! 😉
Is it safe to use a raw egg?
We feel comfortable consuming our own eggs as we know and trust our handling methods. If you are pregnant or concerned about using raw egg you will have to determine what is best for you. Utilizing farm fresh eggs from a trusted source is what I recommend.
Why do you use an immersion blender?
My immersion blender does a good job with mixing this Avocado Oil Mayonnaise without making for a ton of clean up! The end can literally get tossed in the dishwasher! Getting ride of my big bulky blender feels so good! My immersion blender set gets used for everything from my IP Applesauce to Veggie Soups to my IP Squash recipes!
I love that I can use it for multiple recipes and it's relatively inexpensive, but the best part is that it takes up so much less space! I talk extensively about creating more space and getting rid of things we don't need in our kitchens in this post!

How much Avocado Mayo does this recipe make and how long does it last?
This recipe makes a little over 1 cup and because of the raw egg, we make sure to use it up within 1 week.
When I've got my big field crew drooling for some of my Marinated Ham BLT's and Deviled Smoked Eggs I make sure to make a double batch and even that doesn't last long! 😉
Unlike the stuff you can buy in the store, it's less expensive PLUS you get to know each and every ingredient that you are putting in this delightful concoction!
Print the Recipe!
Avocado Oil Mayonnaise | From Scratch!
This healthy alternative mayo recipe is easy to make and wonderfully tasty!
Immersion Blender

Wide Mouth Ball Jar
1

Egg

1/2

tsp

Salt

1/2

tsp

Mustard

2

tsp

Lemon Juice

1

Cup

Avocado Oil
Add all ingredients to a wide mouth Ball Jar and blend at the bottom first, then bring up to incorporate the Avocado Oil.

To Store-Refrigerate. Will last in refrigerator for up to 1 week.
Pin it for later!
Simple Valentines Ideas with FREE Printables!
OTHER DELICIOUS RECIPES FROM HEARTY SOL
Making Banana Bread and Banana Bars
Our Family's favorite Hot Cocoa Mix
Honey, Lemon, Ginger Tea and the Benefits
How to make your own Mozzarella Cheese