The benefits of making Lemon, Ginger, Honey Tea are secondary to the taste, in my opinion! But because there is so much nutritional goodness in this tea, I like to have it on hand during all seasons of the year.
(This post may contain affiliate links which means I make a small commission at no extra cost to you.)
Stay hydrated and give your immune system a gentle boost with this naturally soothing, anti-inflammatory Honey & Ginger Warm Lemon Water. This tea can help to aid in digestion, improve the appearance of your skin, and help you get back to feeling your best quickly.
Heart Health Benefits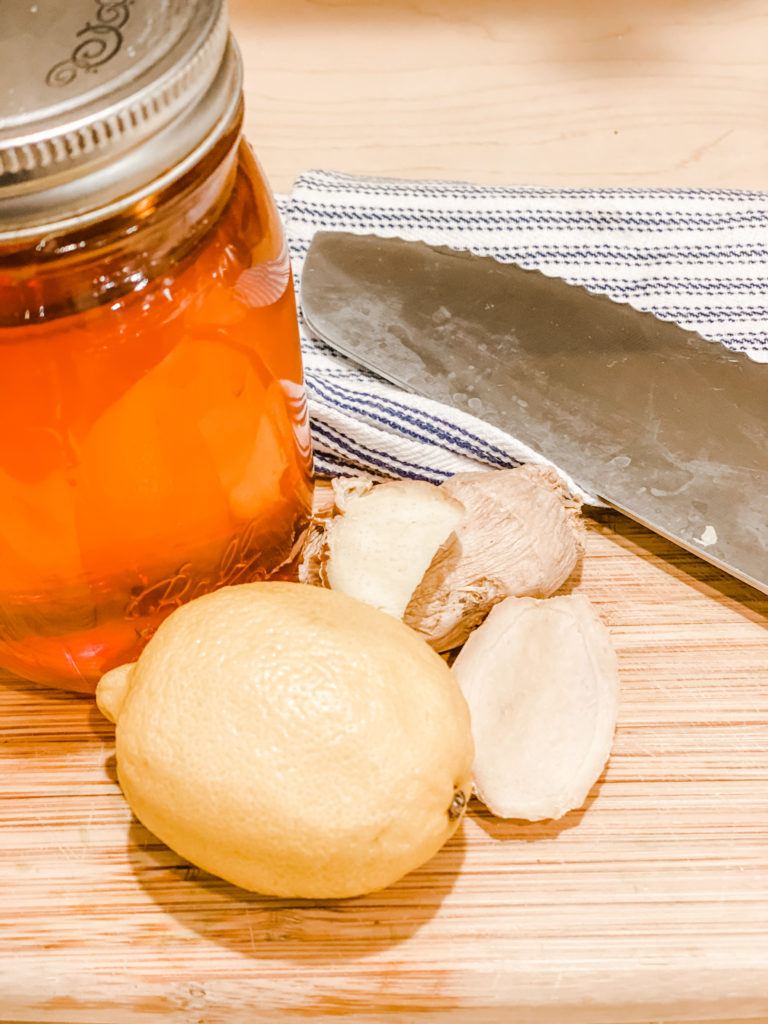 Ginger can help prevent blood clotting and reduce cholesterol. This can help fight heart disease, in which blood vessels become clogged and lead to stroke or heart attack.
Lemon juice
Lemon juice can provide many health benefits. It is also an excellent source of vitamin C, a water-soluble vitamin that helps heal wounds and repair and maintain bones and teeth.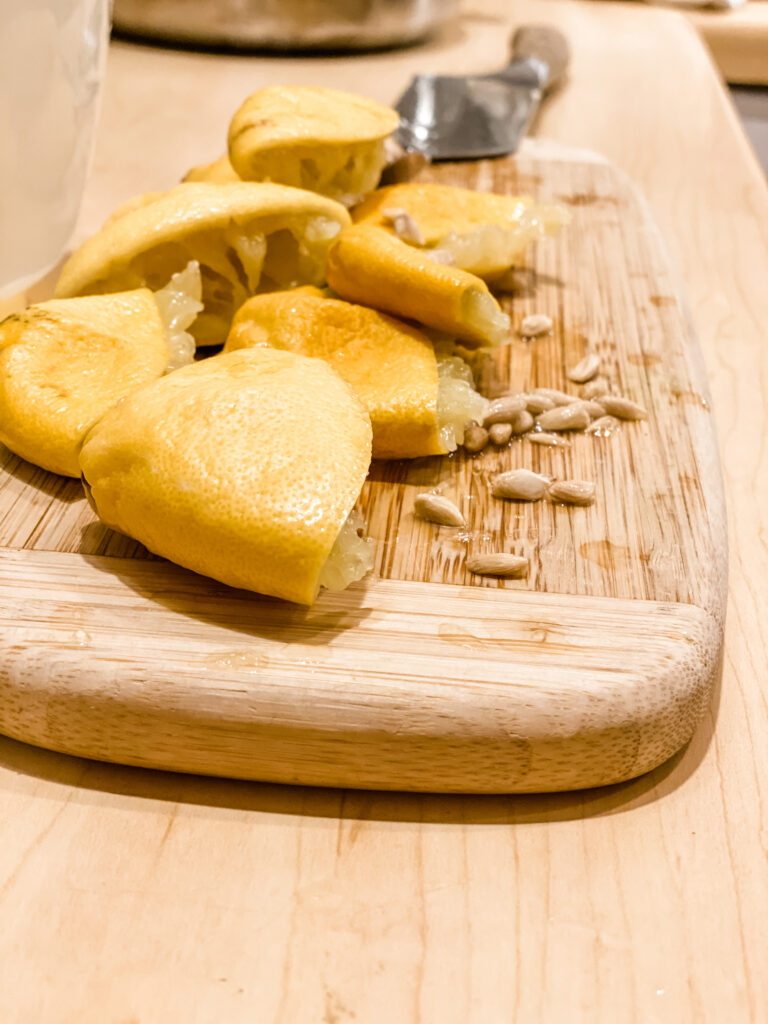 Local raw honey
Honey soothes my throat and we give our kiddos a tsp or 2 of it when they have a cough. And did you know that eating unfiltered, unheated, raw honey produced within your area, (50-mile radius or less) is like receiving a natural anti-allergy shot! There are so many benefits to consuming raw local honey!
Ginger
Ginger is another amazing food!
This long and knobby rhizome may seem difficult to use at first, but once you get comfortable, it's just like any other produce item you may normally use.
I typically just use my food processor by you could also use a small grater or knife.
It helps ward off germs, helps lower blood sugar, keeps your mouth healthy, helps with arthritis, body pain, nausea etc! And the bite when you taste it is just so unlike anything else!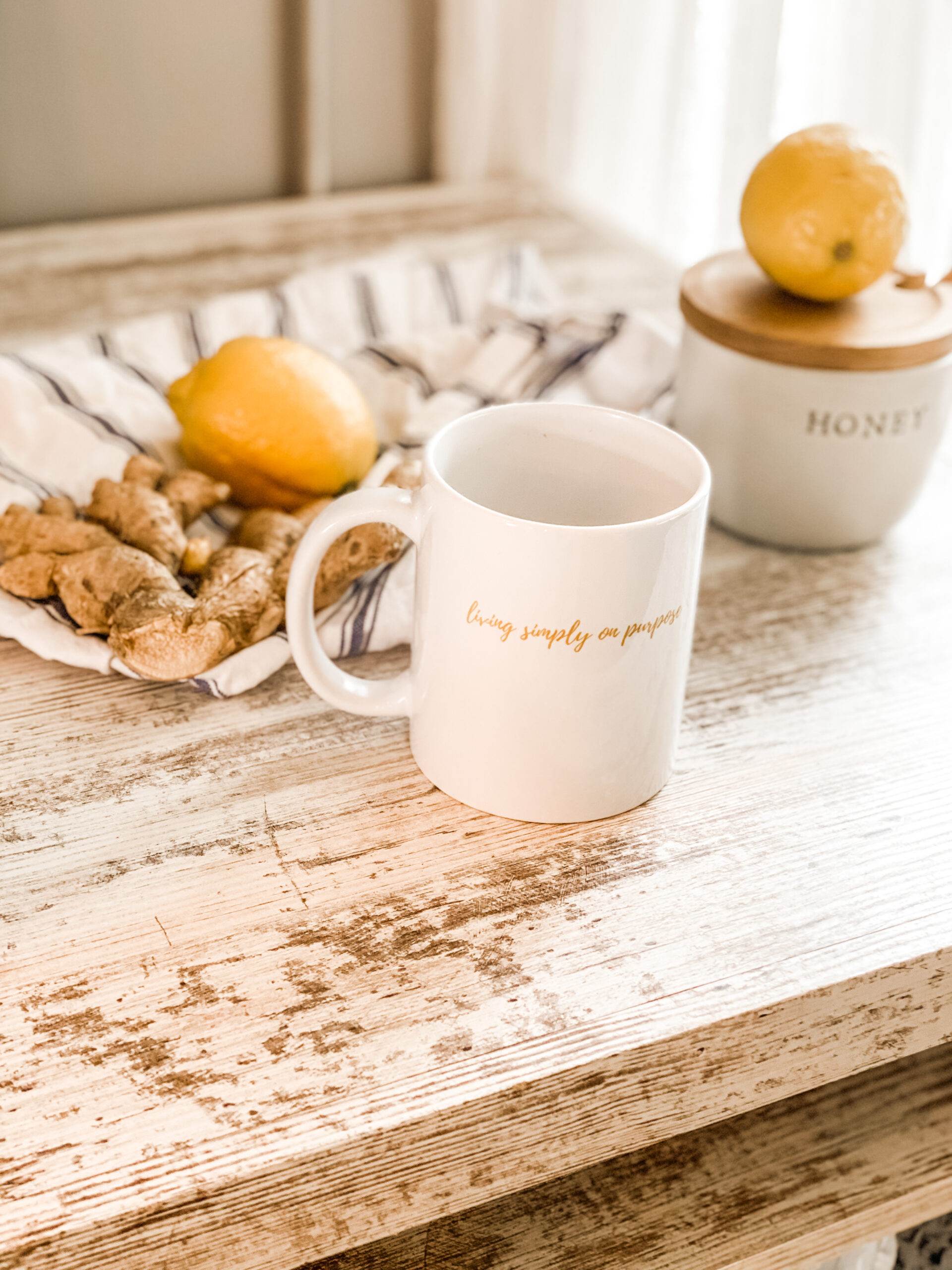 Feeling achy? Stuffy? Sore throat? This Honey Lemon Ginger Tea will help.
The heat and the ginger will warm you right up, the steam—aided by the bright lemon and the potent ginger—will help clear those sinuses, and the ginger and the honey will work to soothe that scratchy throat. If you're feeling old-school, go ahead and add a shot of whiskey to the mix (especially if you're drinking it right before going to bed) for a sort of medicinal hot toddy.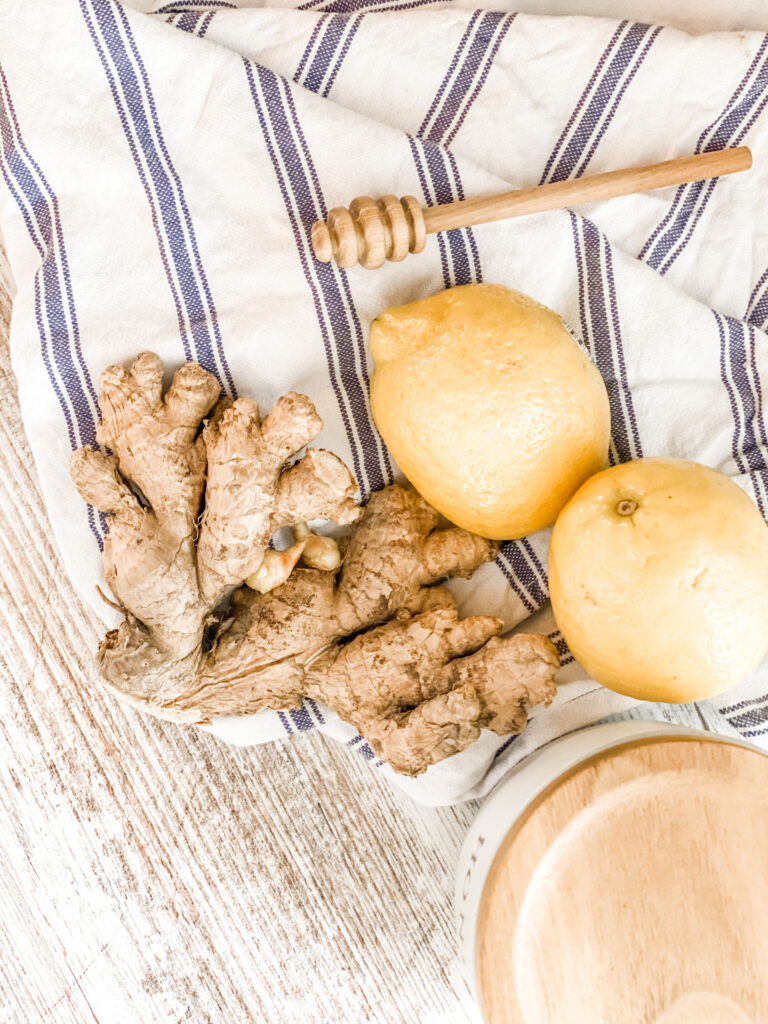 If you're really suffering, make a triple batch and keep it in a glass jar to sip, or reheat it as needed. Want a thoughtful-person-of-the-year award? Make a batch for someone else who might be under the weather.
Variations
Add a dash of cinnamon, nutmeg or cardamom at the end for a warm spice flavor. Warm spices add more than flavor, they add a sense of comfort.
Or, use a cinnamon stick to do the stirring to dissolve the honey (this is a particular hit with kids with stuffy noses!).
A bit of turmeric (1/4 teaspoon will do it) feels insanely curative and tastes great, and it turns the tea a brilliant yellow, but know that it also stains anything it touches—consider yourself warned.
If you like things spicy, add a dash of cayenne—that spicy note will further help clear out those sinuses.
If the lemon flavor is too much for you, balance it out with a splash of orange juice or apple cider.
Is it bedtime? You wouldn't be the first person to add a shot of whiskey, bourbon, Scotch, cinnamon schnapps, or dark rum to the mug.
Transitioning seasons with Lemon, Honey, Ginger Tea!
It's summer time!
Summertime means my lemon, honey, ginger tea gets amped up a bit!
I was cleaning in my fridge last year when I spotted a full jar of lemon, honey, ginger tea in the back. Usually, I make 2-3 quart jars of this at a time and still had one left.
We had some pineapple/ mango juice sitting next to it and I got an idea! I decided to pour the tea right into the juice container (which was only about 1/4 full of juice). Then I added 2 Tbsp. of Braggs Apple Cider Vinegar and topped it with 2 strawberry hibiscus tea bags, put the cover on, and set it back in the fridge to steep a bit.
OH MY! I pour myself a cup and warm it up in the morning! It is so delightful and tasty and I know that I am getting so many health benefits from just one cup!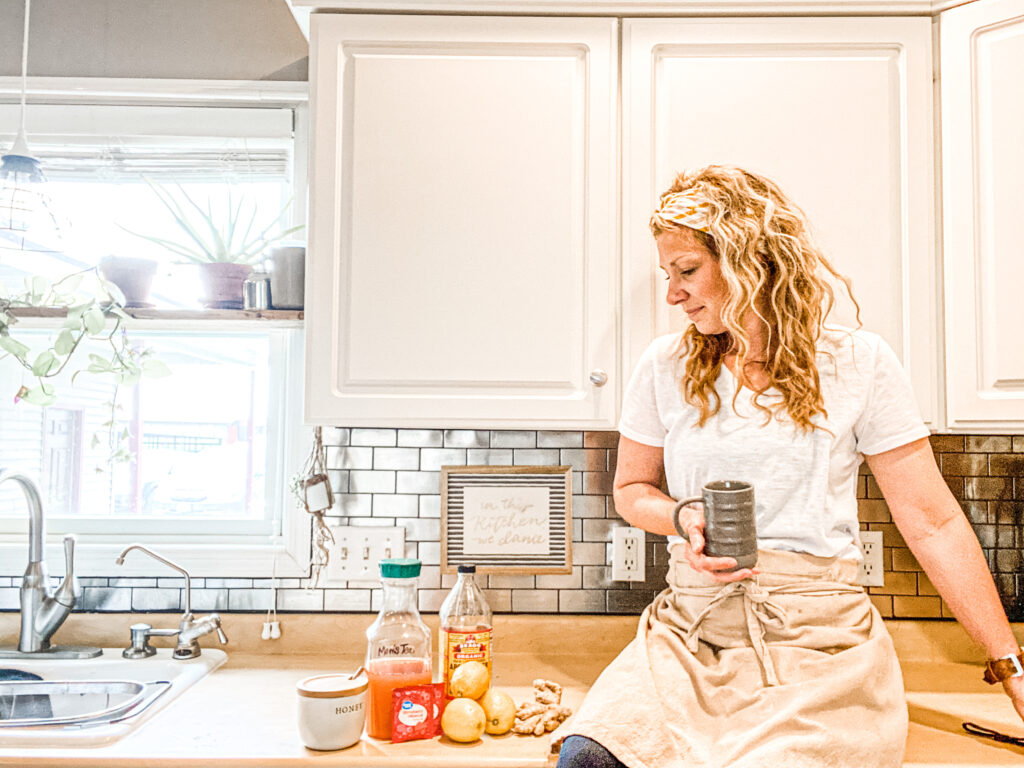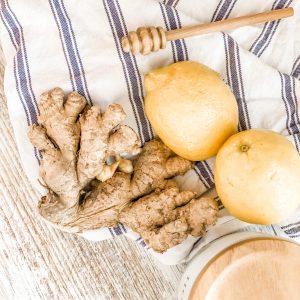 Lemon, Ginger, Honey Tea
A delicious, healthy tea with so many vitamins and benefits packed in just one yummy cup!
3

Lemons, cut and squeeze juice into large quart jar.

1

Medium-sized ginger, chopped (no need to peel)

3

Cups

Of boiling water

3

Tbsp.

Raw, local honey
Boil 3 cups of water and add chopped ginger. Boil for 10-15 minutes, then steep- turning the burner off, with the lid on for 1 hour.

Squeeze 3 lemons into large quart jar. I like to use my small strainer to keep seeds and the majority of the pulp out.

After the ginger is finished steeping, pour it through the strainer, squeezing the ginger out as you go.

Allow to cool and add 3Tbsp. of raw, local honey.

Place a lid on the top and store in the refrigerator until needed. Drink warm or cold.
*Temperature Note: Adding raw honey to boiling water will denature some of the most important health-promoting properties. When preparing this recipe, wait until the water is cool enough to sip comfortably before stirring in your honey to assure you are reaping all of the available health benefits (around 180°F).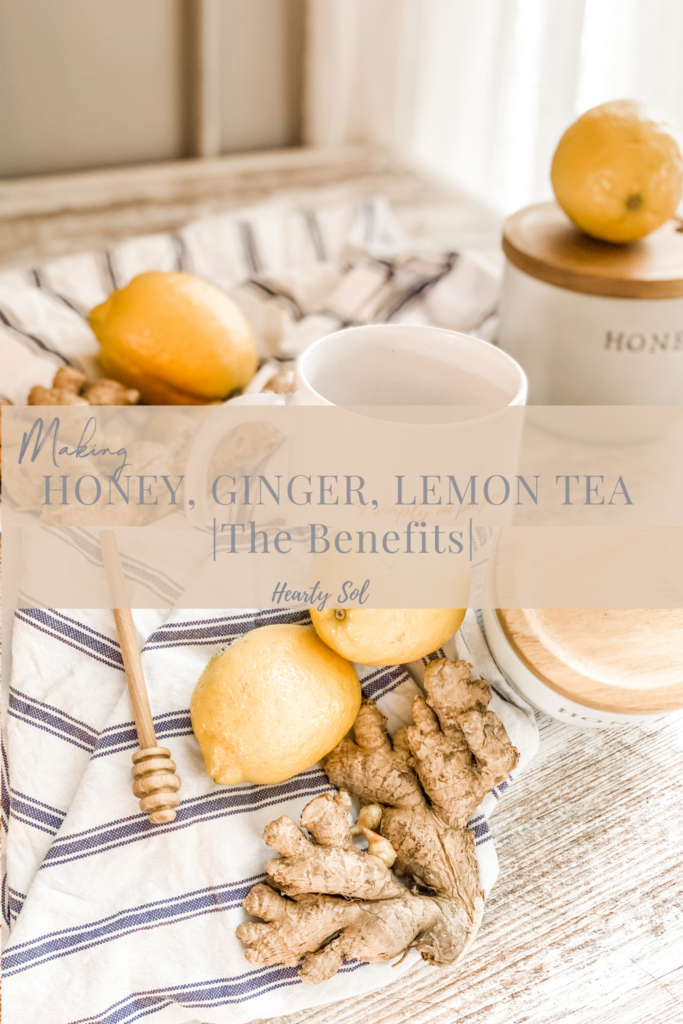 My other hot drink recipes
OTHER FOODIE POSTS YOU MIGHT LIKE
IT IS SPRING TIME!
MY OTHER SIMPLE CRAFT POSTS
How to make a Waldorf Doll | a 4 Part Series
10 Projects to Repurpose Sheets
How to Reupholster a Chair | Simple Tutorial
How to Make a Girls Dress |No Pattern Needed
JOIN OUR HEARTY LIVING COMMUNITY!
Hearty recipes, farm living fun
and handmade projects straight to your inbox.
Hello, I'm Emily. I'm so glad you're here! Join me and my family as we find beauty in our everyday life on the farm, hearty recipes and a handmade home. Find more about me and our story here.
Cheers!