Bring in a few natural colors of the rainbow this spring. Come on in, let's dye some Easter Eggs together!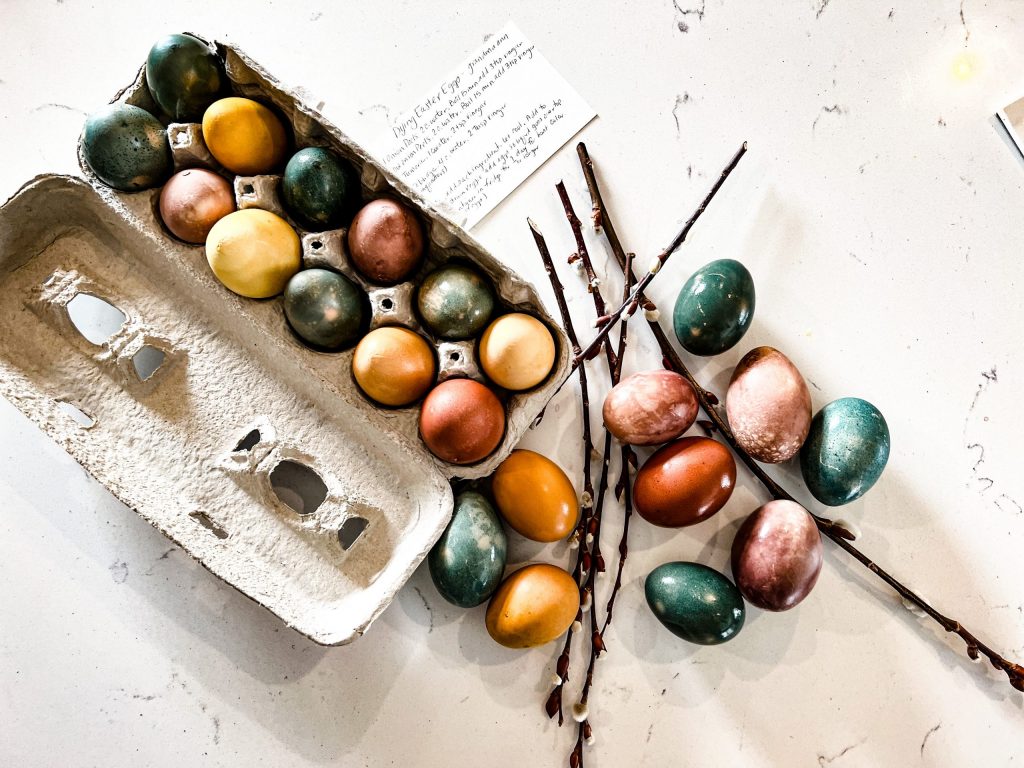 If you've been following along here on this blog long enough you may start to gather that much of what I have become is because of who and where I came from. You will find major influences from my Luxembourg, Swedish and German family members as well as my husbands family from Norway.
So many blog posts seemed to have started with…"as a kid in my grandma's kitchen" or "when I was little" or "my mom would always…"
The legacy that these pillars in my life have left, deserve a spot in history. Something saved, documented and something that our children can look back on and know that they were a part of it all, too.
This Post May Contain Affiliate Links. Please Read Our Disclosure Policy.
Dying Easter Eggs will be yet another post that begins with…when I was a kid, in my grandma's kitchen.
Grandma lived through the Great Depression and she had a wealth of knowledge when it came to living on a shoe string.
She could turn garbage into a mastered center piece! She could also turn her average colored chicken eggs into beautifully dyed Easter eggs, using what she had pulled out of the garden the season before.
I still remember racing our cousins up to the hay barn to search for those deep orange and brown Easter eggs with our little mismatched straw baskets. They were real hard boiled eggs. Not the kind you break apart to expose a piece of candy and yet we still went wild for them!
There's nothing better than channeling those times in grandma's kitchen than sharing these memories with our kids. They love hearing stories from when I was little. They giggle when I tell them there wasn't actually candy in those eggs- although grandma made sure we all got a couple pieces.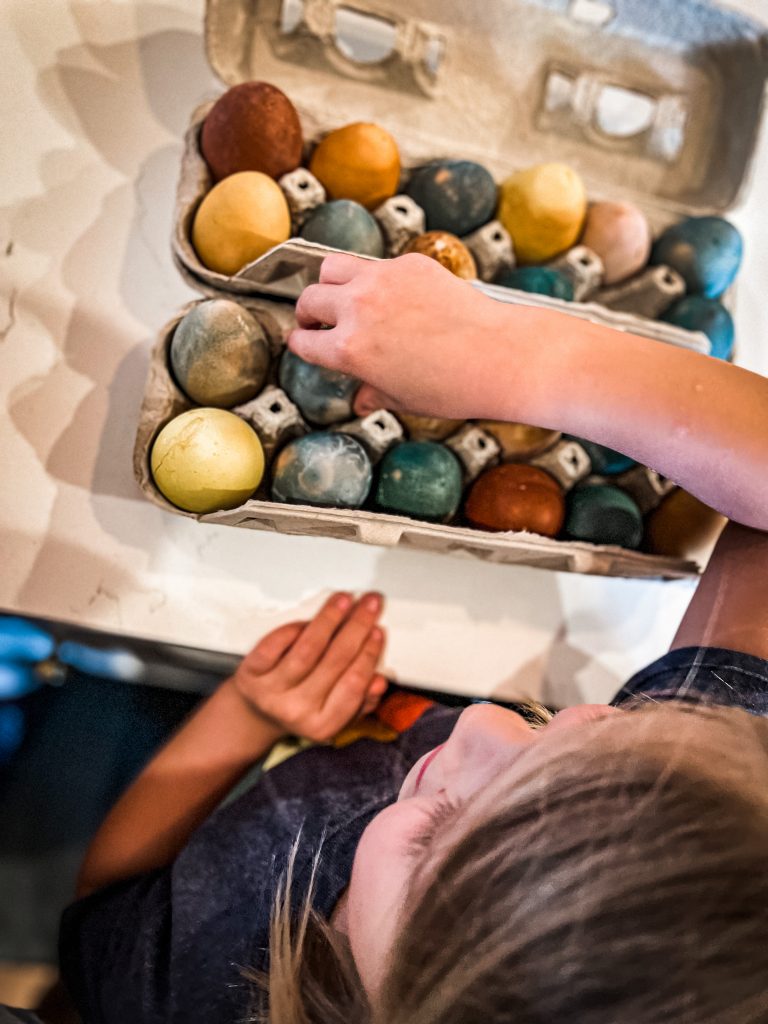 How to Naturally Dying Easter Eggs the Video!
Why You'll Love Naturally Dying Easter Eggs
It's quick, simple and the items are typically easy to find in your local grocery store.
I just love the natural colors of the earth's rainbow.
How to Get those Natural Rainbow Colors
Deep Redish/Orange:
Skins from 6 Yellow Onions + 2 Cups Boiling Water. Simmer and strain, adding 3 tsp. of Vinegar. Once cooled a bit, add Eggs so liquid completely covers eggs.
Mustard Yellow:
2 Tbsp. Turmeric powder, 1 Cup Boiling Water, 2 tsp. of Vinegar. Boil and simmer. Once cooled a bit, add Eggs so liquid completely covers eggs.
Blue
Add 1/2 Red Cabbage- quartered to 4 Cups of Boiling Water. Add 2 Tbsp. of Vinegar. Remove Cabbage, allow to cool a bit and add Eggs to liquid completely covers eggs.
Purple
2 Beets, cut in quarters, with stems. Add this to 2 cups of boiling water and add 2 Tbsp. of Vinegar. Remove Beets, allow to cool a bit and add Eggs to liquid completely covers eggs.
Setting the Color
After the pots of boiling color have cooled, and the produce, flowers etc have been strained, we like to pour them over the eggs which we place in pyrex containers. Then we set them in the fridge for a day or so to really get that dark color! You can let them sit in the natural color for as little or as long as you want.
To get the color you see in this photo, we had our sit for 1 day in the fridge.
We get such an array of natural colored eggs from our chickens, so I like to leave some just natural to mix in with the dyed ones.
Experiment with Dying Easter Eggs
Feel free to experiment with other varieties of things around your home, too! We have tried, red onion, amaranth flowers, coffee, charcoal, grape juice, blue berries, paprika, mustard, goldenrod, oranges, carrot tops etc!
When trying different things, just go with the basic recipe of about 2 Cups of Boiling Water, the thing you're trying (quartered) + 2 Tbsp. of Vinegar.
Questions People are asking about Naturally Dying Easter Eggs
Can you dye Brown chicken eggs?
Of course you can! I love to keep these deep brown eggs to add to the richness of the rainbow colors. If you attempt to dye them, know that it will take longer to change the color of these darker brown eggs.
Can you eat naturally dyed eggs?
Absolutely. The items that we are dying our eggs with in this post are all edible food items. Feel free to nibble away!
Is it better to dye warm or cold eggs?
I haven't noticed a difference if the eggs are warm or cold. Sounds like a fun science experiment. Ours are generally cool since they have just came in from the coop, have washed, boiled in our Instant Pot and have been cooling in the fridge.
Tips about This
The longer you leave your eggs in the dye in the refrigerator the deeper the color will be. I left ours in for a couple of days.
Experiment! Try different foods and see what happens. I mean did you ever think a yellow onion peel could turn an egg that deep redish-orange? Neither did the first person who tried it! Boil up some eggs, put on your best mad-scientist apron and have fun!
What can you do with all those hard boiled eggs, except make some yummy egg salad sandwiches? Try our favorite smoked egg brine for a smokey, savory snack.
Allow your eggs to dry on a piece of wax paper or a drying rack to avoid a surface that will absorb the dye away from the egg like the cardboard egg carton, paper or cloth towel.
Using colored eggs will make the colors vary. So my tan egg dyed using yellow onion peel turns out more rose colored than orange etc.
Printable Recipe Card
Naturally Dyed Chicken Eggs
I love using simple vegetables and ingredients to make a rainbow of colors for Easter time.
Blue Eggs
4

C.

Boiling Water

1/2

Cabbage (quartered)

2

Tbsp.

Vinegar
Mustard Yellow
1

C.

Boiling Water

2

Tbsp.

Turmeric

2

tsp.

Vinegar
Add vegetable, skins or turmeric and the amount of vinegar that each recipe calls for.

Boil for about 5-10 minutes to bring out the color from that item.

Allow to cool before pouring over top of the egg.

Place in the refrigerator for 1-2 days depending on how deep you would like your eggs to dye.

Remove eggs from dye, rinse, allow to dry on a none absorbent surface like a drying rack or wax paper.

Store in the refrigerator.
Pin this for later!