A Bedroom Refresh doesn't have to be a major undertaking or expensive, come along as I show you how we took our bedroom from drab to classically styled comfort.
When the season changes to warmer weather, spring begins and we start revving up for the next busy farming season.
We prepare for this next season like soldiers heading into the front lines both in the house and outside. On a day that is nearing 40 degrees, we slip out of our jackets and roll up our sleeves.
The next season brings gardening, planting corn, chicken coop cleaning, prepping machinery for cutting and chopping hay, gearing up for manure hauling, yard work and so so so much more. Just like a well-oiled machine we know just what's coming.
We all know what's coming
After dairy farming for all of our lives, not only does this mean less 'dad' time at home, but also more cooking, gardening and yard work. I know that this means that preparing for this point in the year is important.
Some folks who live in arctic-like winters like we do might complain about winter. But I use this time to get everything in the house ready for that one day that it hits 40, degrees, and our hybernation is over. We'll tiptoe out into the warm air again and never want to come back in!
Spring Tour | Farm Life Video
Mud Season
Spring here in Minnesota is also known as 'mud season'. I grumble about this as I wipe up boots and rugs near my front door. I also know that these wet muddy days will soon give way to those dusty, sun-warmed gravel roads real soon.
Someday we will have a proper mudroom and then, let the mud fly!
For now, I will continue to wash my rugs and hang them out on the line to dry in the sun once a week!
Kitchen prep and organization
Once our field crew places that first corn seed and we have folks working in the gardens my farm crew harvest meals will startup. This means my works space (the kitchen) needs to be ready.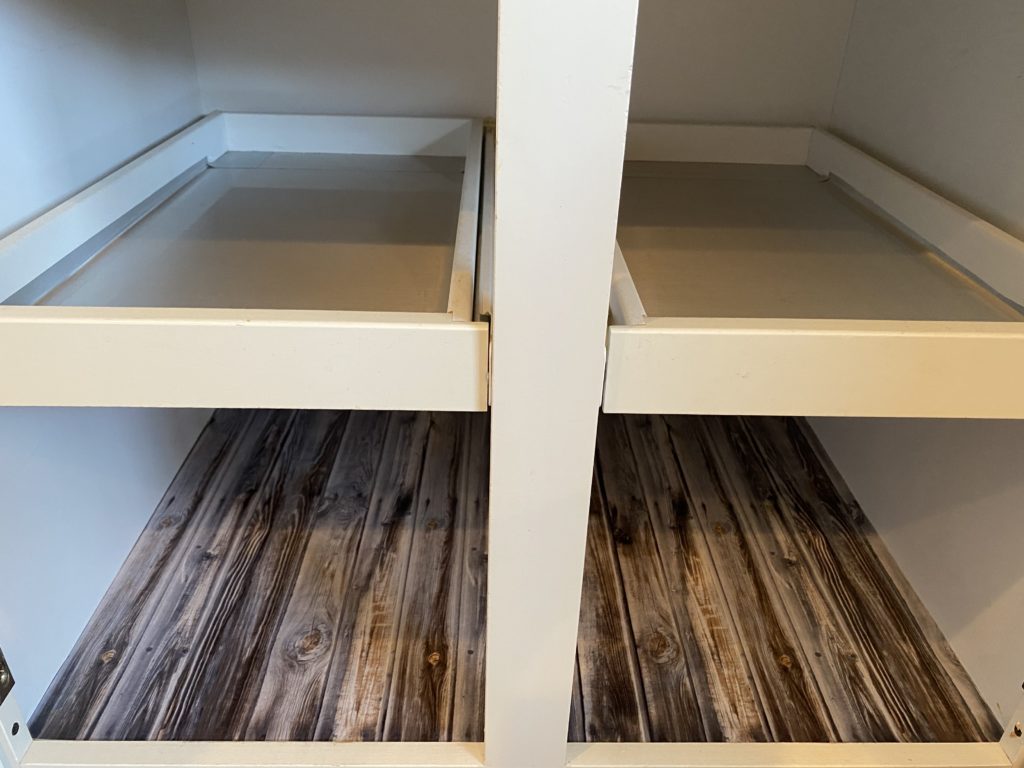 This Spring I decided to clear out all of my cupboards and replace the shelf liner. The stuff I had, existed for the past 9 years and it deserved a refresh.
With the Instant Pot shined up, my cupboards cleaned and organized, and my prep veggies chopped up and frozen, whipping up a meal for 10-20 will be a breeze! Here's how I prepare my veggies for our busy harvest meal time!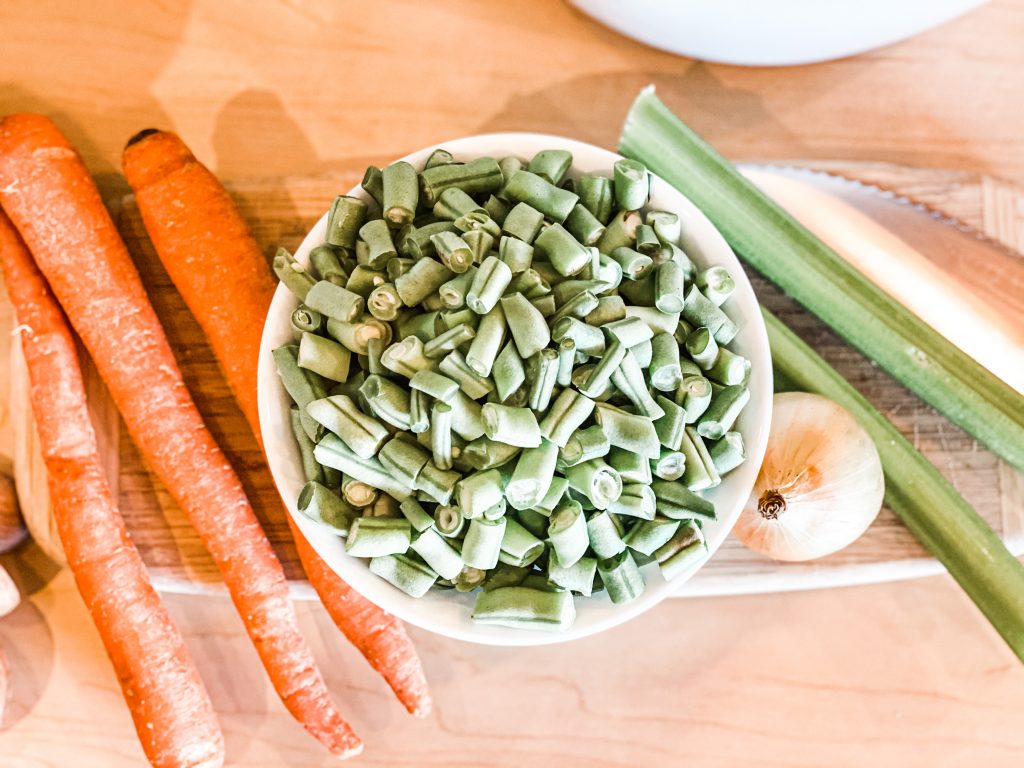 A Spring Bedroom Refresh
Our home is our very own retreat from the world. It is where we come to be ourselves and live. I have designed our home to be a classic, calm place where we can all land at the end of our days. We keep things clean and simple and (as much as possible) free of clutter.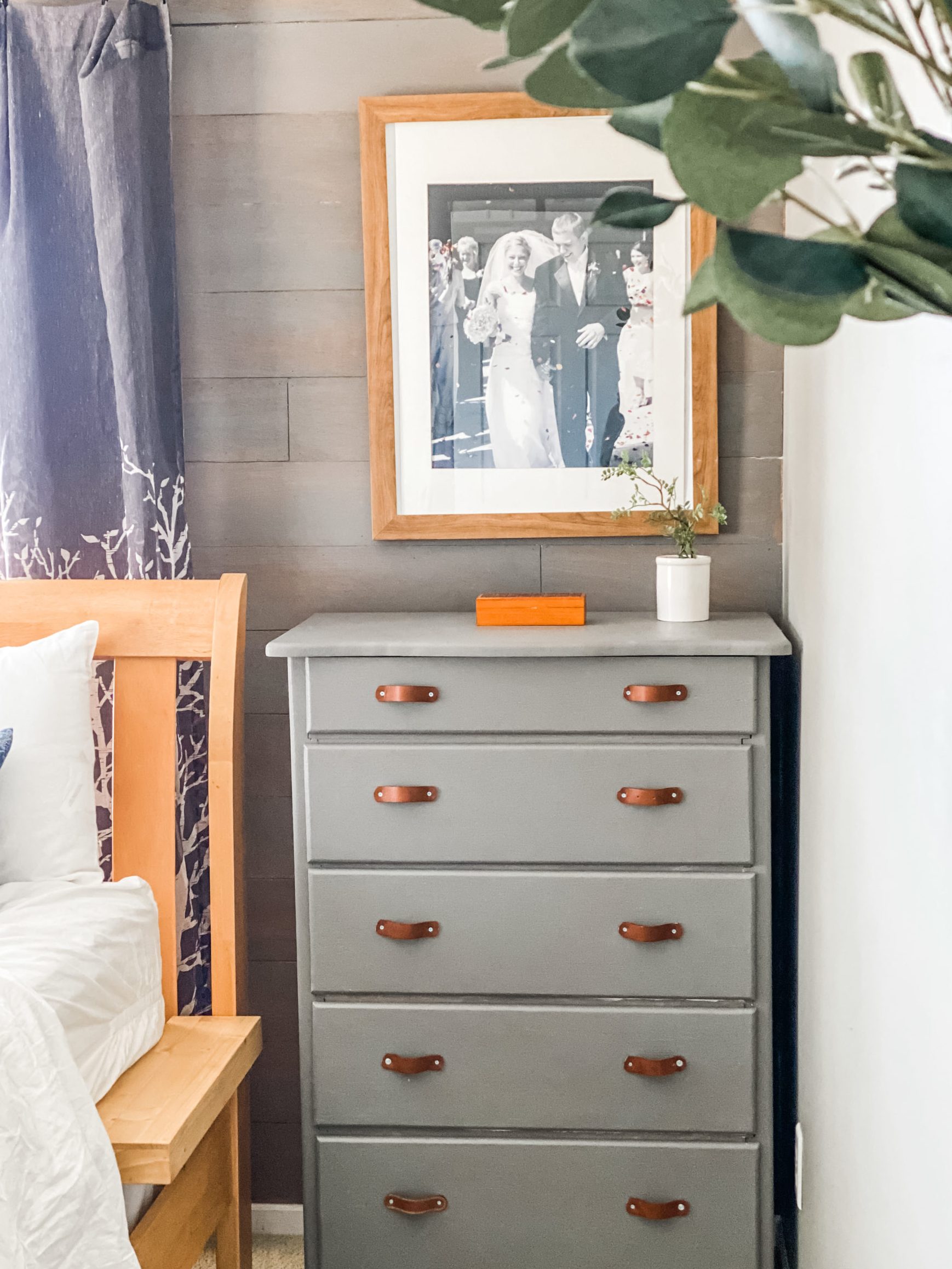 Our bedroom had not had any attention to design and style for the past 9 years and it was time for a refresh. I like to use the things we already have first, to try to update things a bit, combined with a few used-a-bit items and adding in a few key pieces to top it off.
I went looking for design inspiration with our friend Pinterest, but nothing stuck out to me. Not sure why I was so surprised, this wasn't the first time that has happened to me.
Trusting your Own Style
I think the older I get the more I've realized that I just have my own style and it doesn't come from Pinterest.
Inspired more by my own favorite colors and combinations is how I roll. I pace back and forth in my room before deciding on fabrics, paint colors and textures. The inspiration comes from within.
Adding Shiplap as an Accent Wall to our Bedroom
I added this shiplap to one our walls to create some texture. After sanding and nailing them into the wall with my air nailer, I mixed up a darker hue of what we had on our other three walls. I took my original paint sample called SW Silver Fox and asked my friends at Sherwin Williams to help me match this, but in a darker hue. Voila' we have SW Gauntlet Gray.
When I got my paint home, I experimented with the application to the shiplap. I wanted this wall to be warm to be able to see some of the wood behind it. I mixed some paint in a tray and added a little water, then applied it to the wall with a soft cloth. This type of application seamed like I was staining it more than painting it. It took some time to let the wood dry under the paint so I could see the true color.
Later on, I was showing a friend my new wall and she told me that what I did was called 'pickling'! I was like, sure! I didn't realize that someone had already coined the term for what I did. 🙂
We love how it turned out!
A Place for Reflection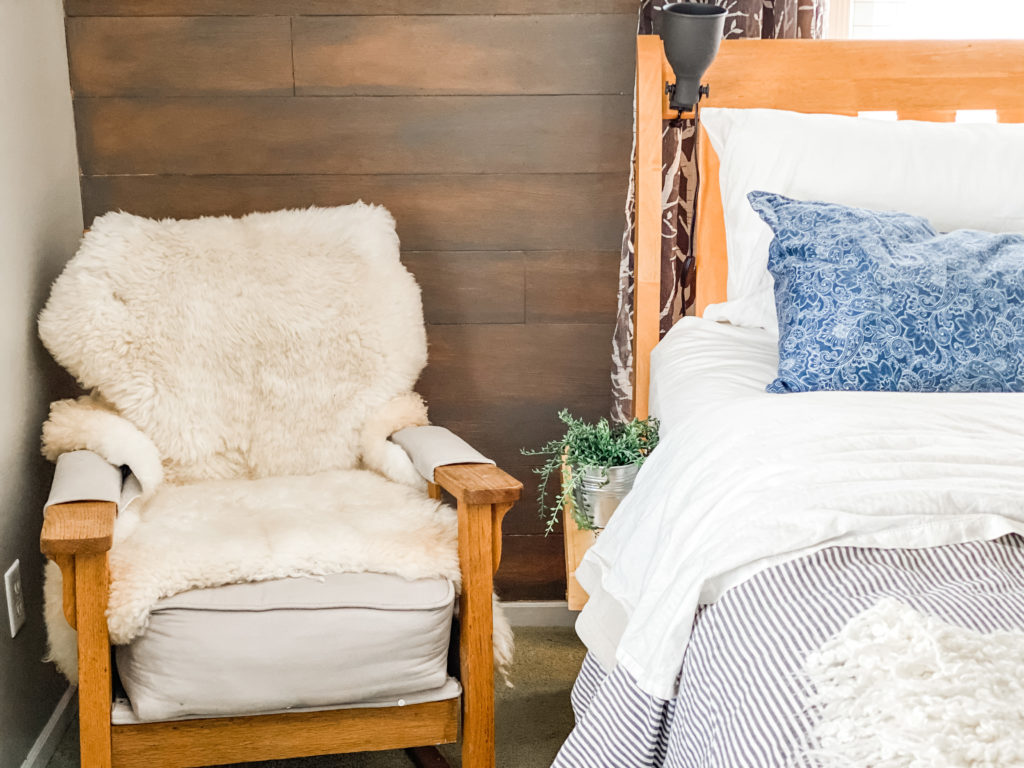 Now that I have created a new space to be, and sleep in. We love it! I find myself, wandering in there, just because sometimes. It is so fresh and has just the perfect combination of color, function, textures, and coziness!
My chair in the corner is like mommies thinking chair. It's a good place to sit and reflect in the quiet stillness. I don't do this enough, but I'm learning.
While it's still a semi-quiet time of year, I will be taking full advantage sitting here just to practice stillness and think about my next move. Or, if I wish, to think about nothing at all. This chair also serves as my way of modeling to the kids that even adults needs some 'time to think'.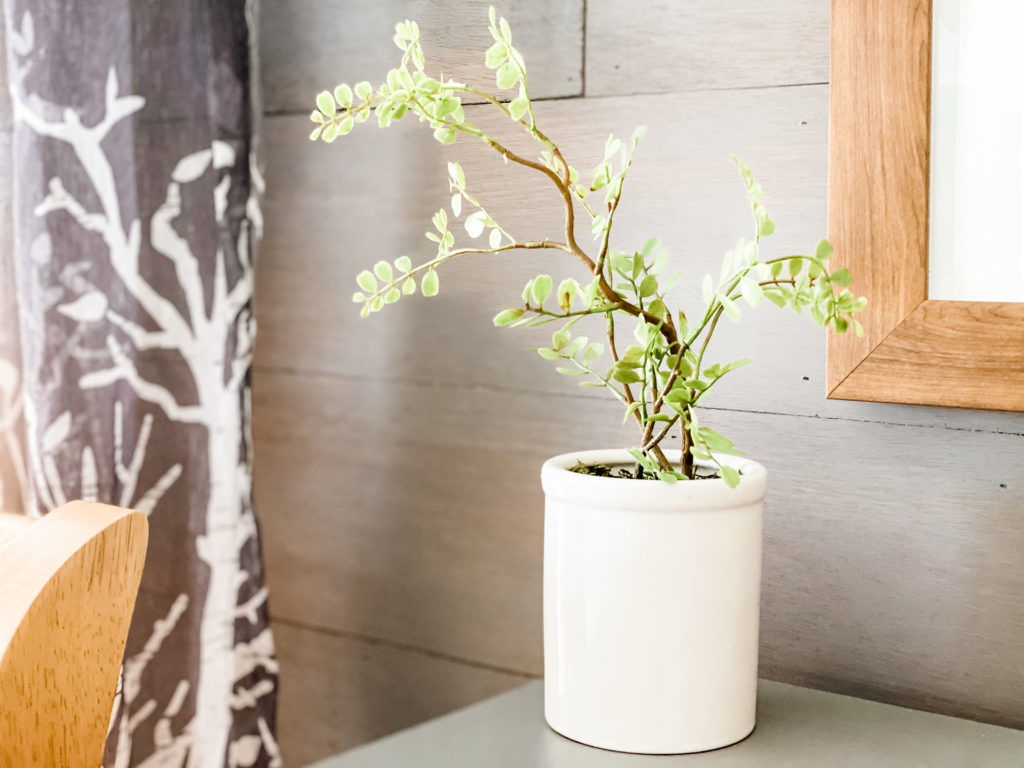 One thing I did purchase was this wooden round mirror. I just love how the wood barrel frame makes this look like it has existed in an old boat or something!
Shop the Bedroom+ Kitchen Refresh
Wooden box shelves
Spring Seedlings and Flowers
We started a few plants in rock wool this year and I am loving the result. We have our little trays of seeds sitting on heat mats in our basement.
Rock wool is wonderful. It holds the moisture and doesn't create a mess like dirt. When we are talking 'mud season' I like to keep as much dirt out of my house as possible and using rock wool was ket to this.
Johnny's Select Seeds was our go-to seed company for the majority of the cut flowers. Fingers crossed something blooms!
This year we doubling our large cut flower bed. Like everything else I do, I am sure it will take years to master, but a little YouTube research couldn't hurt, right? I am just in love with the process of learning new things. I do a little bit better each year. Having better germination rates, learning what flowers to put with what and how best to control those pesty weeds!
New Spring Friends
Meet Hutch! He's our newest little ram lamb. Hutch has been such a delight and the perfect spring addition. Hutch is a a bottle lamb which means his momma either could feed him or her was rejected. We took him in in the early months of Spring and will raise him until he's ready to join the rest of our little flock.
We are feeding him every 6 hours and he wears a diaper so it's really like having a new baby in our home!
A Bedroom Refresh – PIN IT FOR LATER
OTHER SIMPLE CRAFT POSTS
How to make a Waldorf Doll | a 4 Part Series
10 Projects to Repurpose Sheets
How to Reupholster a Chair | Simple Tutorial
How to Make a Girls Dress |No Pattern Needed
YOU MIGHT ALSO LIKE
JOIN OUR HEARTY LIVING COMMUNITY!
The form you have selected does not exist.
Hearty recipes, farm living fun
and handmade projects straight to your inbox.
Hello, I'm Emily. I'm so glad you're here! Join me and my family as we find beauty in our everyday life on the farm, hearty recipes and a handmade home. Find more about me and our story here.
Cheers!