Enjoy creamy gooeyness and stealthy veggies in this traditional comfort-food dish.
On a cold night, this cauliflower mac 'n' cheese hits the spot and includes everything from the loveable mac 'n' cheese to hidden veggies all in one dish.
Jump to Recipe
Making Cauliflower Mac n' Cheese the Video
I love a recipe that can include everything and eliminates having to wash an extra dish. We also find that by cutting up in small bite-sized pieces or pureeing veggies into dishes, everyone enjoys dinner a bunch more.
Stealthy Veggies
I'd really love to create a recipe book called 'Stealthy Veggies' on how to hide nutrients in every dish! Sometimes I feel like a magician when I try to cook up my veggies and sneak them into each dish I make.
My husband isn't a huge veggie fan and the idea of eating cauliflower doesn't exactly appeal to him, but he didn't even know that this meal contained vegetables! And if he couldn't tell, there was no way the kids would know.
Cauliflower Mac 'n' Cheese makes a great leftover too. We know that not everything cooks back up to origination, this meal was great!
Cauliflower Mac 'n' Cheese
1

pound

elbow macaroni or small shells

1

med.

head of cauliflower, cored and thinly sliced

4

cloves

of garlic, sliced

1

large

yellow onion

4

ounces

extra-sharp white cheddar cheese, grated (about 1 cup)

2

ounces

Parmesan cheese, grated (about 1/2 cup)

1/4

tsp

dry mustard powder

pinch

cayenne pepper

1 1/2

cups

breadcrumbs

1/2

cup

fresh flat-leaf parsley, chopped

3

tbsp

olive oil or butter, divided plus more for the baking dish

salt and pepper
Preheat oven to 425º F. Lightly oil a 9×13" baking dish.

Cook pasta according to package directions. Drain

Heat 2 tablespoons oil in a large pot over medium heat. Add cauliflower, garlic, and onion. Season with salt.

Cook, covered, stirring occasionally until tender 15-20 min.

Add 4 cups water and simmer until vegetables are very soft, 10-12 minutes. Drain, reserving 2 cups cooking liquid for the sauce, let cool slightly.

Combine vegetables, cheddar, parmasan, mustard powder and cayenne in a blender or chop up if you desire a more chunky sauce. Puree by adding just enough of the cooking liquid to get the mixture moving until smooth 1-2 minutes.

Add sauce to pasta and toss to combine. Transfer to prepared baking dish. Toss together the bread crumbs, parsley and tsp of oil in a bowl. Season with salt and pepper. Sprinkle over pasta.

Bake until golden brown 14-16 minutes.

Enjoy your gooey, stealthy veggie Cauliflower Mac 'n' Cheese!
This post may contain affiliate links. Read my disclosure policy here.
PIN IT FOR LATER
OTHER SIMPLE CRAFT POSTS
10 Projects to Repurpose Sheets
How to Reupholster a Chair | Simple Tutorial
How to Make a Girls Dress |No Pattern Needed
YOU MIGHT ALSO LIKE
Our Homemade Spaghetti Sauce | A Family Recipe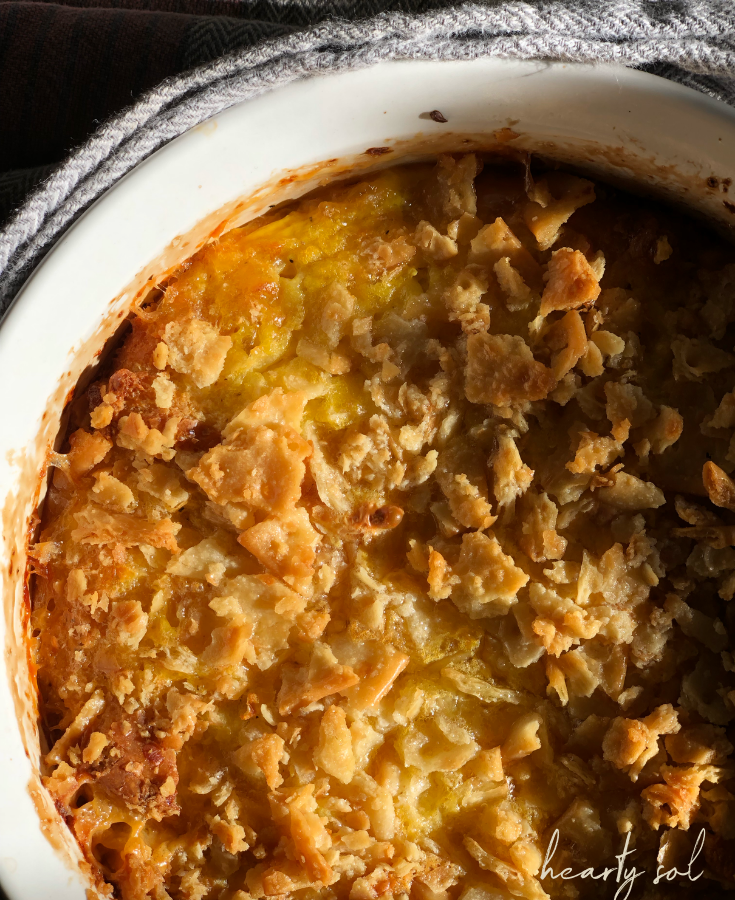 How to Make Buttery Scalloped Corn
JOIN OUR HEARTY LIVING COMMUNITY!
Hearty recipes, farm living fun
and handmade projects straight to your inbox.
Hello, I'm Emily. I'm so glad you're here! Join me and my family as we find beauty in our everyday life on the farm, hearty recipes and a handmade home. Find more about me and our story here.