This sweet and tangy cranberry salsa turns a traditional salsa on its head. Bringing the smells and tastes of the season straight to your chicken taco!
I love making this salsa during the holiday season. Fresh cranberries are easy to find and bring such an aroma to a kitchen when preparing this salsa.
(This post may contain affiliate links which means I make a small commission at no extra cost to you)
I've been making cranberry salsa for a while now, and this year, I decided to serve it with our traditional employee holiday appreciation lunch. I served it up in individual containers so everyone had their own. It was a big hit and many asked for the recipe.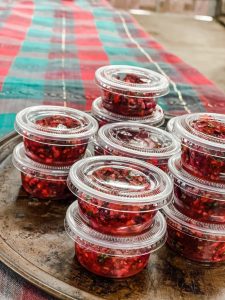 This recipe is as easy as washing up the produce ingredients and chopping everything up. I love using my little kitchen aid mixer for this job. I did dial back on the jalepenos this time, but usually leave it most of the seeds for a bit of a kick.
The best way to serve cranberry salsa is with a heap of salty tortilla chips.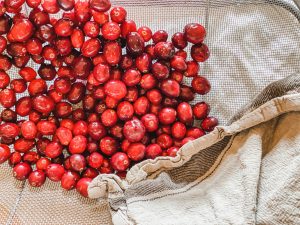 Don't just stop with mexican food, cranberry salsa is tasty on hot dogs, with turkey or over top of a baked potato.
RECIPE TIPS & NOTES
Flavor Additions. Other ingredients that pair nicely with cranberries include apple, pear, mint, orange, and cinnamon. Try adding some of these to your fresh salsa to experiment with flavors.
Cream Cheese. One of my readers said they make this recipe and mix it with softened cream cheese or mascarpone cheese. It's a heavenly way to serve it! Grab a block of cream cheese, or just serve it with cream cheese and crackers.
The Peppers. I'm using jalapeno peppers, which are my favorite peppers for this recipe. They have a nice level of heat for most people and I love the flavor. If you're looking for a milder version, either core out the jalapenos before using them, or use bell peppers instead for a no-heat version. If you'd like a spicier version, bring in a serrano pepper, or several, or use spicier peppers, like a habanero pepper. Did I hear somebody say ghost pepper? I know some might be into this kinda heat, but I'm good with the jalepeno.
The BEST Cranberry Salsa
This tangy and sweet Cranberry Salsa is the best holiday twist on a traditional favorite.
1

lb.

Cranberries

1/4

C.

Peeled Fresh Ginger

2

Cloves

Garlic

1

Jalapeno (take seeds out for less heat)

1

Lime (juice + zest)

1 1/4

C.

Sugar

1

Bunch

Scallions or 1/2 Large Red Onion

1

Bunch

Cilantro (remove most of stems)
Chop all produce in a chopper, add lime juice, zest and sugar, stir and serve with chips or crackers!
OTHER DELICIOUS RECIPES FROM HEARTY SOL
Making Banana Bread and Banana Bars
Our Family's favorite Hot Cocoa Mix
Honey, Lemon, Ginger Tea and the Benefits
How to make your own Mozzarella Cheese