These refrigerator pickles are easy and so, so tasty. If you're not careful you might just eat the entire bucket!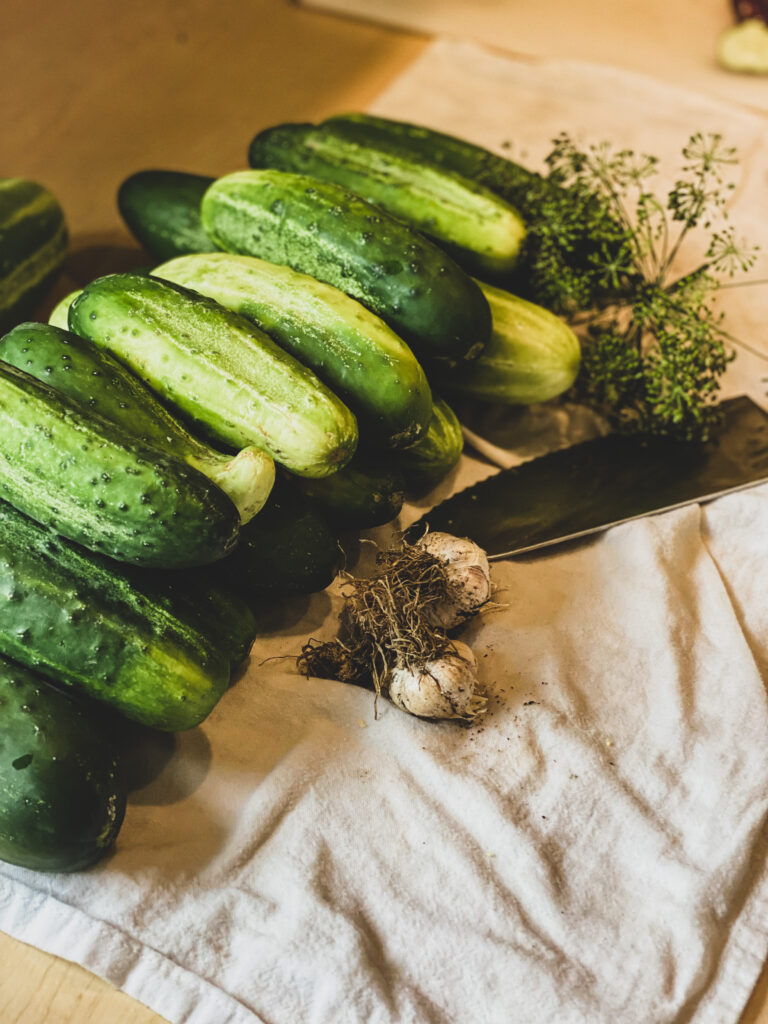 This recipe, aka Bucket Pickles is probably the quickest, fastest way to make super tasty pickles. The only hard part is having to wait 3 days for the pickles to process in the fridge! These refrigerator pickles are by far my favorite garden food of the season!
I love the days when we can make an entire lunch out of sweet corn, refrigerator pickles, and a sliced tomato!
These are also great for those summer picnics that sneak up on you. You realize you were asked to bring a dish to pass and all you have to do is grab this bucket from the fridge, a pair of tongs and away you go!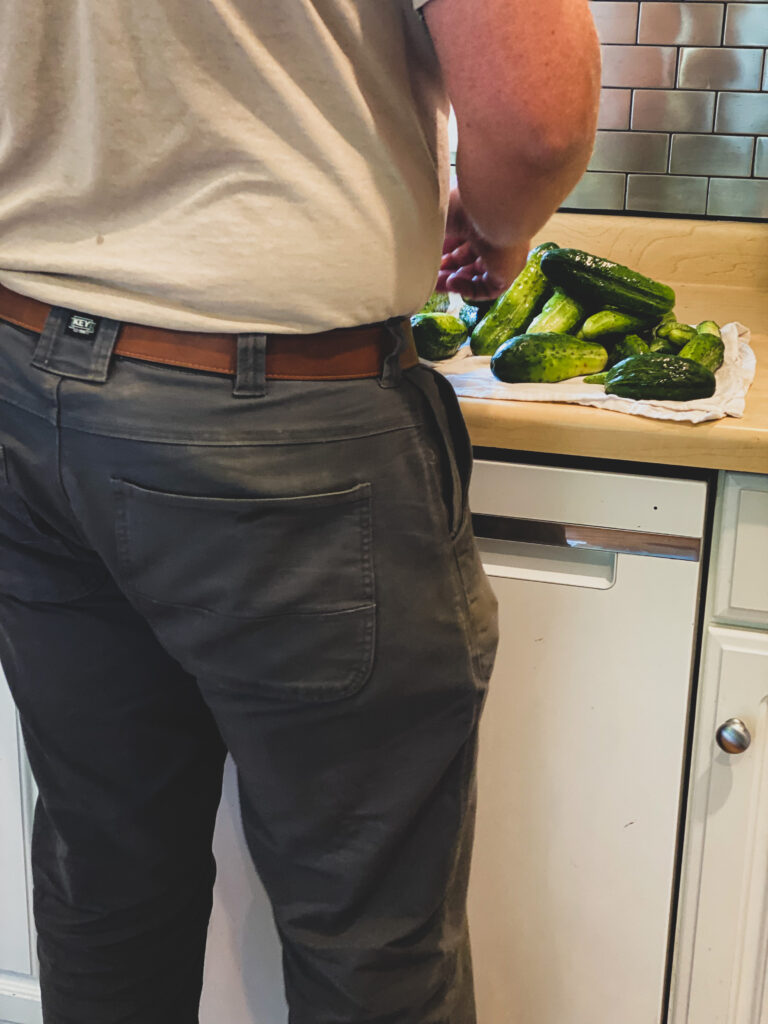 This Post May Contain Affiliate Links. Please Read Our Disclosure Policy.
Making Easy Refrigerator Pickles the Video!
Why You'll Love Making These Quick Refrigerator Pickles
They are quick to make and make an entire bucket worth of pickles!
Have a summer picnic to head to, just grab a bucket of these pickles out of the refrigerator and bring them with as your contribution! They are a huge hit at our fantasy football parties!
Everything you need to make these pickles can be grown right at home!
The first thing you need to do is demolish that bucket of ice cream in your freezer. Our cows will thank you and you'll never be sorry!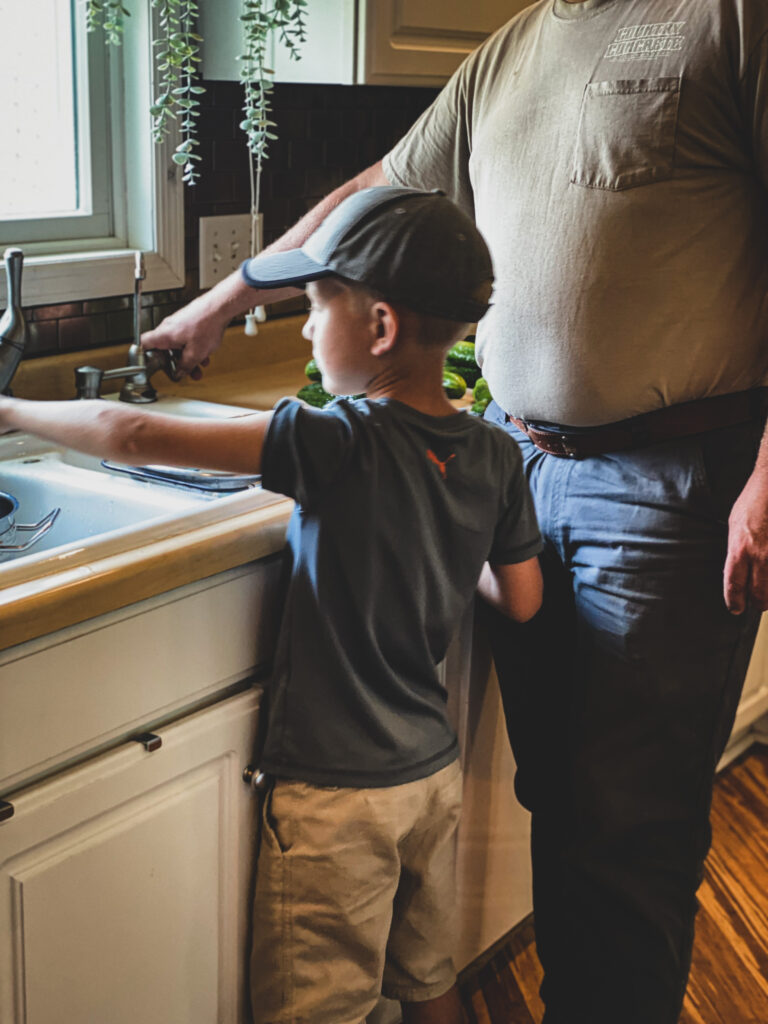 Materials you'll need to make this
A clean, empty ice cream bucket with lid.
A kettle for cooking the brine.
Questions People are asking about these Refrigerator Pickles
How long do these pickles last in the refrigerator?
We've had ours last almost 1 year! But as we always recommend, do a smell/ look test. If something smells/ looks off, best to toss them to the chickens.
Tips about making these pickles
Make sure to allow the brine to cool before adding it to the pickles.
Make your own Garlic Powder and you'll never want to go back to the store bought stuff!
Do the work to wait the 3 days as recommended in the refrigerator. I know, I know it's super hard to wait those 3 days for those crunchy delightful pickles, but I promise it'll be worth wait!
To get your pickles as crunchy as possible, after you have washed and sliced them, let the slices sit in a cold ice bath for 15-20 minutes.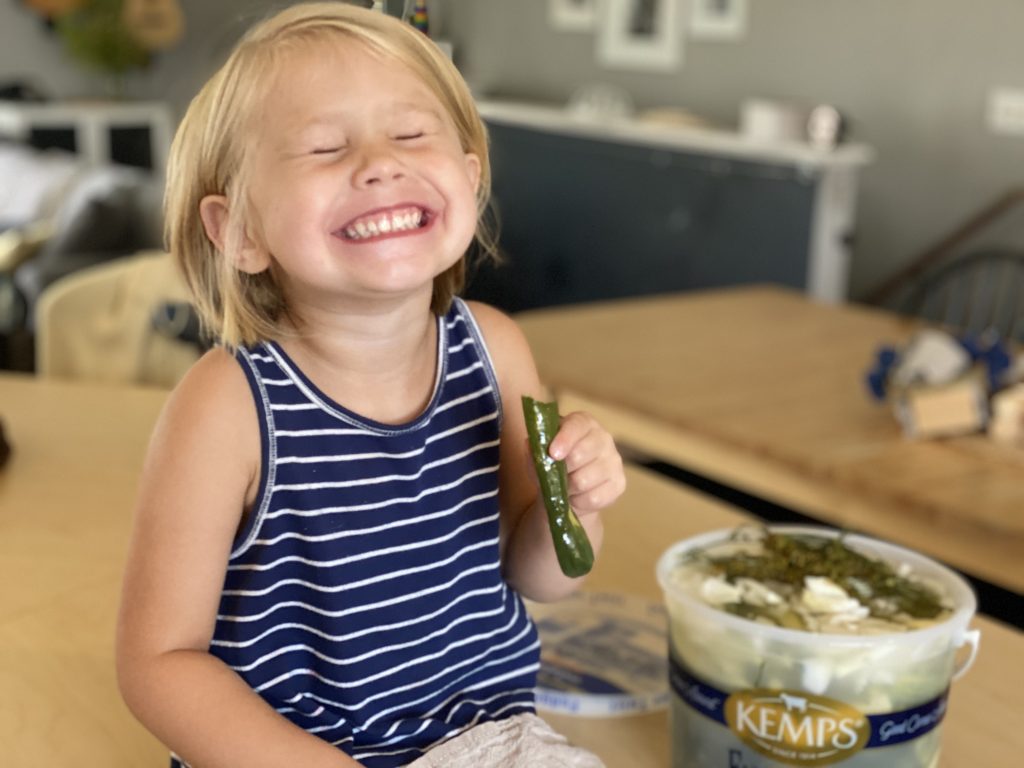 Eat, Enjoy, Share
Easy Refrigerator Pickles The Recipe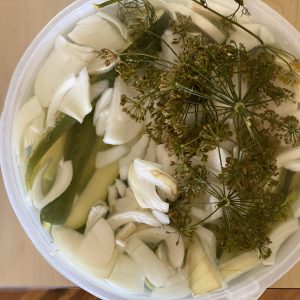 Easy Refrigerator Pickles
These delicious and easy refrigerator pickles will your favorite new summer garden recipe!
1

Ice Cream Bucket

Sliced Cucumbers

2

Chopped Onions (1 for the bottom of the bucket & 1 for the top of the bucket)

6

Heads

Dill (green seeded) (3 for the bottom of the bucket & 3 for the top of the bucket)

1.5

tsp.

Garlic Powder (3/4 tsp for the bottom of the bucket & 3/4 tsp for the top of the bucket)
The Pickle Brine
6

Cups

Water

3

Cups

Vinegar

1/3

Cup

Canning Sea Salt

3/4

Cup

Sugar
Brine Instructions
Bring the combined ingredients to a boil for 5 minutes and then let cool down before adding it to the bucket of pickles, onion, dill and garlic powder combination.

While your brine is cooling, slice up cucumbers and onion.

In a clean ice cream bucket add 3/4 tsp of garlic powder, 3 heads of green seeded dill, and 1 chopped onion.

Added your sliced cucumbers.

Add 3/4 tsp of garlic powder, 3 heads of green seeded dill, and 1 chopped onion.

Pour cooled brine over entire bucket. Try your best to not overfill, but it will be brimming.

Place covered bucket in the refrigerator for 3 days.

ENJOY! (store in the refrigerator)
Other Hearty Sol Recipes you might like:
Pin this for later!