This easy-to-make dry shampoo will keep your hair fresh and manageable without the hassle of a wash.
It's not always possible or feasible to wash your hair after every encounter in the dairy barn.
Most of the items needed to make this fantastic hair potion can be found right in your home!
What you need to make your own Dry Shampoo
Jar
Lid with holes pounded in the top
Ring to tighten the lid on
1/4 cup baby powder
1/4 baking soda
A few drops of your favorite essential oil or fragrance
Instructions: In a well-ventilated area, carefully combine the ingredients together in a jar. (The powdery dust is not the best to breathe in, so consider where you are when you apply it). I usually sprinkle in my hair and quickly walk away.
Sprinkle into your hair and tussle about.
The baby powder will absorb any oil or grease and the baking soda will neutralize any odors. Any added fragrance is up to you. I like something that smells fresh and clean. Lemon and eucalyptus essential oils are my go-to.
Other Hair Products I Love!
When you are blessed with a crazy mop of hair like mine, you can either resist it's madness or embrace it! I've decided on the ladder. After a shower, I either braid it or brush it out straight and go to bed.
When I wake up, I can then either decide to unravel the braid and put it up, like 70% of the time or use my favorite deep wave hair tool.
I love how this instantly works with my natural wave and volume to add amazing deep curls that last for days without looking messy. Don't get me wrong, messy hair and me, go well together, but sometimes I like to look slightly more put-together. It's super fast to heat up and literally takes me 6 minutes to toss a few waves in my hair.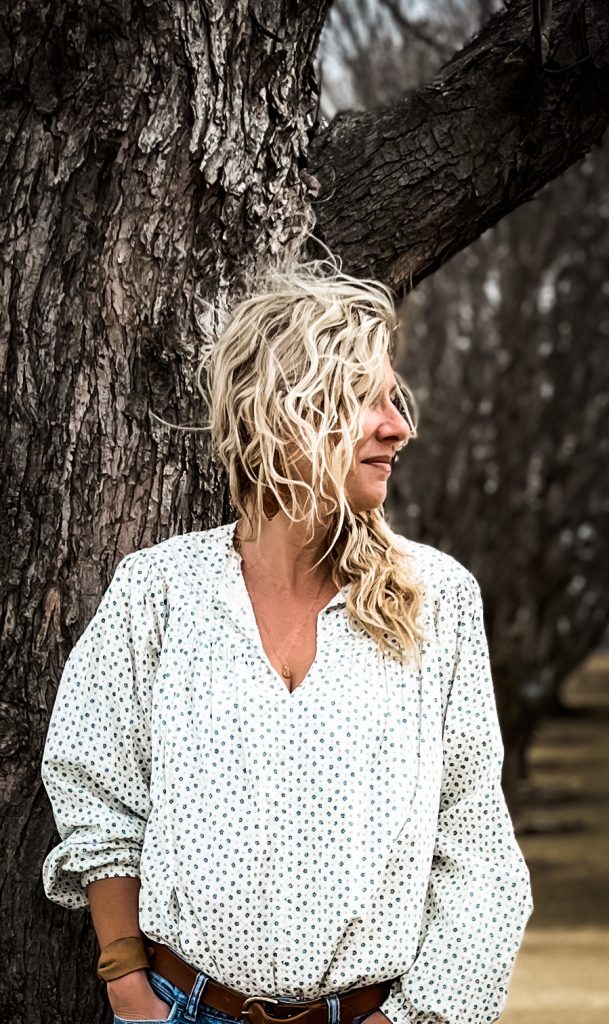 Can this DIY Dry Shampoo also be used as a carpet refresher?
When Dry Shampoo meets the Carpet
We always knew that by having two entrepreneurial parents, the children would someday catch on. By accident, we found out that when our 3 year old sprinkled this DIY Hair Dry Shampoo Potion onto rugs and carpet and then vacuumed up, it leaves the rugs/ carpet smelling fresh too!
We think she's on to something!
MAKE YOUR OWN DISINFECTANT CLEANER- GRAB THE FULL RECIPE HERE!
OTHER SIMPLE CRAFT POSTS
Our top 11 Most Used Garden Tools
How to make a Simple Skirt with Pockets
YOU MIGHT ALSO LIKE
How to Make Buttery Scalloped Corn
JOIN OUR HEARTY LIVING COMMUNITY!
Hearty recipes, farm living fun
and handmade projects straight to your inbox.
Hello, I'm Emily. I'm so glad you're here! Join me and my family as we find beauty in our everyday life on the farm, hearty recipes and a handmade home. Follow along with our daily farm life here!