HOW TO SEW A PILLOW COVER VIDEO
HOW TO SEW A 16″ PILLOW COVER INSTRUCTIONS
CUT LIST FOR A 16″ PILLOW COVER
1- 17″ x 17″ piece square fabric of your choice
2- 18″ x 12″ rectangle pieces of fabric the same as the square piece
HEMMING THE RECTANGLE BACK PIECES
First, take the long sides, one of the 18″ x 12″ pieces, and press it over 1/2″.
Next, press it over another 1/2″ so that the raw edge is hidden inside.
Sew in place with a 3/8″ inch seam.
Repeat with the other back piece.
These will be the back pieces for the pillow cover.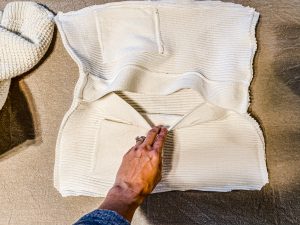 PINNING THE BACKS
Next, line up the 18″ x 12″ back fabric piece edges with the 17″ edges of the front square piece, with right sides together.
If working with stripes, it is really important that you line stripes up pretty precisely. You can do so by pinning around the edges of the fabric the way we learned in this sewing lesson.