Transform your bathroom space with this DIY bathroom accent wall idea! This simple project is a great choice to liven up your walls with a custom look!
This tiny bathroom closet was as drab as the rainy days that led up to this project which made it the perfect focal point! We have 2 bathrooms in our home, but all 6 people who live here feel the need to use just one… This is the smallest of our 2 bathrooms and tends to clutter up pretty quickly. With all of the use it was getting, it deserved a little love – something fun to liven it up.
Our bathroom has since changed from 9 years ago when we first moved in and it had a pedestal sink in it! Luckily I come from a family of handy folk and a few amazing carpenter uncles, and after being able to renovate our bathroom (read more on our bathroom renovation later in this blog!), I came up with this simple bathroom design for our small bathroom accent wall!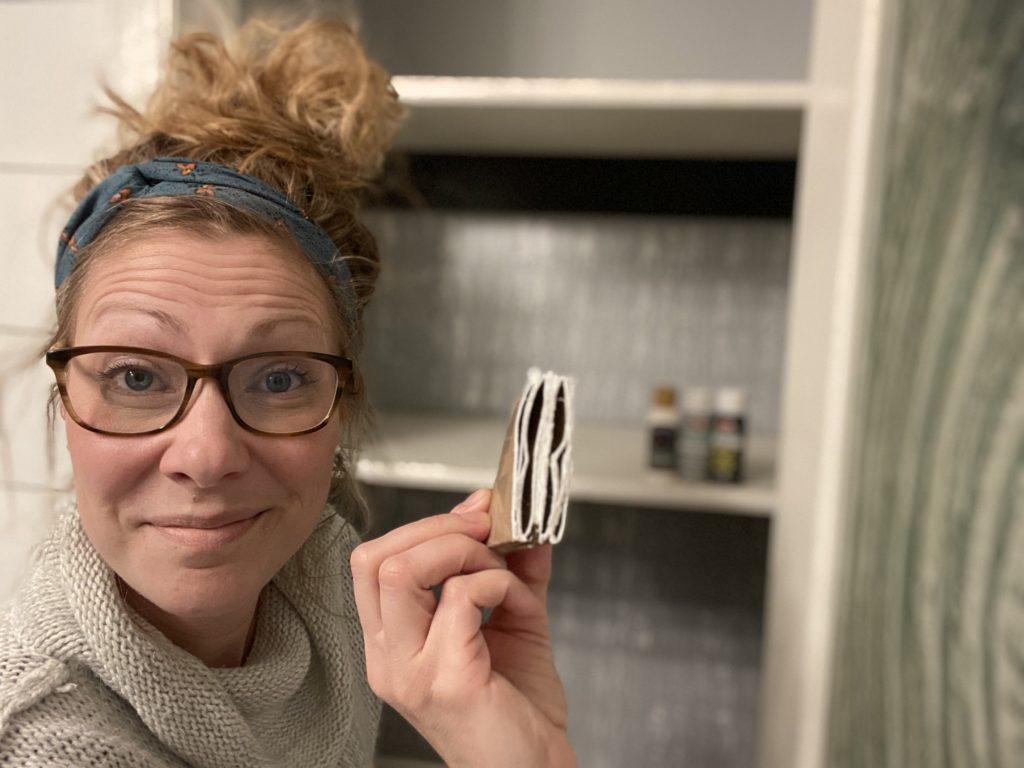 Toilet Paper Core Stencil
You heard that right – my ingenious bathroom accent wall design consisted of two things: paint (I used acrylic) and a rolled up toilet paper core as a stencil.
I imagine that now with all your people at home you might be going through more loo roll (toilet paper) and might be seeing a few cardboard cores in your waste basket- am I right?
I got inspired when the girls were emptying the garbages the other day and I pulled a few of the cardboard cores out and started creating a stencil of sorts. Like most of my projects, I didn't really have a plan, I just winged it. Sometimes this backfires on me, but sometimes things actually work out. To me, it's worth the risk!
Steps to creating your Bathroom Accent Wall
First step – cleaning! I started by spending the better half of a day cleaning, disinfection and taking out things that don't belong in this bathroom in order to make space for the essentials (towels, bandaids, toothpaste, etc.)
Next, I flattened 3 toilet paper cores down and bent them in half. I cut the ends to make sure they would all touch the wall at the same time. This gave me a stencil with a bunch of lines. I taped up the stencils and put white paint on a paper plate and it was time to begin!
Optional Test Plot: of course you can always try out your new stencil on a brown bag or a piece of paper first especially if this is your first time doing this. This will give you an idea of how much and what color paint you want to use etc. Pro – tip: when doing DIY projects like this one, start with a neutral color palette (whites, greys, etc.) – you can always build off of it with your chosen color scheme and it will be easier to cover up/fix! Another tip is to start with a small section of wall – of course, for us this was already a pretty small closet area!
To start, I first pressed the toilet paper stencil onto the wall in vertical lines. I let it dry until the next morning and decided it wasn't enough so I went back in and added a horizontal line. This repeating pattern created a linen texture affect and I really love how it turned out! You, however, can use this stencil to make any different shapes you want! Theater school really taught me a lot about creating textures and sets. Most of my work through college was on a much larger scale so I learned to step back and look a the design from afar instead of focusing on the exact details – up close.
Why you'll love adding an Accent Wall to your Bathroom
A DIY project like this one allows creativity to flow and can take as much or as little time as you want it to!
Using items already in you home makes this a great option for any price range
You can use this project to introduce a new color or unique color to your space!
Remember: If you are attempting this or any project with your hands remember that a person is creating it and try not to get too hung up on perfection. The main reason you decided to click on this post and give this a whirl is because you are a person who likes to create things with your own design style – you are not a machine. The most beautiful things in this world are created by people, not robots. Be free to create what comes to you. Have fun!
Options to make your own Bathroom Accent Wall
Be creative and have fun – I know I did!
There are many different ways to create a stencil or wall texture
Paint Rollers
TP Core on it's side (keep round or bend into another shape)
Kitchen Sponges
Sharpies
Your hand (never say never, this can turn out pretty cool!)
How we Renovated our Bathroom and made a Small Space a Usable Area!
A few years ago I went crazy with hooks and put them everywhere conceivably possible. In our tiny bathroom, there is a limited amount of space to set your things while showering or bathing, and adding hooks definitely helped this problem! With a pedestal sink (which was one of the first things I said, "hasta luego" to!) , there was literally no where to put anything unless you count the floor or the back of the toilet – Ugh!
With a family full of handy folk, one of my cabinet-building-uncles built this wonderful cabinet that I designed and love!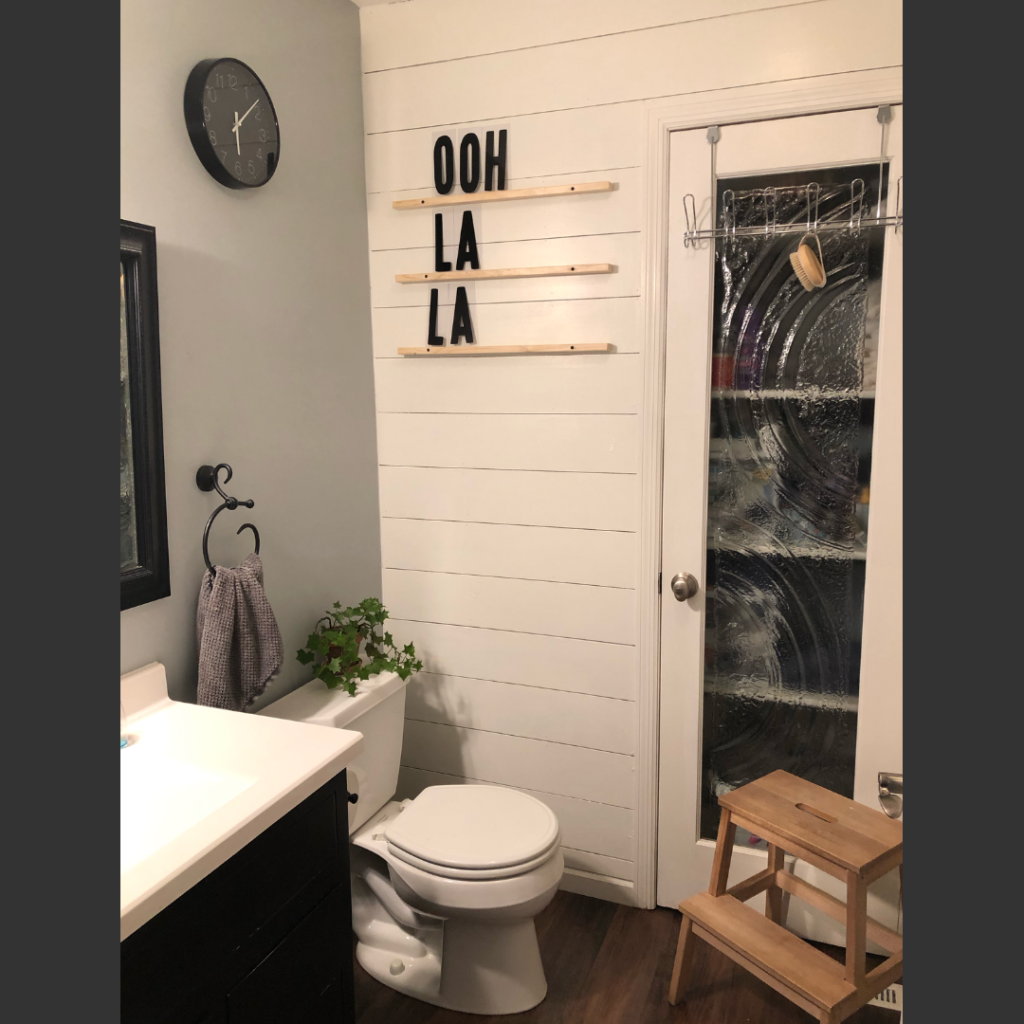 It has a pull-out step that has a secret hiding place below for extra things like tooth paste and hand soap. Who knew my ability to buy soap in bulk would come in handy one day!
The best part is, that the counter has space to put a set of clothes or other things. It has offered us much more space to store things than our pedestal sink did. This bathroom GETS USED! I mean I guess I shouldn't really complain, there are less rooms to clean when there's only one bathroom being used, right? This simple design has really amped up our space and completed our bathroom!
How to make your own Bathroom Accent Wall – The Video!
Questions people are asking about Bathroom Accent Walls
What accent wall ideas look good in a small bathroom?
You came to the right blog for this one! When looking to do a new accent wall, bright colors and light neutral colors are both great ways to open up small areas (this applies to small rooms as well). Beyond this tip, do whatever looks good to you – it's your house after all!
Are accent walls still in style in 2023?
Surprisingly, this is a highly searched question – people are on the search for the next current trend! With a DIY Accent Wall you and your family can become your own interior designers – it's so much fun to try out different styles and create a feature wall. For a more modern look – If you want to stay "in trend" – it seems that this year mosaic tile, the look of nature scenery or natural stone, and bold color are the popular choice but truly anything that adds visual interest to your room is sure to be a hit!
Where should an accent wall be? Which accent wall should I paint?
There is no right or wrong answer here – take a look at your space and find out which particular part of the room you want to highlight! Targeting the back of the shower wall or having an open shelving accent wall seem to be great choices. Your accent wall can also be on a wall with a window if you want natural light to be the main focus.
Pin This Post For Later!
Check out our other Wall Application / Wallpaper Blogs for my Favorite Accent Wall Ideas!
How to Hang Wallpaper | Everything you Need to Know Before you Start!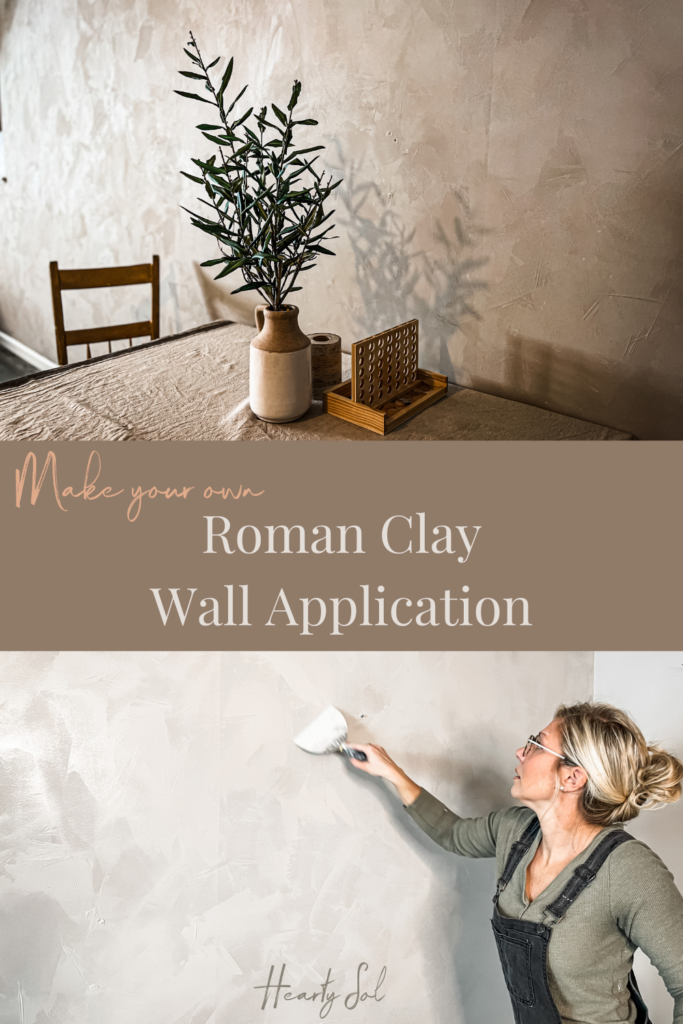 How to Make your Own Roman Clay Wall Application
OTHER SIMPLE CRAFT POSTS
How to make a Waldorf Doll | a 4 Part Series
10 Projects to Repurpose Sheets
How to Reupholster a Chair | Simple Tutorial
How to Make a Girls Dress |No Pattern Needed
YOU MIGHT ALSO LIKE
How to Make Buttery Scalloped Corn
JOIN OUR HEARTY LIVING COMMUNITY!
Hearty recipes, farm living fun
and handmade projects straight to your inbox.
Hello, I'm Emily. I'm so glad you're here! Join me and my family as we find beauty in our everyday life on the farm, hearty recipes and a handmade home. Find more about me and our story here.